20 Tips For Decorating The Breakfast Bar
If you are one of the lucky ones and have a breakfast bar in your kitchen, I really hope you know how lucky you really are! Breakfast bars are a great place to get a quick snack, decorate cookies and cupcakes, make nice spreads for fun get-togethers, chat with your loved ones or just read the morning paper with a nice cup of coffee.
But you obviously need more than just some plain, boring stools! Take the extra time to figure out what the space needs and jazz it up a bit. And take the extra time to take a peek at some of our decorating tips to get you started.
The Best Ways to Spruce Up Your Breakfast Bar
1. Add Funky Stools
We must say it again. Wooden, plain and boring stools just don't cut it in the stylish department. Find some stools or taller, comfy chairs that have some personality. Color, shape, design … whatever fits your vision!
2. Shine Some Light On It
Grab some great light fixtures to add something special to the breakfast bar. Highlight the space and add something more than just regular lampshades and light bulbs. Plus, the extra light will be great for decorating on the extra counter tops!
3. Display Family Photos
Create a warm, welcoming space by adding family photos. It's a great place to display some of your favorite memories, start fun conversations, and add some punch to a usually bare tabletop.
4. Keep It Colorful
Breakfast is a time to wake up and smell the coffee! So add some color to the space. Breakfast bars are obviously associated with morning time and it should reflect that! The colors you choose should pop and remain cheerful.
5. Place Flowers
Yes, flowers add color. Yes, flowers add a happy ethos. But they're also great for your health. Fresh flowers brighten up your space and are good for your spirit. So, keep a vase full of your beautiful favorites.
6. Enjoy Natural Light
We're big believers in natural light, especially when it comes to the kitchen. Breakfast nook or breakfast bar, bright sun is always a plus. And if you end up creating your own nook or bar, place is right in front of the window!
7. Select the Perfect Countertop
Make sure whatever counter top you have is functional for you. Even if you use your breakfast bar as extra workspace, as an "island," then make sure you have a butcher block or granite … whatever works for you.
8. Set Out Cute Dishes
When you have an especially small kitchen, it can be difficult not to use your breakfast bar for storage. But the good news is, this is perfectly okay!
Just make sure the items you are storing on your breakfast bar are cute and add to the overall design such as some dishes that don't fit in the cupboard.
9. Move Your Fruit Bowl
Everyone knows that fruit bowls are a convenient way to store all your ready to eat fruits so that they are easy to grab when it comes to snack time. But fruit bowls can also be cumbersome and take up precious countertop space, which is why it is a good idea to use your fruit bowl to decorate your breakfast bar.
This will also make it convenient when you are eating breakfast at your breakfast bar and want to grab a fresh addition to your meal. You can go for the traditional fruit bowl look, or experiment with different-looking fruit bowls for a unique look like they did in this kitchen on Them Projects.
10. Grow Live Spices
Who doesn't love the feeling of cutting your own spices directly from the plant when cooking a fresh recipe? This can give the dish a unique flavor you just can't get with jarred spices. But it can be difficult to know where to store all of the live spices you are growing—have you thought about using them to decorate your breakfast bar?
This can help keep them in easy reach while you cook! Just look at this adorable breakfast bar on Bower Power Blog where live wheat grass was placed on the breakfast bar for ease of use and decoration. Just ensure that your breakfast bar receives enough natural light for whatever plant you are trying to grow.
11. Make Your Breakfast Bar A Coffee Bar
Do you love coffee? Do you have a small kitchen? If you answered yes to both of these questions then this next breakfast bar idea is for you. It can be frustrating to figure out a place to store your coffee-making supplies, especially if you've accumulated a variety, so why not use them to decorate your breakfast bar?
That's exactly what they did in this kitchen on Breakfast Alessia. And you don't have to stop at just setting out your pot and sugar supplies, as you can additionally store your machine on this breakfast bar as well, just keep it up against the wall so it is out of the way and easy to access!
12. Use A Decorative Tray
Decorative trays are all the rage, as they make it easy to store things that you will use together while also being able to move the items when you need the space!
This makes them a great idea when it comes to decorating your breakfast bar because you can place beautifully arranged items but then move them when you need the space! You can make the tray a coffee and tea tray, or even place a decorative plant and dishes on it.
For those whose breakfast bar also doubles as an at home workspace, you can put your work supplies on the tray so they are handy while you work, then tuck them out of sight when company comes to visit like in this kitchen on Eat Well 101.
13. Decorate With Modern Art
Using modern art is always a great idea when it comes to decorating an empty space like your breakfast bar! And the cool thing about modern art is that it doesn't have to be expensive and can sometimes be designed just using things you already have on hand.
Take a look at this breakfast bar on Comfy Dwelling in which empty glass bottles were placed into an antique metal tin and used to spruce up the unused space along the side. It gives the breakfast bar a whole new feel without taking away room from precious eating space.
14. Place Sweet Treats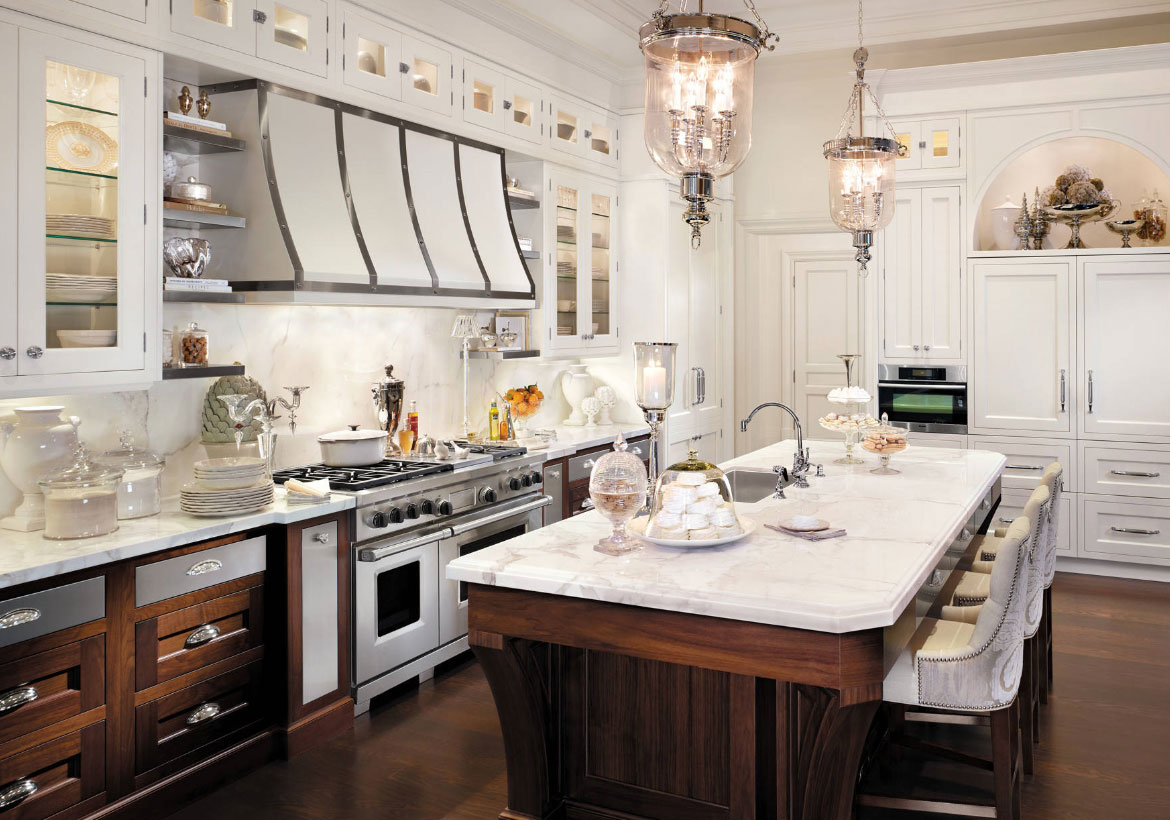 Sweet treats are another good way to decorate a space because who doesn't love decorations that you can eat? You can keep this idea simple by placing out a colorful candy dish or jar on your breakfast bar, or you can take it to a whole new level with treat displays like they did in this kitchen on Sebring Design Build.
In this particular kitchen they had room to set out not one, but four different treat dishes! For those working with a small breakfast bar, you're probably better off just setting out one or two decorative dishes of treats.
15. Let Your Creativity Roam
Many people choose to put a chalkboard in their kitchen as an easy way to leave notes for other family members, as well as a way to let their creativity shine. And when you have a kitchen without a lot of counters and wall space, this can leave you wondering where you should put your chalkboard.
In this kitchen by The Popular Home, they went all out and used chalkboard paint to transform the side of their breakfast bar into a chalkboard! Not only does this save space, but it will help when dealing with kids who like to write on walls by giving them a safe space to do so. And when guests come over, simply wipe the wall clean for a fresh look.
16. Install A Wine Cooler
If you use your kitchen for hosting frequently, then you should consider installing a wine cooler or wine rack into your breakfast bar.
This will make it convenient when you are sitting and chatting with your company to reach over and grab that next bottle of bubbly! You could also store beers or other beverages, just select bottles that look nice (especially if you select one with a glass door) to keep your breakfast bar looking spiffy like this kitchen in Treske.
17. Put Out Place Settings
It has long been a tradition to set out beautiful place settings to decorate the dining room table when you aren't using it, so why not do the same with your breakfast bar?
For those with a small kitchen, this may not be ideal, but if you have the space on your breakfast bar this can really give it an all-new look! Them Projects shows us how to get this breakfast bar in which each place was set with a plate, bowl, and piece of fruit.
18. Save Space With Retractable Stools
Do you look at your breakfast bar and think the whole thing looks a little crowded? You should consider installing these retractable stools as featured in Made by Mood.
They look adorable while also saving space because when you are finished sitting on them, they tuck in nicely underneath the counter and out of the way. This is perfect for people dealing with an especially small kitchen that need the walking space by their breakfast bar!
19. Include A Shelf
This next decoration idea is probably going to require some construction depending on the layout of your breakfast bar, but if you can do it, it's a great solution to decorating as well as a storage!
Add a shelf below or above your breakfast bar and place strategically selected items on it depending on the theme of your kitchen décor. This can be anything from dishes, to flowers, or even cookbooks like they did in this kitchen on Sebring Design Build. This particular shelf also makes a great footrest while you are using your breakfast bar, making it both convenient and cute!
20. Change the Shape Of Your Breakfast Bar
Just because you already have a breakfast bar doesn't mean you have to stick with the way it looks! And for those with a small breakfast bar, changing the shape of your breakfast bar is a great way to expand and add some extra room.
In this kitchen on Treske, a wooden addition was added to the top of a granite countertop to create a rounded breakfast bar table at the end with enough seating for two people. The same idea can be used in a larger space to create a breakfast bar big enough for four, or you could also use a rectangle addition to lengthen the breakfast bar you already have!
Conclusion
Whether you decide to change the entire aesthetic of your breakfast bar or just decorate the surface, you can't go wrong with any of the items on this list. Get ready to enjoy endless peaceful breakfasts at your beautifully decorated breakfast bar!