42 Laundry Room Design Ideas To Inspire You
Having an entire room dedicated to laundry is not something everyone is accustomed with but it's actually a very practical idea. Still, managing to fit everything you need in a small laundry room is not easy. Aside from the washing machine and the dryer, there are tons of other aspects you need to take into consideration.
You can organize everything more easily. You get to wash the cloths and you get to iron them and to put them back where they belong and you don't have to let anyone else see the process because it's all there in the laundry room. But how should a laundry room look like? Well, it depends on each person's needs and preferences. If you have the space necessary, you have a washer a dryer in there as well as an ironing table and a large closet.
First things first.
Think of all the basic elements you need to include in your laundry room. For example, you should consider task lighting such as under-cabinet strips, sconces and lamps, plus, of course, the ceiling fixture to brighten the whole room.
Make the most of your cabinets.
You can hide your ironing board in there as well as tons of other things. Pull-out hampers are also a great ideas and wonderful for presorting dirty clothes and organizing them.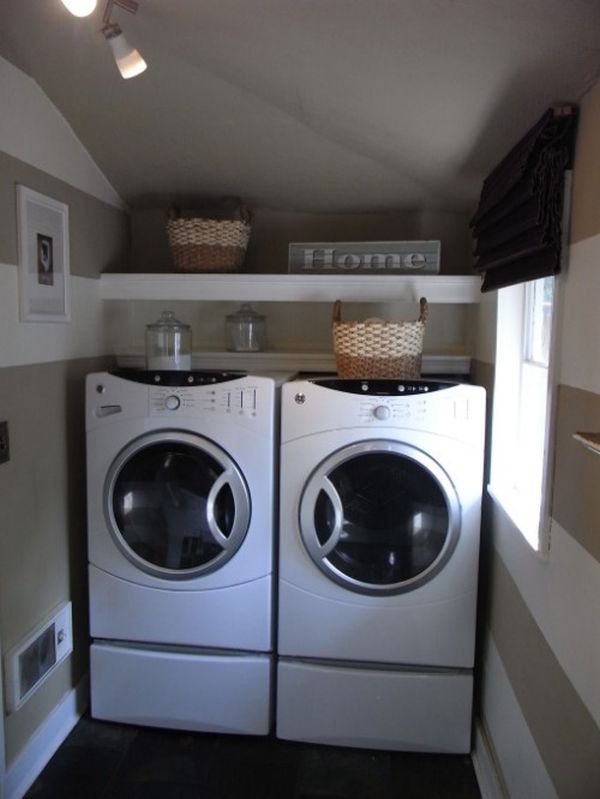 Organize all your cleaning supplies in one place.
Open shelves are excellent and very practical and you should use them for the items you use on a regular basis. The extras should go in drawers and behind closet doors or on the top shelf.
Small laundry rooms usually lack hanging space.
To solve the problem, go vertical. Install retractable clotheslines or freestanding drying racks. You can also mount them on the walls to save floor space.
To also save space in a small laundry room, consider stacking the washer and dryer one on top of the other. This way you can squeeze them both into a narrow passage, maybe even hide them behind closet doors and still have plenty of room for storage.
Use bins and baskets to sort and organize your cleaning supplies and small items. They allow you to use open shelves to their full potential and they're also very practical. Just pull out the container and take it with you wherever you need it.
It's important to have plenty of storage in the laundry room. You need for all sorts of things. You have to store somewhere the detergents and the other supplies but you also need the storage space for all the clothes. Lots of people like to also use this room as a sort of closet. But it's not imperative to do so.