How To Set Up A Yoga Room At Home
Yoga is for everyone and that's the beauty of it. This old practice spreads across the globe and people of all types and ages enjoy it every day.
As a very general idea, yoga is a combination of physical and mental exercises. It involves different poses and meditation techniques and it has many benefits.
Yoga Room Basics
You can get into yoga at any time. As you get more into it you can start to set up a home yoga studio and learn new techniques. But why do you need a dedicated yoga room in the first place? The answer is simple: because yoga should be done in a soothing space that takes you away from the stress of the outside world.
You can first get an idea of what yoga is all about by checking out a local yoga studio. Here you can also get an idea of what equipment and items you need in a yoga room. Most often it's a combination of yoga blocks, straps, blankets, and bolsters.
Setting Up A Yoga Room At Home
Having a dedicated yoga room at home is very convenient. It saves you time, money and effort which you would otherwise spend at a studio. If you don't have a whole room to dedicate to this, no worries. A part of a room works too.
First things first, de-clutter the space. It's important to start off with a clean and organized area. Get rid of anything that doesn't serve a purpose. Also, get rid of any distractions.
Add plants to your home yoga studio and invite nature inside. Use potted plants, hanging planters, terrariums or ever driftwood and rocks.
Choose calm and muted colors to make this space soothing and relaxing.
Use mood lighting so you can focus and meditate better. Dimmable LED lights and color-changing lights are great for this.
Don't forget to also bring in some scented candles and essential oils. These help you relax and get in the mood for yoga and meditation.
Yoga Room Decor Essentials
Here are a few suggestions for elements to include in your home yoga studio:
Plants – Plants and greenery, in general, make great decorations for a yoga room. At the same time, taking care of them is relaxing and good for your mental health.
Accent lights – Lamps and dimmable lights are great for ambiance. String lights also look lovely and salt lamps help create naturally ionized air.
Inspirational posters – Display a few posters or paintings to help you focus when doing yoga or meditating. You can also hang educational posters in your yoga room to show you different positions and poses.
Tapestry – Tapestry is one of the easiest ways to decorate a yoga room. It's also quite cheap. You can display tapestries with different designs and patterns on the walls or you can frame them.
Mirrors – Mirrors are practical and they look good too. Practice in front of a big mirror to check your pose and make sure you're doing it right. At the same time, mirrors make small spaces seem bigger.
Candles and essential oils – Both these things help create a relaxing and soothing mood. Use flameless candles to set the right mood without the risk of fire hazards. For the essential oils you can use a diffuser or an incense stick burner holder.
The Best Plants For A Yoga Room
Plants are a big part of a yoga room's decor. In addition to looking beautiful, plants also have a positive impact on your mood and mental health.
Furthermore, aromatic plants make the room smell lovely.
Beautiful Yoga Room Ideas
Whether you're thinking to create a yoga or a meditation room in the future or you already have one, you can use yoga room decor ideas as inspiration.
Home yoga studio with balcony
This yoga room is open to the stairs and the area below. Studio Kimberly Butchko Design kept it simple and clutter-free. It also has access to a small balcony and to plenty of sunlight.
Tropical yoga studio
The yoga room created by studio Pu'uwai Design is spacious and has lots of windows. The furniture is minimal, the walls are white and the high ceiling is decorated with black beams.
Grey-toned yoga studio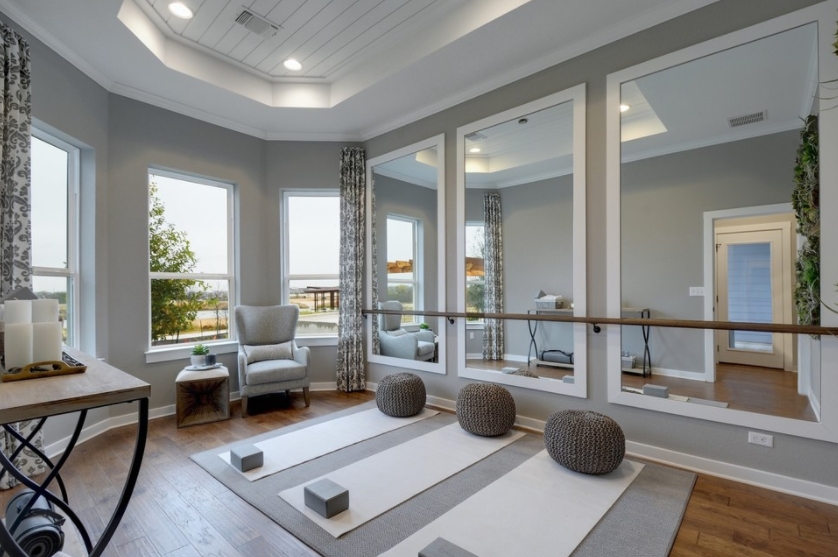 This home yoga studio designed by Dream Finders Homes is spacious and simple. At the same time, it has plenty of details. The grey walls are a nice backdrop for the wall mirrors.
Yoga room and home spa
Your yoga room can be combined with something else, like a spa in this case. This is a master bathroom extension designed by studio Desco Fine Homes.
Minimalist yoga room
The yoga studio design done by Ryan Associates is very simple and makes use of natural materials and colors. The space has views and access to a beautiful courtyard and this gives it a zen feel.
Yoga studio with a view
Studio Suzette Sherman Design went with a contemporary look for this yoga room. It has a sitting area and big windows with a view of the garden.
Yoga studio with sauna
This yoga studio designed by Hartman Homes is very simple but has a cool extra feature: a sauna. The wood floor helps to integrate the sauna into the room's decor.
Small yoga room
Architect Mohammad Yazdani designed this small yoga studio with big windows on two adjacent walls. The room itself is austere and the emphasis is on the ambiance and the view.
Yoga studio with outdoor access
The yoga room designed by Feldman Architecture has light wooden flooring and beige walls. It also has sliding glass doors leading out to a patio framed by greenery.
Yoga room with mirror wall
This design by Miriam Paige includes an entire wall covered in large mirrors. The mirror wall makes the space feel bigger and at the same time serves a practical purpose.
Two-in-one yoga and ballet studio
The yoga room designed by Rosemary Lily also serves as a home ballet studio. It has French doors, a wooden floor and wall-mounted storage for the yoga mats.
Home gym and yoga studio
The slanted ceiling and the cozy window alcove give this yoga room a very cozy look. The design done by DeGraw & DeHaan Architects is simple, basic and un-cluttered.
Frequently Asked Questions (FAQ)
FAQ
How to make a yoga room at home?
First, find a space, then clean it up and get rid of the clutter. Then add some mood lighting, plants, and a few decorations. Don't forget to set the mood with a few candles and essential oils.
Can I do yoga in a closed room?
Yes, a yoga room doesn't need to be open or even to have windows. You can use mirrors and other decorations to make it look more open and sunny.
Are yoga and meditation the same?
No, these are different practices. Meditation is a mental exercise that involves concentration. Yoga involves both physical and mental exercises. 
What is a meditation room?
A meditation room is a relaxing and soothing space that facilitates concentration and meditation. It's simple, clean, and often has a nature-inspired decor.
What is better - meditation or yoga?
Both have benefits. Choose the one that's best for you based on your goals. Meditation is good if you want to work on your anxiety, stress, and mental health in general. Yoga is better if you have a hard time concentrating.
What kind of floor is best for yoga?
Wood, cork, and bamboo and the best flooring materials for a yoga room. The flooring in a yoga studio should be firm and solid but not too harsh or too soft.
How much space do you need per person for yoga?
On average you need 21.5 square feet of space per person in a yoga room or studio. You can still manage with a smaller space if you're doing simple poses.
How do I make a yoga space in my bedroom?
You can dedicate one corner or a portion of your bedroom to a yoga space. De-clutter it, section it off with curtains and add some mood lighting, plants, or other decorations.