Are Fiberglass Windows Worth the Cost?
Fiberglass windows are strong and maintenance-free but more expensive than vinyl.
If you're in the market for new windows, deciding on a frame can be just as challenging as choosing a window style. There are numerous materials to choose from, the most popular being vinyl, wood, fiberglass, and aluminum.
While each type of window frame has pros and cons, fiberglass ranks among one of the best choices. Here's what you need to know.
What are Fiberglass Windows?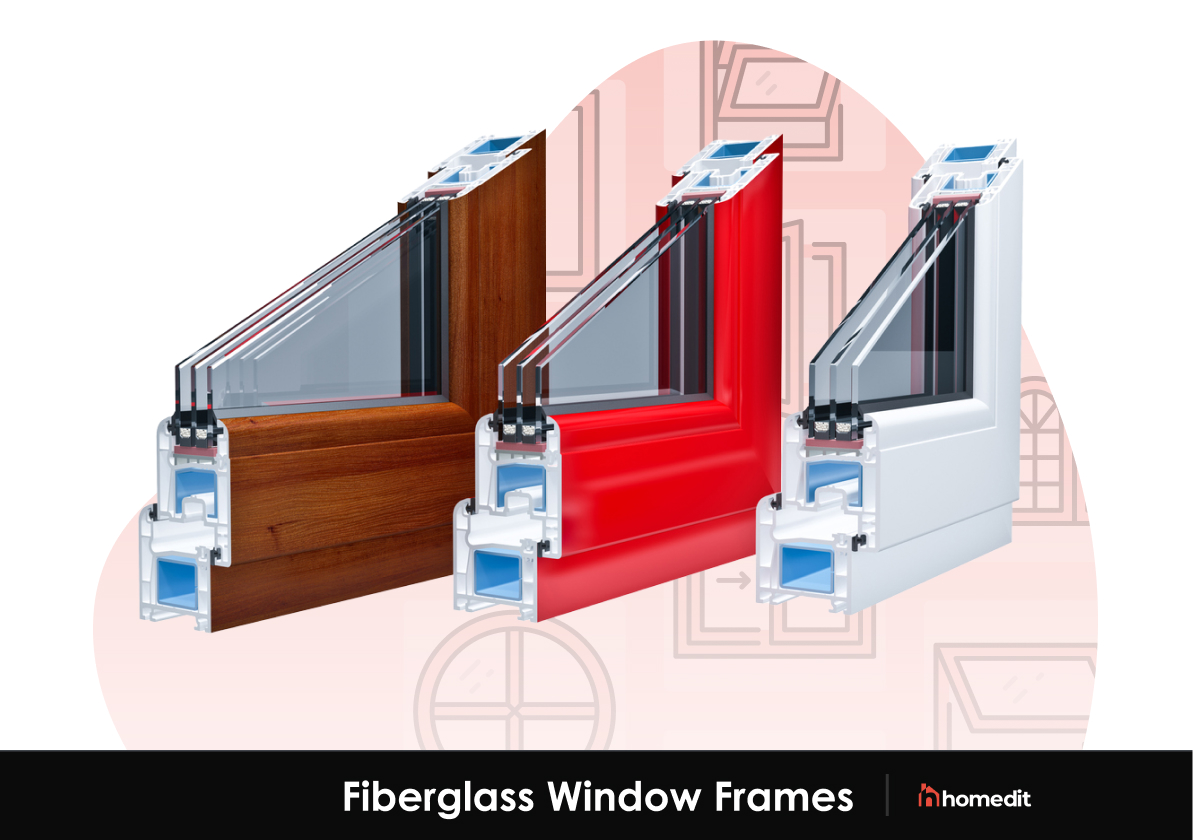 Fiberglass is a combination of glass fibers and resins. It's manufactured through a process called pultrusion. Individual manufacturers use slightly different manufacturing processes and coatings, resulting in strong fiberglass frames resistant to warping, rotting, and decay.
Since fiberglass is so strong, it allows for thinner window frames making it a good option if you're not a fan of thick vinyl frames.
There are three main types of fiberglass windows:
All Fiberglass – These windows feature a fiberglass frame, sash, and sill on the inside and outside of the window. You can find options that look like wood or choose a solid color.
Fiberglass Exterior, Wood Interior – If you love the look of a wood interior, this is the window for you. The fiberglass exterior protects the window, while the interior provides the warmth of natural wood.
Fiberglass Sash – A hybrid window has a fiberglass sash to keep the glass in place and provide a low profile. The interior is wood, and the exterior can be aluminum-clad wood or composite.
How Much Do Fiberglass Windows Cost?
Fiberglass frames are mid to high-priced. Even so, they provide more benefits than most window frames, even the most expensive options.
Expect to pay 10-30% more for a fiberglass frame than a vinyl one. But, in general, you'll pay less for fiberglass than for wood. Of course, this varies significantly by brand.
Why Aren't Fiberglass Windows Popular?
Fiberglass windows have come a long way in the past decade. They used to only come in white and would develop a chalky look after too much UV exposure. Today's fiberglass windows come in more styles and colors and have coatings that help them stand up to the sun's rays.
But since fiberglass windows are more difficult to mold than vinyl or wood, they don't have as many style options. Fiberglass windows can also be harder to find since not all window companies offer them.
---
Fiberglass Windows: Pros and Cons
Even though fiberglass windows are in the middle range of prices, they're one of the toughest, most weather-resistant choices.
Pros:
Doesn't expand and contract – Since fiberglass windows don't expand and contract as temperatures change, you don't have to worry about air leaks or loose frames.
Moisture resistant – Fiberglass is moisture resistant. Unlike wood, it won't absorb water or rot.
Won't split or crack – The weather resistance of fiberglass is phenomenal – it won't break or crack.
Thin frame – With the strength of fiberglass comes a much slimmer frame – perfect if you want to maximize views.
Energy efficient – These frames withstand extreme heat and cold for high energy efficiency.
Low Maintenance – You don't need to seal or repaint your fiberglass windows.
Cons:
Fewer color and design choices – It might be hard to find the exact color you need.
Can get chalky without a special coating – If you buy fiberglass frames, ensure they're UV-resistant. Otherwise, the resin can turn chalky over time.
More expensive than vinyl – If you're on a tight budget, vinyl windows are your best bet.
---
Can You Paint Fiberglass Windows?
While you can paint fiberglass windows, some manufacturers warn against it. Pella, for example, recommends not to paint any of their fiberglass products.
If you decide to paint your frames, use high-quality exterior acrylic latex paint. You'll need to switch to interior paint for the frame's interior. (Never use exterior paints inside your home.)
---
How Do You Maintain Fiberglass Windows?
Fiberglass windows don't require special maintenance – just clean as needed. You can clean the windows with a glass cleaner and a lint-free cloth. Use mild soap (like dish soap) and water for the frames. Avoid power washing your fiberglass windows.
---
What's the Difference Between Fiberglass and Composite Windows?
Differentiating between composite and fiberglass can be tricky since fiberglass is considered a composite material. A key difference is that fiberglass window frames are always composed of glass fibers and resin. On the other hand, composite windows can contain numerous materials but almost always contain wood fibers.
Composite windows are a great choice if you want the benefits of vinyl with the look of wood. Fiberglass window frames can resemble vinyl or wood but have a much thinner frame with modern appeal.
Regarding pricing, both are more expensive than vinyl but less expensive than wood. Some brands price their composite frames higher than fiberglass, while others do the opposite.
Since composite window frames haven't been around as long as fiberglass, it's hard to say just how well they hold up.
---
Fibrex vs. Fiberglass: Which is Better?
Fibrex is Andersen Window's composite frame made of wood fibers and thermoplastic polymer. It's a top choice for energy efficiency and weather resistance -the material won't rot, fade, flake, blister, or peel.
Fiberglass windows offer many of the same benefits – they are durable, weather-resistant, and won't rot. Fiberglass is also one of the strongest materials and doesn't shrink or expand as temperatures fluctuate, making it energy efficient.
Fibrex and fiberglass windows have similar features, but you can only get Fibrex material from Andersen's A-Series and 100 Series. You can find fiberglass frames from many top manufacturers, including Andersen, Pella, Milgard, Marvin, and more.
---
Which Brands Make Fiberglass Windows?
Not all manufacturers carry fiberglass windows, but some top brands do. Here's a look at which brands make fiberglass windows:
You can also find some Pella fiberglass windows at Lowes.
---
Why are Fiberglass Windows Better than Vinyl?
Vinyl windows are popular for their long-lasting durability and affordability. But fiberglass is the way to go if you want to up your home's energy efficiency and prefer a slimmer frame.
Unlike vinyl, fiberglass can withstand extreme temperatures without warping, chipping, or peeling. And since fiberglass closely resembles glass, it doesn't expand or contract, keeping a tight seal and preventing air leaks. In some cases, a fiberglass window will last twice as long as a vinyl window.
Frequently Asked Questions (FAQ)
FAQ
Does Jeld-Wen make a fiberglass window?
Jeld-Wen doesn't make a fiberglass window. Instead, they offer vinyl, wood, aluminum, hybrid vinyl, and clad-wood frames. 
Does Quaker manufacture a fiberglass window?
Quaker doesn't have a fiberglass window. They only offer vinyl, wood, and aluminum frames.
What's the difference between Marvin Elevate vs. Essential windows?
The interior frame material is the most significant difference between Marvin Elevate and Essential. The Marvin Elevate line has a fiberglass exterior and wood interior that you can stain or paint. The Marvin Essential has a sleek fiberglass frame on the inside and outside.
Final Thoughts
If you're wondering if fiberglass windows are worth it, they are. Fiberglass is among the strongest window frame materials but is midline priced. While it's more expensive than vinyl, most fiberglass windows will last much longer.
Fiberglass is weather resistant and great for all types of climates. It holds up to extreme temperatures, doesn't expand or contract, and won't rot, chip, or fade. The biggest downside is that there aren't as many design or color options for fiberglass frames as for vinyl and wood.