Fun Wall Designs To Turn a Blank Space into a Terrific Decor Element
Like facing a blank piece of paper when you have to write something, you might be at a loss of where to start when you need to jazz up a blank wall. Of course, painting it might be the first step, but it'll still be plain and unadorned without some decorative element. Sure, it's easy to hang any old piece of art and call it done, but there are loads of interesting ways to create interesting wall designs.
Three-dimensional elements
A gallery wall over the sofa is pretty standard, but how about adding a collection of three-dimensional pieces like this collection of colorful insects. They add whimsy and movement, drawing the eye upward and over to the off-center collection of prints. Bugs not your thing?  Try installing 3D geometrics like cubes, balls or other shapes.
A Bold Black &White Graphic
A fabulous way to add a striking element to a wall without introducing color is with a bold black and white graphic print. When it comes to drama, the bigger the better where a wall design element is concerned so don't be afraid to choose something larger than you might usually go for. Or, pick two larger prints in complementary styles.
Oversized and Off-Center
Create immediate interest by choosing a really big piece of art and then installing it off center for your wall design. The typical move would be to hang art directly over the bed but by fixing the large piece mostly to the side of the headboard and hiding just a small section, it far more dramatic and a little discomfiting– in a good way of course!
Bold With Color
Just like a plain black and white graphic, one that included a bold color does more than attract attention. This one adds a pop of Pepto-pink and mirrors the color segmentation of the credenza underneath. This instantly livens up the subdued space.
Pots of Plants
In this case, less is not more. An arrangement of wall shelves that each hold multiple pots of plants make use of repetition to create interest. Greenery in any form is always a good idea and here it does double duty by sprucing up a really plain wall in a neutral-toned dining area.
Shelves and Art
Love art? Try combining traditional wall art with a piece of stylish shelving that can show off your collection of artful objects. Go totally asymmetrical show off both elements as a wall design without feeling contrived or fighting for an orderly feeling.
Punchier Gallery Wall
Add an extra twist to a gallery wall by painting it in a bold accent color first. A bright blue wall really sets off the golden frames and puts a spotlight on the natural, neutral elements in each wall piece. It's a far more attention-getting wall design than a plain white wall would be.
Lean Big Art
To accent a bold element like this vibrant chair, hanging a dramatic painting on the wall would pull attention away. Instead, make it an outstanding focal point by leaning a large piece of art on the floor, creating a wall design grouping that instead draws more attention.
Architectural Photos
As we already know, appreciation of art is a very personal thing and sometimes you need to liven up a space without making too much your own. This is often the case with office decor, so try using architectural photos for a gallery wall. They are easy to find and add interest without being a big statement.
Stay Symmetrical
Clearly, the bed is the focal point of this room and its dominance is amplified by the symmetry in the decor. Sure, you could hang these round floral works directly above the bed, but placing one on each side above the identical nightstands and bedside lamps, the bed's central role is confirmed.
Not Exactly a Window
Interior rooms that have small or uninteresting windows sometimes need an improvement in the scenery, and a blank wall is the perfect spot for art that simulates a window. These arched paintings fit with the decor period and depict what you might have seen out the windows back then.
Mirrors, Mirrors on the Wall
Big mirrors often carry big price tags but it's possible to get equal wall decor excitement from a collection of smaller mirrors that are grouped together. Repeating the same shape makes the mirrors feel like one cohesive piece and is also easier to handle and install.
Large, Artful Mirror
One large artful mirror makes a statement that elevates a while room. Whether it just sports a creative frame or whether it's more of an overall art piece like this, a big mirror becomes the focal point of a space. It is also one of the easiest ways to turn a blank wall into something special. One and done.
Three-Dimensional Wall Art
In a room full of textures, a flat piece of art might not have the same impact, so try choosing something that is three-dimensional. This round piece of wall art above the bed uses mixed materials that have varied surfaces. The different shapes and overall chunky feeling work well in this bedroom full of plush materials.
Wall-to-Wall Wood
Paneling a full wall in wood that displays a fantastic grain pattern is a dramatic way to make wall itself a major design feature. Not even remotely reminiscent of the paneled family room walls of the 1970s, this wood has an unbelievable natural pattern that is made even more special with a high-gloss finish.  A few wall sconces for lighting are all that's needed.
Natural Stone Wall
The same veining and natural beauty that is prized for kitchen counter and bathroom finishes are also invaluable as amazing wall decor. Try finishing a wall with marble or other natural stone tiles for something really different. It's definitely a high-end luxury look.
A Shelving Unit
Today's shelving units can be super attractive so why not use one to act as wall decor too. More than just plain bookshelves, today's styles use beautiful materials and interesting construction that make them attractive decor pieces. In some cases, you might want to add some artwork along with the shelving, but the arrangement here clearly defines the unit as the central feature.
Floor to Ceiling Gallery
Another take on a gallery wall that is super different is to extend the gallery from floor to ceiling in not-entirely-orderly fashion. By creating some open spaces and using many smaller elements of varying sizes, it makes for a very interesting wall. Or, just find some wallpaper that approximates the same concept.
Faceted tiles
One of the newest trends in ceramic tile for the walls is the use of three-dimensional or faceted designs. These tiles feature geometric shapes or sinuous curves that have lots of depth and are ideal for use as wall decor to jazz up a plain area. These tiles provide a huge amount of interest without graphic pattern or color.
Lighted Shelving
Transform floating shelves into wall decor by adding subtle lighting to each one. This not only turns a functional piece into a more artful element that adds ambiance but also introduces some moody lighting.
Well-Framed Mirror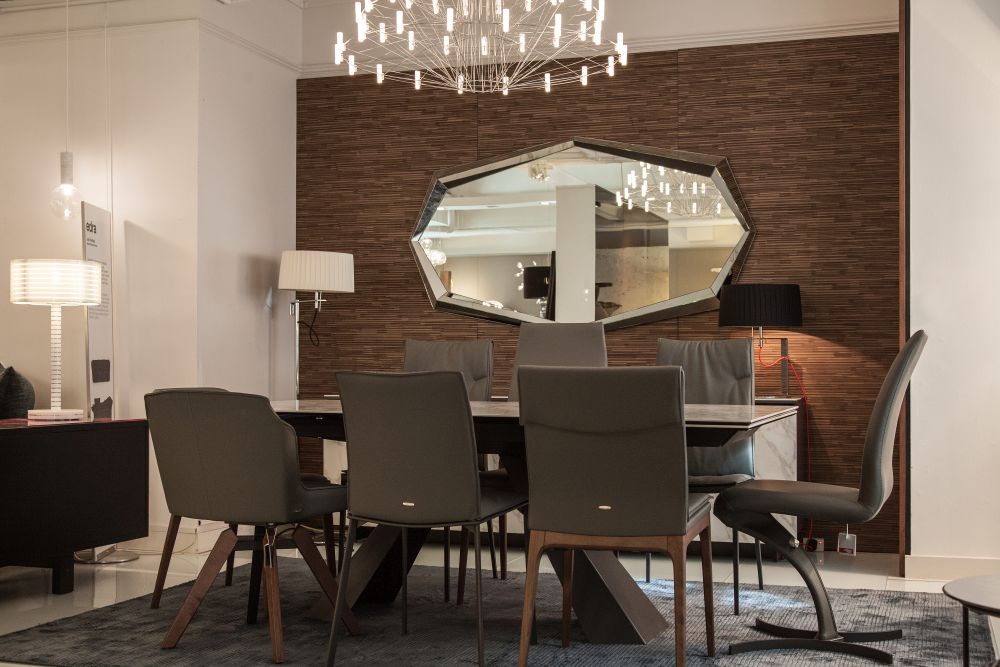 Without an interesting frame, a mirror is pretty basic wall decor, but this one has both an interesting shape as well as a fabulous faceted edge. In fact, the frame, in this case, emphasizes the nonstandard shape and makes it even more special.