Try These Wall Art Ideas to Change The Look of Your Rooms
It's easy to take a space from boring to beautiful with wall art. Using artwork of any kind is also a cost-effective way to freshen up a space. This is especially true if you have a larger wall that you can turn into an accent wall with either a larger piece or a collage of artworks. If you move frequently or like to redecorate,  art is easily moved from one place to another or changed out to suit your mood or the season. Remember that art does not always equal a painting, so look beyond the usual piece and explore prints, multimedia installations and the use of multiples to find ideas for renewing a room.
Black and White Art
With a great deal of focus placed on adding pops of color to a room, it's easy to forget about the dramatic effect that a piece of black and white art can add to a space. This is true for rooms that have a lot of color present as well as those that follow a totally neutral palette. A light colored cabinet and peachy-tone walls are nicely accented by the black and white art, framed in black and gold. The moderately sized black frame has an inner frame of gold, which pick up on the gold hardware.
A room that is already predominantly done in black and white is a natural place to include a large, dramatic piece of art the follows the same color palette. Here, everything in the room is black and white, highlighted by the earthy brick color of the rug and coffee tables. Rather than introducing more color, it's a great accent wall idea to heighten the impact of the black and white art is by using a larger size and placement above the mantel.
Textural and Three-Dimensional Art
Another great accent wall art idea is to install something that is more about the texture and the material than the color or visual rendering. Living room conversation areas are easily turned into a focal point with a large expanse of textural pieces.  Here, a 12-piece arrangement of wooden squares creates a large and dramatic accent wall. The beauty of using multiples of one element is that the size can be as expansive as needed to create drama.
Using pieces of different sizes that are arranged in an innovative way is another way to jazz up some wall space. The common element in this installation is that all the pieces are brass, while the interest comes from the varied sizes, patterns and non-linear placement. A wall art idea like this can be achieved with purchased pieces or some type of DIY elements that you create yourself.
Multiple mirrors with decorative frames are yet another option. Generous frames made from interesting materials like these rustic wood pieces transform modestly sized mirrors into art elements that are ideal for an accent wall. These are also a great example of the different styles that wall art can follow — it's not all high-end paintings, colorful drawings or glitzy wall sculptures.
Multiples of a decorative wall art element can also be used to highlight a specific part of a room. These metal and glass teardrops are neutral in tone and not overly shiny, so they could work well for contemporary decor or even perhaps a room that has a rustic or industrial flair. It's a type of wall art that would also be appropriate for any space.
Wall sculptures can also add interest when you use just a few pieces. A trio of round creations striped with enough shiny gold to make them stand out prick up on the gold hardware of the cabinet and the finish of the lamp. It's quite a good dose of metallic shine, so the best palette is a neutral one. If there was a lot of color in the room, it might end up being a bit gaudy.
In some cases, drama plus drama equals even more drama!  An organic silver console is striking enough on its own, but when you add intriguing wall art, it really ups the ante. The orb-shaped wall sculptures have craters lined in silver which echo the forms in the console. Even if you were to use a more modest number of orbs, this is an amazing accent wall for a living room or entryway.
Not a fan of too much glitz?  Tone down the shine by choosing a wall art installation that includes elements with a more muted finish. In this example, smaller and lighter gilded pieces are combined with larger, earthier rounds that have a darker, matte finish. The smaller gold pieces pick up the pattern from the table lamp creating a unified, coordinated look.
Even spaces with plenty of shine can add drama by adding artwork that has less glitz. This cube sculpture features metallic finishes, but they are muted and don't gleam like the cabinet underneath. With so much shine on the front of the cabinet, a restrained metallic artwork is far more distinctive than a glitzy one would be.
Colorful Paintings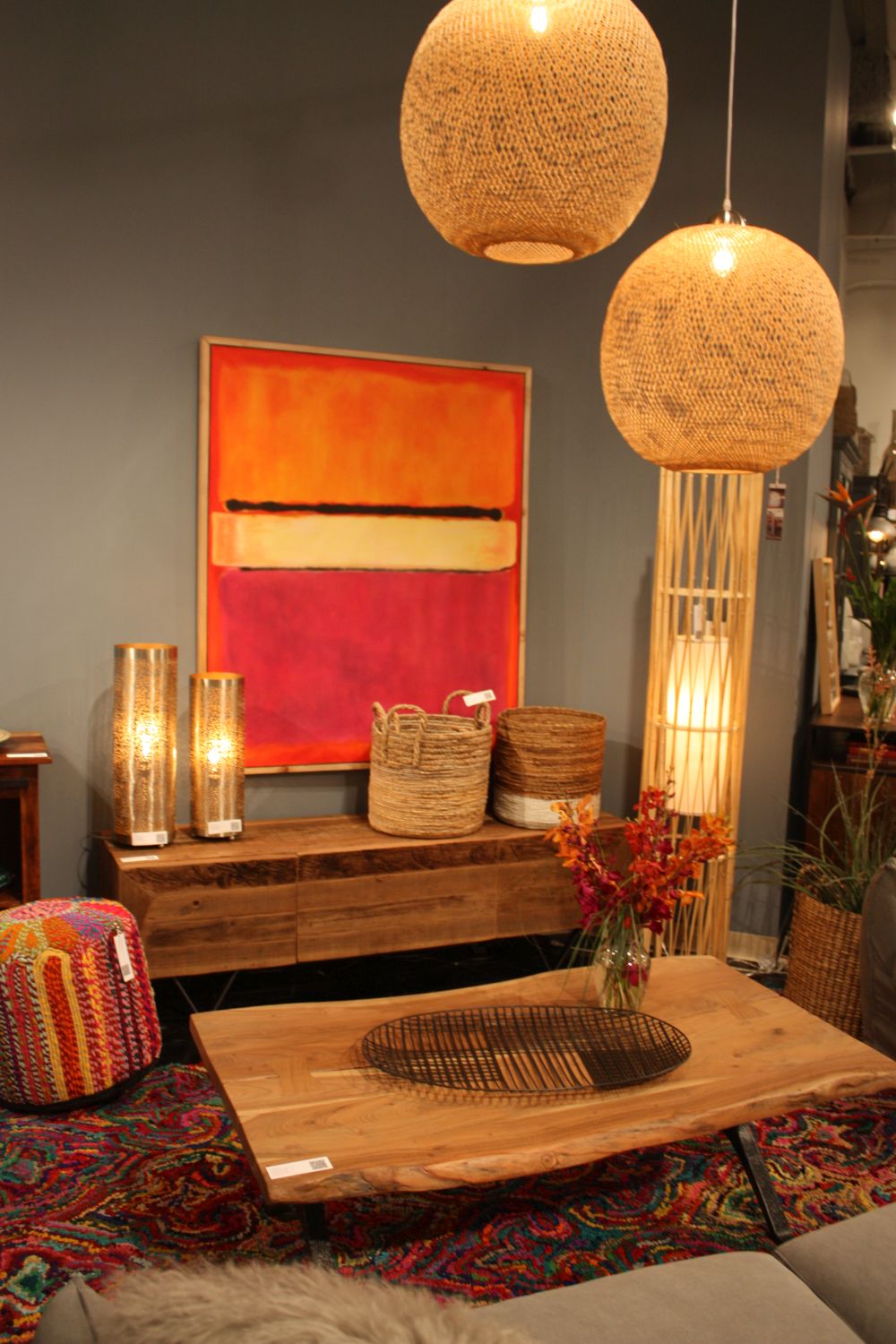 Modern, realistic, abstract, naive — every single style of painting is popular for a reason. The images, colors and representations appeal to people and provoke thoughts and feelings. A painting is a type of wall art that is always favored because it can turn any area or wall into a focal point, especially when it uses color to do so. Abstract works like this one are a big pop of brightness, picking up on the oranges and reds in the rug and the pouf.
Even artwork done in more muted tones can add color and drama to a wall. These are excellent wall art ideas for a space that is dark and generally neutral. Here, the space is neutral even though it is predominantly gold and the dark brown wall makes an ideal background for an abstract piece that features multimedia elements.
Diptychs and Triptychs
Really big art can be really expensive, not to mention sometimes unwieldy. A great alternative is to opt for a diptych or triptych, which is a fancy way of saying an artwork made up of two or three panels. Using a piece of art this is composed of a couple of moderate or even large-sized panels give the look of a giant work of art. This abstract piece is a diptych of ethereal, cloud-like forms that highlight the seating area wall.
Black and white art that is multi-paneled also has great impact. A neutral, globally inspired space is dressed up with a black and white diptych over the credenza, creating an instant accent wall. Again, using black and white in a space that has a neutral palette is a great way to add interest without introducing vibrant color.
A more opulent style of room can amp up the drama with artwork that picks up on the gilded elements of the furniture and other accessories. The golds, yellows and creams used in this diptych brighten the dark brown wall and visually pull in the credenza, creating an instant feature wall that will definitely serve as a focal point. Wall art ideas that enhance the pieces you already have are an excellent way to increase the impact of a room.
While this isn't a diptych or a triptych, it is a wonderful example of how to give smaller works a bigger impact. Frame them all exactly the same and hang them as an installation. This turns the wall above the sofa into a focal point just as one large artwork would. Hanging individually in different locations, these drawings would be an afterthought instead of a major.feature.
Mirrored Elements
Sure, we already know that large mirrors on the wall can visually expand space and create drama, but wall sculptures that use mirrored elements are also very distinctive. This is a great wall art idea, particularly for the dining room, where you might not want just a large framed mirror. The multitude of organic shapes reflect the light and offer glimpses of the space without creating a large reflective image.  It's an understated and creative way to add a larger piece of mirror.
Drawings and Prints
Along with paintings, realistic drawings and prints are among the most popular ways to add wall art to a space. These are ideal because they can be works created by friends or family, pieces that have been collected over time, or images purchased to fit a particular decor scheme. Some people say that art should be chosen for its meaning or appeal to you, not because it matches a space, but that is an entirely personal decision. This seating area is nicely accented by the piece featuring large windmills.
Sometimes a pair of drawings makes a good wall art installation. These two owls, clearly from the same series by a single artist, are a good example of using a pair of artworks. Rather than a single piece, which would not have enough impact, the two together are framed by the rustic shutter-like sconces, creating an accent wall. With less impact, it would just be a cute corner.
Sets of prints in various even numbers can make a dramatic accent wall no matter what the subject. This industrial style console is very attractive but not large enough to be a focal point. The addition of multiple prints, all of the same subject theme and similarly framed turn this area into an accent wall. This can be a budget conscious way to use wall art, rather than investing in much larger works.
Vintage prints are very popular for use in a variety of decor styles and oversized drawings of common items in a vintage style are great wall art ideas. These can be renderings of utensils, appropriate for use in a dining room or kitchen, or other types of mechanical drawings scaled up for use as wall art that are more suited to a family room, library or den.
Even rustic spaces can use prints as a wall art idea to carry through the decor theme. Images depicting rural themes, animals or other rustic elements are ideal for maintaining the look. Here, a coordinated set of prints featuring cows emphasize the farmhouse style of the credenza.
Wall Art As Headboard
To make a big statement in the bedroom, choose a headboard that is like a dramatic piece of art.  This Christopher Guy sunburst headboard positively radiates art deco style and make the wall behind the bed the feature wall of the room. It also means that the wall neither needs nor should have additional embellishments of any kind.
An alternative is to make artwork the headboard. This panel of upholstered squares that are artfully arranged is a great example. The addition of a spotlight really puts the focus on the headboard. While you wouldn't want anything else on the wall, a tall piece like this behind the bed means that it's possible to use large and dramatic bedside lamps, much taller than normally advised.
Even a modestly sized headboard can become wall art when combined with other elements like the plain mirrors that flank this upholstered headboard. Against a dark wall and accented by the dark bed linens, the shape of the headboard becomes a dominant feature and the focal point of the wall.
Vintage Clock Faces
In today's all-digital society, it might be surprising to find that vintage clocks and clock faces have become very popular as wall art. Functional or not, these clocks add drama to an accent wall, either through their style, oversized dimensions or a combination of both. This oversized clock face rests on the dining room sideboard and this manner of display adds impact to the furniture as well.
A clock face that is much larger than the cabinet underneath draws the eye to the wall art and adds impact to the smaller piece of furniture. The vintage style, worn face and French language make it a distinctive piece of wall art that elevates the small corner.
As you can see, wall art ideas abound when you look past the obvious. That said, the most common types of wall art can also be dramatic additions to a space, especially if you want to create an accent wall or a feature wall. Let your budget and your taste be your guide and remember that art is very portable!