Types Of Light Switches To Switch Things Up
Without light switches how would you turn on lights? As there are many types of light switches, they serve as a vital part of each household. Today, the light traditional switch remains an overlooked necessity.
And while the light switch plays a daily role in our lives, it's one that no one talks about.
The light switch is a genius invention and one that doesn't receive enough praise. We'll look at popular light switches and what the future holds for light switch technology. But first, a little background.
History Of The Light Switch
Thomas Edison invented the incandescent lightbulb. Five years later, in 1884, English electrical engineer John Henry Holmes invented the first-ever light switch. Since then, the switch continues to evolve.
Push Button
Push-button light switches were common beginning in the late 19th and through the 20th century. Demand for the switches was high because finding a light switch in the dark was hard.
In Victorian homes, individual light switches for each incandescent light bulb was the standard. The switches are available today and are popular among homeowners who want to add historic flair to their home interiors.
Toggle Light Switch
In 1917, the toggle switch replaced the push button switch. Over 100 years later, and the toggle switch is still popular. The advantage of the toggle switch is how it is operated by an extended lever. Later designs featured a light inside in the lever, making night-time visibility easier.
Dimmer Switch
In 1959, Joel S. Spira, invented the dimmer light switch. Through a diode and tapped autotransformer, people could save energy by decreasing the amount of light from regular light bulbs.
DIY Light Switch Installation in 7 Easy Steps
If you're comfortable working with electricity and you have the right tools, changing a light switch is easy.
Basic steps to change a light switch:
Turn off the fuse connected to the lighting circuit in the breaker box for the light switch you want to change. If you have a voltage tester, use it to check if the power is off.
Remove the switch plate.
Pull the switch out of the box and remove the old wires.
Reconnect the wires to the new switch. Match the black wire with the brass screw. The neutral wire goes with the silver screw. Connect the ground wire to the green screw on the other side of the switch.
Push the new switch in the box and secure it with screws.
Screw the switch plate back.
Turn the power on and test the connection.
What Is A Smart Light Switch Guard?
Smart light switch guards protect smart light led bulbs. Smart light bulbs operate unlike traditional bulbs. A smart bulb is turned off and on by turning the bulb. Because of this, you must keep the light switch on all the time.
Do I Need An Electrician To Replace All Types Of Light Switches?
No, you don't need a licensed electrician to replace a light switch. You can do it yourself, but if you don't have experience, you should hire an electrician. They can show you how to do it.
Safety Issues For All Types Of Light Switches
If you have a hot light switch, then you need to fix it. A hot electrical switch is a red flag. It means there's something wrong and you're sitting on a potential electrical fire.
Here are four common hot light switch scenarios:
Overloaded Light Switch
Light switches have power limits. A switch will get hot if you demand too much power from it. Most wall switches have 15 amps. When the switch becomes hot, change it to match the power load.
Switch Failure On All Types Of Light Switches
When light switches get old, a spark will occur when you turn the light on or off. This happens because the contacts aren't meeting the way they should.
Faulty Wiring On All Types Of Light Switches
Bad wiring causes more electrical fires than anything. Your wires should be secure. Loose or broken wires are a home safety hazard. When electricity moves through a smaller path against its will, unnecessary heat can start a fire.
Dimmer Switches
You can expect your dimmer switches to get warm, and that's okay. However, when a dimmer switch becomes too hot, you will need to call a professional.
Safe Light Switch Wiring Methods
How To Wire 2 Lights To One Switch?
Wiring multiple lights into one switch isn't hard. The two most common methods when connecting multiple lights to one switch is through a daisy-chain or "home-run" configuration.
Before you begin, disconnect the fixtures you don't want to use.
Daisy-Chaining
Lights in the same series will affect all of them. If one fails, then all of them will fail. With daisy-chain lighting, lights are parallel to one another.
If you're connecting a single light fixture to a switch, you'll have one live cable with a black, white, and bare ground wire in the fixture box. Connect the black wire to the black wire on the light. You'll also need to connect the white wire to the white one on the light and then the bare one to the ground wire.
When adding an extra fixture, you might need an extra cable in the box for the specific fixture. Add the black wire to the two existing black wires. Repeat this process with your white and ground wires.
Home Run Switch Wiring
With home run switch wiring, each outgoing hot wire connects to the switch's load terminal. To do this, twist the black wires going into the fixtures together with a 6-inch black wire.
Screw a wire cap onto the spliced joint. Next, connect the short wire to the load terminal. Do the same thing to connect the ground wires to the ground terminal.
When you get to the white wires, you don't need a pigtail. You can twist them together and cap them.
How To Connect Multiple LED Lights To One Switch
Choose your circuit –

The series mode is the easiest circuit type for LED strips. The circuit current follows a single route. Connect the positive end of one LED strip to the negative end of the next, and the series continues on both ends of the LED strip splitter. Plug the strip splitter into the wall's main electricity source.

Connecting LEDs –

Connect the anode of the first strip to the cathode of the next until you're out of strips. Before attaching the strip to its male counterpart for power, connect the ends to the 2.1 mm female connector.

Check power –

Check the power rating before plugging in your LEDs. The total voltage needed by each strip includes the amount of power required. If the power outlet is too strong, your strips could be faulty.

LED strip placement –

To make your connections easier and reduce using too much cable, have the power source close to the strips. A single power source will prevent your cords from tangling. Use the nearest power source. With shorter connections, you'll have a lower chance of tripping.

Checking connections –

Examine each node and check your LED strips for flaws that might cause problems with their design.

Power source –

To ensure a safe connection, have the 2.1 mm female connector and its male counterpart. Plug the female half into the male and see if your strips light up.
For a better understanding, click the link here.
The Most Popular Types Of Light Switches
There are dozens of different types of light switches and light switch covers.
Here are a few of the most popular light switches:
Single Pole Switch
Single pole switches are the most common. They work with 120 V of power. You might have this type of switch in your home.
They are for lights can also cut the power off to a certain area.
Toggle Switch
In 1916, the toggle switch was invented by William J. Newton and Morris Goldberg. The toggle switch has a small metal lever that goes up and down.
Most types of light switches were inspired by this switch. Though you won't see it often, it can be found in industrial designs.
Rocker Switch
Rocker switches are safe due to the fact that they are flat and won't snag. In the US, the rocker light switch they're known as decorative switches.
Rocker switches are popular in Europe. They are cheap and easy to use.
Double Pole Switch
The double-pole switches operate up to 240 V, unlike single-pole switches. You'll find them on large appliances and in factories. They're longer circuits with multiple lights.
Combo Switch
If you need one outlet plug-in but you also don't have space to add both a switch box and an outlet box, this is the solution. This is a great design that combines both a switch and a plug-in into one box.
A combination switch needs one plug-in like a bathroom. However, it's important to have a GFCI outlet.
Rotary Switch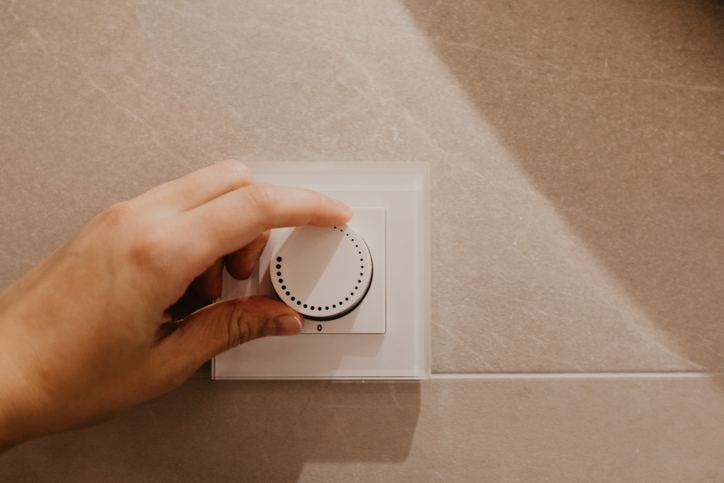 A rotary switch controls a light's brightness. Most lights only switch on and off. But a rotary switch allows the lights to have a medium intensity instead of just on and off.
Button Light Switch
A button light switch was is an older light switch. In electronics, push-button power controls are common, but that is changing.
The button light has various uses like opening automated doors or powering on an area of the house. Warehouses and businesses like them because they aren't noticeable.
Proximity Light Switch
Proximity light switches use sensors to detect motion. They turn the lights on when someone enters the room and can shut the lights down after people leave.
If you forget to turn off the lights, then this motion activated light switch is for you. Even if you don't forget, it never hurts to take that extra step.
Setting Switches
This is a type of light switch that isn't hooked up to a light. They have buttons that let you choose different modes or settings. You'll find them on smart devices where the base settings are on the switch.
Some of the switches have two buttons while others might have five along with dials are knobs to control them.
Photoelectric Light Switch
Photoelectric light switches are a unique type of light switch that detects the level of light in an area. The lights turn off automatically whenever there is enough natural light available, making them common outdoors.
The switches can be operated manually but most of the time, they do a good job of finding out when the sun is going down and switching on. When the sun rises, they turn off, saving you money.
Clapper Light Switch
The light switch was popular a few decades ago yet the magic remains. Today, they aren't as popular. They sometimes turn off or on whenever a sound causes it to react. If you have a quiet home, the clapper is ideal.
Illuminated Switch
If you're talking the 50s, you have to look at illuminated switches. In the 50s, these were popular as LED lights were also new and the light switch uses LED lights to light up in the dark.
If you are afraid of the dark or have trouble seeing the light switch in the dark, then this is perfect. The switch itself lights up so you don't have to work to find the light switch when it's off.
Australian Rocker Switches
You won't see this type of light switch in America, but they are the standard for Australia and Oceania in general. The Australian rocker switch has multiple small rocker switches, usually, quite rounded.
They are compact and simple, making them look great in any space. The Australian rocker switch is a great choice if you want a lot of lights in one spot because they can have up to six rockers on one plate.
Vandal Resistant Switch
Yep, that's the official name for this type of switch. These switches are used in crossing lights and other public spaces that vandals have access to. They are designed so that they are nearly invincible.
Vandal-resistant switches are made of steel and are even well-camouflaged so that they don't attract vandals. While the poles around them may suffer damage and are not resistant to stains, the switch will remain visible.
Mercury Switch
Mercury switches are illegal in many states because they contain mercury, which is poisonous. They were created to be silent, to not wake anyone or disturb anyone.
They are used for military aircraft and other non-commercial uses. You won't find these types of light switches at your local home improvement store unless it's a private shop.
Chain Switch
Among all types of light switches, this one isn't a switch but an alternative. You can keep everything in place and do not need an extra cord switch or wires.
A metal chain is attached to the light, and you pull it to turn the light on and off. This works well for 10-foot ceilings.
Touch Switch
Touch switches are electronic and activated when you lightly touch the switch. This works like a touch faucet where you have to touch and not turn the lever or operate a switch mechanism.
These are great for cleanliness where you can use a sanitary part of your hand to touch the switch. There isn't a switch and instead it's a screen you can turn on and off, making it easy to clean.
Smart Light Switch
You can control smart light switches with your smartphone, Alexa, or other with technology. This is the future of light switches.
This is a cleaner and easier way to control your smart lighting fixtures. If it is not Bluetooth operated, you can control it from long distances.
Frequently Asked Questions (FAQ)
FAQ
How Far Should A Light Switch Be From A Door?
There isn't a national law mandating the distance between a light switch and a door frame. However, there are local and state laws that address this issue, and with all types of light switches.
How Much Does It Cost To Install Or Move A Light Switch?
The average cost of moving a switch is between $100 and $200. Before moving a switch an electrician will cut a hole where there wasn't one. This might require drywall or sheetrock repair. The average switch cost between $10 and $20. In nicer homes with high-end technology, the job might cost $200 for a smart switch or specialty dimmer switch.
How Much Do Dimmers Cost? 
Dimmer switches cost between $10 and $35. If want to control the brightness from two locations, you will need a three-way switch or four-way switch. Dimmers also have a lower wattage rating. 
Should All Types Of Light Switches Match Wall Color?
Yes, light switches should match the wall. You can paint the wall switch plates to match your wall collors. If you live with someone visually impaired, it may be a good idea to paint the switches with bright colors.
What Is Line And Load On All Types Of Light Switches?
With electric devices connected to each other, a line refers to the wires feeding it from the panel. Meanwhile, a load refers to devices on the same circuit that are downstream. 
Types Of Light Switches Conclusion
The light switch will continue its evolution as it adapts to the modern world. Or before you know it, they might disappear. As green technology and building become the standard, we could see all types of light switches disappear from households. So, you should enjoy them while you can.