Buildings That Know How To Make A Thatched Roof Look Modern
It's hard to give up an idea that you had for so long even when you find out it's false or exaggerated. For example, everyone seems to have this idea that a thatched roof is extremely inflammable and makes a house burn out in minutes. In reality, thatched roofs are actually not as inflammable as we think. They burn slowly, like a closed book and if installed properly they offer some great advantages. And if you think this is one of those types of roofs that only look good on tropical and rustic houses, check out these amazing modern designs.
The Silber Bay house is a breezy and casual retreat on the Western coastline of South Africa. It's a holiday home designed by SAOTA in collaboration with Antoni Associates. Architecturally-speaking, the structure has a very open design, featuring a large central courtyard and huge windows that expose the spaces to the magnificent views. Another key feature of the design is the thatched roof which is a nice suit for this type of laid back design.
It's true that thatched roofs are often a sign of a rustic design but that doesn't mean it can't be a feature of a modern home. There are cases when old houses have been remodeled and their thatched roofs became a part of the new look. One example is this traditional cottage in Croatia. It was renovated by Proarh and the architects retained a lot of the original characteristics, including the roof. They also made some changes such as the large windows they added or the cantilevered terrace.
A barn that was constructed in the 1800s was the subject of a major remodel in 2009 when architect Arend Groenewegen converted it to a modern office. The architect managed to transform the barn into an office that meets the requirements of today while maintaining the building's original character. That was possible by preserving the thatched roof design with its smooth and organic lines and structure.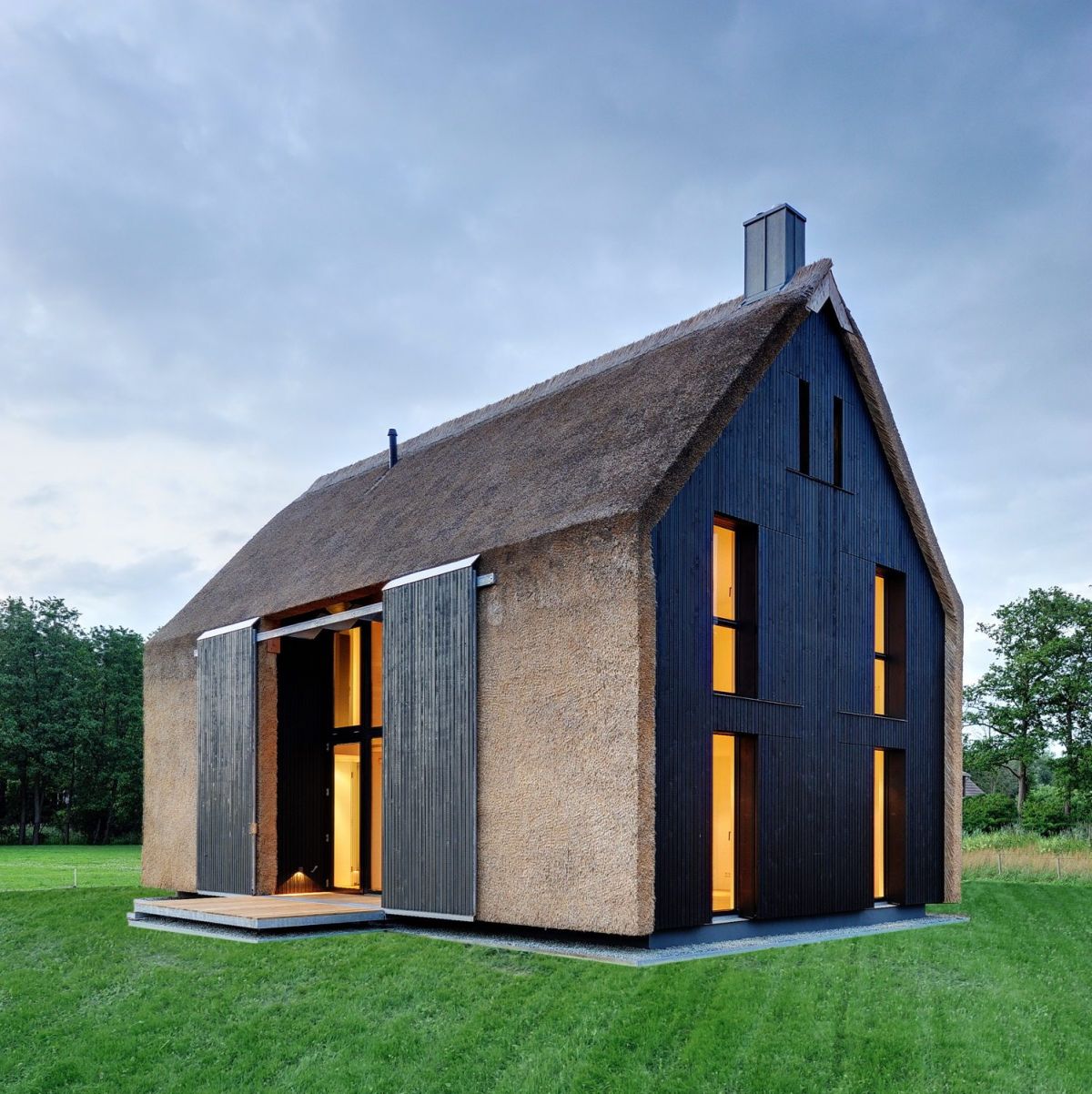 Modern thatched houses are more common than you think. There's one in Northern Germany which beautifully combined tradition and modernity. The house was designed by Möhring and the main idea behind the project was to create a house that maintains elements that are typical to regional buildings and puts them in a modern context. The facade has a striking look thanks to the contrast between the thatched roof and the black finish.
Somewhere in Cheshire, England, there's a charming 18th century cottage that has a beautiful thatched roof wrapped around its brick walls and small windows. But don't be fooled by this old and rustic look. The cottage is in fact a modern home and you can tell that by the new kitchen extension which is pretty much contained in a glass box. This unusual design was a project by Alex Saint of Kitchen Architecture.
Set on a hidden site surrounded by trees in Durban, South Africa, this cozy retreat got a lot bigger when Elmo Swart Architects gave finished its expansion. The new addition includes a bedroom, two studies, a social area and an art gallery. It was added to an existing structure that has a thatched roof and a modern and cozy design and it mimics that look by featuring a continuous shell that wraps around it in a fluid way, linking the floor, walls and roof.
This is a residence located in Anthem, the Netherlands. It has a pretty traditional-looking design except for a few modern details that clearly give it a fresh look. Large windows and minimalist forms are complemented by a thatched roof that actually covers both the roof and a part of the facade. This was a project by FAKRO.
House N is an example of a renovation project that managed to keep the original character of the home intact. This is always more difficult that starting from scratch. The renovation was done by Maxwan Architects. The most eye-catching detail would have to be the thatched roof which gives the house a rustic look and sets it apart from its neighboring buildings. Most of the new additions and extensions consist in structures made of glass, a material chosen for its versatility and transparency.
The owners of this inviting house wanted a family home that would allow them to find peace and serenity at the edge of the city, in Zoetermeer, The Netherlands. They went to Arjen Reas architects for help with the project and in 2010 the house was complete. It sits on 744 square meters of space and it has a simple and modern design, with walls made of stone and clay plaster and a thatched roof.
This museum and biodiversity research center in La Roche-sur-Yon, France has not only a thatched roof but also thatched walls. It's as if there's a blanket wrapped around the whole building. The building aims to preserve the biodiversity already existent on the site and to have a positive impact on its surroundings It's a site-specific project inspired by the topography. It was a project by Guinee et Potin Architects.
The Naman Retreat is a resort located 16 km away from Da Nang airport. It was designed as a tropical retreat meant to be very peaceful and relaxing. The resort is composed of 80 bungalows, hotels and 26 villas. It was designed in harmony with nature using natural stone and bamboo for the frames that support the thatched roofs. The most imposing building would have to be the bar which faces the infinity pool and welcomes all the guests under its bamboo roof. This was a project by Vo Trong Nghia Architects.
The same architects also designed a wonderful community center in Sen Village, an area outside of Ho Chi Minh City in Vietnam. They designed the center using bamboo and thatch and made it big enough to accommodate 250 people. Its roof looks like a giant umbrella and it covers a circular hall used for a variety of activities such as exhibitions, concerts and banquets.
In 2015 Archispektras completed the Duna House, a beautiful and cozy retreat located in Pape, Latvia. It has a sharp thatched roof that sits at an unusual angle and goes almost all the way down to the ground, concealing the interior. Its sharp lines contrast with the surroundings and the design as a whole was carefully planned to match the colors and textures of typical local buildings.
The region of Gianas in Sweden has its own exquisite visitor center. It was designed in 2008 by Wingårdh Arkitektkontor AB and it sit on the water'd edge. The whole building is clad in thatch and this allows it to blend in easily. The camouflaged look was achieved using traditional local materials and a perfectly planned geometry where the roofs seamlessly transitions into walls and with a glazed skylight on the ridge.
In Schipluiden, The Netherlands there's a pretty impressive town hall designed by Inbo. It has thatched roofs that fold over the curved profiles of the five volumes. The architects designed these to mimic the forms of the surrounding hills. The design is inspired by the farmhouses typically found in this area. The roof is made of long strands of reed wrapped around prefabricated panels.
As you can see, Netherlands has quite a few great designs that use thatched roofs. Another one of them is featured by the Felsoord Daycare Center located in Delft. It was a project by Mohn + Bouman Architects. The building has a modern appearance despite the use of thatch for its roof, a material more like to be found on old cottages and barns.
Also located in The Netherlands, the Floating Office is yet another contemporary structure that revives the beauty of thatch. The building was designed by Attika Architekten and it sits above the waters of the Amsterdam canals in the northern part of the old city harbors. The building has three floors and a structure inspired by an ark.