Standard Garage Door Sizes For Any Home
Over 60 percent of housing units have a garage or carport. Garage door sizes for any home are readily available. Today, almost 80 percent of all residential homes have an electric garage door opening.
Due to the sheer volume of garage doors, it's imperative to learn more about a standard garage door size and other items, and why they're important.
When buying a new home, you'll want one that has a garage big enough to fit your automobiles. It's easy to understand why width and height measurements for garage door sizes are essential. Also, energy efficiency is a priority, and of course, other items when choosing a new garage or foot garage door.
History of The Garage Door
The word "garage" comes from the French verb "garer," meaning to protect or provide shelter.
Early garage doors opened at the middle and swing outward. In the 20s, sliding garage doors were large and heavy and would accent a home. It was also in the same decade when C.G. Johnson invented the overhead garage door and electric garage door.
Garage doors were first made of wood, but they didn't last long and would warp easily. Eventually, the car garage door would be made of metal and corrugated steel. In the 40s, builders began including garages into their residential designs. Americans wanted something functional, plus residential garage doors looked nice.
In the 60s, families could afford more than one vehicle and the two car garage was born. Back then, average garage doors accounted for almost half of the square footage of a home.
It wasn't until the 70s that metal garage doors became the norm. The single car garage is almost a thing of the past, while today the three car garage dominates. Garage door size will continue to change, but it's anyone's guess what the future holds.
Does The Front Door Have To Match The Garage Door?
Most design experts will agree that a home's garage door should match the front door. If the garage door and front door face the street, they should have the same color. When both car garage doors have matching colors, a connection is achieved that completes a home's exterior.
Residential garage doors aren't intended as color accents. If you want to paint your garage door, beforehand, check your HOA by-laws. There might be restrictions that limit your color options.
Standard Garage Door Sizes
The size of a garage door depends on the house and design. When installing a new garage doors, everything from door height to the back wall is important. Older homes will only have a single car garage, while newer homes might have a three car garage.
Garage doors range between 9 feet tall and 18 feet wide, which is the standard width. A single car garage door for a mini might start at 7 feet wide. The average garage door size isn't big.
Single Garage Doors
The standard single car garage door is 8 to 9 feet wide and 7 to 8 feet high, and again, the standard width. The average garage door size for new homes is 9 feet by 7 feet wide garage doors. The garage doors are large enough for most vehicles.
Double Door
The standard double door garage is 16 feet wide and 7 to 8 feet high. As you can see, it is the same height and simply double the width. So, you can fit two cars in side by side without having to park differently.
Even with one car, the extra space a double door garage provides is a bonus. One door on a two car garage might look odd if it isn't done right, but the extra door won't have a negative impact on your home.
Custom Garage Door Sizes
While the size of your garage door is important, so are your garage doors. Since most cars are built within a certain range, what matters most is how many you have. These are the standard garage sizes for those with one to four cars.
Single Car Size Garage Door
The average garage door size for a single car garage is 12 by 20 wide. This gives two to three feet of clearance. The height is standard as it will be a few feet and the closest inch higher than the garage door. You don't need much space around the car, but it can be tight if there isn't enough room to walk throughout the garage without climbing over the car.
Two Car Size Garage Door
The standard sizes for a two-car garage door is 18 feet by 20 feet wide. That doesn't allow much clearance per car like a one car garage.
Related: 45 Car Garage Concepts That Are More Than Just Parking Spaces
Three Car Size Garage Door
The garage door size for a three-car garage size is 28 feet by 20 feet. You may notice by now that the depth for each garage size is the same. This is for two reasons. Because 20 feet is the standard width for a house and because the clearance rarely changes with garage doors.
Four Car Size Garage Door
Success has privileges but also unique problems. A four car garage might seem cool to most, but it won't take care of itself. You will need to make a contribution to preserve your garage doors. Most four-car garages are 36 feet by 22 feet wide. Two feet is added to the depth, though 20 feet wide works fine.
Recreational Garage
If you don't use your garage to park your car and instead use it for recreation, door sizes will vary. The size needed for a recreational garage isn't that much different than the size needed for a living room or family room inside.
So, in short, a recreational garage is pretty much like an interior room.
What Garage Door Size Do You Need?
The standard garage door size depends on your home. Most people don't consider anything but how big their car is when they measure it or the factory size. But if you use a lift kit or attach cargo to the top, you still need to enter your car garage.
1. Door Size
To determine a single car garage door size, for example, measure the size of your vehicle both width and height. Make sure here are a few feet of clearance, especially if it's a new door, single door, or three-car garage door.
2. Garage Size
When measuring a car garage, include everything. Make sure there is enough space to walk around your car. The standard garage door size is determined by the design of your home and local building regulations.
Garage Door Styles
Just like front doors, residential garage doors have different styles. Custom garage door sizes include standard size Craftsman, contemporary 8 foot space garage, or a classic new garage door are easy to find. But what we're talking about isn't the design, it's the way a car garage door retracts.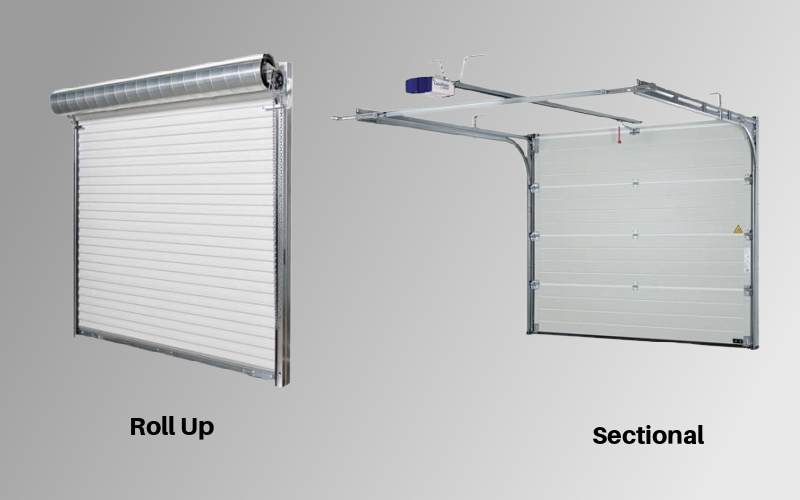 Roll Up Garage Doors
Roll-up garage doors roll up like a yoga mat. They are simple and take up the least amount of room. When rolled up, they appear as a cylinder at the top of your car garage door opening.
Side Slide Garage Doors
Side sliding garage doors slide open like any other type of sliding door. They work like shoji doors but slide in front of the wall instead of into the other door. This gives room and doesn't crowd the ceiling.
Sectional Garage Doors
This is the most common garage door. It has built-in sections or panels, so it can fold and bend with the tract and curve of the car garage. This is what most new houses will have as well. A sectional double garage door has Pu insulation, which reduces heat loss.
Side Hinge Garage Doors
Side hinge doors are a rather rare type of garage door that open like regular doors. They are often found in carports or sheds that have been converted into a garage. They are opened and look much different than other garage doors. A double garage door side hinge would work the same way.
Tilting Garage Doors
Tilting garage doors are one solid piece. The doors tilt up and into the ceiling.
Garage Amenities You Want
Just because you want to use your three car garage for your cars doesn't mean that it can't have amenities. Check out these garage amenities that you probably didn't even know you needed. If you're not sure, consult with the local pros today and you'll learn more.
Weatherproof Threshold
If you live in a harsh weather climate, you'll need to reinforce your garage door by utilizing wind retrofit hardware. Most garage doors won't come with a waterproof threshold despite it being so important.
Garage Gas Heater
Garage heater gas line installation requires the ability to hook up a gas line and it will need to vent. Gas garage heaters are built to hang from ceiling joists. Once your heater is mounted to the ceiling, you'll need to set up the ventilation. To do this, cut a small hole in the roof. From here, you can install flashing and insert the vent pipe.
Installing a garage heater is not a DIY project. You will need to hire a professional contractor. Find a garage heater today or check out your local sales events for the best deals.
Garage Door Opening
If you don't have an automatic garage door opener, then you're one of the few.
Garage Door Organizer
It doesn't matter if you use your car garage for something other than parking, an organizer can help keep things tidy. You can use one for car tools or for things you find in the car but don't want to put away. If you have a three size garage door, you will need an organizer.
Garage Door Frame
The garage door frame is just as important as the garage door. To ensure it lasts a long time, PVC cladding for a car garage door frame is your best option.
Garage Door Conversion
If you convert your garage into a living space, wall insulation is important when converting your car garage into a living space. When you do this, you'll need to make sure the walls are insulated so you create a room which stays warm when it is needed.
Garage Door Repair
Like most installed building products, a garage door opening can incur damage. There's nothing like a damaged garage door to ruin your mood or set you back a few hundred dollars. Garage door repair is a fact of life. If you run from your car garage, that will only make things worse.
Whether you like it or not, even a new garage door requires maintenance and upkeep. Because garage doors are made with panels, they're vulnerable. Custom garage door sizes aren't cheap, and depending in the paneling you choose, it's not easy finding a replacement. Owner's products are available, but garage door repairs, whether for two single doors or multiple single doors require professional help.
When replacing a garage door panel, you can expect to pay between $250 – $800. The price reflects the cost of the panel and installation charges, which will each makeup about half of the total cost. You can find panel discounts on a third party site or on other websites, or even better, ask your local pros today for to get a second opinion.
Weather
Commercial and residential garage doors are vulnerable. The garage doors can easily sustain damage from harsh weather conditions. When a garage fails to open during bad weather, the garage door opening can lead to internal pressurization, which can cause additional structural damage to roofs and walls.
Car Damage
The odds that you, a family member, or guest will hit your garage with a car are high. If you ran into your garage door opening with a car, relax, your insurance will cover it. Just know that it will happen at least once while you live at your home.
You'll need to plan for such accidents and make sure you and your car garage are covered. After your garage door has been hit by a car, an insurance inspector will assess the damage and give you a free estimate on what it will take to repair the garage door opening.
Garage Door Opening Issues
Residential homes are built with electric garage door openers. Because the openers require electricity, during a power failure or short circuit breaker, they won't work. The doors open manually during power failures.
If your remote control doesn't work, check to see if the door opening is plugged in. Also, it could be that the garage circuit breaker is in the right place. It could be something as simple as the door being locked manually by mistake. Often, it's the batteries in the remote control device that needs changing.
Frequently Asked Questions (FAQ)
FAQ
Are Garage Doors Covered By Home Insurance?
Yes, your homeowner's insurance offers garage door damage protection. Make sure you read your policy as there may be circumstances that aren't require special attention.
Best Drywall Tape For Garage?
Professional contractors believe paper tape is the best drywall tape for a car garage. However, for those at the DIY level, adhesive-backed mesh would be easier to work with and apply. With adhesive-backed mesh, you won't have to worry about rippling, wrinkling, or slipping. 
How Often Do I Replace Garage Door Rollers?
Most door opening manufacturers recommend spraying lubricant on the rollers and hinges every six months. Regular maintenance will keep your door rollers operating and help them last longer. Quality, well-maintained rollers usually last about 12 to 15 years.
What Can I Do If My Neighbor's Remote Opens My Garage?
You need to change the control switches. Change one or two of them so you're using a different code than your neighbor The reason why this is happening is that your wall-mounted door control is sending unwanted signals to the garage door opener or logic board.
What Sizes Do Overhead Garage Doors Come In?
Standard overhead door garage sizes are whole-width increments starting at 8 feet wide and extend to 20 feet wide. Some car garage designs are 12 feet by 24 feet.
Garage Door Sizes Conclusion
A standard garage door is more than a door to a car garage. It's the first line of defense that protects a home's back entrance area. For a new home, garage door installation is not something homeowners need to handle.
However, if you want a new residential garage door, there are plenty of local pros available who can assist. It's also easy to find a local service that will come out and inspect your home and give you a free estimate and measure door widths and line-height, for example. Common door sizes make it easy to select one that will fit your home.
Garage door installation is not a DIY project. Without proper experience, you wouldn't want to learn the hard way you don't have the skills required to install a new garage door.
Forward-looking statements found that energy efficiency is a top priority when choosing a new garage door. With plenty of single garage doors and two-car garage options available on the market today.