5 Small Camper Trailers For Awesome Off-Road Vacations
Although spending the vacation at a resort with comfortable bedrooms and nice views is definitely wonderful, some prefer a more adventurous option. With a small camper there are no limits. You can go pretty much anywhere you want and access the most amazing views few have ever seen. And since it wouldn't really be practical to carry the whole house with you, one of these small camper trailers should be just right for the job.
Venture OHV
The Venture OHV rough ridge edition features a compact teardrop trailer with a suspension chassis and a build designed to offer a smooth and comfortable ride. Inside there's enough space for two. The queen-sized mattress occupies quite a bit of space but there's plenty of room left from a cooking station and some storage. The camper can also be equipped with solar panels, outlets and a pressurized water system if these features are desired by the buyer. There's also a large array of other accessories which can be provided in addition to the basic ones.
Teardrop.
The Terradrop camper trailer is another very practical option if you want to enjoy an awesome off-road vacation without a lot of fuss but comfortable enough to be just perfect. This is also a teardrop camper and it too can be customized with a variety of features and accessories. All version come with basic storage space and a sleeping compartment. Features that you can add on top of the basic ones include extra cabinetry, custom doors, a digital audio amp upgrade, a propane stove as well as heavy-duty tires. The camper is 5 ft wide and 8 ft long with a height of 4 ft.
Base camp trailer.
Specifically built to be used or rugged outdoor living and to withstand the harshest climates and conditions, the Base Camp Trailer is fully customizable and offers a whole range of extra features such as a roll-out kitchen, a shower, a communication box, storage for firewood, a roof tent and even a gun box. You can transform the camper according to your needs and make it perfect for every vacation and outdoor event.
Trailorboat.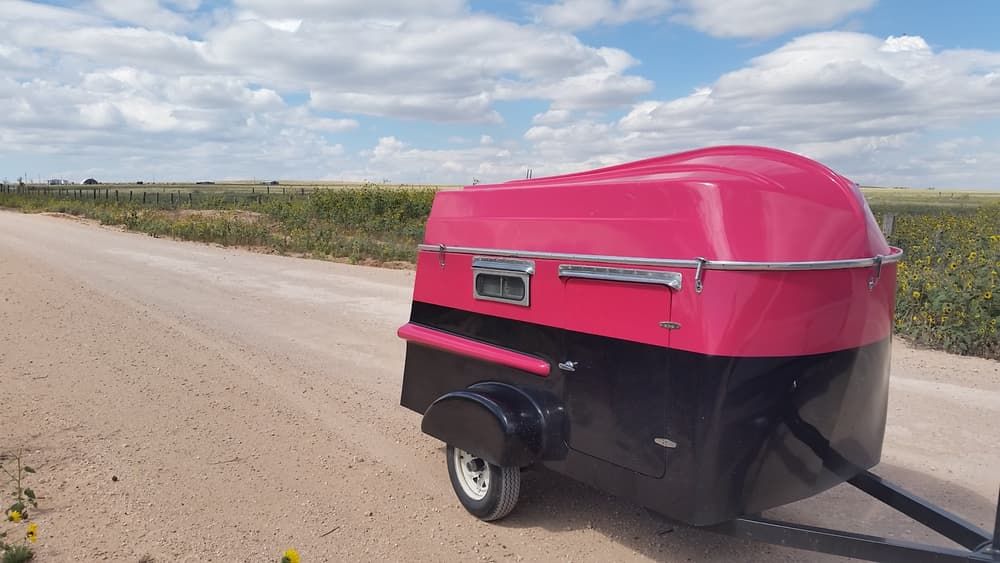 The design of this American Dream Trailer brings back a feature from the 50s: a rowboat roof. The roof can be removed and used as a boat. Five latches keep it secured and once you remove it there's a separate roof underneath designed to protect the interior of the camper. The boat itself can hold up to three people and can be equipped with a 2 hp motor. Inside the camper there's a comfortable two-person mattress, some shelves, curtains for privacy and there's also a tailgate which can be used for gear storage and food prep.
Bruder EXP-6 trailer.
If you want something heavy-duty, one option is the Bruder EXP-6 trailer. It doesn't look like much from the outside but beneath the rough shell there's a comfortable interior. It features an airtight galvanized chassis designed to hold 2 times its weight and the on top of that there's the composite body measuring 6.7 meters in length and 2 meters in width. The driver can use a smart phone app to adjust the trailer's ride height while in motion. Inside there's room for a sleeping space, plenty of storage, a TV and a kitchen.