10 Mid-Century Modern Coffee Tables With Magnificent Designs
There's something truly wonderful about mid-century modern furniture and coffee tables in particular. They're known for their warmth and familiar designs and they're appreciated for their ability to look elegant while also embracing a casual aesthetic. We love the ease with which mid-century modern coffee tables manage to make living rooms look inviting and comfortable and how they bring the whole decor together without standing out too much.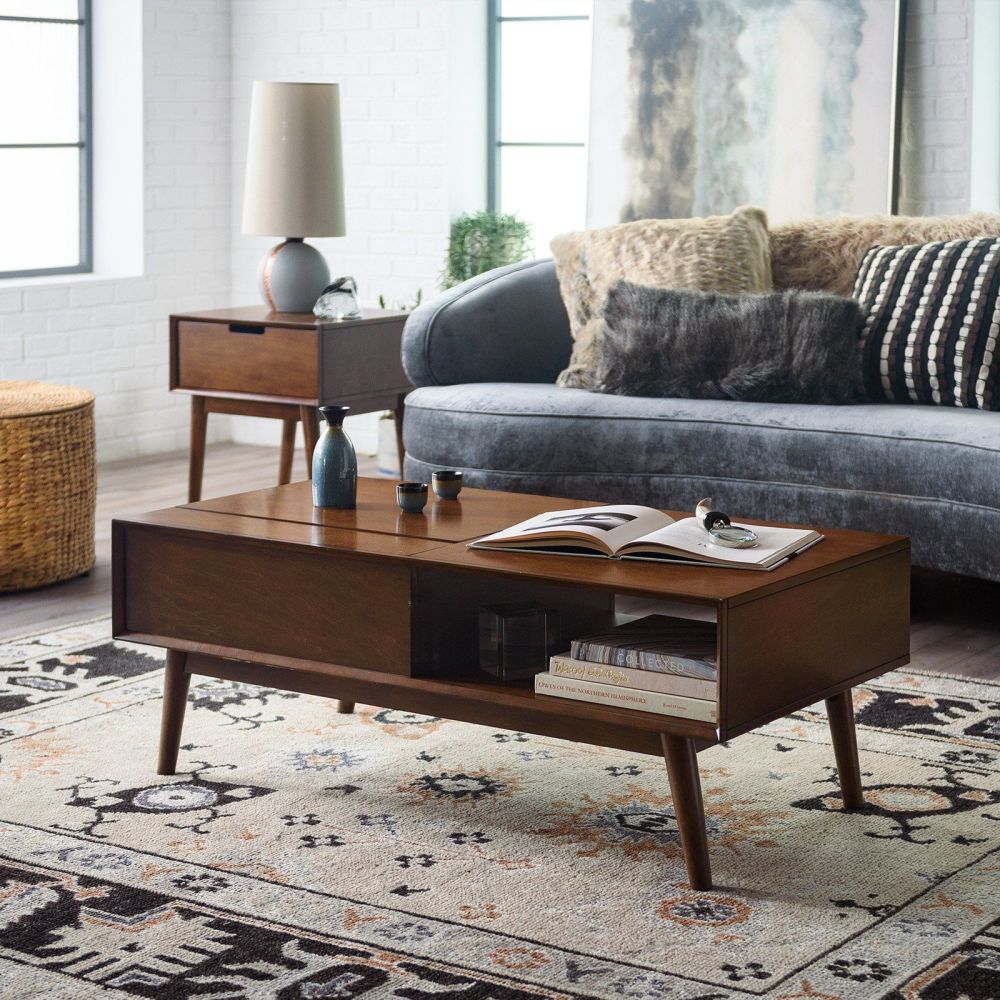 With four slightly tapered legs, a storage compartment and a top that lifts up, the Belham coffee table is not only elegant but also very practical. It's low-profile and has a simple design which allows it to be versatile and to look beautiful in a variety of different living rooms, both traditional and modern.
The combination of hairpin legs and open storage compartments give this table a lightweight and sleek look without interfering with its overall functionality. The design of the Marston table is also interesting because it allows the piece to also function as a TV stand or as a low console table.
This type of design is quite popular among mid-century modern coffee tables. We're talking about the hairpins legs and the hollow top with built-in storage. The dark-stained wooden construction gives the table a distinctively elegant appearance and a subtle formal vibe. Check out etsy for more details about this piece.
The Noguchi table is an iconic piece of mid-century modern furniture, still being popular even today. It was designed by 1947 by Isamu Noguchi and it features a glass top and a sculptural wooden base. It's a coffee table that can look amazing in almost any living room and can be paired with other iconic pieces for an even more exquisite visual impact.
The Rivet coffee table has a lacquered top and two drawers which curve slightly towards the base, giving the piece a slender appearance and complementing the table's rectangular, box-like design. The base is made of engineered wood and the tapered legs are is solid beech wood.
Modern but also a bit retro, the Modway coffee table has a mid-century aesthetic similar to other products on this list but manages to stay original and to retain its unique character. The table has a beautiful, smooth design with rounded corners and a stylish combination of colors that goes well with any decor.
The Blaze table has a design reminiscent of the iconic Noguchi table which we mentioned earlier. It has a tripod-style base and it can function as a coffee table for the living room but also as an accent table for bedrooms, offices and other types of spaces.
If you're looking for a coffee table that stands out, check out the Aingoo, a very cool piece which combines two small table surfaces into a single frame. It has three tops placed at slightly different heights attached to a triangle-shaped tripod base. The design creates a sense of diversity without visually cluttering the room.
This is the Edloe Finch Quinn coffee table, an elegant and sophisticated piece made of solid wood, built to last for generations. It has a retro vibe, with tapered legs that end in brass caps matching the drawer knob and a beautifully crafted drawer front which covers one half of the body, leaving the other half open.
Last but not least, check out this elegant duo. It's a pair of nesting tables with geometric frames made of sturdy metal and round wooden tops. The smaller table can snuggly fit inside the larger table's frame, saving space whenever needed. Individually, they can serve similar purposes and be used as a pair or separately. Check it out on Amazon.