Your Guide to Using and Choosing Retaining Wall Caps
Retaining wall caps are the top piece on the retaining wall that provide the finishing touch on your wall design. Retaining wall caps come in many different sizes, shapes, and materials. These different types allow you to customize the look of your wall to fit your home's aesthetic style, lifestyle, and budget.
This article will update you about the various wall cap shapes available along with different materials and textures that manufacturers provide. We will also bring you some design ideas to show you how retaining wall caps affect the style of your retaining walls.
Why Use Retaining Wall Caps?
There are many reasons that it is beneficial to use retaining wall caps to complete your outdoor wall designs. The two main reasons are the overall style of the wall and the increased durability.
Style – Retaining wall caps give retaining walls a more complete look. They also allow you to introduce another material into your wall design to create contrast or a new texture.
Durability – Retaining wall caps will increase the durability of your retaining wall. The caps seal the top seams of the wall that allow moisture to creep in and cause damage to the lower structure of the wall.
Retaining Wall Cap Materials
Manufacturers create retaining wall caps from various natural and synthetic materials. You should choose the type of material for your wall caps based on the look you want and your overall budget.
Concrete – Concrete retaining wall caps are one of the most popular options available. These are cost-effective which make them accessible for most budgets. Concrete is also a weather-resistant and durable material. Fabricators create concrete wall caps in a variety of colors, textures, and shapes. Concrete wall caps can be made to look like smooth and textured stone as well as wood.
Brick – Landscape designers often use bricks as wall caps to give a retaining wall a classic and elegant style. Bricks and mortar are porous, so this is not a cost-effective or durable solution as a retaining wall cap.
Wood – Natural wood is a cost-effective cap for retaining walls. Wood is used to complete retaining walls made of wood. But wood is also used in conjunction with walls of other materials like natural stone. This softens the look of the stone and gives it a rustic edge. Treated hardwood is more weather resistant that softwood, but it is not as durable a solution as stone or concrete.
Natural Stone – Natural stone is a popular choice for retaining wall caps. Retaining wall cap stone types include bluestone, granite, marble, limestone, and sandstone. Retaining wall cap stone is one of the most expensive options as it must be excavated and cut before use.
High Density Polyurethane – Synthetic retaining wall capstone made from high density polyurethane are a new option. These come in a variety of colors and textures made to mimic the look of stone or wood.
Retaining Wall Cap Shapes
Retaining wall caps come in a range of shapes and sizes to fit unique wall shapes and styles. Here are just a few of the shapes that you will find. Be sure to inquire which edges are finished on the wall cap you are considering. Some caps feature edges where all are finished. Others feature caps where just certain edges are finished which limits their universal application.
Straight Wall Cap – Straight retaining wall caps feature straight edges on all sides. You can find both rectangular and square cap options. Most straight caps feature either two or three finished sides. This means that you can use them in the middle of a wall or at the end.
Radius Wall Cap – A radius retaining wall top cap features a curved edge on two sides with slanted outer edges. These types of retaining wall cap stones are meant to top curved walls. These caps feature two or three finished sides.
Pillar Wall Cap – Pillar wall caps are meant to stand alone on top of pillars and columns that are features on a retaining wall. These retaining wall caps feature four finished sides.
Universal Wall Cap – The universal retaining wall cap shape is a trapezoid. This features two sides that slant in with two parallel sides. Universal wall caps work for walls that are both straight and curved.
Triface Wall Cap – Triface wall caps feature six sides. Three of the sides are meant to be exposed on the front to create a wall with interest and depth.
Retaining Wall Cap Profiles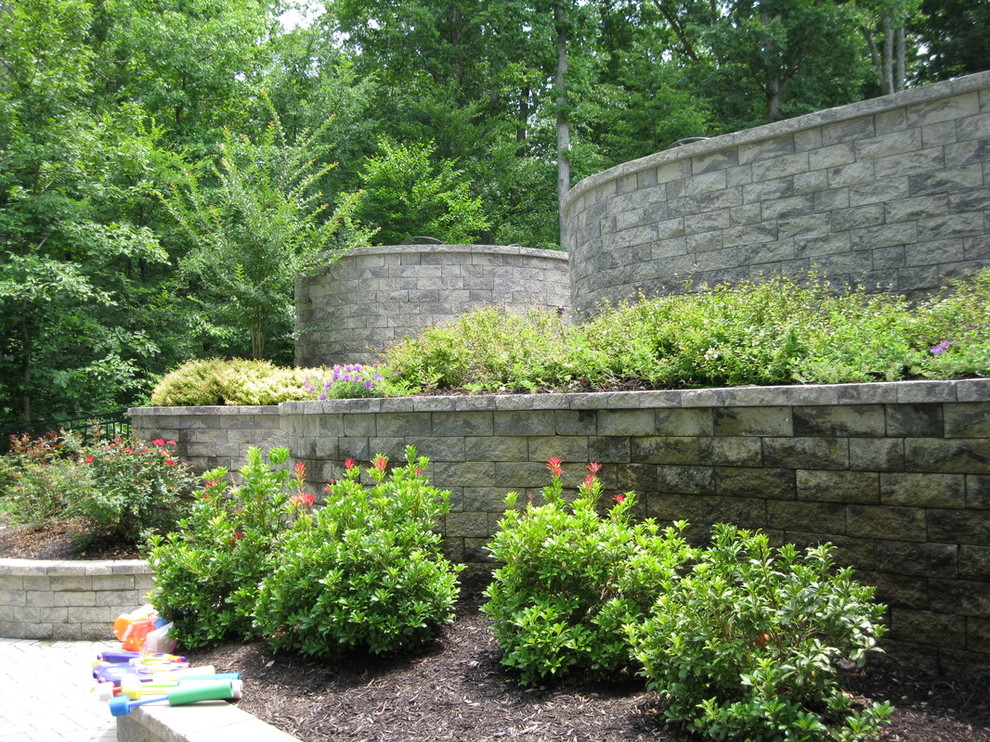 The profile refers to the top and edge shape of the wall cap.
Square – Square wall caps are flat with squared off edges. This style produces the most contemporary looking wall cap.
Bullnose – Bullnose wall caps feature a flat top with a rounded edge. This shape gives the wall a more traditional style.
Chiseled – Chiseled wall caps have a rough front face that is meant to look like natural stone. This profile style gives the wall a rustic or historic look.
Peaked – Peaked wall caps are common in both concrete and polyurethane materials. This design features a peak that runs down the middle of the cap. This style works well to take water away from the wall.
Installing Retaining Wall Caps
When building a retaining wall, you do not use any kind of adhesive to hold the wall together. Once you begin installing the retaining wall caps, you will need to use a landscape adhesive to secure the top to the lower wall. Buy a landscape adhesive like this one from Loctite that is made for block and stone. With a calk gun, apply two drops the size of a quarter to each block. Press the block down and move the block back and forth to spread the adhesive. Position the block where you want it and let it dry while you proceed to other blocks down the line.
Retaining Wall Cap Overhang
It is most standard to have the retaining wall caps overhang the lower wall by 1-2 inches. Some designs feature larger overhangs if they want the top to be more distinct from the lower wall.
Retaining Wall Cap Ideas
We have gathered some gorgeous retaining wall cap ideas that are varied and distinct. This inspiration will help you define what style wall caps you like for your own home landscape.
Brick Wall with Bluestone for Capping a Retaining Wall
Brick retaining walls have a classic style, but brick wall caps do not inhibit moisture. This will lead to deterioration of the wall over time. Bluestone, also called basalt, is a natural stone. It is dense and hard wearing. This makes it an ideal choice for outdoor use. You can find pieces that have a rough finish and natural shape. There are also varieties that are sawn to create a regular shape and smooth finish.
Stone Wall with a Cameron Flagstone Retaining Wall Cap
Fieldstone is a common type of stone name for retaining wall caps. This is a generic word that encompasses different varieties of stones including granite, sandstone, and limestone. The word fieldstone refers more to the style of the stone rather than the types. Fieldstone retaining wall caps have a natural, unadulterated style. These caps have a thin and rugged profile creating a fitting top for the stone retaining wall.
Smooth Concrete Retaining Wall Cap
Concrete is a popular and cost effective retaining wall cap option. There are many varied styles which make it attractive for people who want a specific look. This spherical stacked stone veneer retaining wall features a smooth concrete cap. The cap and the wall blend contrasting styles to create a retaining wall with rustic but contemporary edge.
Retaining Wall with a Wood Wall Cap
Wood is a cost-effective and attractive retaining wall cap. The most common wood wall cap shape is planks. While these are an inexpensive choice and will resist moisture at first, wood will not last for many years in the outdoor weather. In order to use the most durable wood, choose hardwood that has been sealed with stain and a topcoat like polyurethane. You can also look for pressure treated wood which is more resistant to moisture.
Stone Retaining Wall with Travertine Wall Caps
Travertine is another stone popular for outdoor use. This stone is light colored with creamy white and brown that provide contrast with darker wall materials. Travertine is a durable material that works well in an outdoor environment.
Concrete Retaining Wall Block Caps
Manufactured concrete blocks are one of the most popular options for DIY retaining walls. You can buy these blocks in a variety of sizes, shapes, and colors. These wall blocks have a gray color and rough texture to mimic natural stone at a lower price point. This wall top features universal and straight caps. Together these blocks can follow any wall shape.
Thermal Flagstone Retaining Wall Cap
Flagstone wall comes in both natural cleft and thermaled styles. Natural cleft flagstone is split along the natural grain and has more irregular and non-standard shapes and thicknesses. Thermal flagstone is sawn, so you can buy standard and predictable sizes and thicknesses. Fabricators apply heat to smooth down the rough natural texture of the stone.