Raw Studio Pushes Boundaries With Art Lighting and Engineered Furniture
Amazing light designs that draw you in from across the room — that's what we first noticed about Raw Studio. But the UK-based business, led by Nick Rawcliffe, is much more than just cool light fixtures. Rawcliffe transforms all sorts of materials into unique designs and is known for "pushing the boundary of product evolution." From his wall lights and cityscapes to his incredible chairs, all are striking not just for their appearance but also for the design process used to create them.
Homedit caught up with Rawcliffe and asked him about his inspirations and thought processes in designing and executing his products.
You say you are somewhere between "engineer, a designer, an inventor and an entrepreneur."  Which one of these drives your ideas for designs?
It's a circular process really and depends on the particular product. The ideas definitely come from the inventor side, but often in response to a question like "Why does no one make a… particular thing…?" . If there happens to be a new process or material that may enable that particular thing to be made in a new way (especially in a small batches) I might have a go at it. Even if it doesn't work, I learn by the process. Work and play is the same to me, I guess. All the best ideas come from playing with stuff, having materials and tools in hand. Investigating a new material, with the wealth of experience I've been lucky enough to build up, is as likely to invoke the "I wonder if you can make X with this?"
From your travels, which culture or style do you find influences your work the most?
I like to think I'm equally influenced by several cultures: the design efficiency from the Bauhaus balanced by the wabi sabi of Japanese craft and also the incredibly creative recycling culture of the Indian subcontinent balanced with the precision of old school British manufacturing. (Star Wars is also quite a big cultural influence…as I guess it is for a lot of people about my age!)
You mention that you have books full of ideas….how do you decide which one to pursue?
I guess the evaluation of the ideas is where the more entrepreneurial filters come in to decide which ones are worth pursuing. Maybe some aren't innovative enough, or some are waiting for a process or material to arrive that then makes them possible. I'm still waiting for a really eco-friendly resin so we can start making coffee tables from recycled coffee again… That one started off as a joke. It's a coffee table.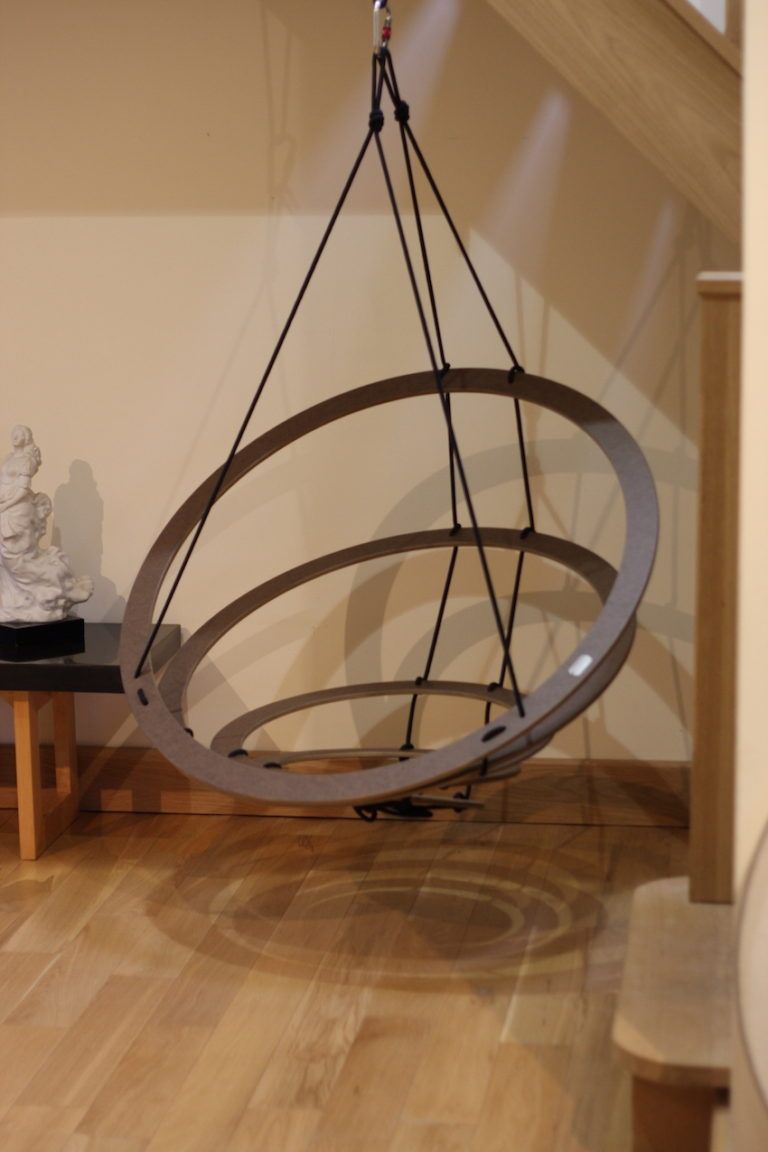 When designing a pieces, do you have a material in mind when you start? Have you ever started with one material and found it wasn't working as you wanted and had to go to Plan B?
Yes for sure, the only way to get to know a material is to play with it. The technical numbers mean very little until you have it in hand. The reality is a material will rarely live up to the standard you had in your mind.
My Ribbon Stool comes from the idea of making a useful product from the shape and colour of a charity ribbon. We spent a lot of effort trying to get it made by rotomoulding, so that it could be produced in volume but the rotomoulding company couldn't make it work. I've now made the same design in solid cast aluminium and also with concrete. We have a company lined up to get it made in plastic with a steel subframe but have yet to have the tooling made. I know that will be a successful product when we can get it through that process and out at an affordable price.
I've also been working with Ecovative's mushroom mycelium material, pushing that to the limits to see what we can make with it. It's amazing stuff with great environmental credentials but the engineering properties aren't quite there for the designs I want to use it for…yet!
Do you make a prototype of a piece out of preliminary materials?  Do you go through many iterations or are you usually pretty close?
I believe in making rough prototypes really quickly and very soon in the process. In my mind it saves a lot of time over extensive drawing. Seeing things in real 3D (rather than on a screen) as soon as possible helps me to think through 'the problems' straight away and in the making process you can often design out problems on the fly.
I think this process helps me get closer to the mark more quickly. There's always something more that could be done but knowing where to stop is a black art in itself.
What exciting new projects are you working on?
Since starting to play with led lighting I've found so many ways to experiment with light through surface textures. I've just made a couple of prototypes of a black version of our Luna light with a texture that is an accurate geographical representation of the dark side of the moon, taken from NASA images. It is possibly the coolest thing I've made yet. There are so many angles to the story behind it, which I think is imperative in good design these days. For example, the fact that the inverse square law of the brightness of the light fading from the rim creates the optical illusion of a sphere, and the NASA angle , is all reaaaalllly geeky but results in a beautiful object.
I'm also working with a company who have a really unique touch sensitive material, investigating applications for it.
I'd like the opportunity to work with more companies with innovative materials to see what boundaries can be pushed.
We noticed the white winged chandelier — is it from Daniel LaTorre Cruz?  Is he a collaborator?
Yes, I met Daniel at a trade show in London, basically because I was so impressed with his work and the materials he uses which are indigenous to the Philipines, where his studio is based. I work with his hand crafted papers for some of my Luna lights for their textural qualities.