Stylish Pool Furniture Designs Invite You Out To Enjoy The Summer
Summer is here so take out your lounge chairs and enjoy the world from your back yard. Out by the pool, relaxing with a good book under an umbrella things are close to perfect. What's missing is some comfortable outdoor pool furniture and we can help with some suggestions. Modern outdoor furniture is not exactly in a short supply so you should be able to find what you're looking for pretty quickly.
Get some outdoor lounge chairs, maybe also a coffee table and even a sofa or a daybed so everyone can be happy and comfortable. Check out our suggestions and you'll have new pool furniture in no time.
Stylish designs by Exteta
This April at Salone del Mobile, Exteta showcased the 10th collection, a series that celebrates the brand's ten year anniversary with some stylish outdoor furniture designs like the Paraggi Sofa. This is a piece that blends the elegance of classical and retro details with the simplicity of contemporary forms.
The brand also put on display the Locus sun lounger. Its design is inspired by elements from the 1960s and features a sleek frame made of tubular steel complemented by two large wheels and a cylindrical cushion. It's available in a variety of colors.
A modular dining table like the Flap can look great by the pool or on the terrace, being an elegant option for outdoor living spaces in general. It's handmade in solid mahogany and the top can feature a variety of marble or stone finishes.
The Clove pouff can be used in combination with some casual lounge chairs or as complementary pieces for an outdoor sofa or daybed. They're upholstered in outdoor leather or Sunbrella fabric.
The Locus Solus collection includes the chic sun lounger we also mentioned but also these beautiful tables characterized by simple, linear forms and gentle curves which offer them a very comfortable and enjoyable softness and elegance.
For those lazy summer days when all you want is to stay out to enjoy the weather and the peaceful atmosphere, we suggest this awesome Palau daybed. It's definitely big and fluffy and this makes it so comfortable and cozy that you never want to leave that spot ever again. It's upholstered in Sunbrella fabric and has a removable and washable cover.
These Soft armchairs displayed at the back together with the Joint table don't have a visible solid frame or legs. They're soft and cozy and they go well with the daybed although they're actually pretty versatile and can be used as dining chairs or accent chairs.
With so many outdoor furniture designs to choose from it's easy to get distracted. Sure, you should have some lounge chairs by the pool but that doesn't mean you can't also have stylish high-back armchairs under a pergola or on the deck. The Cala chairs have a strong visual presence thanks to their high and wide backrests decorated with rope fabric which acts as a lattice.
You want your lounge chairs to be adjustable and easy to move around so you can choose the perfect position and placement when you're relaxing outdoors. The Park Life lounger lets you do all that while also being quite good-looking. It's a lightweight and also very durable and resistant piece of outdoor furniture.
Curl up in this hanging cocoon lounger and you'll feel like you're in a cozy cocoon, protected from everything and everyone. The Nestrest lounger can be hanged from tree branches or suitable supports and it comes with comfortable cushions to ensure a wonderfully relaxing experience.
Inspired by the clean and simple lines of modern architecture, the Blau pool furniture collection includes minimalist pieces such as this exquisite lounge chair. Its design is a combination of traditional and modern elements that put together form this extruded aluminum frame and micro perforated sheet construction.
The Blau series includes a variety of other pieces such as sofas, sectionals and armchairs available in lots of varieties but all featuring the same clean and minimalist lines and angles we already mentioned. They're all highly versatile and in some cases even multifunctional. Find out more details about individual pieces as well as other similarly chic collections from Gandiablasco.
You can rarely find a picnic table that's practical and good-looking at the same time. We're not even talking about the portable kind. To understand what we mean, just compare any other picnic to the Virus, this fun and stylish piece designed by Dirk Wynants. It comes in four different versions: for two, three, four and five people and it has this really simple and clever design centered around a small round table with stools attached to its legs.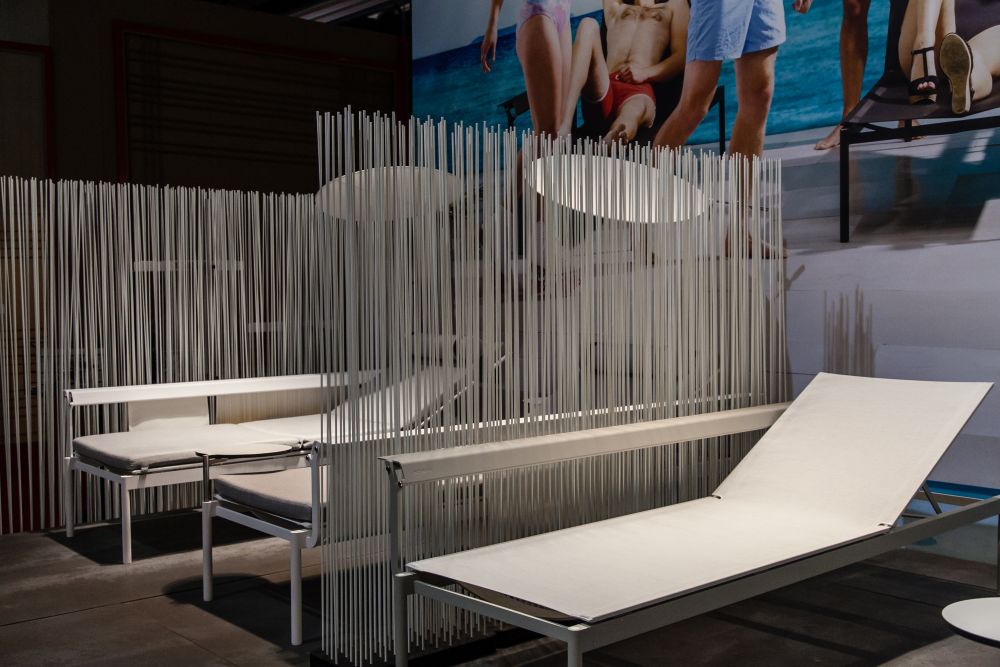 The thing that matters the most in the case of deck furniture or anything for the outdoors is comfort but that doesn't mean you should ignore the looks. Some designed manage to incorporate both elements and one example is the Australis sun bed which can double as a sofa if you just let the backrest go all the way down. You can see here how several of these can be used to set up comfortable lounge areas both indoors and outdoors. You can separate the spaces with Sticks, these funky dividers made of lots of rods attached to a wooden base.
Just in case all you're missing from your deck or pool furniture collection is a couple of simple and comfortable chairs  which you can move around easily and use in various ways, as needed, we have that covered too. These are the Lapala chairs by Lievore Altherr Molina Studio. They have gentle curves and a braided seat and backrest design.
Hanging chairs are very cute and cozy and they come in lots of different shapes and sizes. The Nautica chair, for example, has a simple and sculptural design that offers a unique perspective on how rattan is used. The chair is lightweight and can be suspended from tree branches or from a self-supporting structure.
Finding the right style for the furniture to be used outdoors is not a very simple task. You have to consider a lot of details such as the type of environment, the function, the preferred color palette and materials and also the overall style. Modern outdoor furniture usually features simple and organic lines and shapes like the C172B Sofa or the C170D armchair displayed here together as a set.
The Journey Chaise Lounge is the type of lounger that's made to look perfect by the pool. It has a simple design, a bit sculptural and a bit casual, with an adjustable-height backrest designed for comfort. Pair it with a matching side table and you're ready to enjoy the summer.
Three's this particular type of outdoor furniture that envelops the users like a cocoon. It's a trend that applies to armchairs, sofas, lounge chairs and pretty much everything else. There's something very comfortable and comforting about them so, if you like this look too, check out some of the collections offered by Sky Line.
Treat your outdoor deck, terrace or poolside area as an extension of the interior living spaces. Transpose everything you enjoy indoors in a more open environment and choose the appropriate furniture pieces. For instance, set up a comfortable and relaxing lounge area furnished with pieces such as the Pulvis and Milos sun loungers to which you can also add a daybed or a sofa.
For outdoor dining areas, kitchens or bars, you could opt for some casual and stylish Ora chairs but you should also have a look at the Ultra series which features these funky X-shaped frames.
It's important to have a certain amount of flexibility when furnishing and decorating outdoor spaces. For instance, it's practical to be able to move things around to make room for more guests or to convert a conversation area into a cozy lounge space. The Pal series is designed with this very idea in mind. It's a modular system created by Francesc Rife which features a solid wood platform on which various upholstered modules are placed.
Designer Gabriel Teixido designed a series named Tub which suits beautifully a large variety of outdoor settings. The chairs are defined by simple, straight lines combined with subtle curves that soften their look. The collection features aluminum frames, a material chosen for its weightlessness and resistance.
As stylish and glamorous as some new designs might be, sometimes you're just in the mood for something simpler and timeless like the Lawrence 390 lounge chair. It has a thin metal frame which holds a canvas seat and it's easily foldable and portable, being very practical in a variety of situations and spaces, both indoors and outdoors.
The Spool sofa is a very chic little piece with attractive lines and weaves and a backrest that wraps around the sides without making the sofa look heavy, robust or less casual and comfortable. A perfect balance between comfort, looks, durability and lightness.
This is not by any means an ordinary lounger mostly because it doesn't fulfill only a single function. It's a versatile and multifunctional piece which can adapt to your needs. For instance, put two together to make a large sofa. Find more beautiful designs like this at Roda.
On the patio, by the pool or in the garden, the Ombrina sunshade is always a great summer feature. It features a thin and slender tubular metal structure with a grey polyester belt cover that lets the sunlight filter through without becoming overwhelming, just what you expect from a relaxing gazebo.
The inspiration for the UFO table and chairs is obvious. This is a collection that features abstract, sinuous forms, soft edges and smooth lines and curves as well as a combination of contrasting shapes. They're all monolithic pieces with sculptural designs and they can adapt easily to a variety of indoor and outdoor spaces and decors.
You can recognize the iconic style of Karim Rashid everywhere on this beautiful lounge chair. It's called Surf and it has a very fluid design, like a wave. It's the perfect lounger to relax in. Imagine this out by the pool or under an umbrella on the beach. It looks so refreshing and calming…
Both the Makes and Faz sofa modules are defined by sculptural forms with clean cuts reminiscent of minerals. It's a series of contemporary outdoor furniture that puts a stylish spin on modularity. You can combine these elements in various ways to create different configurations that adapt to your needs and layout.
This is the Faz daybed, a sculptural piece that matches the modular system mentioned above. It's a freestanding piece, a mixture between a lounge chair and an umbrella, the perfect furniture piece for poolside areas.
For those casual outdoor settings, perhaps you could opt for some colorful garden furniture like the Counter and Bar stools and some accent pieces like the Bistro table. You can mix and match different colors and even different variations of the designs.
You can find a lot of great designs when it comes to pool furniture or outdoor pieces in general on Fermob. Check out these casual armchairs and thee tables that complement them. They're really simple but they also have a touch of glamour.
What we love the most about these collections is how lightweight and user friendly everything looks. The tables have casters, the lounge chairs are sinuous and gently curved and the colors are fresh and vibrant.
Garden hanging chairs like the Gravity are great for, well, gardens first of all but they can also be installed on decks, patios and even indoors, attached to the ceiling or to a support system.
The Nest sofa and chair set has a design that's a perfect combination between urban flair and rustic charm. The series is made of wicker wrapped around an aluminum frame and which curves around itself as if it's hugging the seat.
Taos is a complete series of outdoor furniture pieces, including a sofa, a loveseat, an armchair, a coffee table and a side table. They have an open weave design and robust frames which give them an imposing look without necessarily taking away their lightweight character.
Flexibility and modularity and the main defining characteristics of the Sunset series, a collection of modules which can be combined in various different ways to create different configurations for as many people as needed. They have deep, comfortable seals and frames made of solid teak wood.