Stylish Pool Furniture Designs Invite You Out To Enjoy The Summer
Summer is here so take out your lounge chairs and enjoy the world from your back yard. Out by the pool, relaxing with a good book under an umbrella things are close to perfect. What's missing is some comfortable outdoor pool furniture and we can help with some suggestions. Modern outdoor furniture is not exactly in a short supply so you should be able to find what you're looking for pretty quickly.
Get some outdoor lounge chairs, maybe also a coffee table and even a sofa or a daybed so everyone can be happy and comfortable. Check out our suggestions and you'll have new pool furniture in no time.
Stylish designs by Exteta
This April at Salone del Mobile, Exteta showcased the 10th collection, a series that celebrates the brand's ten year anniversary with some stylish outdoor furniture designslike the Paraggi Sofa. This is a piece that blends the elegance of classical and retro details with the simplicity of contemporary forms.
Classic and retro design combined
Sleek sun loungers
The brand also put on display the Locus sun lounger. Its design is inspired by elements from the 1960s and features a sleek frame made of tubular steel complemented by two large wheels and a cylindrical cushion. It's available in a variety of colors.
Modular outdoor dining table
A modular dining table like the Flap can look great by the pool or on the terrace, being an elegant option for outdoor living spaces in general. It's handmade in solid mahogany and the top can feature a variety of marble or stone finishes.
Leather-upholstered outdoor pouf
The Clove pouff can be used in combination with some casual lounge chairs or as complementary pieces for an outdoor sofa or daybed. They're upholstered in outdoor leather or Sunbrella fabric.
Chic and curvy accent tables
The Locus Solus collection includes the chic sun lounger we also mentioned but also these beautiful tables characterized by simple, linear forms and gentle curves which offer them a very comfortable and enjoyable softness and elegance.
Minimal outdoor seats with colorful details
For those lazy summer days when all you want is to stay out to enjoy the weather and the peaceful atmosphere, we suggest this awesome Palau daybed. It's definitely big and fluffy and this makes it so comfortable and cozy that you never want to leave that spot ever again. It's upholstered in Sunbrella fabric and has a removable and washable cover.
A cozy daybed to sink into
These Soft armchairs displayed at the back together with the Joint table don't have a visible solid frame or legs. They're soft and cozy and they go well with the daybed although they're actually pretty versatile and can be used as dining chairs or accent chairs.
Oversized armchairs with breezy frames
With so many outdoor furniture designs to choose from it's easy to get distracted. Sure, you should have some lounge chairs by the pool but that doesn't mean you can't also have stylish high-back armchairs under a pergola or on the deck. The Cala chairs have a strong visual presence thanks to their high and wide backrests decorated with rope fabric which acts as a lattice.
Adjustable lounge chair on wheels
You want your lounge chairs to be adjustable and easy to move around so you can choose the perfect position and placement when you're relaxing outdoors. The Park Life lounger lets you do all that while also being quite good-looking. It's a lightweight and also very durable and resistant piece of outdoor furniture.
Hanging cocoons to hide into
Curl up in this hanging cocoonlounger and you'll feel like you're in a cozy cocoon, protected from everything and everyone. The Nestrest lounger can be hanged from tree branches or suitable supports and it comes with comfortable cushions to ensure a wonderfully relaxing experience.
Minimalist lounge chair with modern lines
Inspired by the clean and simple lines of modern architecture, the Blau pool furniture collection includes minimalist pieces such as this exquisite lounge chair. Its design is a combination of traditional and modern elements that put together form this extruded aluminum frame and micro perforated sheet construction.
Modular sofa, sectional and armchair pieces
The Blau series includes a variety of other pieces such as sofas, sectionals and armchairs available in lots of varieties but all featuring the same clean and minimalist lines and angles we already mentioned. They're all highly versatile and in some cases even multifunctional. Find out more details about individual pieces as well as other similarly chic collections from Gandiablasco.
A super practical and simple picnic table idea
You can rarely find a picnic table that's practical and good-looking at the same time. We're not even talking about the portable kind. To understand what we mean, just compare any other picnic to the Virus, this fun and stylish piece designed by Dirk Wynants. It comes in four different versions: for two, three, four and five people and it has this really simple and clever design centered around a small round table with stools attached to its legs.
Sunbeds that double as sofas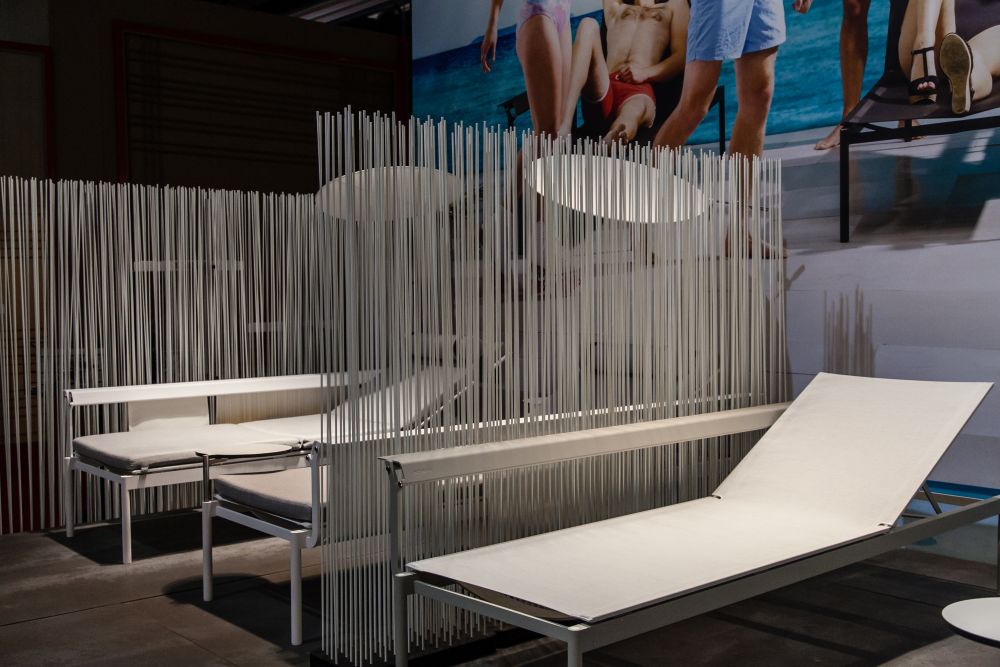 The thing that matters the most in the case of deck furniture or anything for the outdoors is comfort but that doesn't mean you should ignore the looks. Some designed manage to incorporate both elements and one example is the Australis sun bed which can double as a sofa if you just let the backrest go all the way down. You can see here how several of these can be used to set up comfortable lounge areas both indoors and outdoors. You can separate the spaces with Sticks, these funky dividers made of lots of rods attached to a wooden base.
Casual chairs with braided shells
Just in case all you're missing from your deck or pool furniture collection is a couple of simple and comfortable chairs which you can move around easily and use in various ways, as needed, we have that covered too. These are the Lapala chairs byLievore Altherr Molina Studio. They have gentle curves and a braided seat and backrest design.
Cozy rattan chairs that you can hang on trees
Hanging chairs are very cute and cozy and they come in lots of different shapes and sizes. The Nautica chair, for example, has a simple and sculptural design that offers a unique perspective on how rattan is used. The chair is lightweight and can be suspended from tree branches or from a self-supporting structure.
Curvy seats with organic lines
Finding the right style for the furniture to be used outdoors is not a very simple task. You have to consider a lot of details such as the type of environment, the function, the preferred color palette and materials and also the overall style. Modern outdoor furniture usually features simple and organic lines and shapes like theC172B Sofa or theC170D armchair displayed here together as a set.
Casual lounge chair perfect for pool decks
The Journey Chaise Lounge is the type of lounger that's made to look perfect by the pool. It has a simple design, a bit sculptural and a bit casual, with an adjustable-height backrest designed for comfort. Pair it with a matching side table and you're ready to enjoy the summer.
Cocoon-inspired furniture with woven frames
Simple and sculptural outdoor furniture
Three's this particular type of outdoor furniture that envelops the users like a cocoon. It's a trend that applies to armchairs, sofas, lounge chairs and pretty much everything else. There's something very comfortable and comforting about them so, if you like this look too, check out some of the collections offered by Sky Line.
Casual pieces for outdoor bars and lounge areas
Treat your outdoor deck, terrace or poolside area as an extension of the interior living spaces. Transpose everything you enjoy indoors in a more open environment and choose the appropriate furniture pieces. For instance, set up a comfortable and relaxing lounge area furnished with pieces such as the Pulvis and Milos sun loungers to which you can also add a daybed or a sofa.
For outdoor dining areas, kitchens or bars, you could opt for some casual and stylish Ora chairs but you should also have a look at the Ultra series which features these funky X-shaped frames.
A modular system on a solid wood platform
It's important to have a certain amount of flexibility when furnishing and decorating outdoor spaces. For instance, it's practical to be able to move things around to make room for more guests or to convert a conversation area into a cozy lounge space. The Pal series is designed with this very idea in mind. It's a modular system created by Francesc Rife which features a solid wood platform on which various upholstered modules are placed.
Simple lines and subtle curves
Designer Gabriel Teixido designed a series named Tub which suits beautifully a large variety of outdoor settings. The chairs are defined by simple, straight lines combined with subtle curves that soften their look. The collection features aluminum frames, a material chosen for its weightlessness and resistance.
Retro lounger with a canvas seat
As stylish and glamorous as some new designs might be, sometimes you're just in the mood for something simpler and timeless like the Lawrence 390 lounge chair. It has a thin metal frame which holds a canvas seat and it's easily foldable and portable, being very practical in a varietyof situations and spaces, both indoors and outdoors.
Chic outdoor sofa with a wraparound back
The Spool sofa is a very chic little piece with attractive lines and weaves and a backrest that wraps around the sides without making the sofa look heavy, robust or less casual and comfortable. A perfect balance between comfort, looks, durability and lightness.
Unusually versatile and adaptable seats
This is not by any means an ordinary lounger mostly because it doesn't fulfill only a single function. It's a versatile and multifunctional piece which can adapt to your needs. For instance, put two together to make a large sofa. Find more beautiful designs like this at Roda.
A sunshade that lets some of the light through
On the patio, by the pool or in the garden, the Ombrina sunshade is always a great summer feature. It features a thin and slender tubular metal structure with a grey polyester belt cover that lets the sunlight filter through without becoming overwhelming, just what you expect from a relaxing gazebo.
Abstract and sinuous pieces with monolithic structures
The inspiration for the UFO table and chairs is obvious. This is a collection that features abstract, sinuous forms, soft edges and smooth lines and curves as well as a combination of contrasting shapes. They're all monolithic pieces with sculptural designs and they can adapt easily to a variety of indoor and outdoor spaces and decors.
Sculptural lounge chair inspired by a wave
You can recognize the iconic style of Karim Rashid everywhere on this beautiful lounge chair. It's called Surf and it has a very fluid design, like a wave. It's the perfect lounger to relax in. Imagine this out by the pool or under an umbrella on the beach. It looks so refreshing and calming…
A geometric approach
Both the Makes and Faz sofa modules are defined by sculptural forms with clean cuts reminiscent of minerals. It's a series of contemporary outdoor furniture that puts a stylish spin on modularity. You can combine these elements in various ways to create different configurations that adapt to your needs and layout.
Freestanding daybed with built-in umbrella
This is the Faz daybed, a sculptural piece that matches the modular system mentioned above. It's a freestanding piece, a mixture between a lounge chair and an umbrella, the perfect furniture piece for poolside areas.
Colorful furniture with bold designs
For those casual outdoor settings, perhaps you could opt for some colorful garden furniture like the Counter and Bar stools and some accent pieces like the Bistro table. You can mix and match different colors and even different variations of the designs.
A mix of soft curves and perforated patterns
Lightweight outdoor pieces with gentle shapes
You can find a lot of great designs when it comes to pool furniture or outdoor pieces in general on Fermob. Check out these casual armchairs and thee tables that complement them. They're really simple but they also have a touch of glamour.
What we love the most about these collections is how lightweight and user friendly everything looks. The tables have casters, the lounge chairs are sinuous and gently curved and the colors are fresh and vibrant.
Bohemian swings and hanging chairs
Garden hanging chairs like the Gravity are great for, well, gardens first of all but they can also be installed on decks, patios and even indoors, attached to the ceiling or to a support system.
Wicker sofa with a rustic vibe
The Nest sofa and chair set has a design that's a perfect combination between urban flair and rustic charm. The series is made of wicker wrapped around an aluminum frame and which curves around itself as if it's hugging the seat.
A complete set for the perfect seating area
Taos is a complete series of outdoor furniture pieces, including a sofa, a loveseat, an armchair, a coffee table and a side table. They have an open weave design and robust frames which give them an imposing look without necessarily taking away their lightweight character.
Sofa modules with exposed wooden frames
Flexibility and modularity and the main defining characteristics of the Sunset series, a collection of modules which can be combined in various different ways to create different configurations for as many people as needed. They have deep, comfortable seals and frames made of solid teak wood.
How to choose furniture for outdoor spaces
Having some furniture outside, whether we're talking about a patio, a poolside deck, a garden or something else really helps to make the area more enjoyable and inviting overall. But what type of furniture is suited for these sorts of spaces? Well, it depends.
What makes outdoor furniture different from the indoor kind?
We're used to the idea of having different types of furniture for the indoor and the outdoor spaces, so much so that we don't even question this distinction. But what actually makes outdoor furniture different from the one we use indoors? Well, a variety of things.
The main difference is the fact that outdoor furniture is designed to withstand the elements. That is due to the materials typically used. Outdoor chairs, sofas and outdoor furniture that has upholstery or fabric on it uses synthetic fabric which is more durable as well as waterproof compared to other fabrics.
Some types of wood are suited for outdoor use but not all of them. If you want wooden furniture outside focus on varieties such as pine, teak and cedar which are very sturdy and resilient.
Aluminum, wrought iron, steel and other metals are also a good option when it comes to outdoor furniture because they can withstand the elements and are very durable.
Although wicker is a popular choice for outdoor furniture it's not as resilient or durable as other materials. If you enjoy the look however there's varieties such as synthetic resin wicker which has a similar appearance but it better-suited for long-term outdoor use.
What type of space is the furniture meant for?
It's important to pick the right type of furniture for a particular type of space. Just because it's designed for outdoor use doesn't mean all outdoor furniture is suited for every space. These are the most common outdoor living spaces:
Outdoor kitchens and dining areas
An outdoor kitchen can take a variety of different forms and can include a variety of different features. It can be a very simple space with a grill and a table but it can also be a fully-equipped kitchen with a fridge, a stove, a bar, a sink and so on. In terms of furniture, this would be similar to an indoor kitchen and since it's typically a covered space you don't need to worry very much about the materials used. Dining areas are similar in that sense.
Unlike an outdoor kitchen, a fire pit area is an exposed space without a roof overhead. That means any furniture and accessories used here need to be able to withstand the elements and to be made of durable materials. Consider materials like brick, stone or concrete for such a space.
A seating area is one of the most common types of outdoor spaces. It's natural to want to have a space where you can sit, relax and enjoy your beautiful yard or garden. You may not have a lot of space at your disposal in which case multifunctional furniture like benches and ottomans are a good option.
Furnishing a pool patio is both easy and tricky. On one hand there's already a wide variety of options to choose from but on the other hand there's special considerations to keep in mind and to check for. For instance, the materials from which poolside furniture is made of are very important. Consider moisture-resistant materials such as most metals or plastic if you don't want to worry about anything. Some types of wood are also suited for this area but need to be treated so keep that in mind.
What are the best materials for outdoor furniture?
The biggest concern when shopping for outdoor furniture is choosing the right materials. Luckily, furniture designed for outdoor use is optimized to suit the typical conditions found here. There's still a few specific things to keep in mind:
Resistance to rain and moisture
This is something that you should focus on if you're living in an area with frequent rains or high humidity or if you're shipping for poolside furniture.
Resistant to mold and mildew
If your outdoor furniture is exposed to lots of humidity or moisture there's always the risk of developing mold and mildew. This is more likely to happen if you choose organic materials that retain water.
When it comes to outdoor furniture there's also the risk or getting rust and corrosion which can weaken and damage the metal, not to mention that it also looks bad. It's more likely for this to happen if you're living in a coastal region or near salty water.
Wood and wood-based materials are susceptible to warping when exposed to moisture because they can absorb water and then dry unevenly. Make sure your outdoor furniture is sealed and treated to avoid this.
Something else to keep in mind when looking to buy outdoor furniture is that it will be exposed to sunlight which can cause some materials to fade and to lose their original finish and color. If this is the case, make sure you don't leave your furniture exposed more than necessary or protect it at all times.
Even though wood is not the optimal material for outdoor spaces, it is nevertheless a very popular option. It's often used for frames and tabletops and there's plenty of different varieties to choose from.
Teak wood is by far the most popular wood choice when it comes to outdoor furniture. It's very strong, it doesn't warp or crack easily and it's also naturally water-repellent because it has a high natural oil content. It's also resistant to rot and to most insects.
Other wood varieties such as shorea, eucalyptus, ipe or white oak are also commonly used in outdoor furniture and each has their own pros and cons. Shorea is a type of hardwood found in Southeast Asia which has a high oil content which protects it from insects, rot and water damage but isn't as easy to find as other wood types.
If your main focus is on durability, metal is probably your best bet. Metal outdoor furniture is very popular in gardens and offers many unique advantages. Stainless steel for example is an extremely strong and durable material. It doesn't dent or damage easily and it can withstand extreme temperatures better than other metals. It's also immune to rust and corrosion.
Aluminum is also a popular metal for outdoor furniture. It's lightweight but also strong and durable which is a great combo. It's resistant to rust and weather-resistant and it requires very little maintenance. However, the fact that aluminum furniture is lightweight is both good and bad. On one hand it's easy to move and to carry but on the other hand it gets blows over by strong winds.
Wrought iron has a very unique look and feel and is also very heavy. This is a versatile and maleable material which allows it to be shaped into all sorts of intricate and interesting designs. Unlike other metals, it's not naturally resistant to rust so it needs constant care and maintenance.
Synthetic materials such as rein and plastic are excellent for outdoor furniture. They're lightweight, inexpensive and versatile. They're also fade-resistant and don't need to be painted or sealed.
Synthetic polyethylene resin is a good substitute for natural wicker because it looks similar but it's not susceptible to damage from moisture, humidity, sunlight and so on.
High-density polyethylene is very resilient and doesn't fade when exposed to the sun which is a great quality on outdoor furniture. Also, unlike metals, it doesn't retain heat but it's also more lightweight which can be a problem in windy environments.
Concrete is a fairly underused material but it has become quite popular lately as a lot of modern and contemporary outdoor designs incorporate it into their aesthetic. It's very sturdy, durable and long lasting and it can be moulded into lots of different shapes. It's also very heavy which can be a problem.
Another interesting and underused material is tempered glass. It's excellent for outdoor tabletops because it's resistant to temperature changes. It also makes the space around it look airy and open and it looks elegant and glamorous.
A lot of outdoor furniture pieces include some type of fabric into their design. This applies to seat cushions, pillows, covers and so on. These are not made of natural fibers because these lose their color and integrity over time. Synthetic fabrics on the other hand are much more durable and better-suited for outdoor spaces.
Acrylic fabric is strong and weather-resistant which makes it a great choice for outdoor furniture. It's also resistant to mold and mildew which makes it ideal for poolside lounge chairs and other similar pieces.
Sunbrella fabric is very popular. It's a premium acrylic fabric type, very strong and durable, weather and moisture resistant but also quite expensive.
Another option is polyester fabric which is typically coated with acrylic or vinyl in order to become more resilient. It's strong and flexible, resistant to stains and water damage and it dries very quickly which is excellent in the case of pool furniture.
Vivid cyan accents
Outdoor spaces are often surrounded by bright and vivid colors so opting for furniture that also stands out actually makes sense. The Consuelo sectional and matching table are definitely wonderful in this sense. The frames are sturdy and made of metal and all-weather rattan and the cushions have a beautiful cyan color which would look amazing by the pool.
A complete 9-piece set
Matching sets of outdoor furniture that include everything you need for a complete seating area definitely make it easier to furnish and to plan out your outdoor spaces. The Alhambra set is composed of 9 pieces which all fit together to create a cohesive and well-balanced environment. The rattan adds texture to the texture and goes really well with the neutral grey cushions.
Fire pit seating area combo
What could be cozier than sitting around a fireplace out in the open and enjoying the fresh air and the company of others? That's just what the Penelope set is made for. It comes with everything you need to make that a reality, including the actual fire pit which has a dark bronze shell that matches the accent table. The sectional modules are decorated with hand-woven all-weather resin wicker and comfy blue cushions.
Cozy daybed with a curved canopy
We can picture this beautiful Chesterfield daybed looking amazing by the pool, out in the backyard or in a garden, surrounded by flowers and greenery. Wherever you decide to put it we're certain it will become one of your favorite outdoor spots. It features a sturdy powder-coated steel frame covered in weather-resistant rattan and it also comes with a curved canopy for added protection from the sun. The canopy is removable.
A cozy wicker cube
The Amabel daybed looks beautiful and intriguing no matter what angle to see it from. What sets it apart from other outdoor furniture pieces is its eye-catching geometry. It's framed by a perforated cube with big circular openings the four sided and a roof overhead for protection against the sun. Inside it holds a comfortable daybed with cushions and curtains that can cover the openings for extra privacy and shade.
Statement daybed with umbrella
Lounging in the sun can be done in style thanks to this beautiful Tawanda outdoor daybed. As you can see, this is a piece designed to make a statement. It has a nice and compact structure and it's equipped with all sorts of cool and useful features, the most important one of them being the umbrella. Also, everything is completely weather and water resistant and UV light resistant making this a perfect addition to your poolside deck.
Not your typical lounge chair
If you enjoy lounging in the sun or spending your time outside on a lazy afternoon with a good book, do it in style with the Bellagio chaise. It's not your typical lounge chair being more of a combination between that and a cozy daybed. It has a sturdy outer frame made of metal and water-resistant upholstery and cushions so you can be as comfortable as possible.
Stylish chaise lounge and matching table set
Wondering how to furnish your poolside deck? The Gilleland set might be the answer. It includes four stylish lounge chairs and two matching end tables, all with elegant frames decorated with all-weather wicker for a textured and stylish look. The brushed aluminum feet are rust-resistant and the cushions are white which creates a beautiful contrast with the frames.
A single chaise for all your outdoor needs
Thanks to its five reclining positions and ergonomic design, the Island Estate Lanai chaise is perfect for lounging in the sun by the pool, reading under a canopy or just taking a nap outside. It also has a beautiful and elegant design that allows it to complement any outdoor area. The outer frame is made of wicker and the cushions are designed to perfectly match its proportions.
Double swing with comfy pillows
Swings are a lot of fun, even as an adult and even more so when you can share them with a loved one. The Doule Swing allows you to do exactly that. It resembles an oversized hanging chair with a stylish perforated cocoon-like frame and soft and comfortable cushions inside. You can put it by the pool, in the garden or even in the balcony if there's enough space.
Casual chaise with a classic and coastal design
It's designs like that of the Harbor Isle chaise lounge that show outdoor furniture can be as elegant and stylish as the indoor kind. This piece has a beautiful aesthetic with coastal influences. The frame is actually made of metal but mimics wood in a really cool way. The wicker panels and the tapered legs add texture and grace to the already impressive design.
Oversized umbrella for sunny outdoor spaces
Finding shelter under a large tree canopy is one of the best feelings ever but trees are not always positioned in the best spots. Luckily, you can always rely on umbrellas to give you cover and shade outside. The Chapple umbrella measures 138'' in diameter which makes it big enough to cover a cozy outdoor seating area. It has a wind vent that facilitates air flow and has a cantilevered design which means the support post won't be in the way.