Game Room Decor Ideas With Outstanding Furniture Accents
Having a special room where you can just play and have fun all day seems like a bachelor's dream come true. But don't let that thought fool you. There's nothing wrong with having a game room when you're a family man or in pretty much any other case.
In time we've gathered some amazing game room ideas which we shared with you on occasion. It's now time for some fresh ideas so let's see what we have for you today.
Fun Games and Furniture to Add to Your Game Room This Year
1. An Unusual Pool Table With a Stunning Surface
All pool tables are more or less the same, or so you'd think. But that's only true while you're looking at classical tables. There are plenty that stands out and break the pattern. This one, for instance, from Teckell, is quite unusual. The design stands out with its form, material palette as well as details such as the perfectly stretched cloth that provides a flawless surface, the soundproof polyurethane layer below that, or the custom and highly flexible polyurethane pockets which can hold three balls and then return to their original shape.
2. A Crystal Top Foosball Table
Foosball tables are classic game room furniture pieces. However, they're usually not the most stylish things you can put in there. That's when unusual designs come into play, designs such as the 90° Minuto from Teckell. This is a foosball table with lots of charm. Its design is simple and chic, putting an attractive spin on the traditional models. The tapered Canaletto wood legs give the table a luxurious look. The table also has a gorgeous crystal top.
Related: These Reclining Gaming Chairs Give You Comfort For Long Hours
3. A Modern Foosball Table with a Clear Glass Structure
This is another wonderful table that basically reinvents the classic game of foosball, giving it a stylish edge. The Cristallino table is an exclusive work of art. Created using modern technology and design techniques, the table has a clear glass structure with beveled corners. The players are made of aluminum, one team featuring a shiny chrome finish while the other has a dark nickel finish.
4. A Pool Table Which Doubles as a Dining Table
If you're looking to get more than just your usual pool table for your classic game room, Design Billiards has some really interesting things to offer. Some of their designs offer unique features that no other billiard table has. For instance, the luxury models are fully customizable and modular and some can double as dining tables, meaning that you don't really need a separate game room and you can just put them in your living room.
5. Luxury Pool Table Inspired by the Pyramids
MBMBiliardi is also a top name when it comes to luxury pool tables and everything related. One of their products is the Ziggurat table which takes inspiration from pyramids. Another gorgeous piece is the B_ig which stands out thanks to its simple and sculptural design. Other designs such as the Class or the Bruzelles impress with their architectural charm, soft lines, and sinuous curves.
Related: 10 Best Gaming Chairs for Playing Fortnite or Other Favourite Video Games
6. A Unique Pool Table With a One-of-a-Kind Shape
This luxurious and glamorous piece of furniture/ accessory is the Blacklight, an amazing and unique pool table with a few very intriguing characteristics. It has a one-of-a-kind shape which would be enough to make it stand out. In addition to that, it can be configured and customized down to the smallest details. You can even opt for the overhanging top which lets it double as a dining table.
7. A Fully Customizable Billiard Table
Modularity can also be a characteristic of the Megeve billiard table if you choose to add a tabletop that is. In any case, the table is customizable from start to finish, ensuring that each piece is unique. First, you get to choose the type of wood and the finish, then the feet and after that, you can get creative and cover your table in leather for a touch of originality. The design itself is simple.
8. A Modern Yet Traditional Pool Table
Meet the New Vintage table, a wonderful materialization of contrasting styles and design details. The table has a unique and easily recognizable design and a memorable style that blends modern and traditional elements with sober and original accents. The result is an unusual harmony. Notice the striking contrast between the reclaimed wood body and the industrial metal frame and the way everything can be hidden under a solid top.
9. An Elegant Ping Pong Table
Sure, pool tables are fun but they're also pretty common so you might want to opt for something different if you want your game room decor to really stand out. One way to be a bit original is to choose a ping pong table instead. It has more or less the same size as a pool table but it's a whole different story. So where would you look for a ping pong table that looks elegant? Well, James de Wulf has some pretty great designs you should have a look at.
10. An Over-sized Chess Table with a Vintage Look
Chess is a really old game and its history goes back almost 1500 years. Still, that doesn't mean it's outdated. In fact, that will probably never happen, so if you want a chess table for your game room design you don't have to worry about being trendy or out of style. Something like this is timeless and vintage and antique designs are always appreciated.
11. A Versatile Table Which Can Double as a Dining Table
Whatever type of table you choose for your game room, make sure it's a quality piece and, if possible, take modularity and multifunctional designs into consideration. Pool or ping pong tables can easily double as dining table and something smaller like a chess table can double as a cocktail table.
12. Vintage Arcade Games and Pinball Machines
Of course, if you're serious about having a game room that really stands out and makes you feel great, you might also enjoy vintage arcade games or pinball machines. You should check out the Games Room Company for really cool pieces and some inspiration for your space. As you collect stuff and your game collection gets bigger and bigger, the decor will start to take shape and will transform.
13. A Casino Table for an Adult Games Night
If pool tables or foosball tables are a bit too mainstream and vintage arcade games are a bit too serious for you, maybe a casino table would be just the thing your game room needs. Check out the Maxx Tables that impress with their simple and modern designs and wonderfully planned details.
14. A Casino Drum Table with Four Hidden Drawers
And speaking of casino tables, we just found a really awesome piece. It's a Casino Drum Table and it has four hidden drawers which can hold everything required for a great game night at the end of which everything can be concealed inside the table's frame. The design is a mixture of modern and traditional and the table has a strong personality which allows it to fit nicely in a variety of settings.
15. An Indoor Shuffleboard Table
If you love playing shuffleboard but can't always spend time outdoors, bring the game indoors with this wooden shuffleboard table from Rolling Stone. You can choose from a variety of sizes to fit your needs, and it's made from solid butcher block wood with a solid plywood framing structure. You'll find there's leg storage, slice scoring, and deluxe pucks included with your purchase. It comes with an extra deep playfield, which looks better in your game room and will also feel more enjoyable to play on.
16. Pac-Man Home Arcade Game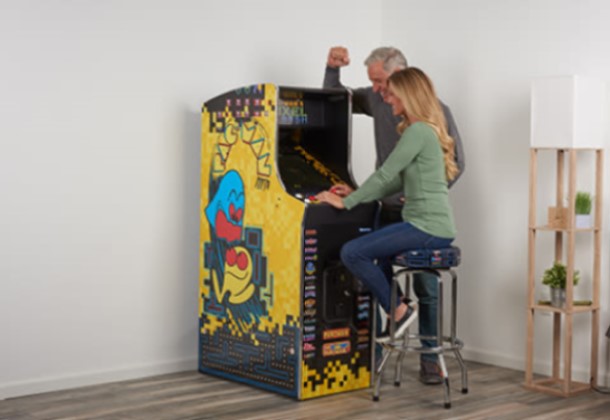 There's no better game than Pac-Man to add to your game room decor, and you can order a full-size gaming machine to play in the comfort of your own home from Sharper Image. Kids and adults alike will love playing this game, and this machine will make a stunning centerpiece for your game room. The great thing about these machines is that they can fit against your wall if you are short of space, so they are ideal for rooms of all shapes and sizes.
17. Multi Combo Game Table
We aren't all lucky enough to have a game room that's big enough to fit multiple tables in one room. This multi combo game table from Amazon offers five different surfaces, so you'll have endless gaming options for nights of fun with your family and friends. All of the accessories are included, making it quick and easy to switch between games. This table includes slide hockey, foosball, pool, shuffleboard, table tennis, chess, cards, checkers, bowling, and also backgammon. So there really is something for everyone.
18. A Modern Pinball Machine
For avid pinball fans, you'll be impressed by the options available today, which are based on your favorite movies and TV shows. We love this pinball machine that's inspired by The Mandalorian that we found on Youtube. You'll be transported to another galaxy during this game, where you'll battle enemies during your journey. This pinball machine is sure to impress anyone who visits your home and is an incredible collector's item to add to your game room.
19. Classic 4-in-1 Sports Table
Keen sports fans will love this 4-in-1 sports table from Wayfair, which will save you money and space when fitting out your game room. You'll enjoy playing slide hockey, table tennis, foosball, and pool, so it contains all of the classic games you would want to have in your room. It's quick and easy to convert your table, so you don't have to have multiple large games cluttering up your space. You'll also receive everything you need to start playing, so you can simply set up your table and enjoy hosting your first game night with your friends.
20. A Convertible Pool and Foosball Table
Amazon offers this exciting 2-in-1 pool and foosball table, which offers a sturdy foosball table which you'll then add a pool table on top of. These are two of the most popular game room games to have in your home, so even the smallest room will benefit from adding this table to the space. It takes just minutes to switch between the games, so it's perfect for a games night when you can't decide between pool and foosball.
Conclusion
All of these game room decor ideas are ideal for a game room of almost any size, and you might even want to consider adding multiple tables or devices to your room. We love some of the convertible tables on offer today, which allow you to make the most of a room with limited space. While you may have an idea of how a gaming table looks, you'll be surprised by some of the stylish options on offer today, which will be in keeping with your contemporary home decor.