How To Build Your Own Pallet Fence From Scratch
Fences are good at delineating spaces, properties and at offering privacy and keeping unwanted intruders out. Sometimes fences also have a decorative role. As always, certain features come with a price and if you're not exactly pleased about that then a DIY fence might just be the perfect project for you.
More specifically, you could build a pallet fence. It's cheap, practical and there are many different design possibilities plus lots of plans that you can find on the internet. We've gathered some of our favorites:
DIY Pallet Fence Projects For Your Garden
1. Using Pallet Fences For Small Livestock

It seems that pallet fences are great for small livestock. One reason for that would be the fact that pallets are easy to come by and if a section gets damaged you can just replace it. Of course, pallets are quite strong and sturdy so you shouldn't have any problems with it, especially if you're using steel posts as suggested on alifeofheritage.
2. Turn the Tops of Pallets Into Planters
In addition to being very cheap or even free in some cases, pallets are also incredibly versatile and can be used in a lot of cool projects, including some great and cheap fencing options. A particularly cool idea is to turn the tops of the pallets into planters. The suggestion comes from naturallyloriel so that's where you'll find the instructions for this project.
3. A Simple DIY Pallet Fence
A pallet fence can be pretty great even if it lacks some of the extra features described in this article. A simple DIY pallet fence like the one on fairywingsanddinosaurs can be super charming. You can even go as far as to also build a pallet gate and a trellis of some sort. You could use the framework to train plants to climb on it.
4. Add Wheels To Your Pallet Gates
Building pallet gates is pretty similar to building pallet fences except perhaps for the option to add wheels for easy manipulation. While you're at it perhaps you'd also like to add some built-in planters to your design as well. You can find plans for this particular sort of project on 99palletideas.
5. Build a Picket Fence From Pallets
If you're interested in building a picket fence you should know pallets are great for that too. You'd first have to take them apart and to make a few cuts but once you have all the pieces assembly should be pretty easy. If you need help you can check out adventurous-andersons. Here you can find a bunch of inspiring projects, including this one.
6. Create a Pallet Compost Bin for Your Garden
There's a lot that you can do with pallets in addition to the basic property fence. If you have a garden, for example, you could build a pallet compost bin. As it turns out, it's a fairly simple project, especially if you have some help. You can find a very detailed tutorial for it on prodigalpieces, complete with pictures, instructions and tips.
7. A Small Pallet Fence for a Playground Area
Now let's get back to our initial idea: the DIY pallet fence. Not all fences are the same nor they should be. You have to first consider the purpose that fence should serve before you start making plans. A cute example is the little pallet fence featured on instructables which delineates a playground area. It's low and simple and if you want to make it look even cuter you can paint the fence in a fun color.
8. Build a Pallet Fence Gate
On instructables you can also find instructions on how to build a a pallet fence gate. All you need is a wood pallet, a jigsaw, a drill, some screws and a door spring. You can design it to match your pallet fence or you can choose to make it stand out. Staining or painting the wood is always an option.
9. Create a Modern Fence for Your Patio
Not to worry, pallets can also be used to be modern fences too, not just the classic picket fence type. A great example in this sense is the project from 1001pallets which shows you how to build a patio surround with horizontal boards, creating a simple and modern fence design. Have a look at the description and then start planning your own DIY fence project.
10. A Pallet Fence with a See-Through Design
Speaking of simple pallet fences with vertical boards, there's also a nice example on hometalk. We like the see-through design which doesn't block the view completely. The wire mesh is a nice addition in this case. We also like how the gate perfectly matches the fence and blends in seamlessly when closed.
11. A Unique Fence Made From Pallet Wood
Now let's talk a bit about the fact that DIY projects are never perfect and there are always little details that let you know it's a homemade craft. Well in that case you might as well go with the flow and make your fence look intentionally imperfect. It could actually turn out pretty cool. You can find inspiration on 99palletideas where the fence boards are not parallel to each other and don't even have matching lengths. They're also not spaced-out perfectly.
12. A Chicken Yard
If you have a large garden and keep chickens in your home, you'll love this pallet fence from Attainable Sustainable. It's a great way to create an inexpensive extension to your current chicken coop without having to replace the whole thing. Your animals will love having extra space to roam around, and you'll use recycled pallet wood for this cheap project. It can be fully customized to your space to make the most of any spare land you have.
13. A Garden Fence
You don't need to have a large garden to take advantage of these projects today. This garden fence from Two Bears Farm has been created on a larger piece of land but can be scaled down to fit your needs. It's a great example of a finished product, and you can follow any of the instructions on this page to create a fence that looks like this.
14. Movable Pallet Wood Fence with a Gate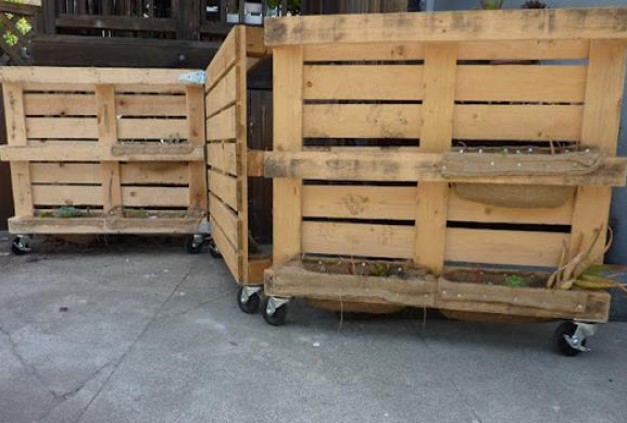 One of the reasons we love pallet fences is that they are a cheap and sometimes free project to complete. Morning Chores shows us how to create a pallet fence on a budget, so you can transform your garden this summer without spending a fortune. It's often possible to find this material for free if you know where to look, and it helps to save the environment at the same time this year. Just add some wheels to your large pallet fencing area, and you'll have a nice movable gate.
15. Halloween Pallet Fence
One of the reasons we love using wood in any of our DIY projects is the ability to make something new for each season without spending a fortune. Instructables shares this fun DIY project just for Halloween that won't cost you a fortune yet will be perfect for when the trick or treaters arrive. If you are hosting a Halloween event in your home this year, you'll give guests a spooky welcome upon their arrival.
Conclusion
A pallet fence is a low-cost and durable option for your home. You'll find that it lasts for years to come but saves you hundreds of dollars in comparison to having someone else install a new fence for your garden. All of these fences shown here today create a practical solution for a garden or outdoor space of any shape or size. Pallet wood is an extremely versatile material that you'll enjoy using in any project this year. Good luck building your own pallet fence, and we hope that it will provide a secure addition to your home garden that will offer you protection for years to come.