Paint Sprayer For Cabinets: How To Find The Best One For Your Awesome Kitchen Makeover
For DIY kitchen makeovers, you want the best paint sprayer for cabinets. Before buying a paint sprayer for your kitchen cabinets, you need to know which one will do the best job. The kitchen is the busiest space in your home, so your cabinets should look their best.
Airless sprayers offer convenience and ease when painting kitchen cabinets. However, you should not confuse a spray gun with a can of spray paint. Both are different, and that's just one of the many things we'll explore as we take a look at kitchen cabinet painting.
Maybe those kitchen cabinets just need a little pick-me-up. A fresh coat of paint, maybe with a nice stain.
Best Paint Sprayers For Kitchen Doors
To help you make the best purchase for you and your project, we've rounded up our top picks for the best paint sprayers for cabinets.
Each product on our list is designed to provide a high-quality paint job and a user-friendly painting experience, so feel free to browse to your heart's content.
This 450-watt electric paint sprayer from HomeRight offers more versatility than the average HVLP spray gun. It's good for both indoor and outdoor projects, features an easy-to-adjust air cap and flow control knob, and comes with three tips designed for spraying different mediums.
Its turbine motor and high wattage allow this sprayer to use thicker paints than most other HVLPs can handle, and the paint will have a smoother finish. You'll also appreciate its simple cleanup: just rinse with water or mineral spirits, and it's good to go! And considering its 2-year warranty, there's nothing to lose when you purchase this product.
Pros:
Adjustable air cap
Turbine air compressor provides greater strength for thicker paints
Easy to clean
Cons:
Does not atomize the paint small enough for a smooth finish
Complicated instructions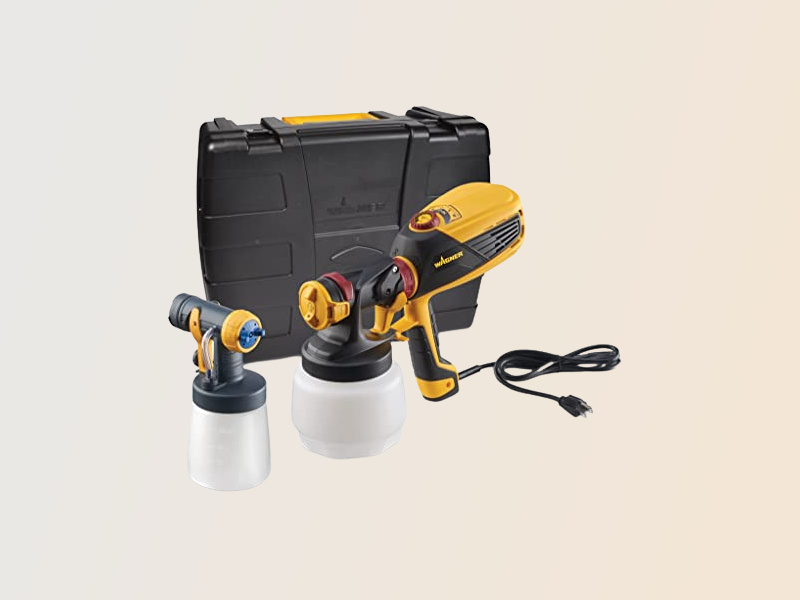 Versatile, easy-to-use, efficient…these are all words that perfectly describe the Flexio 590 from Wagner. No matter what painting project you have lined up, know that this sprayer has you covered with its two nozzles and ten speed settings! Each of its nozzles serves a different function, with the Spray best suited for large-scale projects and the Detail Finish Nozzle best for work that requires more detail.
You can even adjust the flow pattern to meet your specific painting needs. This handheld sprayer boasts a fast painting time of eight gallons per hour, so you can rest assured your project will be accomplished in record time!
Pros:
Applies a superior finish on furniture, walls, ceilings, exterior siding, fences, cabinets, and trim.
Great for large jobs
Multiple speed settings
Cons:
Only works well with thin paint
Durability issues
Paint leakage
If you see yourself doing lots of around-the-house painting projects in the future, then this 400-watt HVLP sprayer is exactly what you need. Its portable handheld design three spray patterns make this unit both user-friendly and versatile for use on a range of projects. This sprayer boasts a high level of precision and less overspray than similar models, meaning less cleanup time and no worries concerning the quality of the finish.
The unit also comes with additional items, including a second nozzle, paint strainers, and a brush for cleaning after use. Best of all, there's a 1-year manufacturer's warranty in place to give you that extra peace of mind!
Pros:
Full coverage water based disinfectant sprayer
Ideal for spraying high traffic surfaces – indoor and outdoor use
Works well with stains, sealers, and other thin materials
Cons:
This sprayer was designed with your comfort and convenience in mind. It uses a two-stage turbine engine with a stationary base to make the painting process a smooth one.
Its nozzle features a versatile design that can be used for any number of projects, and the unit comes with two different-sized cups so you'll be able to carry around the amount of paint you need for any project size.
In addition, you can control the pressure and flow rate. This model comes with a 1-year warranty, so what are you waiting for?
Pros:
Low pressure, high volume system atomizes paint well
Hose dial allows for paint flow customization
20 foot hose provides greater flexibility
Cons:
Weak motor
Unsuitable for latex paint
With consistently great ratings and some of the highest-quality design features on the paint sprayer market, this HVLP sprayer from Fuji has everything you could need for your upcoming projects.
While most other sprayers will max out at 400-450 watts and leave a less desirable finish, this one provides a powerful spray. It also includes different-sized air caps, Adjustable Pattern Air Control, and a reversible top-feed/gravity-feed cup.
Pros:
1,400-watt, two-stage motor
Long lasting
Cons:
Airless Paint Sprayers – Deeper Analysis
Before you purchase an airless paint sprayer, we've outlined some deeper pros and cons of owning and using an airless spray painter.
---
Pros:
Covers larger areas
With a paintbrush or roller, you can only cover so much area with paint at a time. Using a paint sprayer allows you to cover a much larger surface area in the same amount of time, making it a more efficient option.
Reduces work time and labor
Because spray painters cover such a large area at a time, they can also reduce the overall work time and exerted labor of your project. You can have the first coat finished in record time and apply the second coat just hours later. In addition, HVLPs feature a user-friendly design that makes the painting process simple and non-labor intensive.
Ideal for detail work
Another charming quality of spray painters is their ability to handle detail work with ease. Because you can attach tips and other add-ons to spray painters, they are perfect for painting trickier surfaces such as corners. They also tend to perform better on tarnished surfaces than paint brushes do.
Provides a clean, even finish
Where paint brushes leave brush marks, spray painters leave nothing but smooth, clean finishes (and maybe the occasional paint drip). This clean finish is possible because the paint is sprayed out in an even layer that holds to the wood with little problem.
---
Cons:
More prep work needed
One downfall of spray painters is their 'overspray.' This refers to when the paint being sprayed covers more area than intended, potentially getting paint where you don't want it (such as on appliances, the floor, or the ceiling). For this reason, there is more prep work required when using a spray painter to ensure that paint only gets where it's supposed to.
More cleanup afterward
Naturally, more prep work means more clean up afterward. Once the painting is finished, you'll need to clean the appliance, ceiling, and floor. Paint sprayers need to be cleaned as soon as you're done using them. Residual paint can cause clogging and shorten the life of the sprayer if you don't clean it.
Not great for small projects
While spray painters are ideal for larger-scale projects where lots of area needs to be covered, they are not well-suited for smaller projects. The prep, cost, and required ventilation are not worth it for projects that could easily be done using a paintbrush or roller.
Expensive
Depending on the brand and model, you can expect to spend between $100 to $1,900 on an HVLP paint sprayer. At the lower end, you'll find smaller-sized units with more basic features. At the higher end, you'll find larger units with additional features and specifications.
You can also choose to rent a sprayer on an hourly or weekly basis. This option is best if you only plan on using the sprayer for a one-time project. Estimates for rent vary depending on which type you're renting and where you're renting from, but this option will save you a lot of money if you need a high-quality sprayer for a short amount of time.
---
How To Choose The Best Airless Paint Sprayer
There are three types of airless spray painters: Airless, Pneumatic, and HVLP. Let's take a closer look at each type.
Airless Paint Sprayer
Due to their use of high pressure and ability to spray thick paints, airless paint sprayers are ideal for outdoor projects or larger-scale indoor projects.
Pneumatic Airless Paint Sprayer
Pneumatic sprayers are best suited for painting projects involving furniture or cabinets. They spray paint using compressed air, which makes them effective but rather messy to use.
HVLP Spray Gun
HVLP sprayers are the best option for spray painting cabinets because they use low pressure while still producing a good output of paint. Though expensive and only for use with thin paints, HVLP sprayers are easier to use than most paint sprayers. Many people think it is the best handheld paint sprayer on the market.
---
How To Use A Paint Sprayer On Cabinet Doors
Before looking at our top spray painter picks, let's briefly discuss how to go about your cabinet spray painting project. There are several steps involved, but the process is relatively straightforward.
Prepare Kitchen Area
This involves relocating kitchen items held by the cabinets, drawers, or shelves you'll be painting. You should also cover other appliances nearby, as well as the ceiling, floor, and other areas you don't want to be painted.
Remove Kitchen Cabinet Doors
Once all items are removed from the cabinets and the kitchen is well-prepared, it's time to start removing and disassembling the cabinets. This will involve unscrewing the doors/drawers and removing any handles, knobs, or hinges. If possible, try to label everything so you won't have any problems when it comes time to reassemble everything.
Clean Kitchen Cabinets
Clean the kitchen cabinets and doors that you will paint. You should do this with soap, and warm water, which will remove grease and other contaminants. Before you start spraying paint, the intended surfaces need to be clean or the result will not be what you wanted.
Sand, Patch, and Re-sand
Once the cabinets are clean, you should sand them down to remove their sheen. Next, you'll want to wipe down the wood using a tack cloth and use wood putty to patch up any tarnishes, holes, or other imperfections on the cabinets. Then sand them down again and wipe away the dust.
Prime Cabinet Doors
Before you paint your cabinet doors, you'll need to apply at least one coat of primer. Once you're satisfied with the sanded and patched-up appearance of your cabinets, you should add a primer to the wood. This will reduce the chances of the paint peeling off the cabinets. If you're working with an electric paint sprayers, make sure you have plenty of spray tips.
Paint Cabinets
You will want to give each cabinet a first coat, wait four hours or longer, and then apply a second coat. Be mindful when using a compressed air paint sprayer as cabinet painting can be delicate.
Watch out when spraying for any paint drips, which could ruin the result. If you happen to notice these paint drips, you can brush them using a paintbrush. Also, feel free to apply different spray patterns and see what you get.
When you paint kitchen cabinets with an airless sprayer, do not be intimidated by the machine or the job.
---
How To Clean An Airless Paint Sprayer
Cleaning airless paint sprayers is not hard, but it's something that you need to stay on top of after every job. It's understood that an airless paint sprayer needs to clean it after each use. There are a few easy ways to clean your spray gun with household solutions.
Acetone: well-known for its paint stripping qualities, acetone is an effective paint gun cleaner, but be careful as it poses a few health risks.
Lacquer Thinner: after a heavy paint job, use thinner to clean your spray gun. This will avoid heavy build up and residue issues.
Denatured alcohol: use this to soak your paint sprayer tips so they remain unclogged for your next project. The alcohol will break down old paint particles that can be hard to remove after they've dried.
Frequently Asked Questions (FAQ)
FAQ
Can you use a sprayer to paint kitchen cabinets?
Yes, you can! Using a sprayer to paint your kitchen cabinets is a totally doable DIY project and it leaves a nice finish you won't get from brush painting. If you're considering using a sprayer for your cabinets, do keep in mind that there's usually more prep and cleanup involved with this method.
Is it better to spray or brush paint kitchen cabinets?
You can use either method for painting your kitchen cabinets, and each has its pros and cons.
– Brush painting is a more accessible method, especially for those with little DIY experience. This method also requires less prep and cleanup work than spray painting does. On the other hand, it takes a lot longer and may leave unattractive brush marks.
– Spray painting is less accessible and requires more prep/cleanup. But it compensates for this in its smooth finish, great detail work, and time-efficiency.
Generally, professionals and DIYers opt to use spray painters for a painting project of this size.
What type of spray painter is best for cabinets?
There are three main types of spray painters: HVLP, Airless, and Pneumatic.
HVLP (High Volume Low Pressure) sprayers are the best option for cabinet painting. This is because they produce a high output of paint using low pressure, which allows the paint to cover a larger area and stick better to the cabinets. HVLPs are known to reduce the amount of wasted paint and overspray. In addition, this type of sprayer tends to be lighter in weight than the other types and easier to control for indoor use.
Is using a paint sprayer easy?
Using a paint sprayer is relatively easy (especially if you're using an HVLP), but there is a learning curve involved. In order to use the spray painter effectively, you have to perfect your technique: this means keeping the sprayer straight while in use, moving your arm carefully to control the spray, and knowing how to avoid serious overlap. Once you have the basics down, you'll see that spray painting is a straightforward and simple process.
Paint Sprayer For Cabinets Conclusion
When you embark on a DIY project like painting your kitchen cabinets, you want pristine results. A paint sprayer will deliver a smooth finish for your cabinet doors. Using a spray gun will also help you save time, allowing you to work on other things.
Latex paint is popular among DIY kitchen makeover enthusiasts. With an airless paint gun, for example, you could spray a fine mist of paint over your cabinet doors within minutes. And if you're working with limited resources, buying a budget paint sprayer is one option. However, and don't forget, you could rent a professional-grade spray gun. Paint sprayers vary in cost and size, so you won't have problems finding one that's right for you.
Spray painting kitchen cabinets is a great DIY home project. You don't need a professional-grade spray gun, because when you think about it, how many times will you paint your kitchen cabinet doors?