How To Give Your Old Stair Railings A Fresh New Look On A Small Budget
A staircase isn't just a practical structure which lets us move between floors. It's also an important interior design element and, as such, deserves our full attention. Today we're focusing on stair railings, specifically on a few very impressive and inspiring makeover projects. They show how easy the transformation is and how big of an impact it can have on a home's decor and ambiance.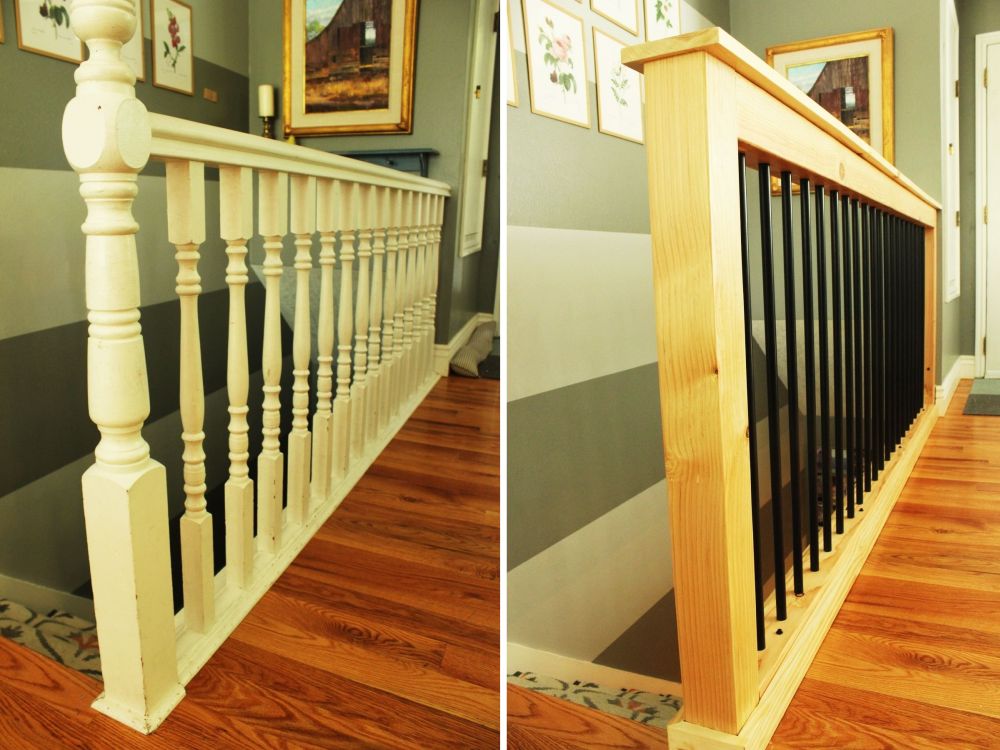 It's not very often than we replace stair railings since they're meant to be durable and long-lasting for safety reasons. When we do replace them it's most likely because they look outdated, like this
Another wonderful makeover project that we really like was featured on welcome-to-the-woods. The new railing is made of steel conduit and MDF. It has a simpler and more modern appearance compared to the old, more traditional design. The change influences the entire house, not just the staircase. The spaces in its immediately vicinity look and feel a lot more open, bright and welcoming.
A staircase makeover doesn't necessarily have to imply the replacement of the old railings with new structures. The transformation can be purely aesthetic and can be done using nothing more than paint. For example, if you want to update the look of your old oak stairs to make them better-suited for a modern environment, consider using white paint to give the stairs and the railings a fresh makeover. Check out seasidesundays to see how it could all look like in the end.
If you're planning a staircase makeover, consider refreshing the look of the railings by changing the pattern or orientation of the posts. It's easier to understand this by visualizing such a look so check out magnolia to see a very suggestive example. Originally the staircase railings featured an array of vertical wooden posts and the new design plays with horizontal lines large-scale geometric patterns.
You can also update the look of your staircase without even touching the stairs just by adding a simple handrail. It doesn't have to look sophisticated or to be flashy in any way, especially if you're doing this for the basement staircase. A simple handrail made of metal pipes and fittings would be just perfect. Check out imgur to find out how to make one from scratch.
Want to add a little bit of color to your staircase and at the same time make the handrail soft and pleasant to the touch? How about a yarn cozy? You could use a knitted blanket. Just wrap the blanket around the handrail, stitch the edges together and then trim the excess. It's that simple. This awesome idea comes from blogalacart.
If you want to give your staircase railings a complete makeover without actually replacing anything, there's one particularly creating idea you could use and it comes from remodelaholic. Basically the suggestion here is to cover up the existing posts and to conceal them behind a brand new design.
An entirely different idea is to replace the staircase railings with something else, like a bookcase. This actually makes a lot of sense, especially if you plan on using the area at the top of the stairs as a sort of open reading nook. Just make sure you secure the shelving to the floor properly and that everything is safe and durable. You can find details about this makeover on justcallmehomegirl.
Things are quite different if the railings you plan on building are for an exterior staircase. For example, let's say you want to add railings to the deck stairs. That shouldn't be too complicated but a lot of the ideas we showed you today don't really apply here. You'll be interested to check out the project featured on bowtospecialist for some useful tips in this case.
Replacing the treads on the stairs can be a change that really makes a difference and turns an old and outdated-looking staircase into one that's refreshingly different. A very inspiring redesign in this sense is featured on tmoorehome. Here you can see how the old staircase was carpeted which gave a bulky and less than appealing look. The remodel brings out the beauty in its original design.
Another really cool and interesting idea is to build stairs out of wooden crates or, to make things easier, to paint the existing wooden stairs so they look like crates. The beauty in this design strategy is that you get to showcase the logos and designs on the crates and mix them to create an eclectic and unique staircase design. Complement that with a simple railing and it will look magnificent. Check out funkyjunkinteriors to find out more about this project.
Carpet can add a lot of character to a staircase but can also interfere with its design in a way that's not so inspiring or aesthetically pleasing. Whether you're installing or removing carpet from your stairs, it needs to be done with care and attention.
More inspiring design ideas
A classic wooden staircase can sometimes be the answer if you want the entryway to look welcoming without standing out in a weird and unconventional way. To capture that classical and traditional feel even more you can hang picture frames on the wall as the stairs go up. This example by Jill Wolff Interior Design could be a nice source of inspiration.
On the other hand, contemporary space is defined by a certain type of simplicity that classical staircases just don't have. This particular style exemplified here by DKOR Interiors sums it up: a clean geometry, sharp and straight lines and a clear glass railing on only one side. It's not symmetrical or common but it's not overly unusual either.
Going back to traditional staircases, they have a certain unmatched charm that really makes a space feel like a home. The way in which the ornate posts line up with the stairs, the handrail that follows the contour in a smooth way and the use of wood as a primary material all contribute to make staircases like the one designed by Lorraine G Vale look just right in a lot of different setups.
Here's an example of a rustic staircase which is also a really great style if you want to add more warmth and character to a space. It's designed by Crisp Architects and although it has a lot of the usual rustic characteristics infused into its structure it also has a certain modern flair added by the railings. They're slender and contrast with the robust wooden posts.
Spiral staircases are often appreciated for their space-efficiency and the fact that they can fit in tiny spaces, like this one for example. A traditional staircase would have taken up too much space but something as sleek and slender as this is barely noticeable. The railing smoothly follows the stairs and bends and turns along with them, helping to highlight the stylish silhouette of this design even more. This is an interior remodel by SV Design.
Another example of a contemporary staircase design can be seen here and in this case it's the railing that takes center stage. It's made of metal and painted black which allows it to contrast with the white walls. The design has a graphical and eye-catching look with an emphasis on simplicity. It's a design by studio McRae Lambert Dunn.
A staircase doesn't need to be big in order to stand out or to add something to the design and décor around it. It also doesn't have to follow a single particular style. In this case a hybrid design was chosen by Glenn Layton Homes which combines elements of modern and traditional design. The cable railing in particular stands out.