DIY New Years Eve Decorations for Dining Table
The New Year is almost here, which means it's time to be thinking about New Year's Eve décor! Whether you're throwing a party or just want to decorate your space for New Year's Eve, finding décor can be a bit difficult.
Especially, if you're trying to find those unique pieces which go beyond your traditional party hats, balloons, and so forth. So, to help solve this problem, today I'm going to show you how to create a simple New Year's Eve Table Centerpiece that can be used year after year!
Today's project is a New Year's Eve Table Centerpiece which is inspired by the New Year's Eve ball being dropped in New York! Making the centerpiece is super easy and only requires a few basic materials. With that being said, you can easily customize this centerpiece to fit your own design taste. For example, you could use gold glitter instead of silver or make the New Year's Eve ball smaller. Also, you may have noticed, that I did not include a date on the centerpiece. This is because I wanted to make a centerpiece that could be used year after year, instead of just for one specific year. However, you could add numbers if want that type of look.
So to find out how to make your own New Year's Eve Table Centerpiece, keep reading below!
Supplies you'll need for new years eve decorations:
Large Styrofoam Ball
2 Dowel Rods
Wooden Block
Wooden Letters (that spell out Happy New Year)
Gray Paint
Turquoise Paint (or any paint color of your choice)
Foam Brushes
Decoupage Glue
Glitter ( I used dark gray, silver, and multicolored glitter)
Industrial Strength Glue
Dowel Rod Cap (not pictured / optional)
Hot Glue Gun (not pictured / optional)
How to make the New Years Eve decorations:
Step 1: Take one of your dowel rods and poke it through your Styrofoam ball. Once your Styrofoam ball is on your dowel rod, you can now begin to paint. Grab your gray paint and begin painting your Styrofoam ball. When your Styrofoam ball is completely painted, set it to the side to dry.
Once your Styrofoam ball has completely dried, begin painting on layers of your decoupage glue. However, before the glue dries, sprinkle on your gray glitter. Keep repeating this process until you are happy with the look of your Styrofoam ball.
When your Styrofoam ball is completely covered in glitter, add one final layer of your decoupage glue to seal in the glitter.
Step 2: Paint your second dowel rod and wooden block gray. Then set both items aside to dry.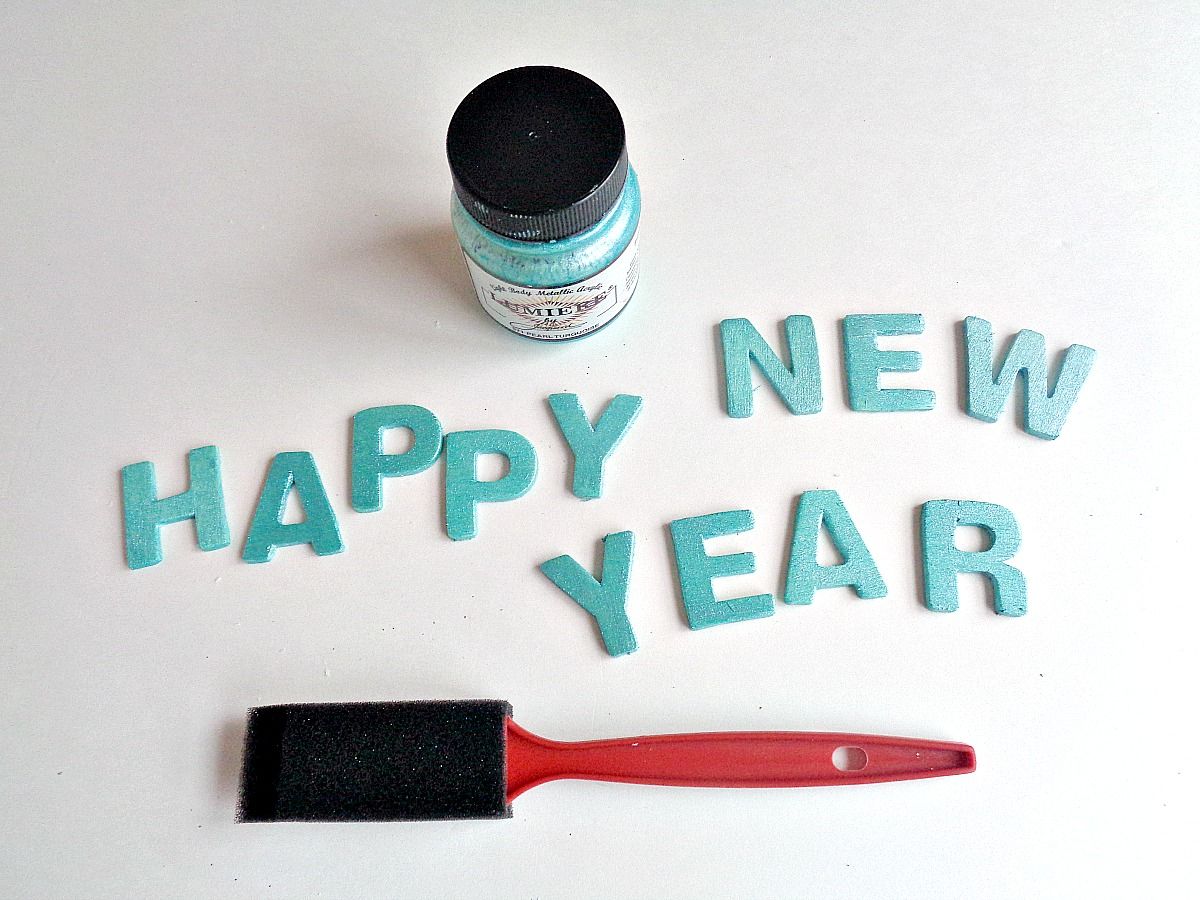 Step 3: Paint your wooden letters turquoise and set them aside to dry.
Step 4: Grab your wooden block and begin gluing on each of your wooden letters. When your wooden letters have dried, apply some glue to the bottom of your dowel rod and glue it to the top of your wooden block. Once your dowel rod has been glued into place and has dried, apply a small amount of glue to the middle of the dowel rod. Then slide the Styrofoam ball onto the dowel rod where the glue is, and set the whole thing aside to dry.
On a side note, you could use hot glue for this step as and you could glue on a dowel rod cap to give your centerpiece a more finished look.
Once the glue has dried, you're ready to display your New Year's Eve Table Centerpiece!
I love how this centerpiece turned out! I think it would look really cute either in the middle of a table or on a small table next to your t.v.
Like I previously mentioned, you can easily adjust this project to fit your design taste. Personally, I think a gold version of this centerpiece would be super cute. Also, there is no rule that New Year's Eve has to be silver or gold. So use colors that make you happy and just have fun making the project!
Happy New Year!
If you made this centerpiece what colors would you use?