The Most Popular Mid-Century Wallpaper You Can Choose Nowadays
Wallpaper may not be popular like it was in the past, but that doesn't mean it's extinct. Join us as we explore the most popular mid-century wallpaper you can choose nowadays. While most use paneling or drywall for their homes, wallpaper is a cheaper option. There are plenty of designs so don't be afraid to try something new.
A major style of wallpaper is mid-century. The retro style is trending this year for many reasons.
In the world of interior design, what is mid-century? Let's start by digging deeper to find the answer.
What Is Mid-Century?
Mid-century wallpaper is in fashion as the style was common during the middle part of the 20th century. It's not the only mid-century decor you can use to decorate your walls. Examples include Dundee deco peel and stick abstract scrolls wallpaper border retro, vintage-inspired peel and stick wallpaper, and mid-century modern removable wallpaper.
So, what is mid-century?
Mid-century refers to interior design styles popular between the 1930s and 1970s, with the 1950s as the median.
The term became fashionable in the 1980s and was popularized in the 1990s. Today, it's known as mid-century modern. Generation X (those born between 1965 and 1980) most likely caused its re-emergence.
Let's take a look at some of the hippest wallpaper from that period.
Mid-Century Modern Wallpaper Ideas
If you've decided on mid century wallpaper, you're probably looking for ideas and inspiration. Patterns with bright colors and large shapes are most common. There are also many textured wallpaper ideas for living room spaces.
Mid-century designs are popular in dining rooms. You can find affordable mid-century dining room chairs to complete your dining room.
If you're not into bright wallpaper, you can still find mid-century wallpaper to suit you. Black and white was all the rage in this era. TV was only in black and white for decades, so of course, theater enthusiasts loved the combo. Another good idea would be retro wallpaper peel and stick.
If you opt for an updated living room, consider a leather sofa. Mid-century leather sofas are easy to find and always look amazing.
Mid-century wallpaper is for dining rooms, kitchens, and living rooms. However, it can be used in bedrooms. The most common way to use wallpaper in the bedroom is on a feature wall.
Although you can put it on all four walls, the wallpaper is often quite bold. You wouldn't want to overwhelm the senses when you're trying to relax.
If geometric designs aren't your thing, then you can opt for floral or leaf patterns. These were popular for furniture, and thus, wallpaper was created to match. You can also choose vintage inspired peel and stick wallpaper.
Best Mid-Century Wallpaper
Although inspiration is handy, it's not useful unless you can buy what you desire. Wayfair and Amazon are two of the best places to buy mid-century wallpaper.
Corrigan Studio Napolitano Sound Proof Wallpaper
The Napolitano wallpaper is mid-century style personified. Typically found in three colors: taupe, aqua, and navy. All three colors are also mid-century. The pattern is relaxing in itself, but there's more to this wallpaper than a pretty face.
This wallpaper is also soundproof. That's right. You can use it for your gaming, music, or zen rooms to help create your sanctuary. It can also be used just for one wall and decreases incoming sound by 25 percent.
Mistana Timm Chevron and Herringbone
This mid-century wallpaper by Mistana will be your cheapest option. At less than a dollar per square foot, it's a steal. Plus, it looks like it's worth just as much as any other wallpaper.
The chevron pattern complements most rooms, while the colors are versatile. Two options exist: navy/gold and gray/tan. Both work well with any room, especially ones with cool retro colors rather than warmer colors.
Spoonflower Water-Activated Wallpaper
This adorable wallpaper is a mid-century design game-changer. You won't find another pattern more unique. The yellow bird design is Scandinavian, which gained in popularity in the 1950s and 1960s.
The wallpaper is pre-pasted, classical water-activated, and easy to install. If this particular design doesn't suit your style, one of Spoonflower's other designs will. You won't have a problem finding textured wallpaper ideas for your living room.
Gold and Beige Striped Hexagon Peel and Stick Wallpaper
Hexagons were extremely popular in the mid-century. Otherwise known as "nature's perfect shape," as it is seen in several natural creations. A few of the natural hexagon shapes include snowflakes, beehives, and turtle shells.
The gold in this wallpaper has a foil effect, so it glimmers. It doesn't have gold flakes, but it does shine. This makes it easy to pair with other gold decor and furniture, particularly in the living room. With vintage inspired peel and stick wallpaper, it doesn't get more retro-cool than this.
AllModern Peel and Stick Wallpaper
This AllModern green and orange wallpaper will do the trick if you want a trip back in time. Featuring bright colors, its boldness will spread joy with just one glance. Art deco peel and stick wallpaper provide a quick method to add style to living spaces.
Broken shapes and patterns were popular in mid-century homes. Geometric shapes were in, but broken shapes were eclectic enough to satisfy the young crowd. Back then, these were the Baby Boomers and Silent Generation.
Corrigan Studio Grajeda Circles In Motion Wallpaper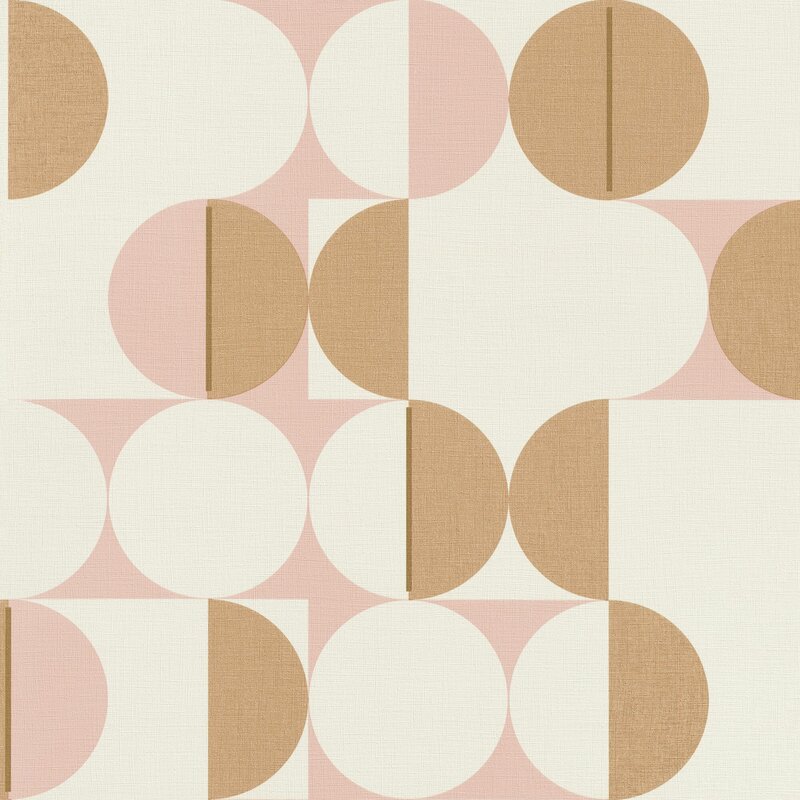 If I had to pick one brand that excelled in creating mid-century wallpaper to rave about, it would be Corrigan. They offer amazing mid-century wallpaper time and time again. This design is no exception.
The pink and brown combo is nothing new. However, it looks perfect paired with white in this broken circle design. The wallpaper also comes in navy. So if pink isn't your thing, then navy surely will be as it is almost as neutral as gray.
Related: 29 Stylish Ways To Bring Brick Wallpaper Into Your Home
Easma Retro Starburst Wallpaper
With nursery wallpaper, this might be the best mid-century design available. It features starburst stars and classic five-point stars. You can get silver or gold, as well as straight or tilted.
The design was created for a baby's nursery. However, don't let that stop you from using it for a different room. With silver and gold, it will match any room.
Very Berry Gold Wallpaper
A bold and shiny, and style isn't for everyone. Those that do get it love its extravagance. You can get it in both silver and gold, but the gold seems to stand out more.
The Very Berry gold wallpaper is textured, which was popular in mid-century times. It looks vintage, like a palace from hundreds of years ago. Yet, it's well-kept.
Bungalow Rose Stradford Wallpaper
This is a wallpaper that seems to blend into any background. If you choose the right color, that is. There are four options: gray/yellow, blue/gray, gray/ivory, and green/gray. All designs have gray as a counterpart to another color. Retro removable wallpaper can help you achieve the look you want much faster than anything else.
If you want to know which color is right for you, it's fairly easy. Gray/ivory is best for blending it. Green/gray is best for a natural look. Blue/gray is the boldest. While gray/yellow is the most traditional.
Corrigan Studio Higbee Wallpaper
We cannot get enough of Corrigan, and this wallpaper is one of the reasons. As one of Corrigan's brightest plain wallpapers, it isn't too busy. A beehive inspired the design with bright yellow bees.
Bright and fun are about as mid-century as it gets. If you had this wallpaper in the 1970s, you were the coolest family in the neighborhood. Try it today and find out if the fact still rings true.
Spoonflower Bee And Flower Wallpaper
Spoonflower strikes again, and so do the bees. This design features a direct approach to decorating with a bee-inspired wallpaper. Instead of an inspired piece, it features bees pollinating.
There is nothing wrong with loud and fantastic. You can brighten any room with this wallpaper. If you're shopping on Amazon, check out Spoonflower, as they offer the best mid-century modern peel and stick wallpaper on the market today.
Frequently Asked Questions (FAQ)
FAQ
What are the most popular mid-century wallpaper designs?
Pretty much anything that's considered retro is a popular mid-century wallpaper design. Bright flowers and cool shapes will help you achieve the look you desire. 
What is a mid-century pattern?
Bold and contrasting designs featuring irregular shapes and dots optically illusive geometrics, and modern curved lines are mid-century patterns.
What is the mid-century theme?
The mid-century theme features organic forms and minimal ornamentation. As a theme, it's centered on the idea of minimalism. As a timeless style, you won't feel the need to update a room for years to come. 
Mid-Century Wallpaper Conclusion
That's everything you need to know about mid-century wallpaper. You know what mid-century is and the look you are trying to achieve. Hey, you even know where to buy mid-century wallpaper. Now all you need to do is turn your vision into a reality. Add the peel and stick and self-adhesive wallpaper to your cart, pull your hair back, and get started. The only thing you need to achieve your dream home is a little bit of self-confidence.