Back To School: DIY Modern Desk Organizer
This time of the year we make ourselves all sorts of promises to get more organized, be more productive and stay on top of tasks – that's right, it's back to school season again, so whether you're a student or a responsible parent, it's time to get focused! I have to admit – I' have always worked best with a schedule, an organizer or a to-do list written down, somehow knowing that a certain task needs to be done gets me into action and I like ticking it off the list as soon as I finish. Do you work in a similar way?
To keep an eye on my schedule I decided to make a new desk organizer – which is not only very functional (you can write all over it!) but also looks great! Thanks to the glass surface it's barely noticeable, making your desk area uncluttered and airy. As I' sure you can imagine, apart from using is as an organizer, I tend to attach all sorts of inspiring images to it – my photos, magazine cut-out, quotes. It's one of those multi-functional designs which can make your life easier and prettier!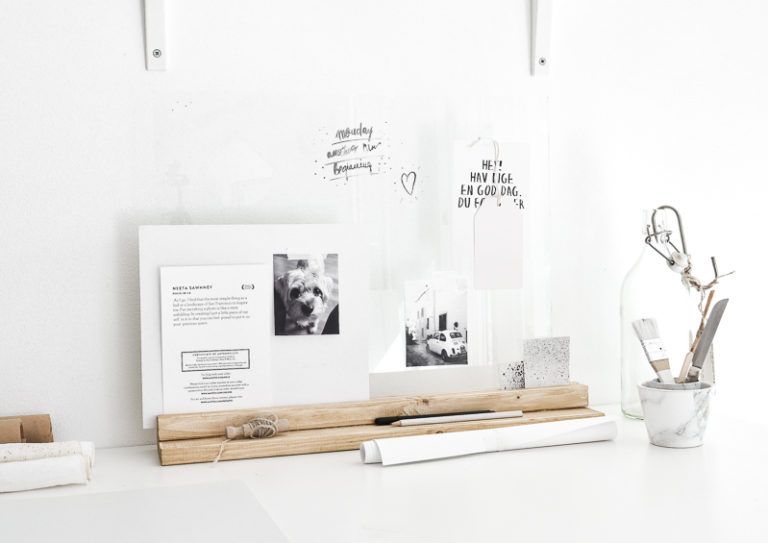 Now that I hopefully convinced you to make one for your workspace, here's an easy tutorial to follow:
Supplies:
glass surface (I have used a glass of an old Art frame)
a 60 x 10 cm wooden plank
two 60 cm square pieces
a strong wood glue
wood finish in your favorite color
sandpaper
Instructions:
1.Before starting this project sandpaper all the wooden elements and clean them from dust to ensure smooth surface.
2. Place two 60 cm square pieces on top of the wooden plank, leaving about 5mm space between them (the space has to be big enough to
fit the glass surface inside)
3. Glue the square pieces to the wooden plank using strong glue and leave the design for a few hours to dry well.
3. When the glue is dry, paint the wooden planks using your favorite wood finish.
4. Place the glass surface inside and enjoy!
Now your new desk organizer is ready – you can write on the glass surface with non-permanent markers (and easily erase the notes with a
cloth/sponge and a bit of water), as well as display inspiring images or pin them using masking tape. I told you – very handy!
How do you like this idea? I'm a little bit in love – simple, yet beautiful!
Wishing you all great back to school days!