Modern Lighting A Critical Design Element
Some people view lighting fixtures as a necessity for life, however they are far more: The right light fixture is an important design element in any home. What they look like and how they illuminate your space sets the mood and defines your style. Today's designers are making the most of lighting technologies, combining them with novel materials and methods to create modern lighting fixtures that are as much art as they are functional hardware.
A delicate display that provides subtle mood lighting is characteristic of pieces by Studio Drift, which was founded in 2006 by Ralph Nauta and Lonneke Gordijn. Their modern lighting pieces "explore the relationship between nature, technology and mankind. Their philosophy is based on creating a dialogue between opposites: nature and technology, knowledge and intuition, science fiction and fairylike poetry," according to their statement.
All their creations — whether site-specific installations or pieces for your living space — they are indeed artful pieces fill of fairy-like lights.
Dutch furniture designer Sebastian Brajkovic is known for his Lathe series of furniture and lamps.  His childhood obsession with when reel-to-reel tape decks and car wheels inspired his sculptural pieces that focus on rotation and the skewing of an object. This is fascinating piece of modern lighting.
If you like a little kitsch in your decor, this lamp is perfect.  If you're not a big fan of dogs, this piece can serve as inspiration for creating your own artsy lamp, with whatever you happen to collect.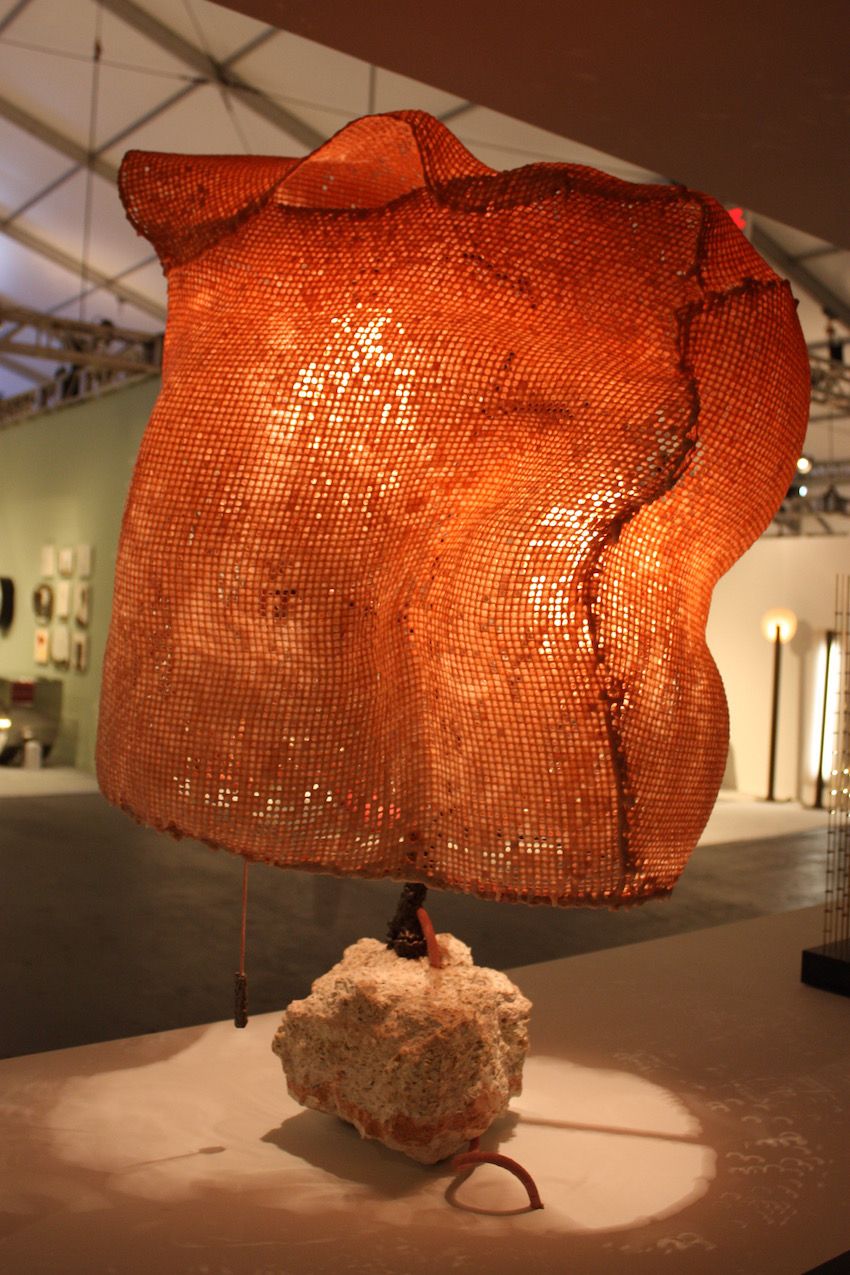 Nacho Carbonell's works are unusual and fantastical, and often very large.  This lamp from his ""Light Mesh" series uses an interesting technique of coating mesh in a special plaster made of sand and textile hardener to create these balloon-like shades that are anchored by an organic form.
Great modern lighting designs can stand the test of time, such as this Flower Lamp by French artist Jean-Pierre Vitrac. Created in the 1970's it features stainless steel.  If you have the time and the budget, vintage modern lighting fixtures are stunning finds that you can add to your decor.
These mushroom-like lighting fixtures by Belgian designer Jos Devriendt cast a soft downward glow thanks to their muted colors and and unique profiles. Just one or two of these modern lamps would be an interesting update to your decor, while a grouping would create a statement-making modern lighting collection.
While it has flirted with being a trend, neon lighting can certainly have a role in modern home decor. Although the artistic content of these particular stainless steel pieces is questionable (each one is devoted to a serial killer) the concept of neon lighting used in a room divider is intriguing.  For the right space, these would function as fantastic dividers…with different subject matter, in our opinion.
This pair of is from the "dawn lights" series by Sabine Marcelis. The artist explains that the series is "an exploration of the relationship between light and colour inspired by a time in the day where the sun, clouds and sky join to create a momentary riot of hues. This moment is suspended in a unique series of light sculptures."
Sometimes a new modern lighting fixture can quickly move toward becoming an icon. This signature chandelier, sold exclusively by the Southern Guild collection, can be scaled to fit any space.  Whether you have a large dining room, or want a smaller version for your kitchen, South African designer David Krynauw can customize it for you. It is made from  from solid timber and each arm swivels independently 360 degrees
Usually, the term "crystal chandelier" conjures up visions of something more traditional.  In the hands of cutting-edge glass designer Jeff Zimmerman, it takes on a whole new meaning.  This modern lighting fixture plays on the concept of crystals in a fresh take on the chandelier.  Zimmerman, known as a maestro among glass artists, has created a large body of work that includes many, many modern lighting fixtures that will appeal to different tastes.
Talk about setting the mood — whether you use this piece as a piece of art or to divide a space, it is definitely dark and dramatic. "Mercury," by Bec Brittain, consist of 35 individual strands made of LED tubes, oversized stone beads, and massive suede tassels. Brittain is also known for her stunning stick light creations, which were a hit at ICFF2015.