15 Stylish Ways To Make A Hanging Wall Vase Or Planter
Wall-mounted vases and planters are a perfect combination of practicality and aesthetics and we're super happy that they're becoming increasingly popular in modern and contemporary interior designs. Hanging planters are incredibly versatile and come in a wide spectrum of styles, sizes, shapes and material. Today we're showing you some of our recent finds and we're hoping they'll inspire you to add more greenery and color to your own home.
Two pots side by side forming a charming planter that you can attach to any wall or vertical surface – that's essential what this is. However, what distinguishes it from other wall-mounted planters is the style and the overall industrial vibe that it has. The two spigots are the defining features of this piece and they actually look pretty cool. Check out this planter on carolinapinecountrystore.
This vertical wall planter idea is pretty cool, especially if you're looking for a space-efficient and practical way to add a small herb garden to your kitchen for example. This particular design involves a piece of recycled wood, 3 tin cans, some spray paint, nail polish, rope and a hot glue gun. You can find all the details of this DIY project on lilyardor.
As it turns out, an old shutter is a great find and you can do a lot of things with it if you have a bit of imagination. For example, make a farmhouse-style wall-mounted vase display piece. The vases are in this case pieces of an old drain pipe. The paint on the shutter is chipped and has a bunch of cracks in it and that really captures the beauty of this style. Check out the project on mylifeonkayderosscreek.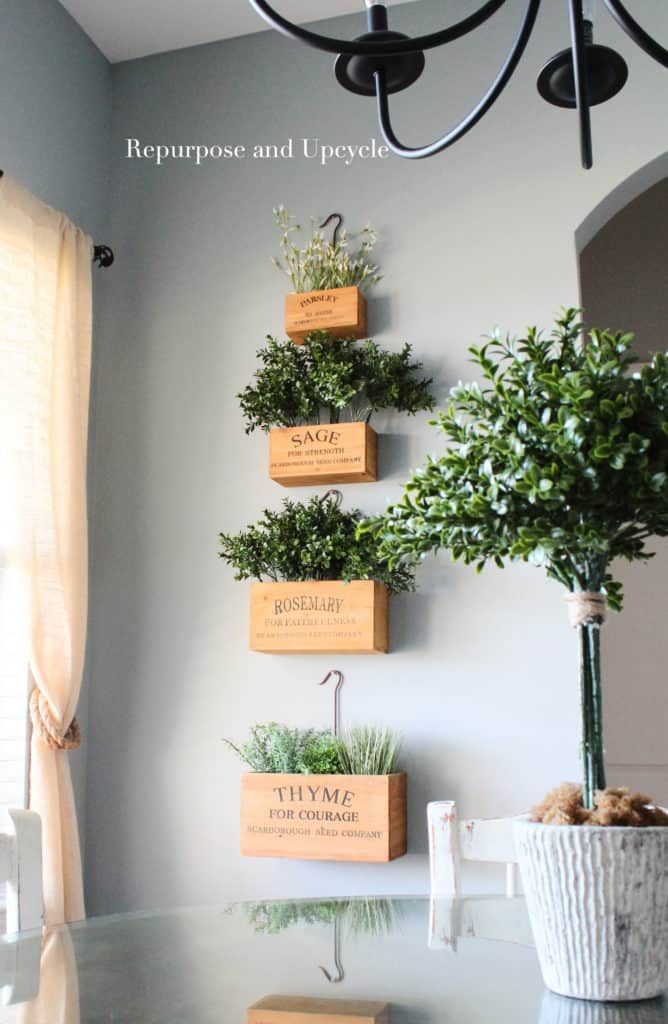 Another lovely idea is to upcycle a bunch of nesting herb crates and to turn them into wall-mounted planters. You can hang them in a row vertically or horizontally and they can occupy an empty wall section in the kitchen. These crates featured on repurposeandupcycle have a vintage appearance but they're actually very versatile.
Aren't these hanging planters just adorable? They're made of upcycled paint cans which are spray-painted with a geometric design and have rope handles. You can easily take the planters down or rearrange them, even replace them. The wall-mounted support will stay in place. Check out simplestylings to find out how this is made.
Wall vases and planters definitely look very fresh and beautiful and you could fill an entire wall with them. With that in mind, check out this beautiful installation from lanaredstudio. It's easy to put together and it leaves a lot of room for customization.
These birch slice wall shelves are perfect for potted plants and vases. You can cut them yourself out of a log and make then as thick as you want to. Put a bracket on each wood round and then screw it into the wall. It should sit nice and secure. Make sure to leave the bark on the wood to give it a natural look. Check out fallfordiy for more details.
Those herb crates we mentioned earlier are also featured on adelightsomelife. They look great on the wall and they're super useful and versatile. Use them as little storage bins and personalize them if you want to, although they look cute and lovely as they are.
Tin cans make nice planters but so do mason jars. The jars are pretty cool because they're see-through. You can attach two or three to a wooden board and that can be your new wall-mounted planter. It works great for herbs and the style suits the kitchen perfectly. Check out notjustahousewife to find out more about the project.
Test tubes make cute vases and they look really stylish too. You can mount some on a wall using 1" copper plated bell hangers and anchors. Add an even more elegant touch to your new wall vases by spray painting the hangers in case you can't find them in the desired finish. If you want to find out more about this little project you can check out bonniechristine.
Similarly, you can make a beautiful hanging wall vase using small glass bottles and a piece of wood. A pallet board would do nicely. It would have a nice worn look and plenty of character. The glass bottles can be left clear and even empty if you decide to use faux flowers instead of real ones. Check out fromevijawithlove for more details.
These wall planters look like they're made of fabric while gives a very delicate appearance. In fact, they're made of porcelain clay. It's a wonderful material which can be shaped in numerous different ways. To get this particular design you need a rolling pin, some 12" balloons, thick rubber bands, resin, plaster, screws, spray paint, recycled belts, pushpins, a straw and a drill. It looks like a rather odd list of supplies so be sure to also check out the tutorial from lilyardor.
Similarly, these cute wall vases are made of clay. They're actually pretty easy to make and you can find Fimo clay in all sorts of different colors which you can mix and match however you want. You're going to need an acrylic roller, some glue, clay tools and paper cone cups. Alternatively, you can freehand the cones. Attach them to a lightweight piece of wood for a more wholesome look. You can find more details on delineateyourdwelling.
A single wine bottle can make a pretty nice vase, especially if you hang it on a wall. It definitely helps to find a cool-looking bottle, perhaps one with an interesting shape or an unusual color. Remove the label and attach the bottle to a piece of wood. You'll need hanging hardware so be sure to have the measurements just right. Check out the project details on artsyprettyplants.
Instead of crafting a wall vase or planter from scratch, another option can be to upcycle an old piece. Take this tin wall vase for example. It's a project that we found on mylifeonkayderosscreek. A little bit of paint and a cute ornament completely change the look of the vase.