How To Group Coffee Tables Into Clusters For A Sophisticated Effect
Some ideas are so deep-rooted in our minds that we don't even think twice or consider alternatives for them. For instance, when furnishing a living room, it's a given to have a coffee table somewhere at the center of the whole setting. But what if you were to rethink this idea and choose instead of give up the table altogether and to fill the space with something else or to have two or more coffee tables instead of just one?
Actually, a pair of coffee tables can be a viable option for seating areas that are simply too large for a single coffee table. A large and curved sectional such as this one forms a wide gap in front of it which can be filled in a functional and stylish manner by two or even three tables.
Coffee table clusters also work well for social spaces which are organized using a diversity of seating options such as one or two small sofas combined with armchairs, poufs and ottomans.
When you have a set of coffee tables instead of just one, it becomes easier to organize the space and to make everything comfortable. Consider dividing a large coffee table into several equal sections and opting for several small ones instead. This way you'll be able to distribute them each as needed or to keep them together depending on the occasion.
Diversity is good even when the space is small. A seating area with a single sofa and maybe even an accent chair or two could use two or perhaps even three coffee tables. Actually, a combination between a coffee table and a side table seems to be just right in this case. Think outside the box to find the best design solution for the space.
You never know when you're going to need a little bit of extra table space in your living room but that's not the only reason why coffee table clusters are a great idea. You should also consider the aesthetic appeal of such a decor. Just look how cute this duo is. How could you ever keep them apart from each other?
It could also be useful to have coffee and side tables with different heights in order to accommodate various needs and to make each person comfortable. Not all situations and contexts require the same combination of furniture pieces or the same accessories.
There are a lot of interesting and elegant ways in which you can pair two or more coffee tables. One idea is to put together tables with similar designs, made from the same material but with slightly different characteristics such as different colors, finishes or dimensions.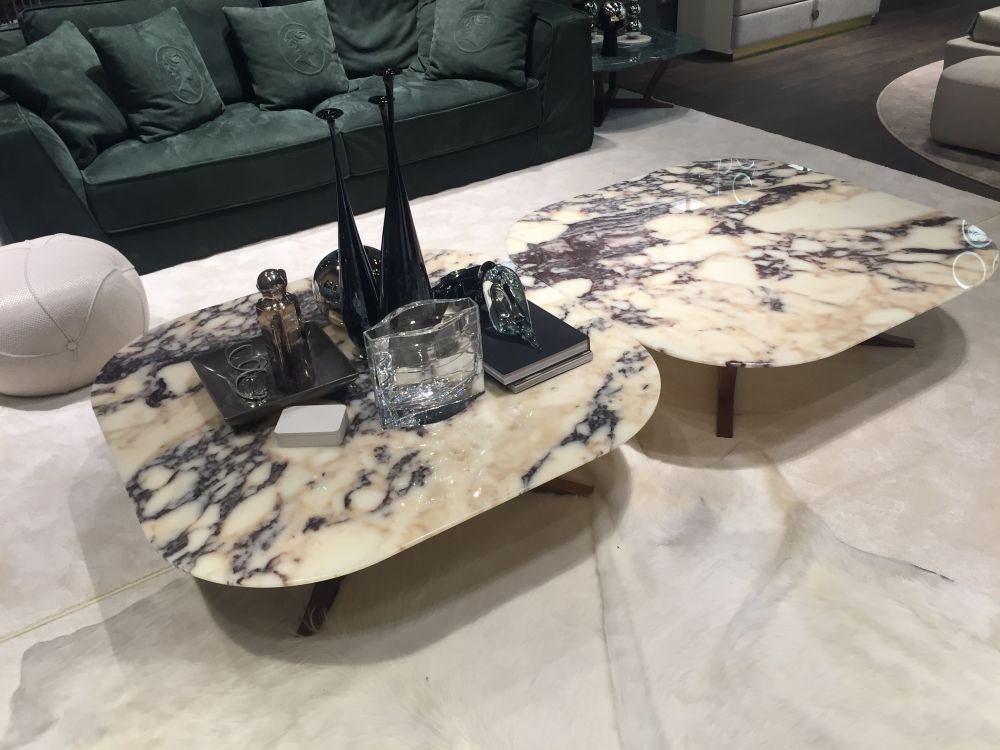 It could also work to have several identical coffee tables placed in the same room or clustered together. Together they can form a large table or they can be used as standalone pieces.
This is an example where three separate coffee tables with very similar designs were grouped together. They have different heights so they can be mixed and matched in various ways to form interesting and eye-catching configurations.
A combo of a low coffee table and a considerably smaller and also a bit taller side table with a similar design or shape can prove to be a very stylish and versatile one. One table can be a display area while the other can be a serving area.
If the space allows it and you want to try something new and fun, perhaps you'd like to group a set of coffee tables with different shapes and sizes. They should have something in common such as color or material.
These three coffee tables have different heights which means they can fit one under the other in a way similar to nesting tables. This makes them quite space-efficient considering their individual sizes.
And speaking of nesting tables, this is actually a pretty good example. You could opt for tables that can fit inside one another to save space when they're not all needed.
A different scenario can involve two completely different tables. They can be two side tables with unique characteristics, each special in its own way and each capable of looking beautiful on its own.
We also like the idea of pairing two tables that look the same but have different dimensions. The smaller one could also be a little taller so it slightly overlaps with the top of the other table.
This design is a bit special in the sense that each module can be positioned either vertically or horizontally. The geometric nature of the tables makes them very versatile and also suitable as shelves or side tables for a cozy reading nook.
But let's review a few more options regarding coffee table clusters where each module has unique characteristics in terms of size, shape or color. This trio is a really beautiful and iconic one. Individually, the tables look exquisite and together they are even more charming.
A similar combo is featured here although in this case the contrast is strong but less diverse. A mixture of black and white was chosen and this maintains an elegant and sophisticated appearance.
Colorblocking is a cool technique but keep in mind that if you pair three boldly colored coffee tables like these ones you'll most likely create a strong focal point. As a result, it would be nice to keep everything else simple and neutral.
It's no secret that ottomans can double as side or coffee tables so why not try such a combo? What's nice in this particular case is that the table and ottomans share similar forms.
It might seem a bit odd to create a groping of tables with completely different designs, forms and even styles but if the decor is eclectic that's actually a pretty fresh and interesting idea.
Before picking the coffee table or tables for a living room, take into consideration the other elements present in the room as well as the overall ambiance and decor that you're trying to achieve.
It's ok to play with contrasts but try not to make them too strong for the space or decor that you have in mind. It's nice to make the coffee tables the center of attention as long as they don't overwhelm the room.