Gorgeous Outdoor Lighting Ideas That Bring Magic Into The Backyard
We often tend to diminish the importance of outdoor lighting or even to ignore this whole subject entirely which is a real shame because if you truly want your house to feel like a home you have to make sure it's beautiful and inviting inside and out, in the daylight and at night. That being said, we're ready to show you a few of our favorite outdoor lighting ideas. We hope you'll love them as much as we do.
Bollard lights
Bollard lights come in a variety of different styles, colors and materials and they can be used to add ambient lighting to outdoor spaces. They're great for marking walkways, driveways and pathways. The Step Line series offers modern and stylish metal fixtures with indirect LED light pointing downwards.
Spillo is another very stylish LED bollard light great for outlining walkways and adding ambient lighting to a backyard or a garden. Each piece comes in the form of a metal tube-like element with an LED bulb at the top. The tubes can be inserted into the ground and used in groups or as individual accent lights.
Atticus is a stylish, modern and non-intrusive lamp designed for outdoor spaces. It's simple and versatile and it has a very discreet design which allows it to blend in with the landscape and to keep the focus on its surroundings, not on itself.
During the day you barely see them but when the dark sets, these Ghost Sabers light up and make any outdoor space stand out. They obviously reference the lightsaber, as Star Wars fans would be able to easily point out. These awesome bollard lights are made of high-quality plastic and are very durable and resilient.
Perfect for lush gardens and for illuminating walkways, the Tinka bollard lights feature a very sleek and stylish design with a slightly flamboyant look. Each of these solas-powered lamps features a teak frame and resembles a torch, but without the open fire.
The Granito series offers a very artistic set of outdoor lamps, each shaped like a wooden block with small fissures which let the light escape from inside, as if these were magical logs. These lamps are actually made of corten steel which weathers naturally and gains a patina over time. It's also non-corrosive.
Floor lamps
Turn your garden into a dreamy retreat with the Out collection. The series is inspired by the moon, featuring globe -shaped outdoor lamps which replicate its look. In order to accurately capture the right texture and pattern, the lamps were designed using a special mix of resin and fibers.
What better to disguise outdoor light fixtures than as garden tools? Tobia is a collection designed by Matteo Ugolini which lets you do exactly that. The designs are clever and a bit ironic, turning the typically boring light fixture into something cool and eye-catching plus it also makes a great conversation topic. 
The Amphora outdoor lamps are more than just light fixtures. They also serve a decorative purpose, doubling as beautiful ornaments. Each lamp is a statement piece, a stylish focal point which complements just about any landscape. The shape is a reference to the terracotta amphoras once used as decorations on terraces and in gardens.
The Don't Touch series uses the power of reverse psychology to look irresistible. The collection is designed by Matteo Ugolini and features a bowl-shaped base with lots of sticks made of matte white PVC which sprout out of it. Touch the lamp and it turns on while also giving you a nice tactile feedback. 
A lot of the modern outdoor lamps have designs which focus on more than just the illuminating factor. An example is the Maridiano collection designed by Jordi Vilardell & Meritxell Vidal. The lamps generate patterns of light and shadow creating wonderful visual effects. They're ideal for terraces, gardens and courtyards.
The Anglepoise lamp, originally designed in the 1930's as a desk light, is an iconic piece which has inspired many wonderful decors and projects. The latest addition is the Anglepoise Giant Collection which also includes a set of outdoor fixtures. There's the oversized floor lamp and a matching wall-mounted lamp, both featuring marine-grade stainless steel fittings and come in 15 different colors.
There are two things that you need in order to make an outdoor space look and feel comfortable and inviting: furniture and lighting. The Sabinas series offers both of these things in a single item. We're talking about a chair which lights up and doubles as a lamp. You can control the color and intensity of the lighting remotely.
Another glowing outdoor  lamp which provides soft and at the same time rich illumination is the Pivot designed by Carlo Constantini. It has a simple and classical shape but the design is far from common. Actually this is a very versatile lamp which can look stylish both in indoor and in outdoor spaces.
Pendant lights

Pendant lamps are not very common in outdoor spaces so there aren't that many models to choose from if you want to illuminate your backyard, porch or garden. Still, there are some pretty amazing ones like the Nefos pendant lamps which look like delicate, soft clouds. They offer diffuse and very pleasant light and they can be hanged on trees, from ceilings, looking just as great indoors.
Aren't these hanging pendant lamps charming? They look super cozy and they actually fit nicely outdoors but they seem like a great choice for certain indoor spaces too. In any case, you can take advantage of their look to create comfortable and welcoming decors with lots of character.
Wall sconces
The Assolo lamp is not specifically designed for outdoor spaces but can comfortably complement them thanks to its super versatile design. This stylish LED wall lamp can also be installed on ceilings and looks great alone or in groups or clusters. Install it on an outdoor wall to create a beautiful visual effect and to enrich the exterior appeal of your house.
Illuminated stairs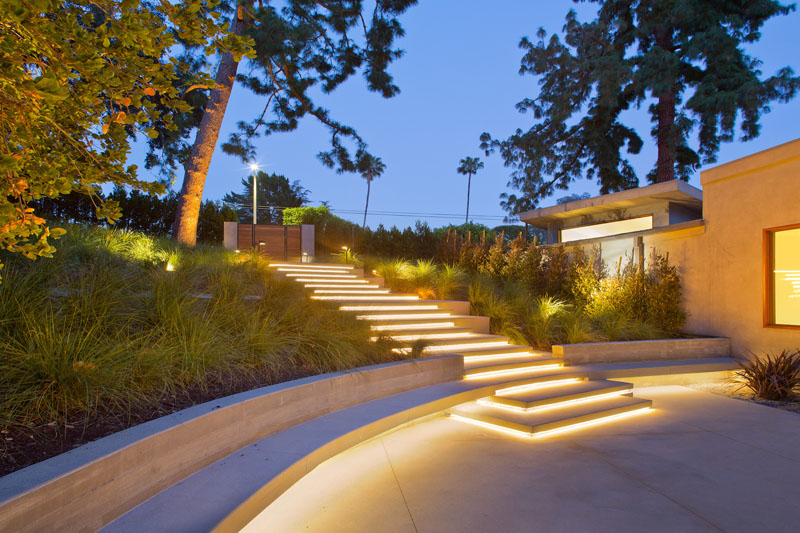 Outdoor lighting is especially important when you have stairs, for obvious safety reasons. There are numerous different ways in which to achieve a nice blend of looks and functionality and we're particularly excited about these gorgeously lit stairs which were part of a complete home renovation done by Core Development Group.