Modern Children's Chairs That Actually Look Stylish
It's difficult to imagine something designed specifically for kids that's not adorable. The simple fact that an item is smaller than it usually is makes it look cute and irresistible. That applies to all sorts of things including furniture. Take a chair for example. Children's chairs don't necessarily have to be shaped like cartoon characters to look charming, cute and fun. There are a lot of super stylish and chic designs that you probably don't even know about and which you'll find absolutely exquisite.
The first item on our list is this adorable and at the same super classy Mouette armchair from Tolix. This lovely kids armchair is made of raw steel with either a matt or glossy finish and comes in a variety of attractive colors. Its design is simple, practical (the chairs are stackable) and also pleasant and kid-friendly.
The timeless and iconic Lou Lou Ghost chair designed by Philippe Starck is also available in a miniature version for kids. It's not just smaller but also customized with a variety of quirky graphics. In fact, you can have yours custom-made with your own personalized design.
How can you not love a chair that's shaped like a cute rabbit? Just looking at the Rabbit Chair designed by Stefano Giovannoni makes you want to hug it. The chair comes in nine wonderful colors: light blue, violet, pink, white, light grey, grey, dove grey, balsam green orange. Mix and match them or stick with a single rabbit chair. Either way, kids will love it.
This is Lily's Chair, an elegant, timeless and also very adorable piece of furniture designed with kids in mind. It's not your average children's chair since it doesn't have the usual characteristics of such designs. It's simple, classy and neutral in terms of color, finish and material. The only detail that gives it away is the size.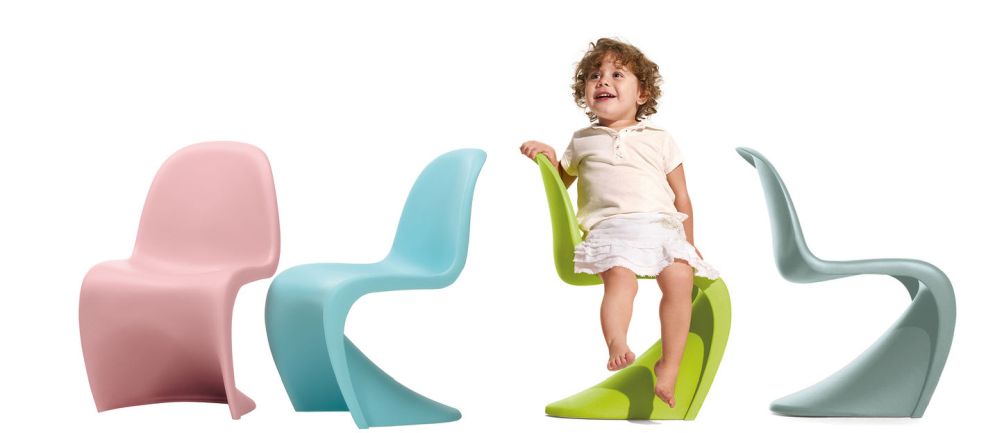 The S-shaped Panton chair revolutionized the world of furniture design when it was first introduced in the 1960s. You may not know this but there's also a mini version of this iconic chair, the Panton Junior. The child-size version is every bit as stylish and elegant as the original and comes in a variety of attractive and fun colors.
Finding a children's chair that doesn't stand out or look out of place in an elegant living is easier than expected, considering some of the examples we showed you so far. Let's add another one to the list: the Cape Kids Chair, a very stylish piece which can be used both indoor and outdoor thanks to its versatile and resistant nature.
Being concerned about the safety of our children and wanting only the best for them is natural but can lead to some very challenging tasks such as the selection of a suitable children's chair that's not just cute but also safe and friendly. Few designs are comparable to that of the EVA chair in this sense. EVA is a super soft, flexible and lightweight chair which takes shape when you roll up a piece of foam board and fasten it with a string. It's quite incredible.
The Mia chair is the perfect blend of fun and stylish. It's a children's chair with a refined, modern and chic look. It has a fabric seat which envelops the user like a cocoon. This makes the chair super cozy but also super fun, as kids can hide inside the hoodie-style seat. With this chair, hide and seek will definitely make a comeback.
The Little Big chair is very charming but not really in a childish way. Its design is quite retro and the colors have a certain vintage appeal too. The wooden base is interesting because it's H-shaped. This gives the chair stability and an interesting, distinguishable look.
Kids don't really pay much attention to furniture as they're much more interested in things that they can play with. That's why designs such as the Rabbit Chair which we looked at earlier or the Tino chair showcased here in a bunch of funky colors have an advantage over other less playful designs. The Tino chair is shaped like a cute baby elephant. It has smooth, soft lines and edges, a sturdy and strong body and a very friendly appearance.
Bambi is one of our top favorite children's chairs. It's the sum of everything such a furniture piece should include: a small, child-sized form, a soft and comfortable seat, rounded and soft edges and, of course, a friendly and adorable look. Its frame is made of wood, either oak or walnut with a backrest shaped like deer antlers.
Speaking of chairs that double as toys, check out this awesome and very clever Xylophone Chair designed by Daisung Kim. We're all more or less familiar with the term but few actually know what a xylophone is. This chair, as it turns out, is fun, educational and comfortable, a very successful trio.
Kids grow up so fast and that makes parents reluctant to invest in special furniture or other things that only fit for a short while. That, however, is not a problem for the Osit chair. This is a chair that grows with the child. It can be used with or without the safety hardness or the tray. A fun feature is the fact that two of them can be joined together which is great if you have twins.