DIY Bar Stool Ideas – How To Create Unique Designs At Home
Because bar stools are usually quite expensive and the design options are fairly limited, we think it's at least worth considering taking the DIY route and building a set of unique bar stools from scratch. It's not the easiest option of all but it's definitely the most exciting one. With that in mind, we've prepared a whole bunch of ideas for you and us to check out together.
You can build the entire bar stool out of wood and there's a few tools that will make this easier and faster: a Kreg jig, a right angle attachment for the drill, a forstner bit, a drill, a rounded edge router bit and a digital angle reader plus a few other basics. Start with the seat and then focus your attention on the base. You might not finish this in a day and that's entirely ok so check out this tutorial on mrlentz to find out all about the project before you get started.
One of the key features for most types of bar stools is the adjustable height. If you want to add that to your own design, there's a pretty easy way to do so if you follow the tutorial offered by ana-white. As you can see, the mechanism is quite basic and simple and if you do all the measurements right you shouldn't have any trouble with this project. The design is a bit industrial with a rustic feel but you could potentially change that along the way.
You might want your bar stools to have some sort of backrest for added comfort and support which is completely understandable and relatable. Of course, not all designs are suitable for these plans. The one featured on diypete is perhaps the most common one. The height of these bar stools is fixed so you'll have to make sure they suit the table or the counter that you plan to use them with.
A lot of projects, this one included, can be done using leftover materials and scrap pieces which is a great way to save some money and use the things that you already have. Pallet wood is also excellent in this case. In fact, here are two bar stool designs that you can make specifically using reclaimed pallets. They're simple and rustic, with a visibly worn and rustic look. One has a backrest and a footrest and the other has a shelf. Check them out on 99pallets for more details.
As usual, the simpler the design the easier the whole project is. These wooden bar tools featured on rogueengineer are a great example. The design is clean and simple, with straight lines and angles and no unnecessary details. The seat is rectangular and flat and there's no backrest and the base has built-in footrests on all sides. An easy way to add character to this build is, as shown here, by painting the stools in a cool and vibrant color.
If you'd rather use something other than wood for the base of your DIY bar stools, metal pipes are an excellent alternative. In some ways they're better than wood because they're super easy to mix and match with various fittings to create interesting and practical shapes and designs. For instance, you can give the stools legs that bed and extend at an angle for added stability. This also allows you to add footrests in a rather unconventional way. Check out lovegrowswild for more details and cool ideas.
Modern and contemporary furniture is known for its unusual and wacky shapes and designs and you can use that as a source of inspiration when building this custom bar stool. As you can see, it's very simple and has a fairly sculptural design. It's asymmetrical and doesn't have the typical four-legged type of base. Doesn't it look interesting? There's lots of different ways in which you could customize this design based on the instructions offered on abeautifulmess.
Using ready-made furniture legs could make it a lot easier to build your custom bar stools plus they would add more detail to the design. First of all, figure out what the size of the legs should be and create the design based on that. Add footrest supports and connect the legs with boards at the top to complete the frame, then add the top. This design from shanty-2-chic is really versatile and could also be used when building a custom side table or a regular stool.
PVC pipes and fittings could also work if you're looking for a simple and customizable way to build a bar stool. They're cheap and easy to find and they don't have the same strong industrial vibe as metal pipes do which could be a plus in some cases. Check out diyfunideas to find out how you can use these to build a bar stool that has a concrete seat and enjoy coming up with ideas on how to personalize your design.
Instead of going out to buy brand new bar stools or making some from scratch, it might be worth considering giving the old ones a makeover. You could take this opportunity to get rid of elements that you don't like, make them more comfortable, choosing a color palette that suits your decor better and so on. Of course, keeping things simple would also work. We suggest checking out the makeover project from rainonatinroof for more inspiration.
On the subject of makeovers, a complete change of style is also possible. These bar stools featured on remodelandolacasa for example used to have a modern design. After swapping the seats for new handmade ones and applying a new finish to the base they now have a beautiful rustic-industrial design. It's a very inspiring transformation and a surprisingly simple one as well.
What makes this particular DIY bar stool project special is the fact you only need 2x4s to build it. That makes shopping considerably easier and also means you won't have that much work to do when cutting everything to size either. The design is definitely simple but not without character. Check out the complete tutorial on sawdustsisters to find out all about this project.
Notice that hole in the middle of this bar stool's seat? That't there so you can more easily carry this around. It's a nice little detail which you can add to all sorts of other designs in various different forms. If you want to build this particular model, there's a tutorial for this bar stool on instructables. It's all made of wood which makes this fairly simple and straightforward.
If you want to give a bit more character to your DIY bar stools, consider focusing on the seat. If you're building it from scratch, wood is the perfect material. You can cut into any shape you want and carve it out to add more details to the design. It takes a while to get the shape just right and you'll have to test it out constantly to make sure it's not just cool-looking but also comfortable to seat on. You can find lots of tips and a lot more details about this on instructables.
Welding a barstool frame out of metal is also an option. That does however require special tools and equipment plus a certain level of skill and experience. If you do posses all of these elements, you might be the right person to take on this project. Everything you need to know about welding a bar stools and building the seat and everything else can be found on instructables.
As it's typical with a lot of fixed-height bar stools, you need to figure out what the ideal height is based on how and where you want to use the stool. If you're building it out of wood you won't have a hard time adjusting the proportions. This design is simple and very customizable. If you want to see how this stylish DIY stool was built, check out the video tutorial on youtube.
Plywood is a cheap and versatile resource which you can use in a lot of different projects. It's what was used here to create this beautiful chevron patterned seat. Cutting all the different pieces and putting them together to create this pattern take time and effort but with the right tools for the job and dedication the results can be amazing. There's a great tutorial on youtube showing the entire process.
You don't need a lot to make a bar stool from scratch. To prove that, this youtube video shows how you can make a stool using only one piece of 8ft 2×4 wood. It's enough to make the entire thing out of wood, seat included. The design is also really nice. It's simple, versatile and easy to put together.
Inspiring makeovers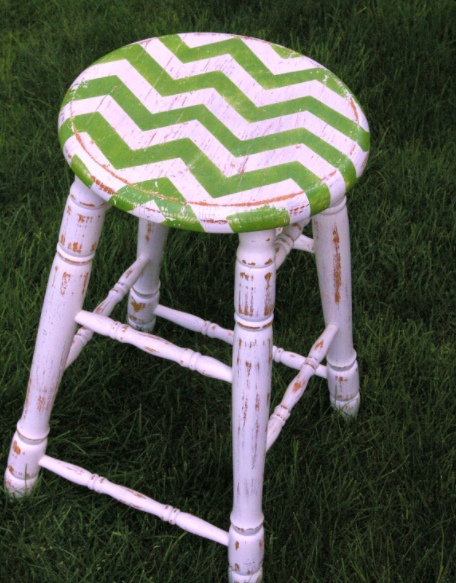 A fresh coat of paint can usually make anything look better. That applies to a lot of makeovers, like the one featured on twelveoeightblog. This wooden bar stool was in good shape but was lacking color and character. The new chevron pattern on the seat and the distressed finish on the frame definitely take care of that issue. The new-look also gives the stool a nice retro vibe which suits its design really well.
If you're planning to transform an upholstered bar stool you can not only paint the frame in a cool and interesting color but reupholster the seat as well and use some eye-catching fabric for it. Adding a pattern to the design could look quite nice as long as all the different colors coordinate in a pleasant way. If you want to find out more about this particular makeover project, head over to deliciousanddiy.
You can also completely transform the way a bar stool looks without using any paint at all. In this case for example the seat and the backrest of the stool were covered in white faux fur. That looks amazing, super cozy and comfortable. It gives the chair a chic and stylish look and has a really big impact on the design as well. Check out bangonstyleblog if you want to find out the details.
Don't let the current state of your bar stools bring you down. Try to see the potential in them. Take these stools for example. They were sturdy and strong, structurally sound but definitely outdated and ugly in terms of looks and design. The new padded seat and back changed everything for the better and all it took was some nice fabric, some foam and a staple gun. There's a tutorial on dazzlewhilefrazzled which shows you how it was all done.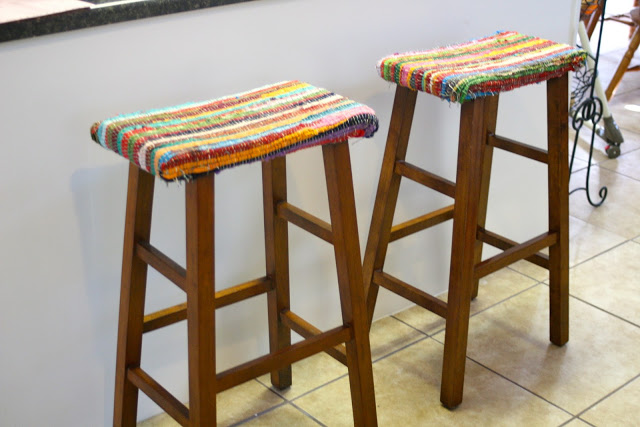 Instead of using fabric, these wooden bar stools were transformed using a colorful rag rug. The looks suits its rustic design well. No foam was added underneath the rug seat covers but you can do that for your own bar stools if you want to make them more comfortable. Either way, you can check out thingslikeskeletonkeys if you want to find out more about this super simple makeover idea.
It could be really fun to take a more artistic approach when giving your bar stool a makeover. All you need for that is paint in various different colors and a paintbrush. Start by changing the base color of the stool so you have a clean canvas to work on. Then use tape if you want to create geometric designs and patterns. You can also let your imagination guide your hand. Anyone can do this. Check out deliciousanddiy for inspiration.