Cool Ways To Decorate With A Gray Headboard
I think we can all agree that a bed without a headboard would often look incomplete and that's a detail which affects not only the way the bed looks but also the design of the entire bedroom. To avoid all of that the solution is simple: get a headboard. Well, it's easier said and done given how many options there are and how difficult it can be to make a decision.
You can base your choice on a lot of things such as color for example and if you're not bold enough to pick a brightly-colored decor then how about something simple and neutral like a gray headboard? Of course, even then you have to sort through lots of different design options. We've made a list containing some of these headboard ideas.
The first issue one would have to decide is what colors to pair with gray. Well,  a gray headboard can look beautiful when paired with a lot of different colors including other tones of gray. That's right, you can play with light and dark nuances of the same color and with various different textures, prints and patterns to create a very beautiful and interesting decor.
A monochromatic decor can look and feel boring even though that's not always the case. To avoid that without introducing a contrasting color into the decor, one that would disturb the ambiance, you can play with color tones that are similar but still distinct enough to stand out against each other.
There are a lot of different headboard ideas to choose from and even if you're filtered them based on color you're still left with way too many options. You can make a choice based on mainly on size, for example. A small headboard would basically be unnoticeable which is great if you don't want it to become a focal point for the room.
Quite often the headboard serves as a focal point for the room's decor and it does that in a pretty natural way. Of course, sometimes you'd rather direct the attention towards something else, such as the wall behind the bed, for example. It's easier when you have a gray headboard.
Certain colors are known to help create different ambiances and to be better-suited for certain types of spaces. Gray is often suggested as being one of the best bedroom color options. It's a neutral known to make spaces feel calming and relaxing and it goes with everything.
Not all grays look the same. Some are light and warm and great for smaller bedrooms because they maintain a bright and airy feel and others are dark or mixed with other color hues are they can make awesome accent colors for a bedroom. A gray headboard can turn out to be an eye-catching design feature.
Fabric headboards are among the most popular ones, being appreciated for their warmth and for how comfortable they feel. They're perfect for those who like to read in bed as well as for children's rooms.
In a master bedroom there are usually plenty of features that could potentially stand out and serve as focal points. The headboard is one of them, even when its color is neutral and pale. The best option is to look at the big picture and to focus on creating a decor that's harmonious.
It can be nice to match some of the small accent features in the bedroom to the design or color of the headboard. For instance, a gray headboard might look less bland and boring if you add a couple of matching accent pillows.
The headboard doesn't always play an important role in the overall decor and ambiance of the bedroom and that's ok because there are a lot of other elements which can potentially serve as focal points, including the light fixtures, the wall decor or the area rug.
Don't you just love how cozy and comfortable this headboard looks? Actually it's the whole bed but the headboard stands out because of the fact that it extends to the sides and iw sider than the frame of the bed. It's as if it embraces the users and gives them a big hug.
Similarly, this gray headboard manages to be the center of attention thanks to its sculptural design and geometric pattern. Notice that it extends to the sides and creates a backdrop for the nightstands and the lamps.
This cool bedroom has an interior design that's based around a series of different patterns and geometries. There's the striped pattern on the wall behind the bed, the series of curved lines on the headboard and the bed's frame plus the unique marbled look on the nightstands and the knots and lines on the wooden floor boards.
A gray headboard (the color is actually irrelevant in this case) can potentially look quite dramatic if the design is meant to reflect that. This is most common in the case of tall headboards.
In plenty of cases it's the overall design of the bed and the bed frame which has the biggest visual impact. This is very evident in the case of classical, ornate designs such as this one. The gray and gold combo is the reflection of two contrasting styles coming together harmoniously.
Very ornate bed frames with all sorts of designs carved into it can potentially look very refined, sophisticated and elegant. It's important however to keep the whole design balanced and that means using the right colors, finishes and materials. Gray is a very stylish choice in this case.
This is a bedroom suited for royalty. The bed is the centerpiece of the room, featuring an ornate gray headboard with elegant golden accents and, in addition to that, a lavish canopy with matching colors.
Speaking of ornate headboard designs, this style has made a comeback recently as headboards such as this one started being popular in a lot of modern and contemporary homes. It's a trend that revives retro and vintage furniture.
Tufted headboards are very popular as well. They can be super cozy and casual but they can also be equally elegant and sophisticated and sometimes they can even look dramatic if the light highlights them at just the right angle.
Geometric designs are highly popular in contemporary interior design and can materialize in a lot of interesting ways, including in the form of a gray headboard with lots of character, such as this one.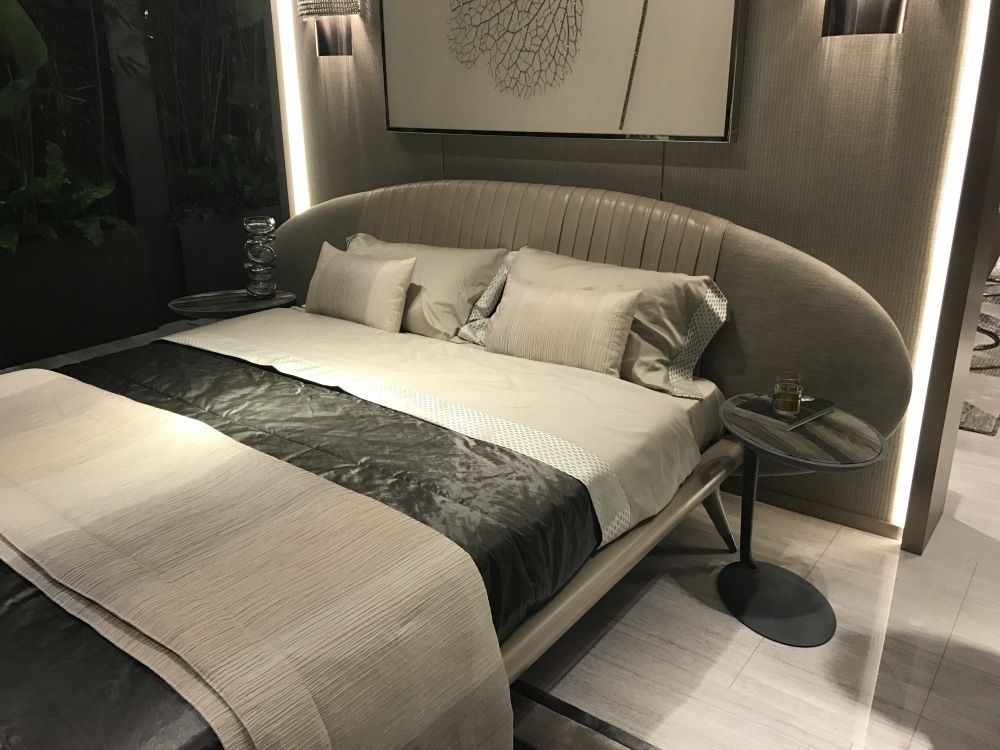 In order for a headboard to have a balanced and pleasant design there has to be a complementary relationship between all the aspects of its design such as form, texture, color, etc. A gray headboard for example, given the neutral nature of its color, could feature an unusual form, unexpected proportions and various other distinct characteristics.
There are many reasons to want a gray headboard in your bedroom. For example, this color has the simplicity required in a refined and modern interior design and is also very versatile which means you can reinvent your bedroom decor in all sorts of ways without replacing the headboard.
Doesn't the gray suit this curved headboard perfectly? We love the combination in part because it doesn't overwhelm the space even though the headboard is, as you can see, quite large.
As we said before, mixing and matching various different nuances of the same color can be quite rewarding, especially when different materials, finishes and textures are involved.
Of course, everything we showed you so far is meant to serve as a source of inspiration and you can even use some of the designs as reference points when building your own DIY headboard if this is something you're interested in doing. Feel free to add your own twists to these designs and to customize them however you want.