9 Cool Conversion Ideas For Homes That Tell A Story
Space conversions are really cool because they're very creative and they're centered around the ideas of second changes and new beginnings which are always exciting. What's also really cool is that each conversion is unique and special. It's always interesting to see the transformations that a space went through and to find out its history, especially when it's very different from the present state of the structure. We could theorize all day about this concept so let's move on and have a look at a few projects that are centered specifically around this idea.
The Park + Associates office in Singapore
As of 2014, the new office of architecture firm Park + Associates is situated inside a former school. This unusual choice was the result of a desire to try something completely different from their previous office space which was inside a typical office building in the Central Business District of Singapore. The team wanted this new space to be an anti-office so they found this cool place, a former school compound built in the 1960s.
The new office occupies a section of the school and is contained within a large open space with louvre windows, large archways and vaulted ceilings. Although it's still a regular office and as such needs to project a professional image, the space is also different from typical workspaces in the sense that it's more open, casual and better-suited for creative work and social interaction.
Converted barn house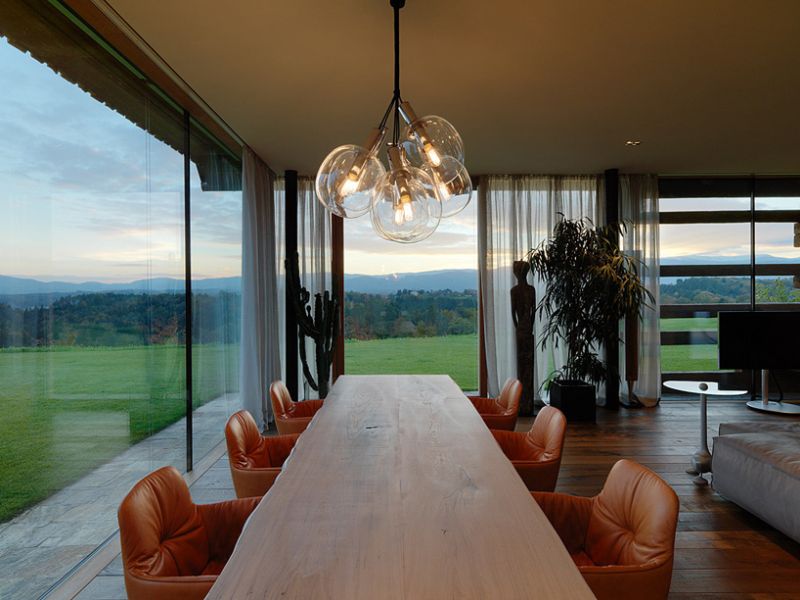 Old barns can make lovely homes if you're willing to put in the effort of transforming them. They have a lot of charm and during the conversion you might even discover some really cool features and uncover some secrets. This is a perfect example. The transformation was done by studio Gangoly & Kristiner architekten and when completed the barn was renamed Haus P.
The architects made sure to take advantage of the location and highlighted the beautiful backdrop and the mountainous views as best as possible. As far as style goes, the old barn got a complete remodel but some of the original details were preserved as a way to give the house more character and to reference its history. Old and new features coexist harmoniously and that gives this renovated barn a lot of charm.
Old cement factory turned into a home
This is one of the least expected types of transformations and that's because people don't usually dream of living inside factories. However, any structure can be turned into a beautiful and welcoming home with enough effort. This used to be a cement factory built in 1973 and it stayed abandoned for a long time until architect Ricardo Bofill decided to give it a complete makeover and to turn it into a unique home.
The old factory is situated outside Barcelona and was in bad shape. The transformation took a long time and only after several years or partial deconstruction it was finally time to work on the interior. At the same time, the architect started to add lots of vegetation all around the exterior, turning the once cold and austere structure into a green oasis. The interior has strong industrial influences which look right at home and add a lot of character to each individual space.
Church conversion in Chicago
Church conversions are really cool and more common than you might think. A small church can be quite easily transformed into a family home and if you wanted to you could completely hide any sign of the past and make it look all modern and homely. One such cool conversion happened in Chicago back in 2015. It was a project completed by studios Scrafano Architects and Linc Thelen Design. 
The super high ceiling was a key feature which the architects and designers emphasized in various ways throughout the new home. They added handing pendant lamps, exposed beams, a fireplace surround that goes all the way up and even a climbing wall. A few bits and pieces such as the stained glass windows most notably are reminiscent of the building's past but still manage to fit into the new design very naturally.
Old dry-cleaning shop turned into a home
This unusual home was once a dry-cleaning shop. Then in 2013 architect Carles Enrich changed it entirely and transformed it into a home-studio. The place is located in Barcelona, Spain and has a total interior space of 154 square meters. It's all organized around a patio and the strategy here was to create a single large space where all activities would take place. As a result, the bathroom is the only enclosed area.
In order to be able to create this sort of open layout the architect first had to remove all the unnecessary internal partitions. The new interior design is eclectic and incorporates a lot of contrasting elements. The exposed bricks on the walls and ceiling frame all the clean and modern furniture pieces and fixtures. The architect used lots of natural wood tones to add warmth to the space but also made sure to make it feel bright and open.
Warehouse turned into a private residence
Turning a warehouse into a home is not easy but there's lots of space to work with. That's both helpful and challenging at the same time. The strategy chosen here was to stay away from traditional walls and partitions and instead of build a pod inside the warehouse. This pod contains a bedroom suite and has a very organic and unique shape. It's the biggest focal point of this space and it also doubles as a visual divider between the different areas.
The conversion was done by studio Allen Jack+Cottier. The warehouse was structured on two levels and offered in total 1060 square meters of usable space. The resulting house has four bedrooms, a spacious living area, a large kitchen, a music room as well as a terrace and a swimming pool area. It's very homely and inviting although it retains quite a bit of industrial character from its previous form.
Old barn converted into a modern home
This modern home is located in Österlen, Sweden and has an L-shaped floor plan. If you look at it from a distance it appears as if it's made out of two separate halves which is actually not far from the truth. Part of the house used to be an old 20th century barn which has been fused into the new structure. The conversion as well as everything else was done by Jonathan Andersson with the help of a team of carpenters.
The resulted new home is simple, bright and modern. Inside it has white walls, light grey furniture and accent details and the occasional wooden surfaces. Despite such a neutral and minimalistic color scheme, the home doesn't feel cold or uninviting. Thanks to the large windows and the wide variety of different textures and finishes the space are bright, airy and open as well as very welcoming and comfortable to be in.
Old silo turned into a tiny home
It's not just big structures like warehouses or churches that can converted into cool homes but also small constructions such as a silo for example. Architect Christoph Kaiser transformed such a structure into a tiny but also very charming and cozy home located in downtown Phoenix, Arizona. The dismantled grain silo dated back to 1955 and was purchased from a farmer in Kansas, then transported on site via a pickup truck which really shows just how small this thing is.
A lot of changes had to be made in order to successfully turn the silo into an actual usable home. Windows had to be added, custom doors and insulation as well as a totally new interior. Since it has such a small footprint, the organization had to be done vertically. A very slender spiral staircase connects the cozy ground floor living area to the upstairs bedrooms. The exterior was changed as well as the silo was painted white to better reflect the heat and also to give this new home a more modern look.
Water tower converted into a single-family home
Another really cool conversion project took place in Steenokkerzeel, Belgium. The task was to turn an old water tower into a house. The tower was 30 m high and was originally built between 1938 and 1941. In 2007 Bham Design Studio started work on the conversion which was aimed at turning this structure into a modern and stylish house. Both the interior and the exterior of the tower were fully renovated but the strategies differed in each case.
The exterior was brought back to its initial state by repairing and painting the damaged columns and other elements. At the same time, a few modifications were made. For example, the windows on the top floor were enlarged and the brick joints were removed. The interior however had to be drastically changed in order to becomes suited for a home. Some of the existing elements were preserved such as the main water conduct, the concrete ceilings, stairs and the water basin. On top of these, the designers added all the elements necessary for this to become a welcoming and modern house, equipped with lots of cool features.