Modern Mountain Homes Offer An Unbeatable Escape
Mountain homes offer an escape from big city living. New homeowners are driving demand for mountain getaways. Living in an idyllic setting is more appealing the cost of living continues to increase nationwide.
Despite its iconic stature in the American landscape, the cabin is no longer restrained by its origins. Today, the cabin has broken free from its history to become a new kind of building. The modern cabin is the latest design to emerge that is changing our understanding of how a cabin functions.
Mountain cabins follow a rustic aesthetic, among other architectural styles.
Modern Mountain Homes
The following examples showcase the latest designs in modern mountain living.
Mountain Modern Design
Mountain cabins provide a destination where one can rest and connect with nature. Due to their mountain location, people go skiing, hiking, and hunting.
Mountain Modern Home Architecture
Modern mountain home architecture is minimal. It is about complementing the environment rather than creating distinction from it. Rustic elements include barn wood, weathered metal exteriors, and large exterior windows.
Modern Log Cabin
Modern mountain cabins use mixed materials and wood logs. The wood is weather resistant and sourced locally.
Modern Prefab Cabin
Prefab cabins cost less than custom-built log cabins. In this example, a small cabin from Backcountry Hut Company features an adjustable floor plan. The focus is on the exterior rather than the interior.
Modern Cabin Interior Designs
Mountain home interior design features wood and contemporary materials like sandstone and slate. Light neutral tones with large cover the walls. Floor to ceiling glass windows to bring in the outdoor light and views.
There is a new emphasis on modern mountain decor like sleek and tailored furniture and a focus on elements to make the interior cozy like plush blankets, wool rugs, and large fireplaces. In modern cabin interiors, there is greater interest in environmentally friendly designs.
Therefore, designers utilize many local and sustainable products in the design. Last, modern mountain floor plans feature large and open spaces rather than small and separate rooms.
Modern Mountain Kitchen
A built-in breakfast nook with bench seating offers a modern spin on the mountain cabin. Mountain homes typically feature dark wood interiors with small windows to keep out the cold.
Modern Mountain Hotels And Cabin Rentals
The following cabins and hotels represent the latest in mountain luxury living.
Wiesergut
The Wiesergut in Hinterglemm, Austria. Distressed wood for the interiors and exteriors were sourced from local providers.
Tälta Mountain Lodge
The Talta Mountain Lodge was influenced European architecture influenced this mountain motel near the ski slopes in Stowe, Vermont.
Minimal Style Cabin
The Blue Ridge Mountain cabin features a modern and minimalist styles. A traditional wood-burning fireplace combined with mid-century furniture creates.
Modern Luxury Mountain Cabins
Aspen Cabin
The V-Plan cabin in Aspen, Colorado features a black wooden cladding exterior.
A courtyard acts as a buffer between the house and its neighbors. The cathedral ceilings are airy and open creating more height. This brings in more natural light and emphasizes the gorgeous views.
River Edge House
Studio B Architects designed this mountain retreat. The home sits next to the Roaring Fork River in Aspen, Colorado.
Mid Century Modern Interior
A mountain home with a mid-century modern living room isn't something most think of when designing a cabin interior. Floor to ceiling windows provide light and heat. Polished concrete floors durable and easy to clean. The concrete living room floor matches the brown rug, couch, and off-white loveseat.
Minimalist Bedroom
Minimalist Kitchen
Open Bathroom Layout
Instead of removing the structures, the design team figured out a way to transform them. Additions were made and new elements were used in between them. The mountain home has an organic feel.
Chickadee House
This house designed by Surround Architecture is situated within its surroundings at the base of the beautiful Rocky Mountains.
Surrounded by dense vegetation with many large native trees and local wildlife, you can understand why being here would make one feel a part of nature.
There are not many ornamental features throughout, rather nature provides all the ornamentation needed.
Cliff House
The Cliff House in Payette Lake, Idaho, sits upon rugged granite boulders. The steep slope provides a view of the surrounding forest and lake. McCall Design and Planning managed to incorporate the home into the side of the mountain in a natural and beautiful way.
Open Living Room Layout
The rugged landscape of the mountains makes building here challenging. However, it is also the reason why we seek such locations in the first place. The Cliff House owners overcame the struggles of building in this difficult location for the sake of the scenic views and remote location.
Vacation Mountain Home
Carney Logan Burke designed and built this lovely retreat that sits below the Teton Mountains in Wyoming. It has a view of the mountains behind the home. The area around it is wide and open with fields running for miles.
The remote location means it doesn't have any neighbors to disturb the peace and rest offered.
The design is contemporary with stylish and simple architecture, a flat roof, and expansive outdoor areas. Also, everyone has the space they need for relaxation because the public and private areas are separated.
French Chateau
In this example, the mountain home was designed according to its cultural surroundings. The home sits in the French Alps, and follows a vernacular aesthetic.
This home was a project by Studio Razavi. From a distance, you can see the traditional overall shape. However, modern details become more apparent as you study the building.
The two main building materials that were used for this project are wood and concrete. Thus, the home blends well with the natural character of the mountain around it.
Mountain Retreat
Living Stone Design + Build and Retro + Fit Design created this year round mountain retreat. Nestled in the Reynold Mountain in North Carolina.
The structure feels integrated into its surroundings because the builders used a selection of natural materials including stone and wood. Therefore, this retreat looks at ease with its natural environment in this pristine and beautiful location.
Large windows and numerous terraces bring the outdoors in and emphasize the panoramic views from every part of the house.
Mountain Chalet
Studio Triarchitekti designed and built this home in the countryside of the Czech Republic. The building design is conscious of historic building design in this area. However, the home is also adapted to the needs of the twenty-first century.
The modular interior made with light-colored wood and concrete make the indoor spaces look simple and uncluttered.
The interior is divided in two, and there are separate entrances at the front as well as the back.
The design is two complete homes under one roof. Thus, they each have a basement level, a ground floor with a common area, and an upstairs area for the private rooms.
Barn-Inspired Mountain Home

This mountain home is quite unusual. It's located at the foot of the Sciliar Mountain in Tyrol. In the 1850s there was a barn in the location where the home stands now.
Studio Noa created this design, and the new structure pays homage to its rustic history.
There is a combination of traditional and modern elements which blend together to make this home unique and full of character.
Bigfork
In Bigfork, Montana, there is a spot in a remote location where you can find three cozy structures along a sloping hill. The home blends with the surrounding landscape as they are built into the hill on one side.
On the other side, cabin is open to a beautiful lake and the windows overlook an expansive outdoor area. One interesting feature about this cabin from Andersson Wise Architects is that many of the interior spaces have sliding panels rather than the typical solid walls.
Related: 30 Beautiful Houses And The Inspiration Source Behind Their Designs
Weathered Steel Retreat
When designing this house in Montana, Carney Logan Burke Architects chose to use a particular set of materials, giving the house a distinctive and unusual look.
They built the house out of stone and weathered steel. In this way, they designed the building to blend into its surroundings rather than stand out from them. The inspiration came from the natural colors of the landscape.
Canyon House
Architect Paul Hirzel created this retreat in 2003. They constructed this remote home that allows the owners and their visitors a chance to get away from their normal daily lives.
The surrounding windows provide natural lighting.
Floating Cabin
The first thing you notice about this home is that one section of it is floating over a steep ravine.
This design allows it to maximize the beautiful view in a stunning way. Studio MM created this challenging design.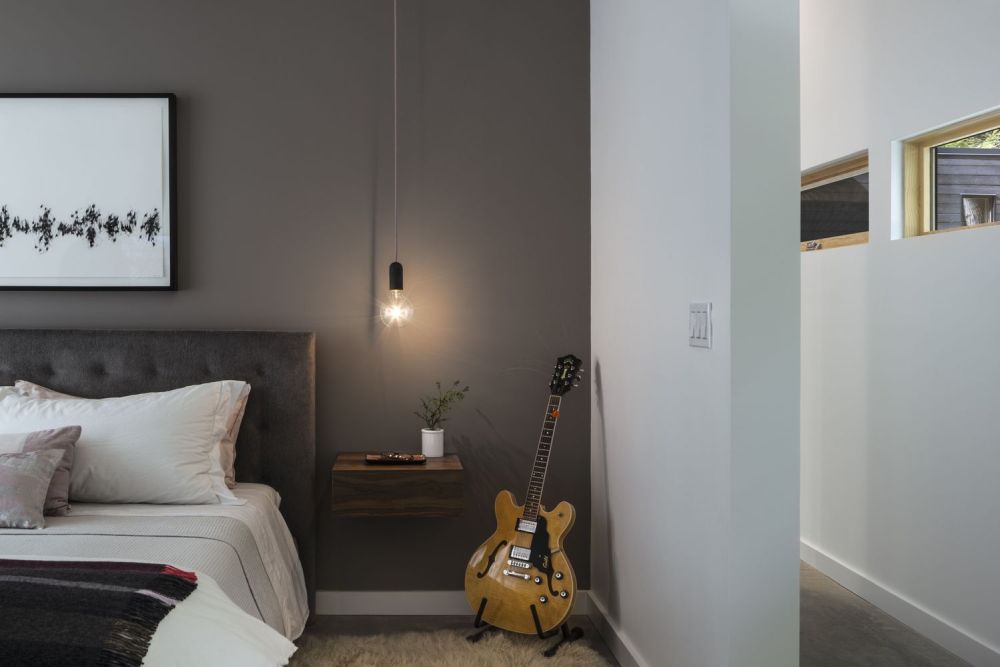 Perched at the foot of the Catskill Mountains in New York, this cabin is surrounded by a dense forest. Full-height windows frame the outdoor view.
Frequently Asked Questions (FAQ)
What Is A Middle-Aged Log Home?
Log cabins built in the 70s are considered middle-aged. A few common problems among middle-aged log homes include wood rot, weak roof gutters, and cantilevered decks.
What Kind Of Power Generator Do You Need For A Modern Mountain Cabin?
Diesel power generators are recommended for mountain cabins. The generators are also low-maintenance and easy to repair.
Can A Modern Mountain Cabin Use Solar Power?
Solar powered mountain cabins are popular. You can use solar energy to keep your lgo cabin fully functional. If your energy needs are over 3,000 watts, you'll need a 48 volt solar power system.
Modern Homes Conclusion
Modern mountain homes combine style and relaxation. Included in their development are green roofs. The roof style demonstrates a relationship between people, nature, and the environment. Sustainable development is achieved through various roof greening methods.