Best Way to Remove Concrete Slabs on a Patio
If you have old, cracked, uneven, or non-level concrete slabs on your patio, you may be thinking about removing the concrete slabs in order to upgrade your patio. And this may seem a daunting, if not impossible, task.
The good news is, though, if you have the proper tools and a little bit of manpower, you can likely remove your entire concrete slab patio in a day. We've looked around and done our research, and this is the easiest and fastest method to remove the concrete slabs of your patio yourself. Read on!
(Note: If you're considering renting a jackhammer, that's fine. It may work best for your needs. But we discovered that a heavy duty jackhammer weighs about 90 pounds, which takes quite a bit of effort to move and manipulate, whereas a 20# sledge hammer, which is what we use here, is actually easier and highly effective. For a standard patio, we recommend this method first and foremost.)
Materials Needed
Pry bar
Heavy duty sledge hammer
High lift jack
Safety gear
Gloves
Bucket
Shovel
The three primary tools you'll need (practically the only tools you'll need) are: (a) a pry bar, (b) a heavy duty sledge hammer (recommend at least a 20 pounder), and (c) a high lift jack (like what's used to raise a truck for tire changes or car repairs). Other things you'll probably need include safety glasses, work gloves, buckets, a shovel, and a truck/trailer to haul away the broken concrete bits.
Step One: Clear Area Before Removing Concrete Slabs
Before you begin to remove your concrete patio slabs, you'll need to clear off the patio first.
Here our patio is, cleared off and ready to be removed.
Why Remove a Concrete Slabs from Your Patio?
The primary reason for removing this patio is this corner; it collects water which in turn floods the adjacent window well into our basement. Not a good scenario during wet seasons.
Step Two: Find Intersection in Concrete Slab
If your concrete slabs are already cracked, your starting position is made a little easier. Simply find an intersection where slab edges and/or cracks come together.
Step Three: Begin Prying the Concrete Slab
Place the pointed tip of your pry bar at the intersection, then start spearing the tip into that spot. You're going to have to use some muscle here, to make headway down into the concrete.
You'll start to notice a little hole in the concrete intersection, as though you've taken a drill to it.
Continue spearing the pry bar into your spot. But when you remove it, use the pry bar's leverage to try to remove a little of the concrete slab. Push down on the bar with the tip in place, as though you're trying to lift the slab.
Step Four: Start Removing Bits of the Concrete Slab
When the hole gets large enough for the pry bar tip to fit in and be able to work its way under the concrete slab (even if slightly), have someone hold the pry bar in place (with concrete slab lifted). Use the sledge hammer near the pry bar tip to break off more of the concrete.
Remove rubble, and continue these steps, with the pry bar tip moving with the removable concrete slab edge.
Progress at this point will feel slow, but stick with it. Keep removing the rubble, and using the pry bar and sledge hammer in tandem.
Tip for Using the Sledgehammer to Remove the Concrete Slab
It works best to aim your sledge hammer about 6"-10" away from the edge of your concrete slab, somewhat near the leveraged pry bar tip. This will more easily create fracture lines in the concrete, which will be your best friend in this concrete slab removal process.
Use the sledge hammer on or near these fracture lines to make them spread.
Along with the sledge hammer, the most efficient thing to do with the fractures is to use the tip of your pry bar.
Strongly spear the tip of the pry bar into the fracture line until you can get some leverage to separate the smaller concrete block from the main one.
You can jab the tip into the fracture and wiggle it a bit; sometimes just that is enough to start separating off the chunk.
Step Five: Remove Smaller Rubble
Until you start breaking off larger chunks of concrete, we recommend using buckets to haul the smaller rubble to your trailer.
Step Six: Using the Lift Jack to Remove the Concrete Slab
You'll want to clear a spot of concrete that's about a square foot and a half. Here is where things get fun.
This is your high lift jack. It's going to become your new best friend. A best friend that is probably named Jack.
Step Seven: Get the Lift Jack Under the Concrete Slab
Use a shovel to dig a small hole about 6" below the bottom of your concrete slab and about 4" underneath the edge of the slab itself. Place your high lift jack in this hole, with the lift ledge underneath the concrete slab.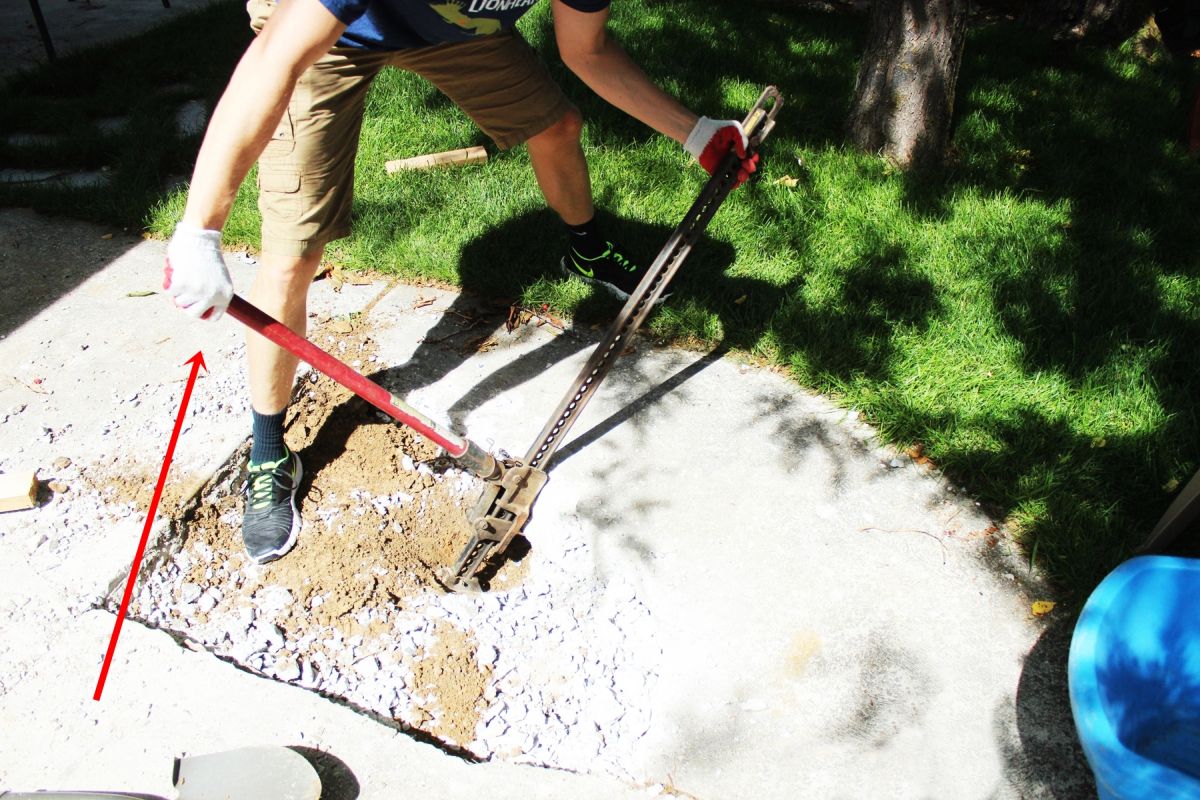 Step Eight: Start Jacking It Up
Raise and lower the jack lever, making sure it clicks each time before you change directions (up/down). If your soil is very soft, you'll notice the jack foot will just sink down into the dirt, so you'll want to take it out and place a 2×4 or a piece of concrete slab underneath to keep it in place.
Raise and lower the jack lever until you notice the concrete slab lifting.
Tip #2 for Removing Concrete Slabs from Your Patio
If there is one tip you should know about removing concrete slabs, it's this: the minute you get a little air gap under the concrete, you will be able to split it. In contrast, with the concrete resting against the ground, you could swing the sledge hammer all day at it and barely make a dent. It's all about getting air space underneath your concrete, which is why the high lift jack is key.
Notice this fracture that appears after sledge hammering in that spot a couple of times.
Step Nine: Breaking the Concrete Slabs with the Sledgehammer
If your slab breaks a chunk off but the jack is still holding up the rest of your slab, go ahead and keep swinging the sledge hammer until more breaks off and/or more fracture lines appear. Maximize the jack's placement every time, since it takes a little effort to dig it down and get it lifted.
Sometimes the concrete slabs will be very heavy. You can use two people pumping the lifting lever to make things easier.
Tip #3 for Removing Concrete Slabs
Another tip, which is genius, is to slide your pry bar into the jack lifting lever and use the pry bar as an extended lever for the jack.
This lever length extender makes it so that one person can, relatively easily, lift an extraordinary amount of weight. And concrete slabs contain an extraordinary amount of weight.
Another tip to keep in mind as you're considering leverage is this: If you're using the pry bar for your concrete lifter, you will need something firm to leverage it against. We used already broken off chunks of concrete directly behind the pry bar to keep it in place as we used the pry bar to lift another larger concrete slab. This was useful in those sections that were too large to carry but too small to make it worth digging in and placing the high lift jack.
Step Ten: Move from Section to Section
Depending on your patio and the state of your concrete, you might find relatively obvious "sections" in which to work. This was the case for us, with cracked concrete slabs each about 4'x6' being the norm. So we focused on one section at a time, removing all the concrete from that area, before moving onto the next.
Step Eleven: Removing the Concrete from the Property
Carefully pile up the concrete chunks, either into the back of a truck, onto a trailer, or simply into a pile for the time being while you're focused on removing the concrete.
Keep in mind that your truck bed will likely physically be able to hold more slabs than the truck itself can handle, weight-wise. This photo shows more than three tons of concrete and, while we could easily have piled more concrete into the truck bed, it would've likely damaged the truck to try to do so.
Incredibly, with a little muscle and motivation, you can remove an entire concrete patio in less than a day. This is what your now-clean-slated patio space might look like.
And here is the exposed culprit for flooding – a large hole in the soil under the previous concrete that funneled water down and directly into our window well to flood the basement. Very satisfying to be able to see these issues outright so we can address them in our next design plans.
Congratulations! You've moved literally tons of concrete, and you've done it in the best way that we have found. At this point, the exposed soil will not be completely flat or smooth. Depending on what your plans are for the ground now, you may want to rake the dirt flat and remove most/all of the concrete slab rubble. Because we will be building a low deck over this space, we aren't going to worry too much about how the exposed ground looks.