Invite Joy to Your Home with a Yellow Front Door
A yellow front door is an excellent way to add vibrancy to the look of your home as well as give it a boost in curb appeal. We often associate the color yellow with optimism, happiness, and warmth. Yellow front doors bring this vital energy to the facade of your home. They can make your home appear more inviting, draw attention, and provide the crowning touch of an exterior color design.
Yellow Front Door Meaning
Yellow front doors convey particular meaning and symbolism in a variety of cultural contexts. Humans associate the color yellow with the sun, so we naturally link yellow with light and warmth and use yellow to symbolize happy emotions like joy and cheerfulness. Vibrant yellow represents creativity and inspiration and can help to stimulate the mind and encourage new ideas.
In Eastern cultures, yellow is a color that is used to signify spirituality and enlightenment. It is the color of the solar plexus chakra which represents personal power, knowledge, and self-esteem. In feng shui practice, yellow shades represent both the fire element and the earth element. Bright yellow hues represent strong and passionate energy like fire. Subtle and soft yellows symbolize the earth and are stable and grounding.
Variations of the Color Yellow
Yellow is one of three primary colors. By mixing this primary color with white and black and undertones of various hues, a range of yellow colors are created with their own unique properties, mood, and characteristics. The variations of the color yellow are many and diverse. Choosing the right yellow shade will require consideration of your home's architecture, color palette, surroundings, and personal preferences.
Lemon – This is a bright and cheerful light to a medium shade of yellow that resembles the rind of a lemon.
Saffron – An earthy medium-toned golden yellow with brown undertones.
Cream – Cream is defined as an off-white with a yellow tone. This yellow tone can be lighter or darker depending on the specific color variation.
Gold – Gold is a rich medium-toned yellow with orange and brown undertones. This shade is named after the mineral element gold.
Citrine – A golden yellow with pale green undertones.
Light Yellow – This is a pale but not pastel shade of yellow with warm undertones.
Sunflower – Sunflower is a rich shade of medium to dark yellow, a color similar to the petals of a sunflower.
---
Best Yellow Paint Colors for Front Doors
This is a list of yellow front door colors that range in shade and brilliance. Be sure to test the paint color outside in the area of your front door as colors change significantly with sunlight exposure.
Golden Honey (CC-214) from Benjamin Moore
Golden Honey is a light yellow shade. As its name suggests, it has a very slight orange undertone that provides it a gorgeous warmth, but it is overall a very balanced shade that looks undoubtedly yellow. It has an LRV of 72.
Sundial (1100) from Benjamin Moore
Sundial is a shade of pale yellow that resembles the glow of spun gold. This is an excellent color if you want to paint your front door a sophisticated pale yellow. This color is muted with gray so it is not a saturated tone. It has an LRV of 66.
Hay (No.37) from Farrow & Ball
Hay is a dusty yellow color that is warm and inviting. It has a slight green undertone that keeps the color grounded and calm. This color is gorgeous paired with a warm off-white.
Decisive Yellow (6902) from Sherwin Williams
Decisive Yellow is a strong and vibrant mid-tone yellow. It has balanced undertones, so it works with a variety of color schemes. The bold and vibrant shade will complement a range of home styles. It has an LRV of 65.
Sudbury Yellow (No. 51) from Farrow & Ball
Sudbury Yellow is a mid-toned yellow. Though it is a rich color, it is muted with a significant amount of gray. Like many Farrow & Ball colors, this yellow color changes in response to light exposure. It will appear cleaner and brighter in sunny areas and become softer in dim light.
Mayan Yellow (175) from Benjamin Moore
Mayan Yellow is a deep yellow tone with rich amber and bronze undertones. This is an excellent color choice if you want your front door to make a vibrant statement but remain striking rather than cheerful. It has an LRV of 40.
---
Yellow Front Door Design Ideas
Yellow front doors are popular with both designers and homeowners. They are versatile, energetic, and eye-catching. Here are some design ideas to inspire you with how you could use a yellow front door.
---
Farmhouse with a Soft Yellow Front Door
A white clapboard house looks fitting with a cheerful front door. This home features a front door with a muted and soothing yellow shade. The varied porch plants and natural plank porch floor help to round out the simple and classic front door style.
---
A Yellow Front Door for Contrast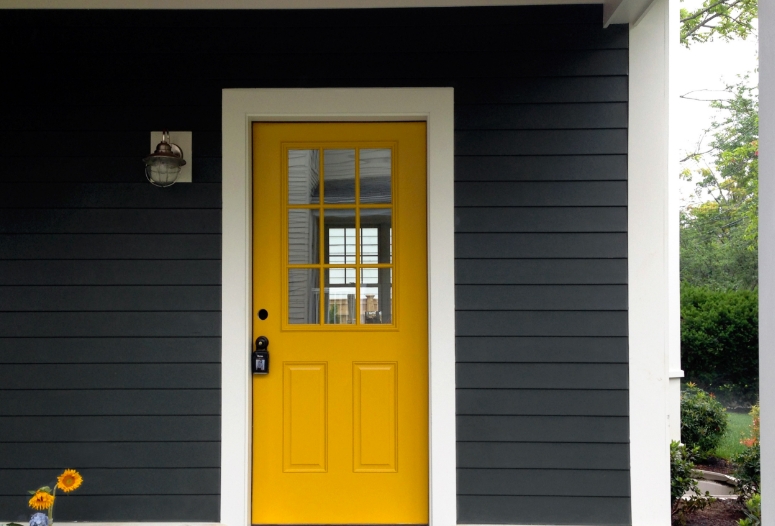 A mustard yellow front door is an ideal counterweight to this home with a dark gray exterior.
---
A Yellow Front Door on a Mid-Century Modern Home
Glossy lemon yellow paint accentuates the intricate design of the woodwork on this mid-century modern front door.
---
Craftsman Home with a Yellow Front Door
This craftsman home features a rich blue exterior and a brilliant yellow door. Even though the exterior is dark, the white trim and yellow door serve to lighten the overall look.
---
Pale Yellow Front Door
Using a dark cream or pale citron on your front door is a good way to give your door a cheerful look without committing strongly to the color yellow.