Go Beyond Lights With These 18 Christmas Yard Decorations
Every neighborhood has one. The house that goes totally bonkers with Christmas lights. They're the ones that blow up those giant yard snow globes and make you put up your blackout curtains for Christmas. But you don't have to go gaudy to decorate your yard for the holidays.
Christmas Décor Trends for 2021
Following trends in a nice way to stay fresh and to keep up with the world. It also gives us a source of inspiration and makes it easy to find the right tools in order to achieve the desired result, whether we're talking about a big project or just something trivial like decorating a tree for Christmas.
So what do the trends tell us in 2021? How should be decorate our Christmas trees this year? Well, there's a few directions to follow:
Inexpensive decorations
In 2021 we've all been starved of socialization and simple happy and bountiful moments that we can enjoy with our loved ones. With that in mind, don't waste your hard-earned money on opulent and expensive Christmas decorations. Save it for a trip or for a meaningful gift.
There's a lot of ways in which you can make your Christmas tree and your home look festive without spending a lot of money. For example, use some of the old decorations, repurpose a few things that you already have or make your own ornaments.
An eco-friendly Christmas
It's about time we started thinking about our planet and the environment. This year we're following the green trend. We're using recycled materials and decorating our homes in a sustainable and eco-friendly way.
What does this actually mean, you might ask. It can be a number of things like wrapping the gifts in reusable cloth bags instead of paper, decorating the tree with cinnamon sticks and cookies instead of plastic baubles or making decorations our of recycled materials like pallet wood.
Cozy farmhouse vibes
Farmhouse décor is trendy this year, especially because we're feeling nostalgic for the past, the peaceful and cozy times prior to the global pandemic. Go with a farmhouse Christmas décor to celebrate all that this year.
Similarly, you can enjoy a very traditional Christmas this year. Decorate the house with the classic red and green ornaments, bring out the old decorations, bake some cookies and enjoy a classic Christmas movie with those you love.
Can artificial Christmas trees be put outside?
Over the past years faux Christmas trees have gotten very popular. Although nothing can replace the magnificent scent of a real pine tree in the living room, artificial trees are a more eco-friendly and more affordable alternative. They can even be used outside.
Not all artificial trees can be put outside though. You should always check the label or instructions to see if a tree is suited for outdoor use. It's typically the ones that are already decorated and have string lights on them that should be kept indoors only.
The lights are typically the tricky part. Some are not weather-proof and can't be kept outside. If you ignore this you risk causing a shock or a fire in your backyard or on your front porch and nobody want that, especially on Christmas.
In some cases it's the trees themselves that are suited for outdoor spaces. Some can fade in the sunlight or rust in a moist and exposed environment. Putting an indoor tree outside would cause it to get damaged and to last a lot less than it would if used correctly.
How can I make the outside of my house look Christmassy?
This is a question many of us ask ourselves quite early in the season and for good reason. Decorating the outside of the house is fun and exciting. So what can you actually do this Christmas to make your outdoor areas look festive? Here's a few ideas:
Wrap your front door like a present
There's lots of ways in which we can decorate the outside of the house and a lot of the ideas have to do with the front door. A particularly fun and interesting idea is to decorate the front door with big ribbons and to wrap it like a big Christmas present.
Hang a wreath
Another nice and festive way to decorate the front door is by hanging a Christmas wreath on it. Pick a wreath that suits your style to welcome all the guests and loved ones and to add curb appeal to your house.
Place a Christmas tree outside
When it comes to Christmas lawn ornaments there's nothing more classic than the actual Christmas tree. You can both an indoor tree but also one or more festive trees placed outside. Perhaps a miniature Christmas tree could sit by the front door or on the porch.
Use lots of greenery
The Christmas tree is not the only source of greenery at your disposal. There's plenty of other Christmas yard decorations and ornaments that could be used to add color and beauty to the outdoor spaces, things like wreaths, garlands, planters and so on.
Decorate with baubles and string lights
Things like baubles and string lights belong in the Christmas tree but if you have a few extra ones you can put them to good use and turn them into beautiful decorations for the front porch or the outdoor areas in general. Just make sure the lights are not exposed to moisture or to the elements.
Put out faux presents
Everyone gets excited about Christmas presents which is why these make excellent decorations. Turn a bunch of faux presents into Christmas lawn ornaments or keep a few of them stacked by the front door.
Decorate the windows
Don't forget to show some love to your windows as well. Decorate them with festive stickers, faux snow spray, string lights, wreaths and anything else you can think of. Think of them as giant lanterns after sunset.
Light up the trees
If you have trees in the backyard you can decorate them with outdoor string lights and turn them into magnificent and fantastic-looking Christmas decorations. They'll look magical at night and they'll definitely put you and everyone else who sees them in a festive mood.
Decorate with fairy lights
Fairy lights are excellent for making the yard or the porch look festive this Christmas. There's lots of cool ways in which you can use them. For example, wrap light fairy lights around the bushes in your yard or use them to frame the front door.
Different types of outdoor Christmas lights
Decorating the outside of the house and the yard for Christmas is one of the things people get most excited about this time of the year. Hanging lights from the trees and putting out all sorts of Christmas lawn ornaments puts everyone in a good mood. So what type of lights will you be using this year?
Mini string lights
These are just what you'd expect them to be: classic string lights but smaller in size. They're really great if you want to decorate the bushes, trees and everything else outside without the lights themselves standing out and being visible. The mini string lights blend in during the day and turn the backyard into a magical place at night.
Battery-powered lights
Battery-powered outdoor lights give us a lot of freedom, the freedom to place them wherever and however we want without constraints, without needing a fixed power source or an outlet. This makes them truly great but also means you'll have to regularly swap the batteries for new ones. In this sense, solar-powered lights are truly superior.
Net lights
Net lights are nice when you want to light up something in a uniform way. The lights are already interconnected and form a structure like a net, hence the name and you can drape them over shrubs, bushes, trees, walls and so on.
LED rope lights
These lights are well-suited for outdoor use because they're wrapped in a clear PVC jacket which protects them from moisture and external weather conditions. This makes them very practical. From an aesthetic point of view, LED rope lights can be used to outline doors and window frames and to create all sorts of shapes.
Smart lights
If you're willing to invest a bit more in your Christmas lights this year or if you're a big fan of smart technology, consider smart outdoor lights. You can control these from a distance using your smartphone and they typically let you adjust the brightness level, the color of the light and the visual effects and patterns which they create.
Christmas yard decorations decoration ideas
There are options to extend your Christmas decor past the front porch steps that are classy and beautiful. Some of them have lights, some of them don't. Either way, you won't make your neighbors hate you. Here are 18 ways to go beyond lights with these Christmas yard decorations.
A bunch of happy outdoor gingerbread men
If you're making gingerbread men inside, why not put some gingerbread men outside too? It doesn't take much beyond the plywood to construct them. Then paint them to reflect your real life family. Your kids will love helping you put together a gingerbread version of themselves.
Christmas tree made from a wooden pallet
When you don't have much of a front yard to speak of, it's easy to think that you have to forgo yard decor. Except you don't need much space for this little project. A simple pallet tree, made from a scrap pallet and hung with ornaments and even some lights, will do more for your non-existent yard than leaving it bare.
Glowing Christmas trees made from plastic boxes
When presents are on everyone's minds, why not add some magical glowing gifts to your yard this year? All you need are some plastic boxes, ribbon and lights to give your front lawn a soft glow for the holidays.
A red truck sign carrying a Christmas tree
Get your woodworking skills out or task your significant other with this project. The tree laden red truck is a classic Christmas theme so how adorable to make one for your front yard. Don't forget to light the tree so you can see your creation at night too.
Giant bauble decorations
When woodworking skills aren't in your repertoire of talents, it's time to look to the shops for solutions. These giant Christmas balls are perfect additions for your front yard. Place them right out in the open where no one can miss them or nestle them into a flower bed for more of a Christmas surprise.
Grapevine yarn decorations for a natural look
Looking for yard decor that you can use all winter long? Go for the grapevine yard ornaments. Woven balls can be filled with lights if you want that sparkle and a set of deer friends will keep your hibernating plants company from Christmas to Valentine's Day.
Colorful glowing ball ornaments sprinkled around the yard
There is a fine line between good and bad lighted yard decorations. But you can be sure that balls of Christmas lights are good. As long as you're keeping one color to each ball, you'll create a a winter wonderland that's worthy of Santa's workshop.
Plywood Christmas tree silhouettes
When the weather is cold and inclement, it takes some creativity to keep kids occupied. If they're old enough to use a hammer, draw them lines to follow or words on a plywood tree and let them go for it. They'll come out with a lovely yard decoration that's simple and light-less.
Giant snowflakes that you can craft yourself
Some people find it kinda a bummer that they don't get the white flakes for Christmas. So make your own snow instead! Stick these giant snowflakes up and down the walks and throughout the landscaping beds to create your own flurries for the holidays.
A family of cute polar bears in your own backyard
Let's not forget that reindeer aren't the only holiday-appropriate animals. These sweet polar bears will light up your yard for Christmas and you can just take off the hats and scarves for the rest of the winter. They'll be an especially lovely sight for the yards covered in snow until April.
A giant Christmas present made of concrete
If anyone tries to steal this gift from your yard they're going to have a hard time because it's made of concrete. That's also what makes this such an interesting project. It's made using unconventional materials that have nothing to do with beautiful presents with big bows on top. If you want to make something like this get yourself a concrete block, some paint, tape and a PVC glitter bow. Check out the tutorial on club.chicacircle.
Miniature trees dressed up for Christmas
Let's not forget about the most classic Christmas decoration, the tree. You can spruce up your yard this year and display a few cute little Christmas trees which you can make out of tomato cages and garlands. That's right, these are not actual trees but they sure look nice and authentic. Check out twotwentyone to find out how they were made.
Adorable snowmen made from old window shutters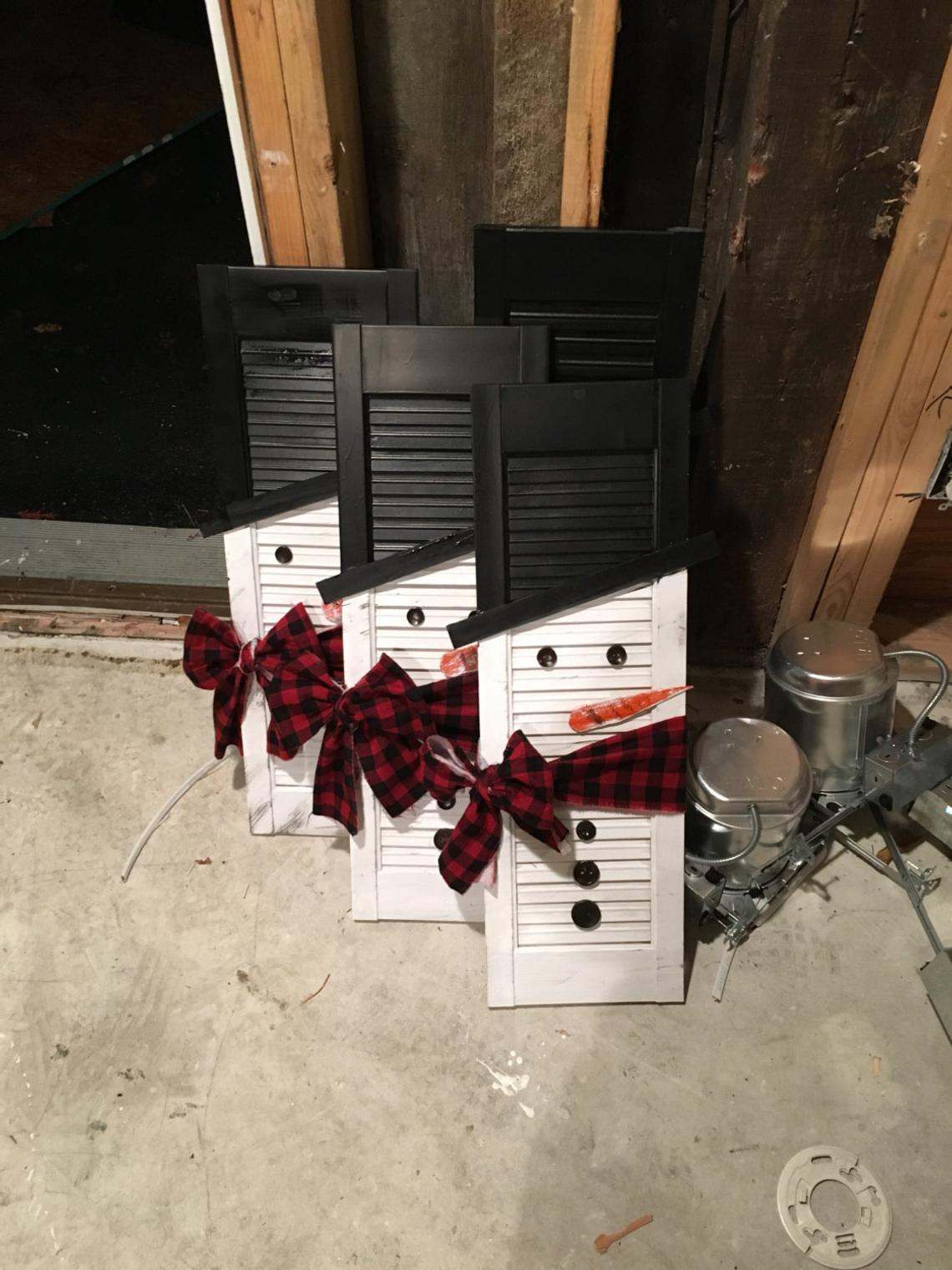 Any decoration made out of repurposed items is original and interesting and this is one of the coolest ideas we've seen in a while. These snowmen are made out of old window shutters. The chutters were painted to have these cute black hats, a carrot nose, eyes and charcoal buttons and they have lovely scarves tied around them. Check them out on etsy.
Simple evergreen topiary using a tomato cage
If you want an alternative to the traditional Christmas tree but you still want something that looks like a tree, making topiaries out of tomato cages and green garlands is a good option. The trees that result will have wide and sturdy bases and they can be decorated with ornaments and lights and everything else. You can even put them in planters.
Custom outdoor Christmas planters
Speaking of planters, you can use some to make a few lovely decorations for your front porch or the yard. You can put evergreen branches and various other clippings in them like you would put flowers in a vase. Add a cute red bow and that can potentially end up looking lovely. Check out thediymommy for some more inspiration with this project.
Modern Christmas trees made of wood
Wooden trees are probably the best kind right after real Christmas trees of course. They're super easy to make and can be decorated and customized in all sorts of cute ways. These for instance are just triangle-shaped with a little trunk at the bottom and a pointy piece of wood that goes into the ground to keep them upright. What really pops is the paint. Check out this project on purelykatie for details.
A sculptural tree made of twigs and driftwood
Christmas trees made out of twigs and driftwood also look really cool and have a ton of character. If you want to make something like this gather a bunch of driftwood and then go ahead and arrange the pieces starting with the longest ones at the bottom and then the shortest ones at the top. Connect them all with a pipe that goes right through and into a log down at the bottom. More details can be found on sustainmycrafthabit.
Festive and cheerful wooden signs out of pallet wood
Signs also make nice decorations, especially for the porch and the outdoor areas in general. You can make some really nice ones out of pallet wood which makes the project inexpensive and easy. Just cut the pallet down to size and attach some wooden letters to it. You can also use paint or wood stain to personalize your design. Check out our-everyday-art for a few more ideas.
When should I take down the Christmas decorations?
Deciding how long the Christmas decorations should stay up is a matter of personal preference, religious orientation or just plain and simple practicality. A lot of the traditions regarding this revolve around the Christmas tree.
One of the traditions dictates that the Christmas tree should stay up until the 12th night which represents the arrival of the Three Wise Men who came to see Jesus. This Christian tradition however is now as straight-forward as it may seem because not everyone counts the 12 days of Christmas the same way.
In regard to the Christmas yard decorations and all the other ornaments, there's no rule or tradition to follow. It's a subjective matter and some people diligently take down all the decorations right after New Year's Eve while others leave them out for longer.
At the end of the day, decide for yourself when the best time for this is based on your schedule and whatever everyone else is doing.