Go Beyond Lights With These 18 Christmas Yard Decorations
Every neighborhood has one. The house that goes totally bonkers with Christmas lights. They're the ones that blow up those giant yard snow globes and make you put up your blackout curtains for Christmas. But you don't have to go gaudy to decorate your yard for the holidays. There are options to extend your Christmas decor past the front porch steps that are classy and beautiful. Some of them have lights, some of them don't. Either way, you won't make your neighbors hate you. Here are 18 ways to go beyond lights with these Christmas yard decorations.
If you're making gingerbread men inside, why not put some gingerbread men outside too? It doesn't take much beyond the plywood to construct them. Then paint them to reflect your real life family. Your kids will love helping you put together a gingerbread version of themselves.
When you don't have much of a front yard to speak of, it's easy to think that you have to forgo yard decor. Except you don't need much space for this little project. A simple pallet tree, made from a scrap pallet and hung with ornaments and even some lights, will do more for your non-existent yard than leaving it bare.
When presents are on everyone's minds, why not add some magical glowing gifts to your yard this year? All you need are some plastic boxes, ribbon and lights to give your front lawn a soft glow for the holidays.
Get your woodworking skills out or task your significant other with this project. The tree laden red truck is a classic Christmas theme so how adorable to make one for your front yard. Don't forget to light the tree so you can see your creation at night too.
When woodworking skills aren't in your repertoire of talents, it's time to look to the shops for solutions. These giant Christmas balls are perfect additions for your front yard. Place them right out in the open where no one can miss them or nestle them into a flower bed for more of a Christmas surprise.
Looking for yard decor that you can use all winter long? Go for the grapevine yard ornaments. Woven balls can be filled with lights if you want that sparkle and a set of deer friends will keep your hibernating plants company from Christmas to Valentine's Day.
There is a fine line between good and bad lighted yard decorations. But you can be sure that balls of Christmas lights are good. As long as you're keeping one color to each ball, you'll create a a winter wonderland that's worthy of Santa's workshop.
When the weather is cold and inclement, it takes some creativity to keep kids occupied. If they're old enough to use a hammer, draw them lines to follow or words on a plywood tree and let them go for it. They'll come out with a lovely yard decoration that's simple and light-less.
Some people find it kinda a bummer that they don't get the white flakes for Christmas. So make your own snow instead! Stick these giant snowflakes up and down the walks and throughout the landscaping beds to create your own flurries for the holidays.
Let's not forget that reindeer aren't the only holiday-appropriate animals. These sweet polar bears will light up your yard for Christmas and you can just take off the hats and scarves for the rest of the winter. They'll be an especially lovely sight for the yards covered in snow until April.
If anyone tries to steal this gift from your yard they're going to have a hard time because it's made of concrete. That's also what makes this such an interesting project. It's made using unconventional materials that have nothing to do with beautiful presents with big bows on top. If you want to make something like this get yourself a concrete block, some paint, tape and a PVC glitter bow. Check out the tutorial on club.chicacircle.
Let's not forget about the most classic Christmas decoration, the tree. You can spruce up your yard this year and display a few cute little Christmas trees which you can make out of tomato cages and garlands. That's right, these are not actual trees but they sure look nice and authentic. Check out twotwentyone to find out how they were made.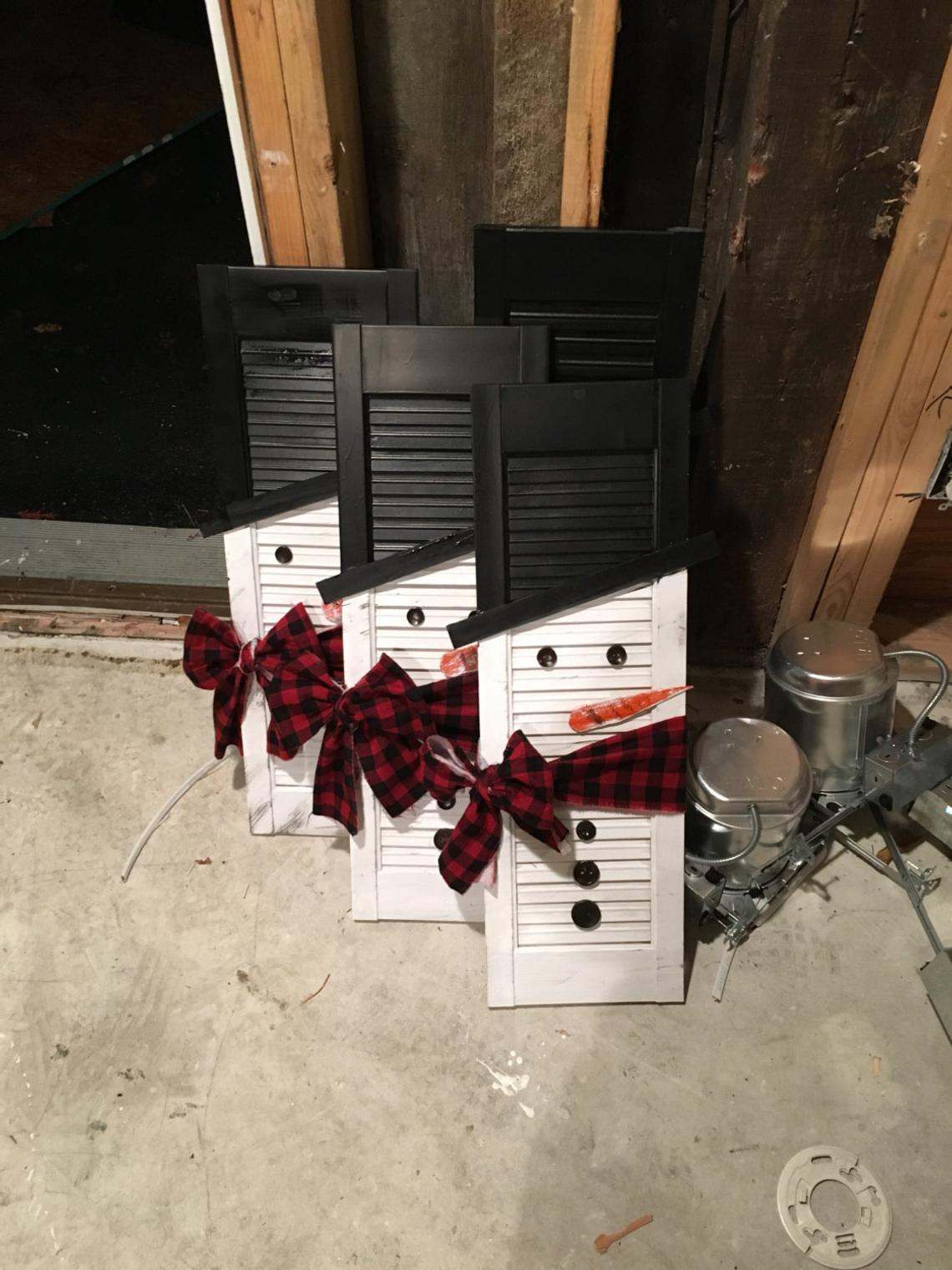 Any decoration made out of repurposed items is original and interesting and this is one of the coolest ideas we've seen in a while. These snowmen are made out of old window shutters. The chutters were painted to have these cute black hats, a carrot nose, eyes and charcoal buttons and they have lovely scarves tied around them. Check them out on etsy.
If you want an alternative to the traditional Christmas tree but you still want something that looks like a tree, making topiaries out of tomato cages and green garlands is a good option. The trees that result will have wide and sturdy bases and they can be decorated with ornaments and lights and everything else. You can even put them in planters.
Speaking of planters, you can use some to make a few lovely decorations for your front porch or the yard. You can put evergreen branches and various other clippings in them like you would put flowers in a vase. Add a cute red bow and that can potentially end up looking lovely. Check out thediymommy for some more inspiration with this project.
Wooden trees are probably the best kind right after real Christmas trees of course. They're super easy to make and can be decorated and customized in all sorts of cute ways. These for instance are just triangle-shaped with a little trunk at the bottom and a pointy piece of wood that goes into the ground to keep them upright. What really pops is the paint. Check out this project on purelykatie for details.
Christmas trees made out of twigs and driftwood also look really cool and have a ton of character. If you want to make something like this gather a bunch of driftwood and then go ahead and arrange the pieces starting with the longest ones at the bottom and then the shortest ones at the top. Connect them all with a pipe that goes right through and into a log down at the bottom. More details can be found on sustainmycrafthabit.
Signs also make nice decorations, especially for the porch and the outdoor areas in general. You can make some really nice ones out of pallet wood which makes the project inexpensive and easy. Just cut the pallet down to size and attach some wooden letters to it. You can also use paint or wood stain to personalize your design. Check out our-everyday-art for a few more ideas.