Charming Baby Nursery Room Decor Ideas From Instagram
Designing a nursery is very exciting and not really because of the techniques used or the items themselves. It's about the symbolism of the room and the feelings that it awakens more than anything else. That being said, you also want the room to look lovely as well and having several sources of inspiration is of course very useful. Today we'll have a look together at some adorable nursery rooms posted on Instagram.
The walls of this nursery shared by
@haniamadewithlove
are amazing. They're light grey at the top with pastel blue at the bottom and they have abstract mountains painted on them, some with snow at the peak.
This nursery has a beautiful sunset theme going on. The colors are warm and very soothing and they were incorporated into the decor in a very natural and organic manner. This gorgeous design was shared by @babyletto.
A simple and clean palette and a more neutral design can also look beautiful. This post by @plumandsparrow is a perfect example. The layered rugs and the potted plants are beautiful accents.
Black might not seem like a color you would want to put on the walls on a nursery but it can potentially work if used in a sensitive way. A black accent wall could be a bold touch and would make all the furniture and decorations around it stand out by contrast. Follow @graceinmagnolias for more details and inspiration.
It can also be really nice to play with similar shades and colors, such as all the blue hues featured in this beautiful nursery shared by @tiggysnursery. The white walls and light wooden floor are great accents as well.
The fabric canopy adds a magical and very charming touch to the entire room. It's a very beautiful and simple way to decorate a nursery and to make it stand out without overcomplicating the design. Check out @littlemimics for more details.
Checkerboard patterns and stripes are classics and can also add a lot of charm to areas such as the nursery where you can pair them with soft pastels and gentle textures to create a very welcoming decor. Let this post from @projectnursery inspire you.
The black and white color scheme is also timeless and easy to work with so you could successfully incorporate it into the design of the nursery and still make it look cute and adorable by adding decorations and other accent details. Check out @thebrickieswife for some inspiration.
This nursery has several beautiful accent colors. It's decorated with soft pink shades and also has lots of golden accents which add a refined and elegant touch to the decor. Check out the post from @thepaperpartycompany for more cool ideas.
There are a lot of cute decorations that you can add to a nursery and lots of ways to display them. This design shared by @sorenshouse has a lovely gallery wall with a dark grey scalloped section at the bottom.
This nursery posted by @tara_mich_elle has a subtle vintage vibe and a boho-chic design which suits it perfectly. You can create a similar design by using burlap and other similar fabrics and also warm neutrals, floral patterns and green accents.
Warm neutrals can look lovely when paired with white as a primary color. As you can see in this design shared by @lanadmitruks the accent details such as the area rug add a lot to the room as a whole and are a great way to introduce color and texture into the decor.
The chandelier is a wonderful focal point for this nursery and it's in tone with the rest of the decor. As you can see, there's an emphasis in this case on texture which makes the room look very inviting. Check out @luckyandi for more inspiration.
This nursery shared by @lolliandlamb maintains a neutral color scheme and doesn't have any striking focal points. However, it's not monotonous and it features lots of accent details and decorations such as all the pillows on the sofa or the framed artwork on the wall.
Speaking of neutral nursery decors, check out this post from @eleviniak. This is such a cozy-looking room and it seems very tranquil and quaint. The polka dot accent wall is a nice details.
The crib is placed at the center of the wall and is the room's main focal point. This gives the nursery a symmetrical look. There's also a lovely canopy and framed artwork on either side. Check out @tinytoesdesign for more inspiring ideas.
Floral wallpaper with oversized prints adds an accent wall to the room and is beautifully coordinated with the window treatments. The combination of white furniture and dark-stained wooden flooring is also looking nice. Follow @projectnursery for details.
This design shared by @babyletto definitely has a tropical vibe. The wallpaper has a very eye-catching pattern and is very graphical and to keep things balanced everything else is neutral-colored.
Several different geometric patterns can look interesting when combined, as exemplified in this post from @linseywoods.home. Although there are several different elements that catch the eye the decor as a whole is well-balanced.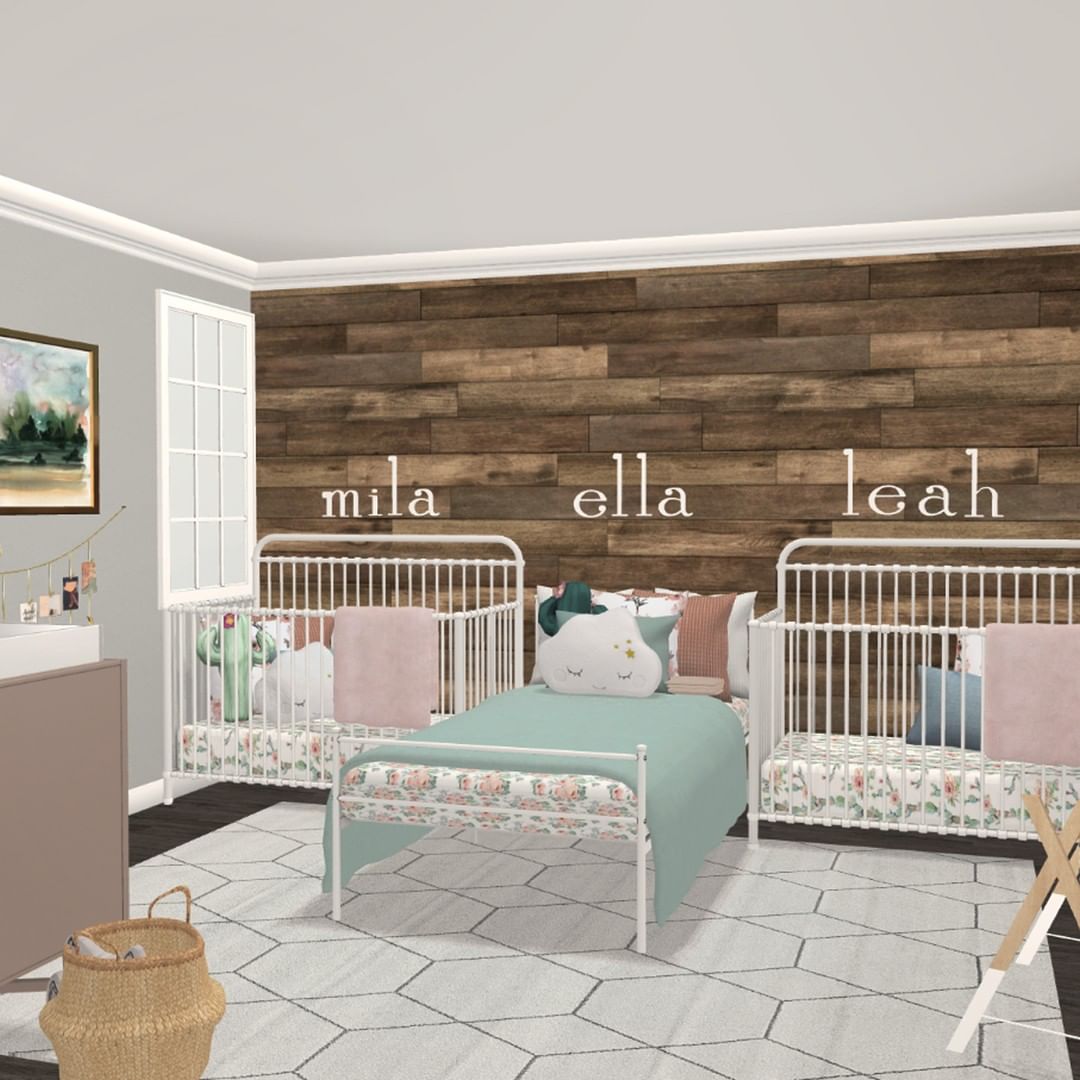 Check out this charming nursery shared by @design_with_friends. It has two cribs and a bed lined up against this wood-paneled accent wall and they feature matching floral mattress covers and pastel bedding.
We also love the dark blue accent wall in this nursery shared by @miniundstil. It's a powerful, deep color which looks amazing when paired with white and warm accents such as metallic gold, copper and wood.
Although gray seems like a very band and boring color, especially for a nursery, it can actually look very beautiful and stylish and the key is finding the balance between all the different textures, finishes and patterns that you use. Let this post from @three.little.nordics inspire you.
It's important to focus not just on how the nursery looks but also on how practical and comfortable it is. A soft and comfy armchair and an ottoman are a nice pair that you can add to the space. Check out how lovely these ones shared by @jordynhadwin look.
Once again we have a beautiful nursery with a grey color scheme. Although neutral, it looks adorable and the little heart pattern on the wall is so lovely. Follow @tiggysnursery for more details and inspiration.