13 Blue Outdoor Rugs For Stylish And Soothing Decks And Patios
You can change an entire room just by adding a rug to it. That little bit of added texture plays an important in the grand scheme of things and, in case you didn't know it, you can also take rugs outside and use them to decorate your deck, porch, terrace and other similar areas. Outdoor rugs come in all sorts of shapes and styles and colors. The blue ones are really cool because they have the color of the clear blue sky and can look lovely next to a pool or a water source.
As you can expect, outdoor rugs are specifically designed for the exterior areas which makes them fundamentally different from any indoor rugs. This particular model is part of the Outdoor Lattice Collection and is made of machine-woven polypropylene. It doesn't shed and it's resistant to stains and moisture so you can safely keep it outdoors. You can get it in a variety of colors, including this beauty combination of navy blue and ivory. Check out Rugs for additional details.
This stylish outdoor rugs features a really cool design. It has this wavy pattern on it which is reminiscent of waves and ripples in the water. This particular combination of colors which includes blue and ivory puts an emphasis on this particular theme. The rug is stain-resistant, easy to clean and measures 274 cm x 366 cm (9′ 0″ x 12′ 0″).  You can find it on Rugs and it also comes in three other colors and several other sizes.
Speaking of interpretable patterns, this modern outdoor rug creates a really interesting visual effect that's reminiscent of the bottom of a pool seen through the rippling water on a sunny day. This version combines shades of blue, beige and navy blue and there's also a version in red, cream, beige and violet. It's machine-woven out of polypropylene and part of the Outdoor Modern Collection. Check it out on rugs if you need additional specifications.
The Outdoor Border Collection from Rugs includes this really beautiful and elegant blue rug which would look perfect on a poolside deck or any regular porch or terrace. You can pair it with your typical wood or rattan furniture and enjoy its stylish design and the comfort it brings to these outdoor spaces. Other color options and dimensions are also available.
How about a blue outdoor rug with a nature-inspired design. The Outdoor Botanical Collection from Rugs.com offers a few great options, including this beautiful model which depicts large ivory leaf outlines on a colored background. This particular model combines shades of gray, ivory and teal and there are also four other color palettes to choose from.
If you're looking for an outdoor rug that's simple but still has a sort of pattern on it, something to catch the eye, perhaps this stylish model from esalerugs would fit the requirements. Similar to all the other outdoor rugs mentioned above, this one is machine woven of polypropylene, stain-resistant and specifically designed for outdoor use. It combines light blue, navy blue and ivory nuances, with two other color schemes also being available.
The simpler and more abstract a design is, the more interesting it is. This particular outdoor rug from esalerugs is a beautiful example. It has this lovely striped pattern on it which is a bit reminiscent of birch logs. It comes in blue and several other colors as well as in various sizes and it's specifically designed for outdoor areas. Of course, you can also keep it indoors if it fits your design aesthetic.
In case you're looking for something with a bit more detail, perhaps an outdoor rug such as this one would suit your needs. We love the design and we think it's a beautiful modern interpretation of a more traditional Persian rug. You can get this outdoor rug in blue as well as seven other colors and there are 12 shapes and sizes to choose from as well. Check out esalerugs for details.
This is another beautiful outdoor rug from the Outdoor Lattice Collection which we mentioned a bit earlier. We love the simplicity of the design and the beautiful and subdued shade of blue which complements the light gray pattern just right. Overall, this is a very soothing design. To go rugs for more details.
The same lattice-inspired design is also available in this lovely teal shade which we think is absolutely wonderful and perfect for the outdoors. The lattice pattern is light gray which creates a pleasant contrast, not too strong but not too faint either. You can get this stylish outdoor rug in 8 different sizes. Check it out on rugs to find out all the details.
This beautiful blue rug is part of the same Outdoor Botanical Collection which was mentioned earlier. It has a simple, modern and abstract design with a teal background and a light gray and ivory pattern which is reminiscent of vines and grapevine curls. You can also get it with a blue or light aqua background or a light gray background and a blue pattern. Check out rugs for details.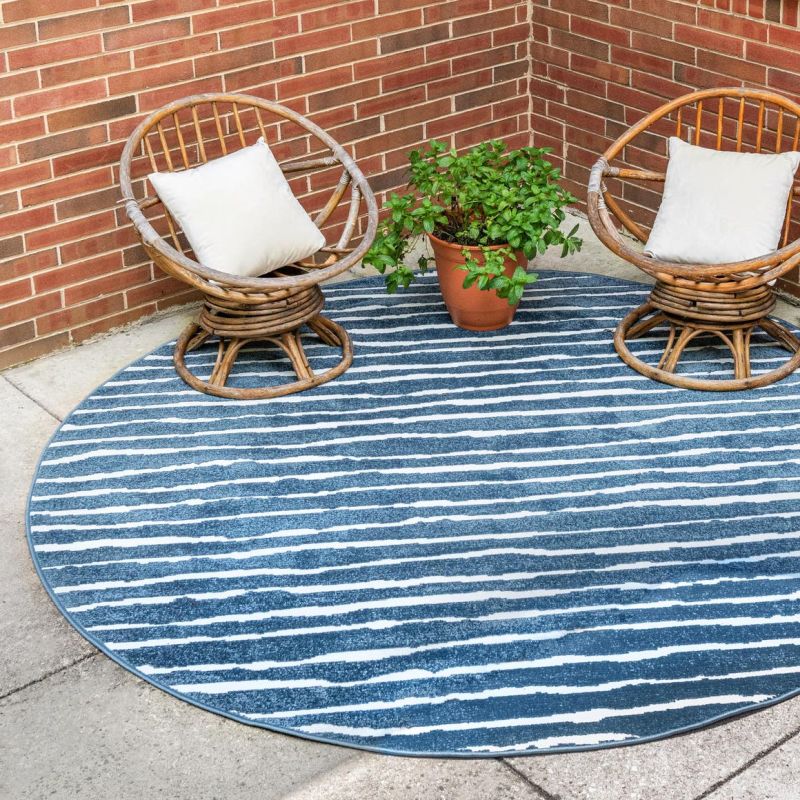 Here's the round version of one of the stylish rugs we previously mentioned. It's the same blue and ivory combination but this time the stripes are no longer associates with a rectangular shape. Rotate the rug and position the stripes at any angle you prefer. The dimensions of this particular model are 244 cm x 244 cm (8′ 0″ x 8′ 0″). You can find this product on esalerugs.
In case you're looking for an outdoor rug with a bold design, this one might do the trick. It features a very graphical and eye-catching design, showcasing a geometric pattern that combines blue and ivory details. Six other color combinations are also available in case you prefer a different palette. Something bold like this could look really cool on a deck or a modern patio. You can find out more details about this outdoor rug on esalerugs along with all the available sizes and colors.