A Persian Rug is the Most Versatile Decor Element You can Buy
Persian rugs are beautiful, versatile and sometimes very expensive. They have also been popular for centuries for good reasons. Persian carpets have been a staple among designers because of their quality and their variety, along with the fact that the myriad patterns and styles can fit just about any room. While there are lots of new machine-made Persian rugs that have the look of a traditional rug, those who want real quality and character can make the investment and choose a hand-knotted antique Persian rug.
Before going out and spending money on a Persian rug, it's a good idea to educate yourself about these rugs, where they come from, what they're made from and what makes them special. You'll also want to set a budget because the prices on one-of-a-kind rugs can be quite high. We've put together a guide for you, as well as some examples of gorgeous rugs and a selection of some of the best Persian affordable rugs that you can buy.
The History of Persian Rugs
Persia — now known as Iran – is considered the birthplace of carpet weaving, which started there more than 2,500 years ago, according to Little Persia. Early Persian carpets started as simpler styles that nomadic tribes used on their floors to insulate them from the cold and damp.  Over time, they become more elaborate with each successive ruler that controlled the country. As the art of hand-knotted rug-making developed, various regions and cities in Persia became known for the colors and design characteristics of the rugs they produced. The art also expanded to other nations, now also celebrated for their rug designs, such as Turkey.
What Are Persian Rugs Made From?
A Persian rug can be made from different materials, each of which has an effect on the price, the appearance, and the location in the home where they should be placed.
Wool  — This is the most common material used to weave most Persian rugs that you see in people's homes. It is typically produced with a cotton background.  All-wool rugs are generally the least expensive and are tribal or nomadic. Because the nomads had flocks of sheep, wool was the only material they traditionally used for these rugs.
Silk — Rugs made from all silk are the most expensive, not just because of the material but because of the time it takes to make them. The silk is so fine that weaving the base and making the millions of knots needed requires many months or even years, depending on the size and pattern of the rug. Other rugs can be a combination of silk knotting with a cotton background. Silk rugs have a distinctive shiny appearance and are smoother than the wool variety.
Does the Knot Count Matter?
The knot density — measured in knots per square inch (KPSI) — is a bit like the thread count in sheets. Sometimes it matters and sometimes it doesn't. Generally, the more intricate the pattern, the more KPSI there will be in a quality rug. Experts say that the quality of the material is the first consideration, but after that, when looking at two rugs of the same quality, the one with more KPSI will be more valuable. This is because the more knots required, the more time it takes to make the rug. An average weaver can hand tie probably 360 knots in one hour but a skilled one can do as many as 1200. Complicated patterns with a high knot density require a skillful weaver, which increases the cost.
Is the Design Important?
As we already noted, different areas of Persia became known for their rugs, and this includes the characteristic designs. Generally, the more intricate the design and the greater the number of colors, the more valuable the rug.  Persian rugs can feature floral or geometric designs or a hybrid. Origiran explains that there are nearly two dozen classifications and even more subclassifications of designs in Persian rugs. That said, the most common motif that you will find, particularly in larger rugs, is a large central medallion. "Some experts believe that the medallion design stems from the very religious nature of the weavers and that their inspiration probably came from the artwork and patterns of domes of the mosques," writes the website. All of the elements used in Persian rugs have meanings, which you can explore.
Even knowing all about the rugs, it can sometimes be a little challenging to match up an intricate Persian rug to a particular room. To fuel your imagination, here are some great examples of how to work a Persian rug into your own:
This family room by Aurora Builders has a traditional vibe and a largely neutral color palette, dominated by brown, making it ideal for a Persian rug. The central pattern of the rug is a smaller geometric in mostly neutral shades, but the wide border features other motifs on a deep blue background. It's just enough color to make the rug pop in the sedate space and at the same time, it fits with the general aesthetic.
An eclectic all-red living room by Dillard Pierce Design Associates of Atlanta is completely at the other end of the spectrum from the previous example, yet is still elevated by the addition of a large Persian rug. While there's even more red used in the pattern of the rug, it's a secondary hue in the predominantly blue design. You would think that with so much red in the room already, it might be too much, but instead, the rug pulls everything together while enlivening the space with some blue.
Using a Persian rug in the bedroom is another option that's less commonly shown. In a traditional bedroom design, the large Persian carpet anchors the space and the wall color picks up the same accent hues in the rug. You might think that placing a large rug under the bed would hide a central medallion design, but using a duvet that has a similar pattern tricks the eye into imagining the one that might be underneath. This bedroom is another example of how using a Persian rug to add a second color to a space is a wonderful idea. This bedroom is in a home by Kessee Associates.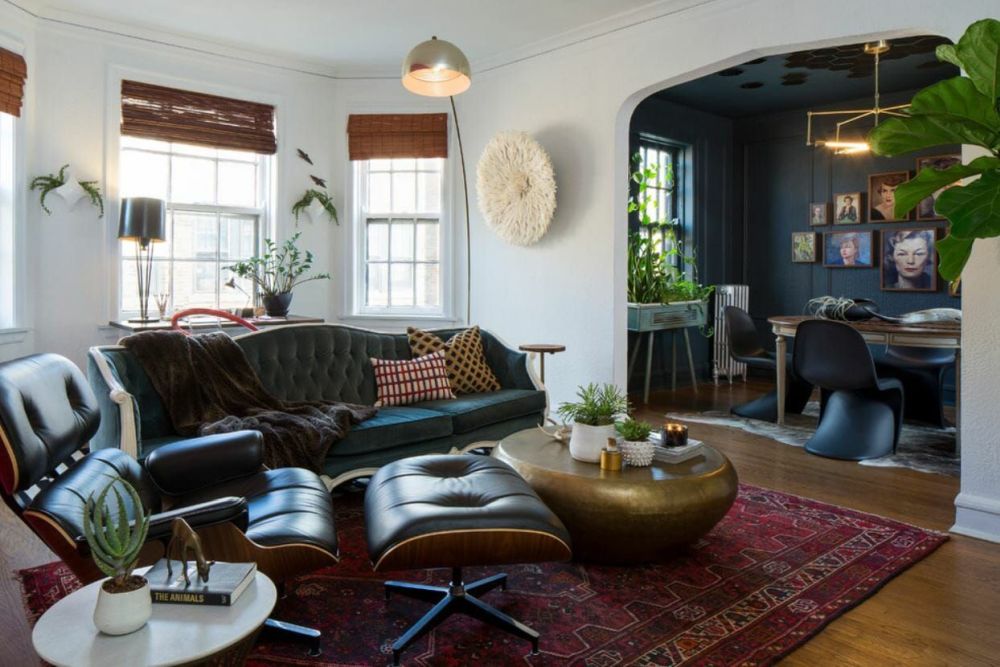 An eclectic space in an older home is an ideal place for a Persian rug as you can see here. This living room by Studio Seven is dominated by the mix of midcentury, vintage and global furnishings, all tied together with muted red rug with a geometric pattern. In a room of this type, a geometric pattern works better than a floral, just because it fits with the overall vibe of the room's decor. The fact that the dining room uses a hair-on-hide rug makes the Persian carpet stand out more.
Layering rugs is all the rage right now and Persian carpets are ideal for this trend. This urban industrial living space features a surprising globally-inspired carpeted bedroom that is accented with a Persian rug at the foot of the bed. The colors of the rug blend with those in the room and brighten up the otherwise broad expanse of plain carpet. Moreover, valuable Persian rugs that should see less foot traffic are ideal for this type of placement because people will likely be barefoot when walking on them. (image from Denver Image Photography).
It might seem surprising that Persian rugs can also work in modern, minimalist interiors. This updated room by Alan Design Studio still features a 1950's vintage dark wood floor and stark white wall. The minimalist decor is grounded by an intricately patterned carpet that features rich but muted hues that are tied into the room with the blue piece of art on the wall. Note that the colors in the rug don't match each other, but because the rest of the room's decor is spare, they work together well.
Persian rugs certainly don't need to be used as an isolated element in a living space. Incorporating multiples in one area is not only acceptable but a long-standing practice. Generally, this is easiest to do in a space with neutral walls like this open and airy living and office space by One Design Studio. The most fuss-free way to make sure this works is to choose rugs that have the same dominant colors. The patterns in the rugs do not have to match, and actually the mix looks far more interesting when they don't match.
Now it's time to browse some great examples of Persian rugs that could work in your own home!
With a central medallion element and floral detail, this traditional floral red Kashan Persian area rug is a bright addition for a living room or bedroom. The versatile rug, measuring 6×10, is a one-of-a-kind genuine Persian rug that was hand-knotted. Made with 100 percent wool, it is in very good condition. The details design is vibrant and has enough blue to balance the primary red hue. This is ideal for a traditional interior or another style where you want to either add some color or pick up on the red or blue already in the room's decor.
A great way to get started with Persian rugs is by choosing some small ones. This 3×5 Balouch Persian area rug is small in size but huge in visual impact thanks to the bold red color and geometric design. This particular style of rug originated in the nomadic area of Iran near the border with Pakistan, and Afghanistan. It's made of 100 wool and is a one-of-a-kind rug in excellent condition. A smaller rug lets you try out the style and colors before you invest in a larger one.
Vibrant red and deep blue are typical of the rugs made in the Hamedan region, such as this geometric Hamedan Persian Area Rug. This is another rug of modest size that is great as a smaller accent because of its 4×5  size. The one-of-a-kind rug features the style of pattern that is also associated with this region, found near the city Hamadan in the western part of Iran, where hundreds of small villages all make rugs. This one is 100 percent wool and in new, first quality condition.
Another rug that has a dominant red palette is the Geometric Red Lilian Persian Area Rug. It is a one-of-a-kind rug that has an area of 4×6, which makes it an excellent accent or layering option. The design is characteristic of this style made by the nomadic Kurdish people of Markad. Rugs from this region are also known as Lilihan or Lylyan rugs and often have a longer pile that appeals to people who prefer a plusher style of rug. This pattern combines both geometric and floral elements and is in Excellent condition.
Geometrics large and small make up the pattern in the Bidjar Persian area rug. The 100 percent wool rug is predominantly blue with a bold red as the secondary accent color. The name of the rug, Bidjar, is also the name of the small Kurdish town where the design originates in western Iran. These types of carpets are known for their strength and durability. The geometric design is an excellent choice for eclectic, mid-century modern or even modern farmhouse interiors.
Another one-of-a-kind accent size carpet is this Tribal Geometric Abadeh Persian Hand-Knotted wool rug. While predominantly red, this carpet has a good deal of blue in the design as well, and features a lighter border than most. The central hexagon and smaller medallions at the corners are very characteristic of this style of Persian rugs. The carpet is named after its namesake city, which is located between the cities of Shiraz and Isfahan.
These are just a few examples of the top options available. Because each of these Persian rugs is unique, you have to browse the colors, sizes and styles that are available. A wide selection of distressed area rugs is available at Rug Source, along with all other types as well.
Caring for a Persian Rug
A real Persian rug is an outstanding addition to your home's decor and you'll want to protect that investment by properly caring for the rug. There are a number of things you can do to keep your rug clean and looking its original best. To some degree, it depends on where you place your rug. If a Persian rug is in a location that sees little foot traffic or if that traffic is only bare feet, it probably does not need to be cleaned as often as one in an area that sees far more action. So what do you need to do?
Basic Rug Sense — Aside from cleaning, one of the most important things you can do to preserve your rug is to not wear shoes when walking on it. Second, don't place your rug in a spot that gets direct sunlight because not only will it fade, but over the long term, strong sunlight can damage the fibers. Finally, rotate your rug at least every six months to keep any one area from becoming excessively worn.
Vacuum Regularly — Just as with any carpet,  regularly removing dust, dirt and debris is basic maintenance. In higher traffic areas, once per week is a good idea. Rugs that see less use can be vacuumed every two weeks. It's also a good idea to vacuum the back of the carpet if the rug is small enough to handle. If the rug is particularly old or valuable, or if you worry about using a vacuum, you can try turning off the beater bar. And, speaking of which, don't use a vacuum on any fringe because it can be damaged. Simply sweeping the rug with a broom is another good option.
Spot Clean — Any spills should be cleaned up immediately. Blot up as much liquid as possible right away. If there is still a stain left, blot with a damp rag while the stain is still wet. You should also clean up bigger spills from the back. Never rub back and forth on carpet fibers to clean up a stain because it can push it further into the rug. If the stain persists, using a little more cold water is ok but not too much — moisture is not a friend to rugs. Also, don't use any cleaning products on a Persian rug.
See a Professional — Persian rugs should be cleaned every year or two depending on how much use they see. This is the time to turn to a professional Options for DIY rug cleaning can be found online but with a one-of-a-kind rug, it's best not to risk damaging your investment.
There are many reasons that Persian rugs have been popular for quite literally centuries. Not only are they beautiful and unique carpets, but they are also hand-crafted works of art that have a history and fascinating heritage. With the proper care, these rugs are an investment that you can proudly pass on to the next generation.