Amazing Japanese Architecture That Makes Us Rethink Everything
Japan is the land of the unusual, quirky and revolutionary, a place where you pretty much expect anything, including extraordinary architecture that reinvents the way we think of buildings. We'll explore some of these unusual designs reviewing the details that make them special.
A complex of teepee buildings
They may look like teepee tents but they're actually sturdy and durable buildings. They were designed by architect Issei Suma and they form a small complex in Shizuoka Prefecture, a mountainous region in Japan. The complex was designed for elderly people and it's made up of five structures, each with a specific function.
The tent-like structures offer functions such as a kitchen, a spiral-shaped pool, a nursing care area, a small dining area and living quarters. The pool was designed with a distinctive spiral shape inn order to allow easy access to wheelchair users.
The Ribbon Chapel
Already a very famous landmark, the Ribbon Chapel was built in 2013 in Hiroshima Prefecture, Japan. It was a project by Hiroshi Nakamura & NAP Architects and it covers an area of 80 square meters in the garden of a resort hotel. Perched on a hill, the chapel enjoys a panoramic view of the surroundings. The design is a metaphor for marriage, featuring intertwining spiral staircases that support each other forming twists and turns and connect at the top.
House NA
House NA is definitely not a typical home. It was designed by Sou Fukimoto Architects and, as you can see, it's transparent. That means that there's basically no privacy for the inhabitants since everything is exposed to the neighbors and anyone passing by. However, that does mean that a lot of natural light enters the house and that there's an unobstructed view of the surroundings. The house is situated in Tokyo and is organized on three levels.
The Nagakin Capsule Tower
It's hard to believe that this tower was built in 1972 given how modern and playful it looks. Located in Tokyo, Japan, The Nakagin Capsule Tower was in fact built decades ago. It was a project by Kisho Kurokawa and it was a prototype. A very interesting detail is the fact that each module can be replaced or removed if necessary.
The tower is a collection of 140 capsules all stacked together and rotated at various angles. They're installed on a concrete core using only four high-tension bolts. Each module measures 4 m by 2.5 meters. When it was built, the tower was meant to serve as a housing complex for traveling businessmen.
The Shell
ARTechnic Architects designed the Shell in 2008. As the name suggests, it's a shell-shaped structure and it's located in a wooden area in Nagano Prefecture, Japan. Surrounded by trees and vegetation, the structure becomes a part of nature and provides a comfortable living environment for those that want to sync with nature. Initially, the villa had to be built around a large fir tree but the design was simplified and reduced to a shell and a J shape formed of two oval cylindrical structures of different sizes.
The Hirano Clinic
Completed in 2014, the Hirano Clinic was a project by TSC Architects. It's located in Aichi Prefecture, Japan and it occupies an area of 223 square meters. Its most interesting design feature is the series of house-shaped windows. These give the clinic a friendly look creating a domestic symbol meant to make everyone feel welcome and comfortable. This friendliness also defines the interior which is decorated with neutral and warm colors and simple and modern elements.
The Nasu Tepee House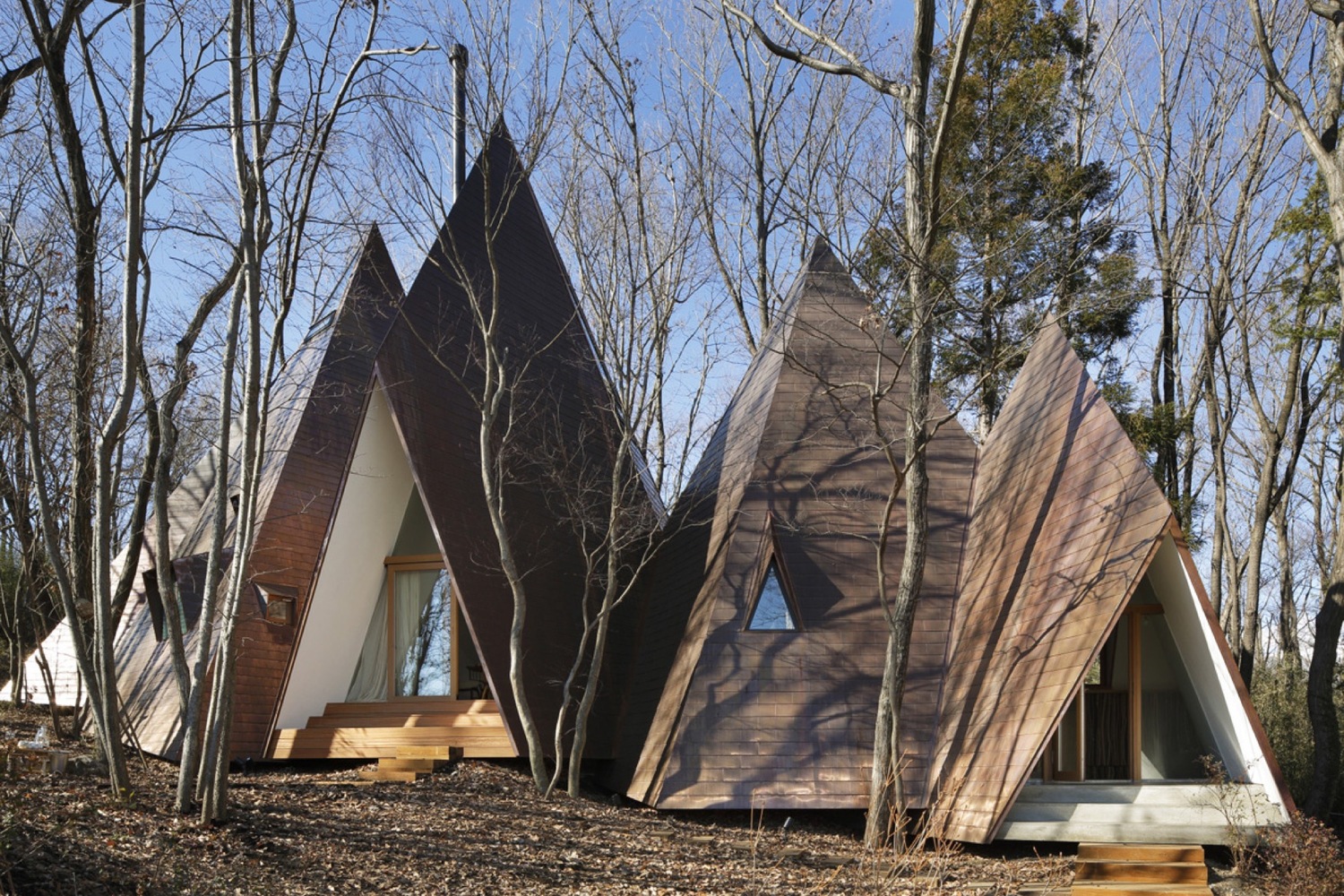 Nasu is a popular summer resort in Tochigi Prefecture in Japan. That's where you'll find this cute family house that's shaped a lot like a teepee tent. The clients worked with the architects from Hiroshi Nakamura & NAP to create a space that's friendly and functional. They decided that the house needed a high ceiling that could bring in natural light. Considering that the site is surrounded by a dense forest, that was a clever and expected choice.
The ceiling and walls form this pitched tent-like structure that allows the house to wrap around the interior spaces and to create a warm and cozy interior. This type of design also ensures a close interaction between family members, strengthening the connection between them.
Small tower house in Tokyo
In densely populated areas such as Tokyo, it's hard to find an empty lot on which to build. Also, the houses and apartments need to be small in order for everyone to have a place to live. Architects have to be ingenious and to work with what they have. Unemori Architects, for instance, designed this small residence which occupies an area of 67 square meters. The project was completed in 2010.
The house stands very close to the neighboring structures and the architects expanded the house vertically in order to offer the inhabitants more usable space as well as the needed privacy. A spiral staircase connects the floors and allows some of the light to travel through the space freely. Large windows open the house towards the surroundings.
The OJI House
Ensuring a good relationship with the surroundings without sacrificing privacy is often a challenge that the architects have to overcome when planning a new residence. The Ketan Eto Atelier team had an ingenious solution for this issue: they designed the house as a compact closed off box and cut off part of it at an angle letting the light and the views in while also connecting the house to its surroundings.
The Sayama Forest Chapel
Built on a small triangular plot next to the Saytama Lakeside Cemetery in Saitama Prefecture, this chapel was completed in 2013 by Hiroshi Nakamura & NAP. The area is surrounded by trees and the architects wanted the chapel to be in sync with nature and to serve as a space of meditation. Its design, size and shape were determined by the conditions on the site. The angled walls were designed this way in order to avoid the tree branches.
The Sugamo Shinkin Bank
The Sugamo Shinkin Bank is unlike any bank we've seen. It was designed by Emanuelle Moureaux in 2014 and it occupies 588 square meters of space in Saitama, Japan. There are many things that make this bank stand out from the rest. First of all, it has a playful design and an interior that really makes people feel very comfortable and eager to come back. The main request for the project was for the space to be inviting and the architects managed to offer that by using a combination of geometric forms, eye-pleasing colors and greenery.
The Shimura Branch of the Sugamo Shinkin Bank
The bank we mentioned earlier includes several branches, all of them being designed to suit the main request for a welcoming and friendly environment. The Shimura Branch is located in Azusawa, Japan and was designed by the same architects. Completed in 2011, the bank has a colorful facade with cantilevered elements that wrap around the structure. The interior is bright, welcoming and full of color.
A garden house
Organized on five levels, this structure is a townhouse designed by architect Ryue Nichizawa. It's a modern home and workplace for its owners and despite being only 4 meters wide it offers plenty of space. The building only has glass walls, a decision based on the desire to maintain an open and spacious interior. Moreover, interior gardens are placed on each level.
The gardens create a green screen which offers privacy and they get to enjoy all the natural light they need thanks to the glazed facades. The owners wanted a house without walls and this is very close to the idea they had in mind.