50 Shades of Grey: The New Neutral Foundation for Interiors
Got grey on the brain? Winter can do that to one. But the good, no, GREAT news is that grey is a fantastic color to be thinking about right now. It's taking the place that brown once held as the foundational neutral of choice in interiors. So many shades of grey are available – you can go dark and dramatic, soft and serene, and anywhere in between.
You can keep your greys warm, with yellow and brown undertones, or cooler with pinks and blues mixed in. Go monochromatic and cover your entire space in grey hues, or choose one grey piece to introduce the neutral. So many options are available for you to enjoy this old color with fresh eyes and ideas. Enjoy this collection of photographs of 50 shades of grey for your home!
The Entryway.
Welcome guests (and yourself!) into your home with grey in your entry.


Tempered by plenty of warm wood accents and large doorways, this all-grey entryway maintains a cheerful welcoming presence. (And the unmistakably red "REIK" on the wall doesn't hurt!)
A worn grey rug plays off the historically-minded feel of antique planters and an ornately framed mirror, leaning against the wall in casual sophistication.

Of course, grey interiors needn't be all soothing and distinguished and intimidatingly mature. Throw a splash of grey on your entry walls and proceed to incorporate the colorful eclectic pieces that you love. It's a match made in heaven, really.

White trim and accents "pop" on grey walls for a crisp, clean look.
Living Room.
Grey provides a lovely backdrop for those times of gathering together in comfort and enjoying the company of friends and family.
The low height of this charcoal grey contemporary sofa emphasizes the tall height of those fantastically light windows. Beautiful proportions, beautiful use of neutral colors here.
Nothing could be as luxe as a tufted grey velvet Chesterfield. Nothing.

Textured seagrass-esque grey wallpaper plays nicely off the woven furniture to give lots of texture and depth to this contemporary living space.

A monochromatic space is warmed up by slight breaches in color palette, and grey is the perfect color link between a simple wood coffee table and aqua touches.

Gunmetal grey wallpapered walls (and ceiling?) cozy up this grand space; pops of red energize the room and keep it from feeling oppressive.

A clean-lined grey sofa is a great foundation for the color palette on which to build a modern gallery wall.

Bits of metallic shine in accessories and furniture details add to the elegance of a classically styled grey living room.

In a room with lots going on visually, such as a library or a large room that adjoins another room, warm pale greys take a commanding background presence. (If that's even possible.)
The Kitchen.
Grey kitchens are classic and classy, providing ample opportunity to showcase your great style and taste (pun absolutely intended) while also making room for the heart-warming colors and aromas of food.
Grey kitchens. Oh how we love the modern simplicity of this one.
White kitchens are hot right now, but that's not to say a soft and pretty grey (such as Benjamin Moore's Baltic Gray, shown here) on your kitchen cupboards will play second fiddle. This is warm and lovely.

Tile floors hint at the nature-inspired tones that exist in this grey, from a bluey-grey sky to a sandy-grey bit of driftwood. Wire chairs pay a nice textural homage to the color as well.

Chrome bin pulls as hardware and marble countertops and backsplash launch this grey cabinetry into a stratosphere of sophistication.
Sometimes white tones take on a grey appearance, and the result can be stunningly dynamic. Stainless steel appliances coupled with glass subway tile on these kitchen walls make the overall space an intriguing blend of grey-whites.
Have we established yet that grey and subway tile and marble are a trifecta of kitchen style joy? Because they are. Add a little herringbone pattern on the floor, and we've surpassed joy and entered the realms of ecstasy.
The Dining Room.
For a room whose use varies so intensely from one extreme to the next (some people's dining rooms are left untouched until it's dusted out for a holiday feast; other dining rooms are used every day for five different reasons other than dining), grey is completely forgiving and versatile. Perfect.
Adding in one dark and dramatic grey accent wall amid other lighter-hued grey walls serves to identify what the adjoining space is (in this case, the dining room). This is a lovely way to break up large rooms without adding clutter.

A cool grey hue on the walls provides the perfect balance to lots of warm tones in any space.

Dove grey walls provide warmth to this dining room while allowing other pieces the limelight, namely, that large gilded mirror, decorative dining chair backs, and cheerful aqua buffet.
The Bathroom.
Clean and forgiving, grey is really the perfect color choice for the bathroom. Plus, it pairs so nicely with the white pieces integral to the bathroom space. Form AND function.
With so much going on in the lower half of a bathroom, a pretty cool grey is a nice way to bring the eye upward without any visual competition.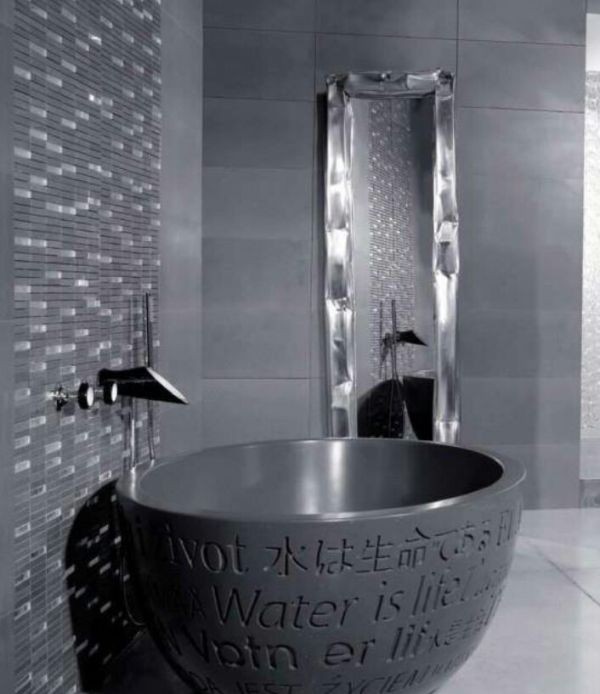 Using various shades of charcoal grey in a monochromatic space is ultra-sophisticated, even in the bathroom.

Grey concrete walls and floors are warmed up with some honey-toned wood planks in this contemporary bathroom.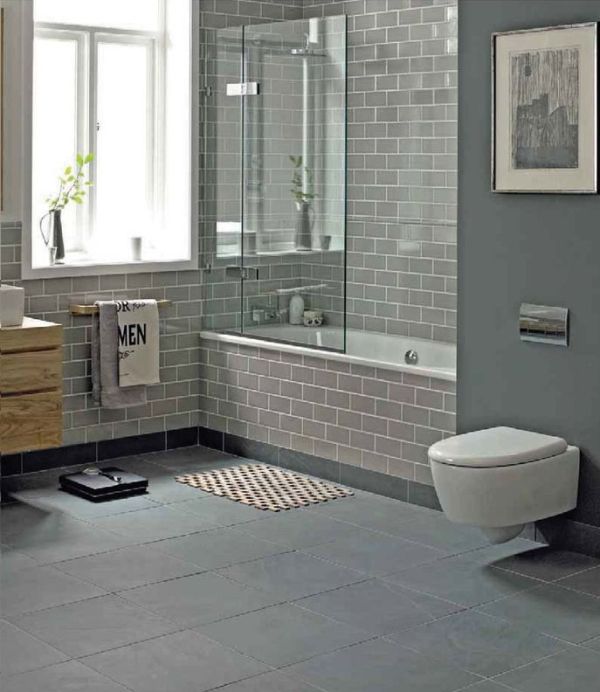 Using multiple mediums to incorporate a variety of greys into a small space (such as the bathroom) makes it feel spacious and high-end.
The Bedroom.
Typically the private hideaway of the home, a bedroom provides an escape from the hustle and bustle of life. Grey has a mesmerizing, soothing power that complements the meditative, romantic feeling inherent in a successful bedroom.
Just because grey is the new neutral doesn't mean that brown no longer has a place in contemporary home décor. This camel-colored upholstered bed frame is evidence of that.
Never underestimate the visual warming power of a grey floor. Plus, it's a lovely and unique twist to hardwood flooring – personality and style shines through.

A soft, warm-grey pouf exemplifies the coziness that grey can have on a simple space.

If you ask me, the grey wolf on this duvet has the right idea, hanging out indefinitely on a comfortable bed in this casual-chic grey bedroom.
Grey Industrial Spaces.
Grey is the ultimate industrial color tool, the workhorse of the entire style genre.
Great pale greys combine nicely with the white walls and hardwood floors here. And that industrial floor lamp? It's DIY. (I know, right?!)

Although it's certainly not just for men, this grey industrial living area is chicly masculine.

A variety of grey tones, from very pale to almost black, share the common characteristic of a matte sheen. This stylish understated cohesion makes the objects beneath display glass seem all the more interesting.
Grey Feminine Spaces.
Although it may seem contradictory, what with its innate somber masculine vibe, grey is actually a lovely complement to feminine touches in many rooms (or corner of a room).
The sensuous silhouettes of these hanging pendants are magnified in this chic and sparsely feminine grey space.
Dark moody greys can be feminine, too! The drama of these stormy grey walls is enhanced by an ironically sophisticated pale pink tufted armchair and chandelier with bling.
Grey Multi-Function Spaces.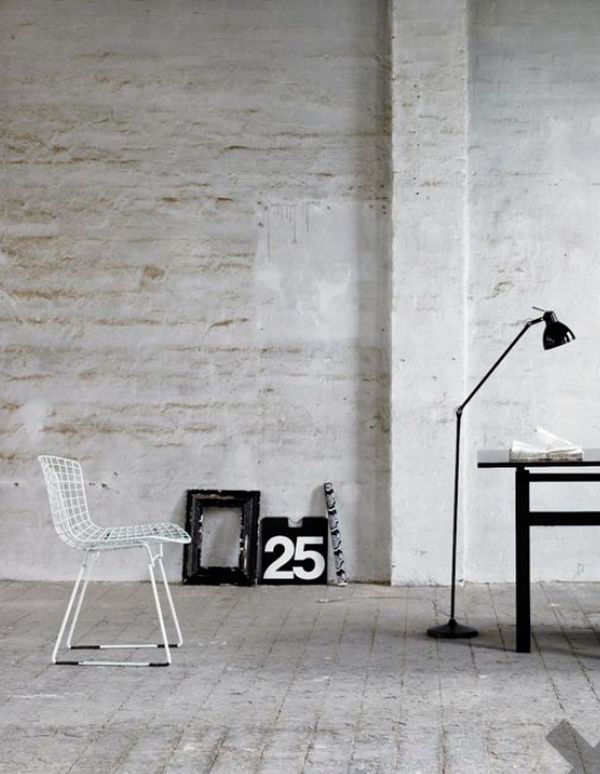 For the corner of your house that you're not quite sure what to do with (is it an end table or a work desk? Or, heaven forbid, a coat rack?) or for those spaces that serve ten purposes at once, incorporating grey into the space might just be the unifying force you need.
Soft grey furniture and accents provide a welcome visual break in an all-white space without being too distractingly contrasting.

Abigail Edwards Seascape wallpaper shows that grey can be the perfect color to give even minimalist spaces fluidity and movement.

Painting out a wooden medicine cabinet with boulder grey is an inspiring contemporary twist to an otherwise rustic space. White walls, tabletop, and accents keep the entire vignette crisp and fresh.
Grey Zen Spaces.
Find rest and relaxation for your mind and soul amid a sea of grey. Or, at least, amid a bit of grey and some other colors, too. Potayto, potahto.

Surrounded by other earthy neutrals (such as lovely green tones found in nature), grey is neither harsh nor stark and, thus, the perfect color for exuding serene relaxation.

Nothing says "beach vacation" like comfy wicker furniture and greeny-grey wood planked walls. (Okay, maybe the flip-flops were a clue, too…)