40 Window seats – cozy, space-saving and great for admiring the outdoors
If you have a home with big windows it would be a shame not to take advantage of them to the fullest. There's so much that they can offer. We're not talking just about the fact that they let in lots of natural light and that they open the room providing the closest connection to the outdoors, but also about that fact that you can integrate them into the décor in many different ways. One possibility is to have window seats.
Window seats are great for many reasons.First of all, they are wonderful because they allow you to admire the outdoors and the views while relaxing. They can also be very cozy. You could have a nice reading nook and enjoy some pleasant time there while also having a nice view in the background. In addition, window seats are also space-saving.
You can use the space you have available in a smart way by taking advantage of the layout. So if you have big windows or a window that's positioned in a convenient place, don't hesitate to also add a seat to it.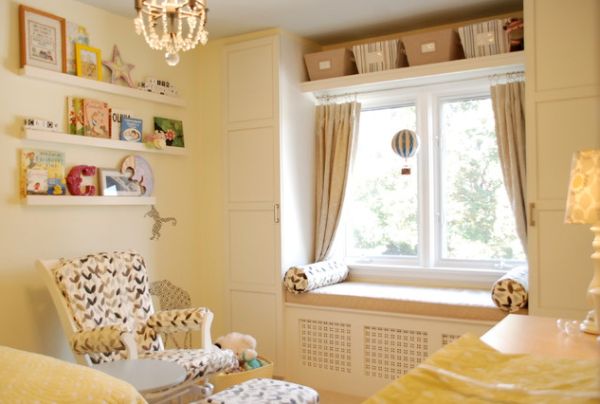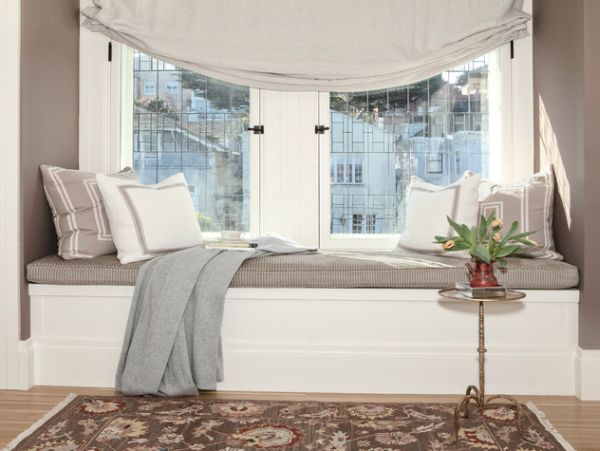 Window seats are great for any room. You can have such a feature in the living room where it would also be a great addition since you can never have to many seats. You can also have one in the bedroom and relax there when you want some time alone or when you way to drift away. The home office could also use a window seat as it would make the room feel cozier and more inviting and personal.
Bay windows are ideal for creating cozy window seats and since the conditions and styles differ from case to case taking matters into your own hands can turn out to be a great idea. If you want to build a window bench from scratch this video tutorial by Avanti Morocha will give you plenty of useful tips and information. This bench has built-in storage which is a wonderful extra feature.
A classic window can be just as good if you want to add more functionality to the room while also taking advantage of the sunlight and the view. A cool idea is to make a low unit from one and of the wall to the other for the sake of simplicity. This will also maximize the amount of storage that you can include in your design. If you go with a design similar to the one shared by Hydrangea Treehouse you'll have six drawers to fill with various items and a surface on top that you can use a variety of different ways including as a seat. This would be a great project for a bedroom.
If you have windows that are built into a wall or inside a nook that's the perfect setup for creating a super cozy and comfortable window seat. This one is absolutely perfect. It's quite low and it has a soft cushion on top for added comfort but it also has some cleverly hidden storage that can be accessed from the top. The two sconces on the sides provide task lighting in case natural light is insufficient. Check out the full tutorial on sammyonstate for more details.
A project like this can feel overwhelming at first, especially if you've never done anything like this before. However, if you break it into smaller steps it becomes more manageable and easy to understand. For instance, building a window seat like the one featured on instructables start with a planning phase. This is when you decide how deep you want the seat to be and all sorts of other details. Then you get the supplies that you're going to need for the project and only after that can be building process start.
This may sound odd but a window seat doesn't necessarily have to be placed directly in front of a window. The idea is for it to get sufficient sunlight during the day and you can also place it perpendicular to the window against an adjacent wall in order to ensure that. Also, you can include custom features in its design. For example, this window seat from style-squeeze has a built-in firewood storage compartment.
Another thing to take into consideration is that window seats are not just for bedrooms, even though they fit perfectly in there and they're super cozy. You can also add a window seat to a transitional space like a hallway or to an entryway. It's a great way to add more functionality to a small space that wouldn't normally use for anything else. Check out how well this bench fits in this little nook by the staircase. Head over to jennasuedesign for more details about this project.
The kitchen is another great place for a cozy window seat, especially if it has bay windows. This can also be a feature that's part of an open floor plan and visually separates the kitchen from the living room for example. Make your window seat stand out and give it character. Hang a beautiful ceiling light or add some sconces, make it look cozy with a few accent pillows and don't be afraid to use color in your design. You can check out this tutorial from prettyhandygirl if you want more ideas.
A window bench can also be a lovely addition to a kid's room. You can make it look super cozy and comfortable and you can decorate it with bold and cheerful colors and patterns. This design featured onremodelandolacasa also makes great use of the space underneath by creating storage nooks for boxes that can be filled with toys, books, blankets and other things.
In case you're worried that a window bench with storage would look too bulky and would make the room seem too small and cluttered, consider a simpler and more lightweight-looking design like the one shared on shanty-2-chic. This window bench sits on a set of stylish and solid legs and leaves the space underneath open.
On the other hand, if you want your window seat to include some sort of hidden storage, there are multiple ways in which you can do that. This particular design which you can find on nickandalicia features a single large storage compartments at the center which can be accessed by lifting the top. This allows the front of the bench to look nice and simple. Also, the compartment is quite roomy and perfect for storing extra blankets, pillows and other accessories.
What if you have more than just one window, you might wonder. Well, you'll just have to build an extra long bench. The beauty of turning this into a DIY project is that you get to customize the design however you want. A wall of windows for example can be complemented by a long and multifunctional unit which can be used as a bench, a storage unit and also as a table. You can also choose to built a bench that only covers this wall partially or that's made of several modules instead of just one. You can find more inspiration and ideas on houseonlongwoodlane.
A small window seat can be quite similar to a storage chest and the project featured on makinghomebase is a really good example in this case. This is a bench designed to sit in front of a regular window inside a kitchen. It's quite small and the top can be lifted to reveal a hidden storage compartment inside. The design is simple which makes this project a good fit for beginners so give it a go if you want to make your own kitchen more inviting and comfortable.
Picture sources: 1, 2, 3, 4, 5, 6, 7, 8, 9, 10, 11, 12, 13, 14, 15, 16, 17, 18, 19, 20, 21, 22, 23, 24, 25, 26, 27, 28, 29 and 30.