A Fresh Perspective: Window Backsplash Ideas And The Designs Around Them
Ideally, a kitchen should have lots of natural light and that usually means that sacrifices have to be made in order to accommodate large windows or that you have to find a way to design your kitchen with an open and bright decor. Multifunctional designs are always preferred in kitchens regardless of their size and style so why not have a window backsplash? It's both a window and a backsplash and it's exactly what a kitchen needs to look bright, spacious and inviting. Lots of architects and designers agree.
When they designed the East Malvern Residence, LSA Architects felt that a window backsplash would allow them to maintain an open and bright ambiance throughout. To emphasize that, they also chose white as the main color for the kitchen furnishings.
InForm Design had a similar idea when working on the Blairgowrie House. The concept in this case was a little bit different. The window is not a replacement for a traditional backsplash but rather an addition to one. The window is merely a quirky feature that brings in a little bit of light and a peaceful view for the sink area while the rest of the counter features a white subway tiled backsplash.
When the kitchen has such a great potential for a wonderful view, it's a real shame to ignore it. This is a residence located in Northcote, a suburb of Melbourne, Australia. Its kitchen is open and spacious and it compensates for the lack of windows with a skylight, a white-based color palette and an amazing panorama window instead of a backsplash.
In some cases, a window backsplash is preferred because of a lack of natural light. An interesting example is the summer house designed by BAK Arquitectos, where concrete was used for countertop. Even though it has a very open layout, there's not really an abundance of natural light inside the house. In order to have a kitchen that's both bright and functional in terms of storage space, they chose the window backsplash strategy.
The Brown Residence by Lake|Flato Architects has a pretty interesting kitchen. The backsplash window doesn't look directly outdoors but rather into a hallway. It's an interesting way of connecting the spaces and ensuring a seamless transition and a continuous flow between them.
The kitchen of this lakeside villa designed by Belatchew Arkitekter receives light from two sides. It has counters on two walls that face each other and both of them have large windows that completely replace the backsplash. The windows bring in light but, more importantly, offer wonderful views of the nearby lake and surrounding landscape.
The L-shaped counter of this kitchen allowed Jordan Iverson  to design it with long and narrow windows instead of backsplashes. The windows meet in the corner and offer a refreshing and continuous view of the garden. There's plenty of space left for storage cabinets and shelves.
This is a kitchen designed by Crescent Builds. It has a strong traditional, almost rustic design but with a modern edge. The window backsplash is definitely an interesting feature. It doesn't covers the entire space between the counter and the cabinets, leaving a tiled section that incorporates the electric outlets.
The kitchen counter is not usually positioned directly in front of the window. However, sometimes the lack of space demands it. This house designed by Crisp Architects has a simple kitchen designed around a regular window to which they added a smaller, horizontal one as a way to bring more light in and to ensure a cohesive look.
It's possible to have a bright kitchen filled with light and also lots of storage. Consider windows instead of the standard backsplash and clerestory windows just above the wall-mounted cabinets. It's the strategy employed by Berghuis Construction when putting together this modern black and white kitchen.
A backsplash window is a really great feature, especially for small kitchens that can't afford to sacrifice any storage space in favor of a source of natural light. The backsplash windows bring light exactly where needed and in addition to that they also give the space an unexpectedly fresh and open look.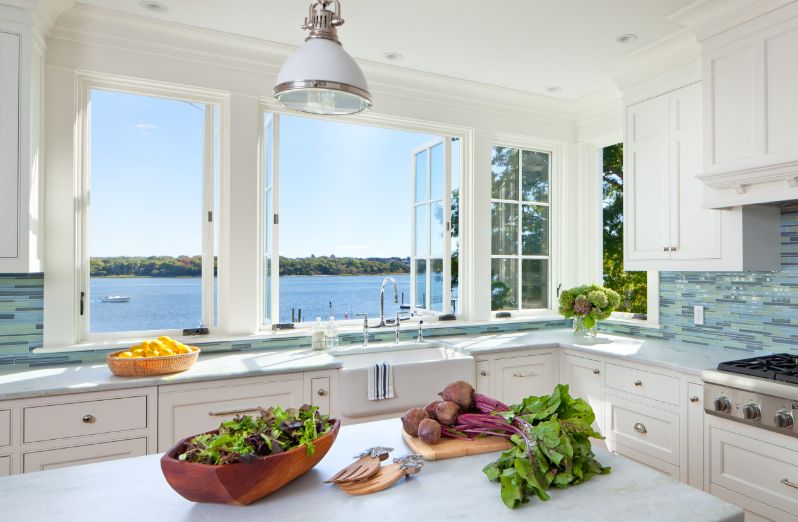 For this residence, Jacob Talbot designed a spacious kitchen with windows that cover almost an entire wall. That means there's no wall-mounted cabinetry on this side of the kitchen. The compromise is well worth it, considering how amazing the view of the lake is.
Considering how small this kitchen is and also the fact that there are no windows on this side of the house, choosing a horizontal window instead of a tiled backsplash was a great move by Three Legged Pig Design. The window backsplash not only makes the room look brighter but also more open and spacious.
The window is not only a source of natural light but also of color, bringing the freshness of the outdoors into the kitchen and complementing its earthy color palette with a touch of green. This exquisite and inspiring design is the creation of Drawing Dept.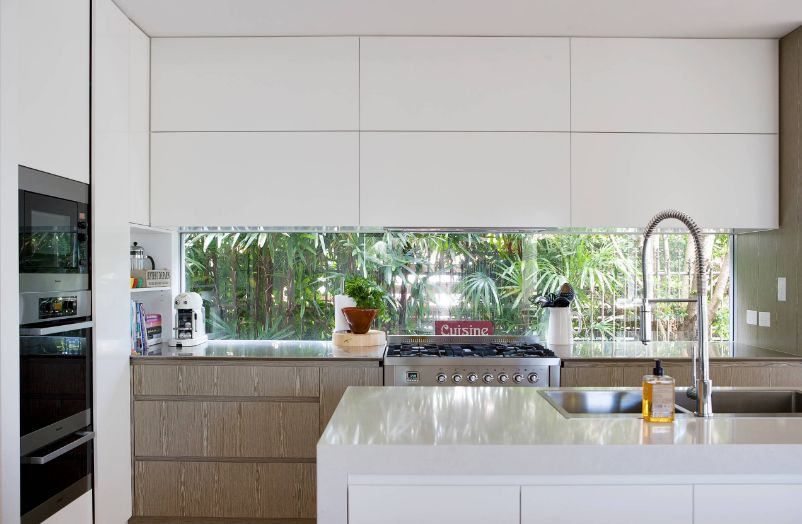 A similar approach was also chosen by DK Interiors when this modern kitchen was designed.  The window backsplash wonderfully covers the hole between the counter and the wall-mounted cabinetry, creating a really nice transition between the different colors used for the furniture.
The whole bright and spacious design approach is taken one step further by DWD that created here a kitchen that's full of charm and energy. Its dynamic look is given not only by the backsplash windows but also by the clerestory opening above the cabinets and by the bright orange shade chosen for the dining chairs.
Both the window backsplash and the skylights have a big impact on the overall design and ambiance of this contemporary kitchen. The space would have look stylish with a tiled backsplash as well but the window really gives it an edge, offering the space a more sophisticated charm. This is a design by Liebke Projects.
By opting for a window backsplash, the architects from Liquid Design gave the whole space a well-balanced and almost symmetrical appearance. The kitchen has this window on one side and sliding glass doors on the other, thus ensuring an open and bright decor throughout.
A whole new kind of openness and beauty is featured by this kitchen designed by Schwartz and Architecture. The kitchen is pretty much furnished with lower cabinetry only. One of the walls has a glass backsplash panel that also holds a series of open shelves while the adjacent wall is all windows.
A long letterbox window replaces the backsplash in this contemporary kitchen which is, believe it or not, part of an old house built in the early 1900s. The house was renovated by Bijl Architecture and got an extension as part of the same project.
The partial symmetry and coordination between the huge windows in the living area and the backsplash in the kitchen is just one of the details that make this residence so welcoming and beautiful. This was a project by Moloney Architects.