Stylish Foyer Designs And How To Decorate Your Entryway
A foyer is an interior space connecting a home's entrance to the rest of the house. The space is also known as an entrance hall, hallway, entryway, and vestibule. Entrance ways serve several functions, and namely provide added storage space.
A foyer is the first thing visitors see after they walk through your front door and enter your home. With that in mind, our objective is to provide you with the best foyer designs today. We'll also give you insight on foyer decor items that would optimize your home or apartment entryway.
The US Census Bureau's Survey of Construction (SOC) and the National Association of Home Builders (NAHB) found that new homes with a two-story foyer increased in regions that saw a decline in 2019. Today, the majority of single-family homes are built without two-story foyers.
The SOC defines a two-story foyer as the entranceway inside the front door of a house. It has a ceiling that is the same level of the second-floor ceiling. In the US, new homes with two-story foyers increased from 27 percent to almost 30 percent in 2020.
For the past ten years, homebuyers and builders didn't like foyers because they were perceived as not being energy efficient. However, and beginning in 2020, that trend reversed and foyer construction increased.
There are ways, however, for you to fake a foyer – read on!
How To Create A Foyer In An Open Living Room
An open-plan living room offers unique challenges if you decide to build a foyer. Creating an entrance way in a larger open space doesn't have to be hard. You'll need to apply tried-and-true tactics to define the living space and also add essential elements.
The entryway has it all. A staircase, table, rug, and excellent lighting. This is an example of a traditional entrance way.
Traditional Chandelier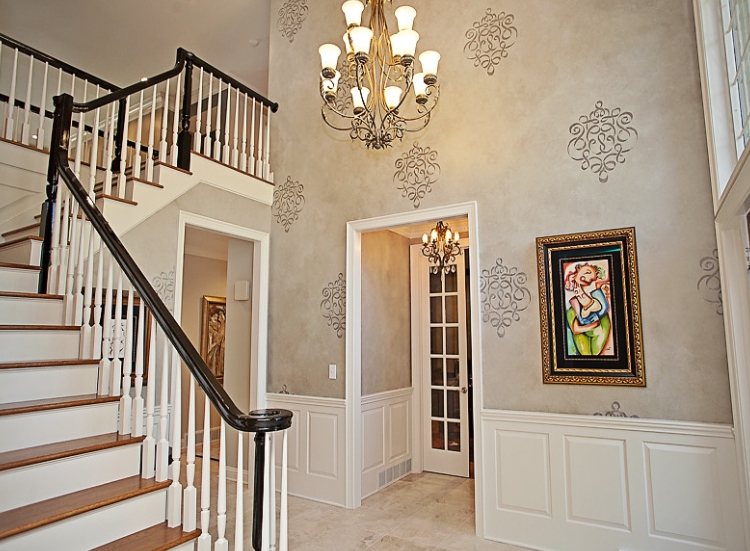 All chandeliers don't have dangling crystals, even when they are a traditional style. This foyer has a grand chandelier but without the glitz. It conveys a subtle style that fits the vibe of the house and the wall coverings.
Multiple Contemporary Tiers
For a contemporary look without a hard edge, try a Cloud chandelier. Three tiers of candelabra-style shades create a soft look that works well with neutral décor. With 45 individual lights, it's hard to miss this matte-black beauty. You don't need a sweeping staircase to have a chandelier, but it does help.
Twist On Traditional
If your living space has a mainly traditional feel but you want to bring a fresh look, a large foyer chandelier is a good element to achieve that. Choosing a style that is devoid of crystal embellishments gives the space a cleaner feel and bridges the gap between traditional elements like the paneled moldings on the walls and a zebra rug.
Intelligent Style Ideas For Your Foyer Space
Here are the latest foyer design ideas to enliven your home.
Foyer Storage
So now that you know what a foyer is or what it refers to, let's see how you can decorate this space. First of all, a foyer needs storage, and find ways to accommodate all those things without wasting floor space.
Add Carpet
When decorating a foyer, include a rug or carpet, a table, wall art, and decorative accessories such as vases for example. When choosing a rug or carpet, consider something with a pattern that adds warmth to the space.
Foyer Table
You can also add a console table or a round table. It can be placed in a corner or against a wall. Decorate the table with a vase or with candles and other accent pieces you find attractive and suitable for this space.
Wall Designs
Don't overlook the walls. A framed mirror could be perfect for the foyer but you can also decorate this space with artwork or with some DIY pieces you can craft yourself.
Choose Your Lighting
And don't forget the lighting. If the foyer has high ceilings you can hang a chandelier or a pendant light. Sconces can also be mounted on the walls in key areas such as next to the mirror.
Foyer Tile
While you may think you have to stick with traditional flooring options in your foyer, you can get creative with floor tile designs. We love this black and white tiling from Elle Décor. It creates a sophisticated yet modern foyer, which can then be decorated in any style thanks to the monochromatic color scheme.
Bright And Bold Walls
Murphy Deesign shows us how to create this small foyer area which makes a huge impact. You can take this bold wallpaper idea and apply it to a foyer of any size.
Farmhouse Style Foyer
Not all foyers have the same grand and sophisticated style, especially if you live in a rustic farmhouse-style home. Chango & Co. shares this stunning home makeover which offers a warm and rustic wooden foyer.
Table Centerpiece
So Much Better With Age completely transformed their large foyer into an area that anyone would be proud to welcome guests into. As the foyer has a large open space, the addition of the circular table in the middle of the room fills the space and offers somewhere to place decorations or flowers.
Yellow Foyer
Make your foyer pop with a bright yellow hue. Yellow is certainly a bold color to use in a foyer, but it looks fantastic in this Houston home showcase in Architectural Digest. The large entryway lends itself to a bright color, and with the sun shining in, this is a great spot to enjoy sitting in during the summer months.
Glass Foyer With View
Amity Kett offers us this beautiful home, which offers views straight from the foyer to the water behind the home. If you live close to water or a beach, take advantage of the view and offer visitors a glimpse from the comfort of your entryway.
Foyer With Glass Floor
If you have a wine cellar in your basement, you can showcase it from your foyer. All would need to do is add glass flooring. In this example, glass flooring allows guests to peak view a wine cellar below.
Statement Rug
While you may be accustomed to traditional rugs in an entryway, consider adding a statement piece. This example is from Amanda Barnes Interiors. It follows the wooden and rustic theme, and the skin is matched by the horns.
Table Guests
Adding a unique touch would be something like this mall table and chairs, as shown by Jenn Feldman Designs. After a long journey to your home, your guests will feel welcomed into the space straight away.
Large Plant
Consider adding a large plant to your home. Flowers and plants add a welcoming touch to your house and can be any shape or size to fit your space. Cullman & Kravis Associates showcases this chic downtown apartment with a sophisticated foyer.
Welcome Sign
This simple corner design is from Simple Cozy Charm. The welcoming sign and artwork could be placed in your entryway. The size of the space wouldn't matter.
Modern Mirror
Many of the homes we've featured so far have had quite traditional designs, but this modern mirror will add a fun touch to a more contemporary foyer space.
It's a Grandville Life
shares one way to present this mirror in your entryway space.
Coat Hooks
Unless you have a closet, you'll need a place to keep your clothes and outdoor clothing accessories. This simple row of hooks from Love Grows Wild blends in with the foyer while adding a practical touch to your home.
Painted Walls
Ashley Whittaker Design offers us this beautiful home entrance featuring green walls with a floral and tree design. The design extends up the staircase and will impress those who visit your home.
Unique Pottery
If there's something you've always enjoyed collecting but couldn't find a place for it, why not take advantage of your entryway? This home was decorated by Katie Ridder and showcases a collection of blue pottery items.
Benches And Tables
In most foyers, you'll find furniture, like a small a single table or a bench. The small benches designed by Thomas Pheasant add style surrounding the table.
Foyer Sculptures
A sculpture piece makes for nice entranceway decor. This example from Frank Debiasi sets the tone inside this Manhattan apartment.
Simple Foyer
Regardless of size, when designing them, it's best to keep things simple. James Michael Howard created this Hampton home's entryway that features a simple bench and table.
Modern Penthouse
S B Long Interiors offer this modern penthouse entryway that sets the tone for the entire space. The simple mirror and table against the wall add a touch of decoration without cluttering the area or ruining the minimalistic look.
Luxurious Foyer
If space and money aren't an issue, then go for elegance. This is an example of a luxurious entryway from Boca Do Lobo.
Tiny Bench
If you want to add a place to sit in your entryway, but don't have the space, add a tiny bench. Unoriginal Mom adds this fun bench which fits perfectly in the corner.
Shelving
In an apartment or smaller foyer, adding a tiny shelf instead of a table will help save space. Jenna Sue Design shows us how to use this small wooden shelf for popping your keys or phone on when you enter your home.
Elegant Foyer
Cabinets are useful storage spaces and they're also clutter-free and tidy. This sleek and elegant cabinet fits in well in this foyer design. This example is from Livspace and works well foyers of any size.
Colorful Chandelier
Tamsin Johnson offers us this wooden foyer which is offset with a colorful chandelier over the table. A chandelier can be used in any type of home and isn't just reserved for luxury homes.
Fun Patterns And Rugs
Your entryway doesn't have to be a serious or stuffy space. You could add a color splash with patterned rugs. Architectural Digest shares this lime green design that adds more color rugs.
Foyer Table
A foyer table is one of the traditional elements used to define the entryway space. The table can be as large or small as your space allows, but it is a functional addition.
Front And Center Foyer Table
If there's enough room, include a table in your entryway. The tables are usually round, but a small square or octagon piece would work too.
Central Foyer Table
Often, we think of a foyer as directly by the entry door or as an angular space. This open plan living space uses the central area between two seating areas to serve as the entryway and the round foyer table at the center defines the area nicely.
Chest or Credenza
A sneaky way to add storage to an entryway is to add a chest or credenza in place of a foyer table. This is handy in a limited or narrow space.
Narrow Console
An entry space may seem large but might not be able to accommodate a large foyer table. In these cases, a narrow console can be a godsend because it's just wide enough to hold lamps and a décor item or two.
How To Choose The Best Foyer Chandelier
A foyer chandelier is a defining element because it is large and attracts attention. Here are a few things to consider if you want to install a chandelier.
A light fixture should hang no lower than seven feet from the floor. In a standard-height room, this means no massive chandeliers.
In a two-story entryway, the fixture should hang no lower than where the bottom of the light is on the second story floor.
The diameter of the chandelier is dictated by the size of the room. Add the length and the width of the room and change it to inches. For example, A space that's 14 by 10 feet totals 24, so the maximum diameter – or width – of the chandelier is 24 inches. This can vary some, especially if the ceiling is extra high.
To figure out the optimum height of the chandelier for the space, you want two or three inches of chandelier for every foot of the room. An entryway that is 15 feet high can accommodate a chandelier that is anywhere from 30 to 45 inches tall.
Grand Chandelier
A large entryway can accommodate a much grander chandelier and this one has both crystals and understated extensions that hold candle-style lights. This particular chandelier conveys an old-fashioned vibe that is ideal for the style staircase as well as the ornate entry doors.
A large foyer chandelier is a fabulous centerpiece if you're fortunate enough to have a large are that you can define as an entryway. A big space means that you can choose a very dramatic and sprawling chandelier that really set off the space. Have fun picking a statement fixture. Not sure what to choose? Here are some ideas:
Modern Chandeliers
Chandeliers don't have to be traditional styling or tiers of glitzy dangling crystals. Choosing a modern or edge chandelier design lends style to a home while enlightening the entryway.
Tubular Chandelier
This example features no tiers or dangling decor. The space looks like a jewel. Graduated glass tubes extend down from the flush-mounted base, surrounding long lighting elements to create a cool ambiance.
Multi-Pendant Chandelier
Top-down chandeliers are common among modern styles because the array of graduated heights adds dimension but still pulls the eye upward. This Crystal Shell Custom Blown Glass Chandelier is a great example of this style. It is made up of sea-inspired glass shells that have a crackle texture.
Caged Chandelier
Another way to give the foyer chandelier a grander aura is to choose a caged style. This one features a tight collection of lights in multiple tiers but expands the feel by adding a spiraled metal cage element.
Two-Story Chandelier
Design your entranceway space with a two-story chandelier like the one in this example from Kadur. Suitable for a large entryways, multiple delicate blown glass orbs create a massive statement, defining the entryway. This type of fixture is a conversation piece as well as a welcoming element.
FAQs
How Do To Create A Foyer In An Open Living Room?
Before you do anything else, map out the area that you have to work with and decide what elements you want to incorporate.
How Do I Define The Foyer Area?
You can use several elements to define the entryway in an open-plan living room. Use a rug, the walls, seating, and lighting to create the kind of space you're looking for. You can also try turning a closet into an alcove or even marking the space by using a different color of paint.
What Elements Should A Foyer Have?
A foyer has three elements: a chandelier, rug, and table. Their size and form depend on your space. You may not have room for all three.
How Tall Should A Foyer Table Be?
Otherwise known as a console table, it should be 2.5 feet to 3 feet. The industry standard height for an entryway table is 30 inches.
How Long Should A Foyer Console Table Be?
Entryway tables or console tables are between 32 and 64 inches long, according to industry standards.
Foyer Conclusion
The foyer is the first thing visitors notice when they enter your home. Unlike a dining room, people don't spend a lot of time in entryways, so they're often overlooked. Young people may feel that the space isn't worth their attention, but that seems to be changing among first-time homebuyers.
If you have the space, build a grand entryway with a sweeping staircase. This will help your home make the best first impression possible. Other entry areas in your home do not require as much attention as a foyer. This is how important a foyer is and how it can impact your home.