What Is A Foyer And How You Can Decorate It
The term foyer describes a space that usually connects the entrance to various other rooms. However, in time it has become synonymous with the terms entrance hall, hallway, entryway, and even vestibule.
In other words, a foyer is where you welcome your guests when they enter your home, whether it's a house or an apartment.
Of course, not every home has a defined foyer space, and that can be especially true with homes that have an open plan living room: Open up the front door and you're already in the living area.
There are ways, however, for you to fake a foyer – read on!
How to create a foyer in an open living room
You may love your open-plan living room, but it can present some challenges, especially when you want to have a foyer. Creating an entryway in a larger open space doesn't have to be super challenging as long as you use some tried-and-true tactics for defining the space and adding some essential elements. If you can't have an actual foyer, you can still make it look like you do.
Map Out the Space and What You Need
While an open plan living area gives you the flexibility of deciding how much space to devote to a particular function, you don't want to waste any space either. It helps to stand in your front doorway and mark off the area you want to devote to a foyer. Take into consideration what you want the foyer area to have.
Do you need a coat rack or wall hanger?
Will visitors or family members need to have a spot for doffing their shoes?
Do you want a table where you can drop your keys, the mail or a briefcase?
Think About Foyer Organization
Is this the entrance that everyone will use or do family members mainly come through a secondary entrance? If it is your main thoroughfare into the home, you'll need to plan storage and a spot to stash school bags, coats, footwear, pet accessories or other items that need to be ready and at the door. You might need to consider adding a closet or a cabinet for these purposes.
Define the Area
Creating the illusion of having a foyer starts with defining the space within the larger area. Sure, a rug is a good start, but you can further define the foyer space with furniture. The back of a sofa, an open bookshelf or a console table can all help set up the perimeter of the foyer area.
Use rugs
The foyer is an entryway into your home and with all the. foot traffic will come moisture and dirt. You can corral the mess by having a substantial rug just inside the door, and a heavier doormat outdoors if possible. Pick a rug that's easy to clean and be sure there's room for people to set wet or dirty footwear to the side.
Use the Walls
Decorating and accessorizing the walls can also define the space as a foyer. Using artwork to create a welcoming entry or installing some decorative shelving for photos or mementos creates depth and personality right away.
Think Outside the Front Door
If you don't; have a large space to work with, it might be possible to extend your foyer space outdoors, especially if you have a covered entrance or a front porch. Even better, if the entrance has any type of vestibule, it's key to make the most of that space. Try and make a spot for some necessities outside the front door.
Can you add an umbrella stand to the front porch or front step?
Add a boot tray to a covered front step to help keep dirt outdoors.
Is there room in the vestibule for a coat rack or any type of storage?
Use Lighting to Mark the Space
Lighting can help define the foyer space but there are lots of other reasons to assess the lighting in the entryway space.
Besides having good lighting for safety and security, a well-lit foyer means that you'll be able to find everything you need as you go out the door, even when it's dark.
Good lighting is very welcoming to guests.
In an arrangement where it's not possible to add a ceiling light, be sure to use lamps or wall fixtures to add light.
Consider Adding Seating
If you have room to add a chair or bench, it's a valuable addition to a foyer. Not only is it a great spot to sit down and take off your shoes, visitors can also drop handbags or other items there. A storage bench can also be a discrete place to stash items that you need to keep handy at the front door.
Maybe Add a Mirror
A mirror is a traditional element in most foyers, but those who pay attention to feng shui will want to think before automatically adding one. If the position of the mirror will be directly across from the front door, that is not an auspicious spot, according to feng shui principles. Otherwise, a mirror in the foyer is handy to check your appearance before you head out the door for the day.
Add Some Style
It goes without saying that the foyer space you are carving out of your open plan living space needs to coordinate with the overall style of the home. Of course, you want to be sure that the entryway is stylish because it's the first thing your visitors will see.
Define the Foyer with Paint
Depending on the layout of your open plan living room, you may be able to use paint to help define the foyer space. Even if there are a lot of colors and patterns going in on the overall space, painting the foyer in a neutral can help it stand apart without being jarring. Otherwise, any color that works with your décor can do the trick. Of course, there are some color trends for foyers that can be helpful in this case:
Warm neutrals like off-white and greige.
Make a statement with a bold blue or splashy blue-green or teal hue.
Cozy neutrals like a deep gray or beige can blend easily with a range of other colors that may be in the open plan space.
Create an Alcove
Take a good look at your entryway closet. Would it be more attractive or functional as an alcove? Depending on its size and placement, removing the door and installing a cabinet, a lamp and some coat hooks could create a super functional addition.
No matter how you lay out your foyer area within the open plan space, there are three elements that are found in most entryways: a chandelier, a foyer table and a rug. Here are some great examples of how these elements can define the foyer:
Foyer Chandeliers – Pick The Proper Lighting
A foyer chandelier is a fabulous defining element because it is large and attracts so much attention. While you might love to have a massive fixture by the front door, the size of the space will determine what size foyer chandelier you can actually have.
Generally, a light fixture should hang no lower than 7 feet from the floor. IN a standard-height room, this means no massive chandeliers.
If you have a tall or pitched ceiling or a two-story space, you can have something larger.
In a two-story entryway, the fixture should hang no lower than where the bottom of the light is even with the second story floor.
The appropriate diameter of the chandelier is dictated by the size of the room. Add the length and the width of the room and change it to inches. For example, A space that's 14 by 10 feet totals 24, so the maximum diameter – or width – of the chandelier is 24 inches. This can vary some, especially if the ceiling is extra high.
To figure out the optimum height of the chandelier for the space, you want two or three inches of chandelier for every foot of the room. An entryway that is 15 feet high can accommodate a chandelier that is anywhere from 30 to 45 inches tall.
Traditional chandelier with no crystals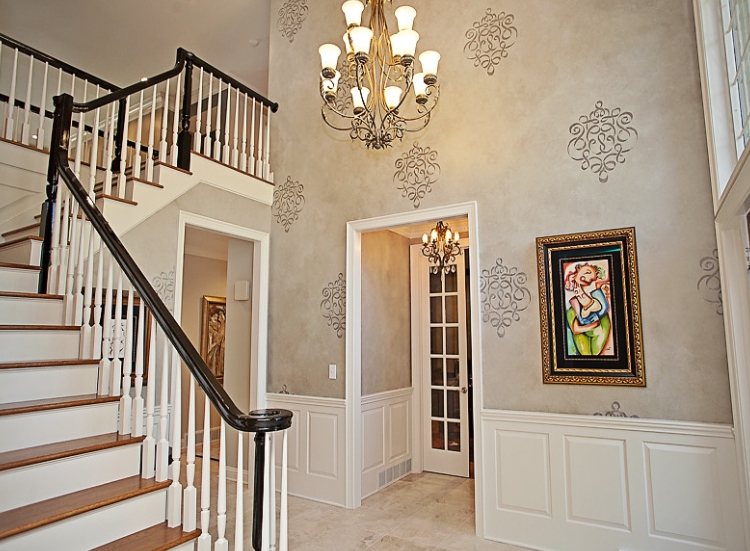 Chandeliers don't always have dandling crystals, even when they are of a traditional style. This foyer has a sizeable chandelier that is not at all glitzy and conveys a quiet style that fits the vibe of the house and the wall covering. It highlights the space nicely without grabbing all the attention.
A Grand Chandelier
A large entryway can accommodate a much grander chandelier and this one has both crystals and understated extensions that hold candle-style lights. This particular chandelier conveys an old-fashioned vibe that is ideal for the style staircase as well as the ornate entry doors.
A large foyer chandelier is a fabulous centerpiece if you're fortunate enough to have a large are that you can define as an entryway. A big space means that you can choose a very dramatic and sprawling chandelier that really set off the space. Have fun picking a statement fixture. Not sure what to choose? Here are some ideas:
Multiple Contemporary Tiers
For a contemporary look that doesn't have hard edge, choose something like this Cloud chandelier. Three tiers of candelabra-style shades create a soft look that works particularly well with neutral décor. With 45 individual lights, it's hard to miss this matte-black beauty!
A Twist on Traditional
If your living space has a mainly traditional feel but you want to bring a fresh look, a large foyer chandelier is a good element to achieve that. Choosing a style that is devoid of crystal embellishments gives the space a cleaner feel and bridges the gap between traditional elements like the paneled moldings on the walls and the more contemporary zebra rug.
A Caged Chandelier
Another way to give the foyer chandelier a grander aura is to choose a caged style. This one features a tight collection of lights in multiple tiers but expands the feel by adding a spiraled metal cage element. Doing this provides a bigger silhouette but with a lighter appeal because of the spare metal design.
Two-story chandelier
For major drama, outfit your lofty space with a two-story chandelier like this one from Kadur. Suitable for a large foyer, multiple delicate blown glass orbs create a massive statement, defining the entryway. This type of fixture is a conversation piece as well as a welcoming element.
Modern Chandeliers for the foyer
Don't think that chandeliers have to mean traditional styling or tiers of glitzy dangling crystals. Today's modern chandeliers for the foyer are definitely not your grandmother's chandelier. Choosing a modern or edge chandelier design can lend extra style to a modern home that needs to define the entryway.
Tubular Chandelier
Talk about modern design! This one features no tiers or dangling embellishments. The entire thing looks like a jewel, however, because graduated glass tubes extend downward from the flush-mounted base, surrounding long lighting elements. This draws attention fully upward instead of somewhere below the ceiling, so this style would be great for visually creating more height in the space.
Multi-Pendant Chandelier
Top-down chandeliers are common among modern styles because the array of graduated heights adds dimension but still pulls the eye upward. This Crystal Shell Custom Blown Glass Chandelier is a great example of this style. It is made up of sea-inspired glass shells that have a crackle texture. The beauty of this type of chandelier is that you can incorporate as many individual elements that you want, and at whatever lengths work for your space.
Foyer Table
As already noted, a foyer table is one of the traditional elements used to define the entryway space. The foyer table can be as large or small as your space allows, but it is a very functional addition. Even if you don't regularly go in and out the front door, it's a handy place to drop a set of keys or the mail, and a spot for guests to set something down while they remove a coat or shoes. It's also an extra spot that you can style to blend in your home's decor.
Foyer Table Front and Center
If there's enough room to do so, incorporating a foyer table in the center of the space makes it feel very grand. Typically, these are round, but a small square or octagonal style would work too. This lets you put some flowers, a sculpture or other décor element on full display. This can also make a large foyer space feel cozier.
A Central Foyer Table
Often, we think of a foyer as directly by the entry door or as an angular space. This open plan living space uses the central area between two seating areas to serve as the entryway and the round foyer table at the center defines the area nicely. The foyer table does an excellent job of drawing guests right into the living space yet creates the dedicated space that you're looking for.
Try a Foyer Chest or Credenza
A sneaky way to add storage to an entryway is to add a chest or credenza in place of a foyer table. This is particularly handy in a limited space or one that's narrow. You can stash just about anything in it and no one will be the wiser. You can style it just as you would a foyer table. A chest or credenza is also a good spot for a lamp when you don't have room for a large foyer chandelier.
A Narrow Console to the Rescue
An entry space may seem large but might not be able to accommodate a large foyer table. In these cases, a narrow console can be a godsend because it's just wide enough to hold lamps and a décor item or two. It provides the function that you need and the style that you want. This example has a top as well as a bottom ledge and it does a great job defining the foyer space.
Multiple Foyer Table Elements
A huge foyer can be both a blessing and a curse because if not styled properly, the space can feel too open and not very welcoming. Of course, you don't want to crowd it with furnishings and clutter the clean lines of the décor, but using a central foyer table and a side console shelving piece – along with a rug – makes the area feel more comfortable instead of cavernous.
Foyer Rugs
One of the main points in design is that a rug really defines a space and the foyer is certainly no exception. Foyer rugs can help stop dirt at the door, but they can also cozy up a large space or define the foyer in an open plan area. In any case, the colors and style should blend with the overall décor.
A Bright Welcome
This home has a wide-open entryway, but without the defining element of this brightly colored rug, the foyer are would be lost in the open space. The vivid hues enliven the largely white area and tie in the artworks that are found in the stairwell and other living spaces.
Go Horizontal
In this entryway, it might be tempting to position smaller rug right at the door, or turn it vertically to lead inside. Instead, the horizontal placement of this one is a definitive divider between the entryway and the living space beyond. Try out different rug placements in your own space to see what works best.
Or Maybe Vertical
In a longer entryway, try turning the foyer rug vertically. This still provides the rug at the door, but also visually pulls the eye further into the entryway space, which extends all the way to the staircase – the dividing element, along with the long console table.
Top Tips for Decorating Your Foyer
Foyers are usually spacious so there's plenty of room here for furniture and accessories. This means you'll have to make some tough choices when decorating this space. Decide what the main function of the space will be, consider your lifestyle, and figure out what the style should be.
If you are wondering what is a foyer, it's a term that's usually used to describe the entryway to a home, hotel, or theater. The foyer definition can be applied to the entryway of any space and should be a welcoming area that anyone who enters a building passes through.
Regardless of the shape and size of your foyer, there are plenty of ways to transform this space and create a welcoming first impression for your home. Even if you live in a small apartment, you can still transform a foyer to make it feel more light and airy. We always recommend adding a few statement items to your foyer, which will personalize the space and create a great first impression when someone enters your home.
As well as the larger components of decorating a foyer that we'll discover below, you also want to think about the mood and color of the area. Most foyer spaces look better with light and bright colors, which will make the area feel more spacious even if it's a small foyer.
We always recommend adding a good amount of storage in your foyer. There's nothing worse than stepping into a space to find shoes, coats, and bags all over the floor. Some simple pegs will do the trick, and a bench or small cabinet can be added to store shoes.
An entryway table is the perfect storage solution for smaller items, such as keys. It can also be a space for decoration, where you can add family photos, flowers, or ornaments to welcome guests to your home. Finally, a seat or two is always handy in your entryway, whether that's to put your shoes on or to give a visitor somewhere to rest. While some homes do have massive foyer areas, by following some of the style ideas below, you'll be able to maximize the space available to you and wow any guest that enters your home.
30 Design Ideas for Your Home's Foyer
1. Storage in Your Foyer
So now what you know what a foyer is or what it refers to, let's see how you can decorate this space. First of all, a foyer needs storage. Take into consideration everything that needs to be stored there such as coats, hats, bags, shoes, accessories, etc., and find ways to accommodate all those things without wasting floor space.
2. Add a Rug or Carpet
Other things you can use to decorate a foyer include a rug or carpet, a table, wall art, and decorative accessories such as vases for example. When choosing a rug or carpet, consider something with a pattern. Stripes are a nice option. They're simple and they'll draw guests into the house.
3. Place a Table in Your Foyer
You can also add a console table or even a round table. It can be placed in a corner or against a wall. Decorate the table with a vase or with candles and other accent pieces you find attractive and suitable for this space.
4. Don't Overlook The Walls
Don't overlook the walls. A framed mirror could be perfect for the foyer but you can also decorate this space with artwork or with some DIY pieces you can craft yourself.
5. Choose Your Lighting
And don't forget the lighting. If the foyer has high ceilings you can hang a chandelier or a pendant light. Sconces can also be mounted on the walls in key areas such as next to the mirror.
6. Opt for Tiling in Your Foyer
While you may think you have to stick with traditional flooring options in your foyer, you can get creative with floor tile designs. We love this black and white tiling from Elle Décor. It creates a sophisticated yet modern foyer, which can then be decorated in any style thanks to the monochromatic color scheme. We love the drama and impact the large chandelier and artwork add to this foyer.
7. Bright and Bold Walls
Murphy Deesign shows us how to create this small foyer area which makes a huge impact. You can take this bold wallpaper idea and apply it to a foyer of any size. As well as this unique blue and white wallpaper, we love the addition of the geometric table, which offers both a funky statement piece and a storage unit in one.
8. A Farmhouse Style Foyer
Not all foyers have the same grand and sophisticated style, especially if you live in a rustic farmhouse-style home. Chango & Co. shares this stunning home makeover which offers a warm and rustic wooden foyer. The long and narrow foyer features dark wooden flooring, which gives warmth to the entryway and provides a contrast to the bright white walls.
9. A Table Centerpiece
So Much Better With Age completely transformed their large foyer into an area that anyone would be proud to welcome guests into. As the foyer has a large open space, the addition of the circular table in the middle of the room fills the space and offers somewhere to place decorations or flowers. When you have a huge empty foyer, it can sometimes feel a little intimidating for visitors, so this is the perfect way to make the area feel a little more homely.
10. A Sunny Yellow Foyer
Make your foyer pop with a bright yellow hue. Yellow is certainly a bold color to use in a foyer, but it looks fantastic in this Houston home showcase in Architectural Digest. The large entryway lends itself to a bright color, and with the sun shining in, this is a great spot to enjoy sitting in during the summer months. Yellow goes well with a more neutral floor color, and these simple tiles finish off the foyer perfectly.
11. A Glass Foyer with a View
Amity Kett offers us this beautiful home, which offers views straight from the foyer to the water behind the home. If you are lucky enough to live near the water or the beach, take advantage of this and offer visitors a glimpse of your view from the moment they enter your home. Opt for an open-plan arrangement or glass windows and doors to offer a clear view of the water ahead of you.
12. A Refreshing Green Foyer
We showcased a yellow foyer above, but how about adding a cooling green color to your home? The glass flooring looks straight down to the wine cellar, so you are bound to impress any guests you have over for dinner in your home.
13. A Statement Rug
While you are probably used to seeing a regular rug in a foyer, consider adding a statement piece, such as the one in this home from Amanda Barnes Interiors. It sticks with the wooden and rustic theming, and the skin is matched by the horns around the home. Of course, you can find faux fur or animal skin today, which is a much better option for most people.
14. A Table For Your Guests
Add a unique touch to your foyer with this small table and chairs, as shown by Jenn Feldman Designs. After a long journey to your home, your guests will feel welcomed into the space straight away. If you are having a dinner party, this would be a fun place to have pre-dinner drinks before continuing to the dining table for the main event.
15. A Large Plant
If you benefit from a large foyer space, consider adding a large plant to your home. Flowers and plants add a welcoming touch to your house and can be any shape or size to fit your space. Cullman & Kravis Associates showcases this chic downtown apartment with a sophisticated foyer that is brightened up with the large plant on the cabinet.
16. A Welcome Sign
We love this simple yet effective corner of the foyer in this home by Simple Cozy Charm. The welcoming sign and artwork could be placed in a foyer of any shape or size and will give your guests something to smile about when they enter your home this year.
17. A Modern Mirror
Many of the homes we've featured so far have had quite traditional designs, but this modern mirror will add a fun touch to a more contemporary foyer space. Regardless of the size of your foyer, it can be hung on the wall or placed on a table to add some light and a handy item to your foyer. It's a Grandville Life shares just one way to present this mirror in your foyer.
18. Hooks for Your Coats
Unless you are lucky enough to have a closet right off your foyer, you'll need somewhere to store your clothing and accessories. This simple row of hooks from Love Grows Wild blends in well with the foyer yet adds a practical touch to any home. There's also a great hidden shoe storage rack underneath the bench which will help avoid anyone tripping over shoes when they enter your home.
19. Stunning Painted Walls
Ashley Whittaker Design offers us this beautiful home foyer which has green painted walls with a floral and tree design. The design stretches all the way up the staircase and will impress anyone who enters your foyer. Of course, you don't need to have such a grand home to recreate this look, and you could achieve this on a smaller scale in any home.
20. A Unique Collection of Pottery
If there's something you've always enjoyed collecting but never knew where to place it in your home, why not add it to your foyer? This home that was decorated by Katie Ridder showcases a huge collection of blue pottery items. Placed high on the wall, it creates a unique pattern and is very welcoming to the home.
21. Foyer Benches and Tables
In many foyers, you'll find a collection of furniture, whether that's a single table or a couple of chairs. We love these small benches that Thomas Pheasant has added around the table in this foyer. The pretty plant in the center of the foyer adds an eye-catching centerpiece that will add a splash of color in this foyer.
22. Add a Sculpture to Your Foyer
For a really grand addition to any home, add a sculpture to your foyer decor. This sculpture in this home from Frank Debiasi sets the tone for this Manhattan apartment, which, as you can imagine, is just as grand as the entryway itself. Choose a sculpture or piece of artwork that fits your home decor and personal style.
23. A Simple Yet Stylish Foyer
Regardless of the size of your foyer or home, we always recommend trying to keep things nice and simple. James Michael Howard showcases this Hampton home's foyer, which has a simple bench and table. At the end of the foyer, you'll find a unique mirror that doubles up as a piece of artwork for the space.
24. A Modern Penthouse Foyer
S B Long Interiors offers us this modern penthouse which has a foyer that sets the tone for the space. The simple mirror and table against the wall add a touch of decoration without cluttering up the area or ruining the minimalistic look.
25. A Luxury Foyer
If money is no issue when redecorating your foyer, taking inspiration from this luxurious foyer from Boca Do Lobo. There are so many incredible features in this foyer, all of which your guests will love admiring as they enter the space. We particularly love the large mirrors on the wall, which add even more light to the foyer decor.
26. Add a Tiny Bench
If you want to add somewhere to sit in your foyer but are short of space or don't want to clutter up the area, add a tiny bench. Unoriginal Mom adds this fun tiny bench that slots perfectly into the corner of the foyer. In a large foyer, you would barely notice this addition, yet it will give you somewhere to sit and put on your shoes before heading out for the day.
27. Shelving Instead of a Table
In an apartment or a smaller foyer, adding a small shelf instead of a table is a great way to save space. Jenna Sue Design shows us how to use this small wooden shelf that is perfect for popping your keys or phone on when you enter your home. This could also work in a large foyer where you don't want to clutter up the central space with a table.
28. An Elegant Foyer
Cabinets are so useful for keeping a foyer clutter-free and tidy, and this sleek and elegant cabinet fits in perfectly in this foyer. You'll enjoy plenty of storage space and surfaces to place decorations or mail in your entryway. Livspace shares the completed project which would work well in a foyer of any size.
29. A Colorful Chandelier
Tamsin Johnson offers us this wooden foyer which is offset with a colorful chandelier over the table. A chandelier can be used in any type of home and isn't just reserved for luxury homes. The rustic look in this foyer works really well with the chandelier, which adds a hint of color and style to the space.
30. Fun Patterns and Rugs
Your foyer doesn't have to be a serious or stuffy room in your home, so why not add a splash of color with patterned rugs. Architectural Digest shares this fun lime green foyer that adds even more color with the rugs. To finish things off, you have the practical addition of the chairs and table.
FAQ
How do I create a foyer in an open living room?
Before you do anything else, map out the area that you have to work with and decide what elements you want to incorporate.
How do I define the foyer area?
You can use a number of elements to define the foyer in an open-plan living room. Use a rug, the walls, seating and lighting to create the kind of space you're looking for. You can also try turning a closet into an alcove or even marking the space by using a different color of paint. Last but not least, think outside the front door to claim any additional space that can be useful, such as a vestibule, front step or porch area.
What elements does a foyer need to have?
Traditionally, a foyer has three elements: A chandelier, a rug and a foyer table. The exact size and form that these take in your own space will vary and you might not be able to have all three. That said, you want good lighting to be welcoming as well as safe; a rug to help keep dirt and moisture from entering the home, and a table for function and style.
Conclusion
By now, you know the foyer meaning and that it's the first place that any visitor to your home sees and should offer them a glimpse into your home and your personal style.
Take the time to incorporate a few of these elements into your foyer decor. Regardless of whether you have a tiny apartment foyer or a magnificent entryway in your home, these tips can all be applied to make your foyer somewhere you are proud to show off to your friends and family.