What You Need To Know About Victorian Style Homes
As you drive around the historic neighborhoods of American cities and towns, you'll see a lot of old houses. Big windows peer out at you, some with curtains and some without. Large trees will shade the front yard, kept and overgrown flowerbeds alike. There might be a young family drawing with chalk along the sidewalk or an old couple sitting on the porch swing. Or you might find missing shingles and chipping paint. But no matter what shape the houses are in in these idyllic neighborhoods, someone will inevitably tell you that these houses are Victorian.
At first you might nod in agreement but have you never noticed how so many houses labeled "Victorian" look so dissimilar? There is a reason for that. It turns out that there is no one particular "Victorian style"! Homes built between 1840 and 1900 are called Victorian due to the time period but depending on the style, they also have another subcategory. There are ten of these subcategories for Victorian homes so let's peruse them one at a time. Then you'll be able to give your friends the correct style of an old home next time you're cruising through a historic neighborhood.
Victorian Style renovations and extensions
Victorian house in Aspen
This beautiful Victorian house from Aspen, Colorado was originally built in the 1880s. It has been kept in good shape over the years and recently the owners wanted to add an extension to it. They collaborated with studio CCY Architects and the primary goal was to add a music room. The design that they came up with for this new section is themed around that, featuring a perforated metal facade. The extension is a standalone structure with a design similar to that of the original house. It has a gabled roof and similarly-sized windows the element that sets it apart is the facade with lets light filter in on three sides.
The Coach House – London Extension
Somewhere in New Cross, London there's a very peculiar little building which was designed by studio Selencky Parsons. It's a very slender structure nestled between two existing houses and it occupies a small site that used to be a parking space for carriages during the Victorian era. The design is inspired by that of the neighboring houses, with a brick facade. The tall and narrow front section extends at the back and opens into an L-shaped living area with access to a garden.
Black-stained timber extension
The strategy here was not to renovate an original structure but rather to build on top of it. We're talking about a modern extension on top of a former Victorian warehouse located in London. It's a project completed by Simon Conder Associates. The extension features a style very different from that of the existing warehouse but it fits into the context of the industrial area that surrounds it. It's tall, minimalist and black and its exterior walls are made of lightweight, super-insulated timber panels. A lot of the elements were prefabricated off-site and then transported and installed here in sections which helped to reduce the construction time and the disruption on the site.
Victorian home in Toronto
Another amazing Victorian house from Toronto has been transformed by studio +tongtong and this time the extension has a strikingly modern aesthetic. The overall goal of the project was to enlarge the existing house and to modernize it but in a way that respected the local surroundings. The architects focused a lot on using natural materials and creating a light-filled interior. They used grey and black zinc panels to add a contemporary vibe to the design and introduced large windows and extensive glazing on the street-facing facade.
Dilapidated Victorian coach house conversion
An old and dilapidated Victorian house from Birmingham, England was recently renovated and also extended by studio Intervention Architecture. The goal of this project was to transform the building into a place that can be used both as a home and a workspace for its owner who is a writer. The biggest challenge was making the interior look and feel spacious and bright given the reduced dimensions as well as the fact that Victorian houses are pretty closed off and don't have huge windows like modern homes do. Nevertheless, it was a successful transformation with lots of elements to take inspiration from.
350-square-metre house by Delvendahl Martin Architects
Here's not just one but two Victorian houses in England that were transformed a few years ago. The project was conducted by studio Delvendahl Martin Architects and aimed to connect two semi-detached houses in order to create a large family home. The new house that resulted from this transformation preserves a lot of the original design elements and adds a series of modern elements to it, like the large central space which has full-height windows and an open floor plan. This extension was built using brick and glass and connects the two sides of the building giving it asymmetrical look.
Refurbished and expanded a gabled-roof dwelling in San Francisco
This project in set in San Francisco where studio Edmonds + Lee worked on the refurbishment and expansion of a gable house originally built in 1908. The building is situated on a long and narrow site which made it challenging to expand the existing floor plan and to create large and open spaces. Throughout the transformation, the exterior of the house at the front remained pretty much intact, only getting a new coat of paint. At the back, however, a new volume was added. It houses a series of new rooms connected by a staircase. The new interior design is minimalist, modern and infused with lots of bright colors neutral finishes.
Uk Victorian house extension by designed by Simon Astridge
A Victorian house from London was refurbished and extended by Simon Astridge and the project aimed to reveal some of the original design and architecture elements of the existing house and to create an extension that shares similarities with it but also a more modern and simplified aesthetic. Simple materials and finishes were used throughout which puts more emphasis on the house as a whole rather than individual details. The extension is positioned at the back of the house and is a single-story volume with a white brick exterior and a large circular window. The interior is bright, cozy and inviting with lots of natural wood, exposed brick and a selection of soft and pleasant accent colors.
Victorian schoolhouse into the cinema for an English town
Another really project was done by Jonathan Dunn Architects. They were asked to work on a Victorian school building and to transform it into a cinema. The structure is located in Rye, England and the new name that it was given is The Kino. It's now a space that hosts live theatre events, ballet, opera, screenings of films, sports events and other cool things. In addition to transforming the existing school building, the architects also added an extension at the back. It's a gallery space designed to serve as a space for art exhibitions. Both the interior and exterior of the building went through changes. On the outside, the architects repaired the original red brickwork and roof tiles and they used timber cladding for the extension as a way to set it apart.
Refurbishment and remodelling by architecture studio Haptic
Studio Haptic also worked on an amazing project which was set in London. The task was to renovate and expand a semi-detached Victorian house. There are two new extensions and one is placed in the garden and adds a new open-space kitchen and dining area. The other is a guest area. Both these volumes are clad with untreated larch wood that gets a gray patina over time, allowing the facades to age and to better blend in with their surroundings as time passes. Their interiors are bery bright and airy, featuring large skylights and white walls and ceilings.
Victorian Style Homes – How to Decorate
1890's Victorian cottage
A house that's very old is not necessarily beyond any hope of being restored. In fact, age adds character to a building. Take this house for example. It's a Victorian cottage from the 1890s located in London, England. As you can see, it has a modern and very stylish interior and that's because studio All & Nxthing did a complete remodel and transformed the whole place. They aimed to create a new layout and also to extend the original dilapidated cottage but to keep its spirit and original character alive. Exposed beams, concrete floors and a wood-burning fireplace create a cozy atmosphere while also blending the old and the new in a pleasant manner.
Victorian farmhouse in Georgia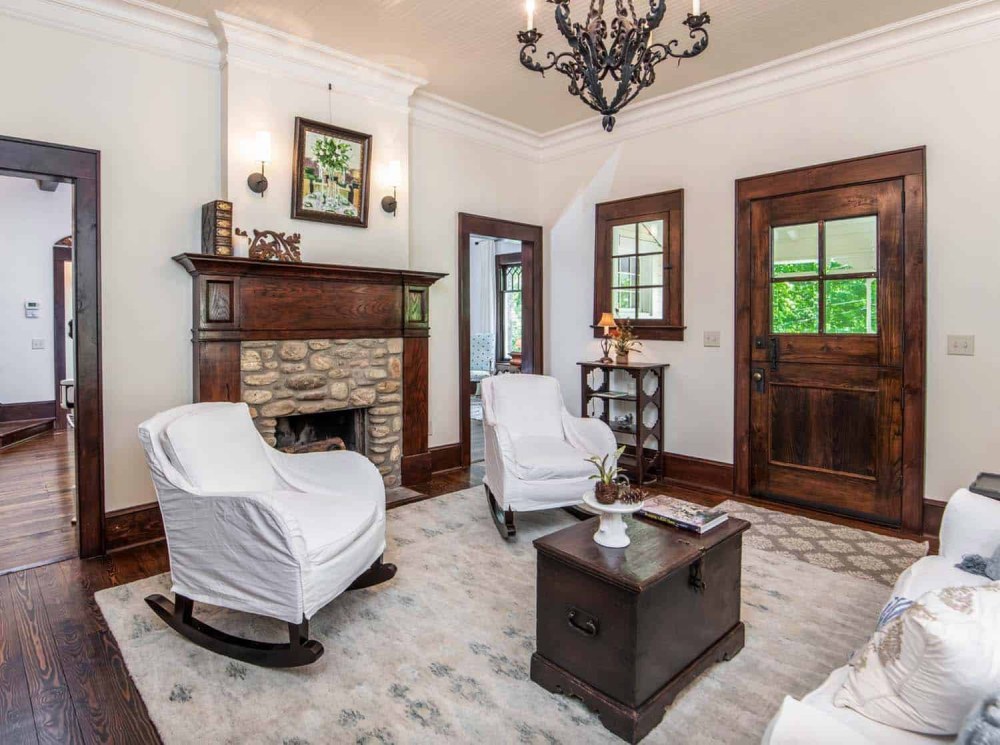 Another inspiring transformation was done by studio Living Stone Design + Build. They renovated a Victorian farmhouse located in Atlanta, Georgia, a beautiful structure on two levels with a lot of charm and character. The design is a mix of old and new details using a combination of materials that suits both the original style and the new look. The stone stairs and wooden Dutch door highlight the entrance porch and also capture the essence of the interior design which also makes use of these two beautiful materials. Inside the décor and ambiance are very warm and cozy with a big emphasis being placed on texture.
Victorian home in Noe Valley
This classic Victorian home from San Francisco got a beautiful makeover by studio Feldman Architecture and the main goal throughout the project was to preserve and respect the original character of the building. At the same time, the architects aimed to refresh and add a modern touch to the house, to make it brighter and more airy as well as practical. A few modifications were made to the interior. A series of internal walls were removed in order to create an open social area comprised of the kitchen, dining area and family room. This space also has access to a deck and sliding doors easily connect the indoor and outdoor areas.
Small Victorian home Decor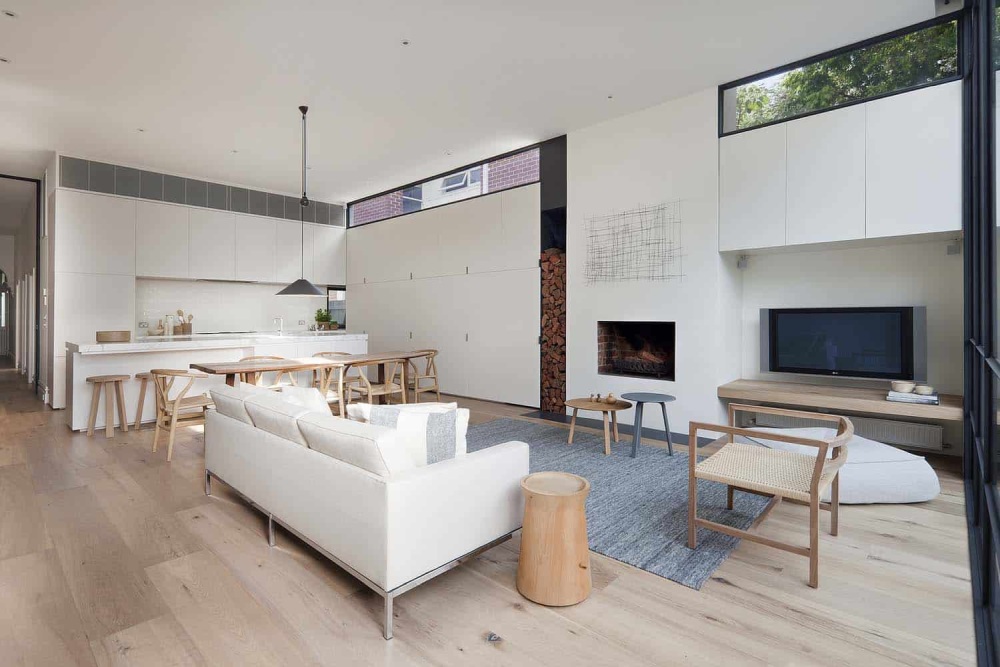 Many old Victorian houses have beautiful designs but their interiors are not as bright and open as many modern and contemporary homes do. That can make them feel very dark in comparison. This is one of the issues tackled by studio Robson Rak Architects. When working on the renovation of this Victorian house from Melbourne they created a new floor plan, one that's more open and airy and they also created a glass wall at the back which lets lots of natural light inside. The house is small and only measures 150 square meters which makes these changes that much more beneficial.
The Jewellery Box Extension by Michael Collins Architect
Adding extensions to old structures is always challenging. Blending the old with the new is difficult and sometimes a strong contrast between the styles can look both refreshing and interesting. One such example is a project done by Michael Collins Architect. An extension was added to a Victorian terrace from the 19th century in London. It's a 50 square meter volume with a simple and contemporary design and a dark exterior that contrasts with the original facade. It appears small from the outside but it feels very open and spacious on the inside. The eclectic design gives it a lot of character especially with this unusual color palette.
Italianate Style
Heading the front of the Victorian era were the Italianate style homes. Inspired by the villas of Italy, these houses had low roofs with wide eaves. Some of the more traditional homes had towering columns or posts on the front porch and almost always, you could find ornamental brackets tucked against the eaves. If you got really lucky, your Italianate home would have a tower off the top, whispering of the forgone Italian belvedere. A house like this would expect you to serve bread and cheese at every meal, preferably on the veranda.
Gothic Revival Style
Around the same time period, the Gothic Revival style was also popular. Architects drew from Medieval styles like pointed windows, towers and decorative details. Some of these homes looked like miniature castles, worthy of Count Dracula himself. And while you can find homes in this style, you can easily find Gothic Revival churches. Famous buildings like Cathedral Church of St. John the Divine in New York City and Trinity Church in Boston are all wonderful examples of the style.
Queen Anne Style
Remember that house in the old neighborhood that you practically drooled over? It was probably a Queen Anne style home. These stately houses were popularized in the 1870's by Scottish architect Norman Shaw. Deep sprawling porches invited you to sit for some lemonade in the summertime. Towers softened the corners of the home and white trim gave a charming air detail to the rest. Some say that it was the uniqueness of the Queen Anne style that kickstarted the Arts and Crafts Movement.
Folk Style
The vast majority of houses in America's historic neighborhoods can be categorized as Folk style. Basically, the architects took a classic farmhouse and added Victorian elements from other styles to make it fit with the time period. You'll usually find the large windows, borrowed from the Gothic Revival. Maybe you'll get some fancy woodwork, inspired by an Eastlake. But no matter what details were thrown on top, underneath you'll discover a sturdy, practical home that works for modern families as well as the ones gone by.
Shingle Style
What do you do when it's hot and humid where you live? You go stay at your vacation home. Or at least that's what the rich did back in the 1870's. Shingle style homes were built mostly in coastal areas and served as escapes for the rich of America. Eschewing details and frippery, you won't find the usual decorative accents of Victorian homes here. Covered in shingles, these dwellings made an austere appearance but they were definitely more informal than your average neighborhood Victorian. Just where you want to go when its one hundred degrees and sticky outside.
Stick Style
If regular trim wasn't enough, by the 1890's, architects were using wood to create patterns and designs on the exterior of a Victorian home. Called stickwork, the style was created to mimic the half timbered Tudor homes of the time. Usually you wouldn't just find a grid though. The stickwork on these Stick style houses was elaborate, adding pattern and texture to an otherwise plain home. It made sense that the lines between styles blurred because you might see this pattern mixed with towers or Gothic elements.
Mansard Style
While a first glance might tell you it's an Italianate style house, you'll quickly change your mind if you look up. Mansard style houses all got their label from the roof. Also called Second Empire style, the roofs on these dwellings are high and double pitched. Those that live there consider their shingles extra carefully because they will definitely be noticed. They might also have dormer windows that allude to a third storey since these tall roofs made vertical additions easy.
Richardsonian Style
When they needed a scary house in the old films, they would often find themselves a Richardsonian style home to work with. These big houses built from stone resembled tiny castles. Though much plainer than their Gothic counterparts, these homes were no less intimidating. It might be why architects commonly used the style on public buildings like churches, hospitals and museums. You might even recognize the style from your own town's courthouse.
Eastlake Style
Another style that blurred the lines of Victorian homes is the Eastlake style home. Invented by Charles Eastlake, this style is all about the details. Fancy woodwork around the porch of a Victorian house. Pattern at the eaves and spindle supports. Everything about it speaks lavishly of the home inside but stripped away, you'd find a Queen Anne style or Folk style home.
Octagonal Style
In the mid 1850's, architects were building eight sided homes, the Octagonal style. For some reason, it was assumed that an eight sided home would give the interior better light and ventilation. Why? Who knows. But there is often a porch that wraps around the entire house and you have to admit, an eight sided house gives you twice as much opportunity for landscaping. These houses are rare as their popularity was fleeting and they are a lovely reminder of the ingenuity and skill of Victorian architects.