Victorian Style House: Preserving Old-World Residential Architecture
The Victorian style house is a classic US architectural style. Victorian homes feature box sash windows, steep pitched roofs, narrow staircases, and large front porches. The homes are in demand as home buyers enjoy their historical roots.
In 2021, according to Realtor.com, interest in Victorian and Edwardian homes in San Francisco were up 80 percent year-to-year. Victorian homes in the US are representative of the Late Victorian Period, which began after the Civil War and ended shortly at the beginning of the 20th century.
Victorian House Renovations
Here are a few examples of how Victorian style homes have been preserved over the years.
Gothic Revival
They collaborated with studio CCY Architects and the goal was to add a music room. The design that they came up with features a perforated metal facade.
Gabled Roofs
The Victorian house built in Aspen, Colorado is from the 1880s. It has a gabled roof and similarly-sized windows.
Low Roofs
In New Cross, London this building was designed by studio Selencky Parsons.
Outdoor Space
A slender structure nestled between two existing houses, it occupies a small site that used to be a parking space for carriages during the Victorian Era. The design is inspired by that of the neighboring houses, with a brick facade.
Towers Turrets
Many Victorian homes feature three stories. Located in Toronto, this example was designed by Studio +tongtong.
Top Floor Plans
After the roof line is established, a Victorian home renovation will consist of two or three stories.
Interior Victorian Style
The new design preserved much of the original elements and adds a series of modern elements to it.
Narrow Stairwell
An interior design feature of Victorian architecture is the narrow staircase. Another feature is how the homes are three stories tall. The large central space has full-height windows and an open floor plan.
This extension was built using brick and glass and connects the two sides of the building giving it asymmetrical look.
Steep-Pitched Roofs
The most common types of Victorian floor plans include three stories. For example, this San Francisco project where studio Edmonds + Lee worked on the refurbishment and expansion of a gable house built-in 1908.
Victorian Kitchen Layout
The front exterior remained intact. Only one coat of paint was applied. However, more work was added to the back. Today, the Victorian home holds a series of new rooms connected to a staircase.
The new interior design is minimalist, modern, and infused with bright colors and neutral finishes.
Modern Victorian Kitchen
The project aimed to reveal some of the original design and architectural elements of the existing house.
Casual Victorian Living Room
Simple materials and finishes were used throughout which puts more emphasis on the house as a whole rather than individual details.
UK Victorian Schoolhouse
This project is from Jonathan Dunn Architects. They were asked to work on a Victorian school building and transform it into a cinema.
Located in Rye, England, the home is known as The Kino. The structure is a space that hosts live theatre events, ballet, opera, screenings of films, sports events, and other cool things.
In addition to transforming the existing school building, the architects also added an extension at the back.
Pendant Lighting
It's a gallery space designed to serve as a space for art exhibitions. Both the interior and exterior of the building went through changes.
Minimalist Design
The renovation was centered on a semi-detached Victorian house. Two new extensions were placed in the garden, adding a new open-space kitchen and dining area. Efficiency and support are the underlying themes for this kitchen design.
A second guest area clad with untreated larch wood offers a gray patina. The interiors are bright and airy, featuring large skylights, white walls, and high ceilings.
Victorian Cottage
In this example, a modern and stylish brick renovation was designed by studio All & Nxthing.
Kitchen Contrasts
Southern Victorian Farmhouse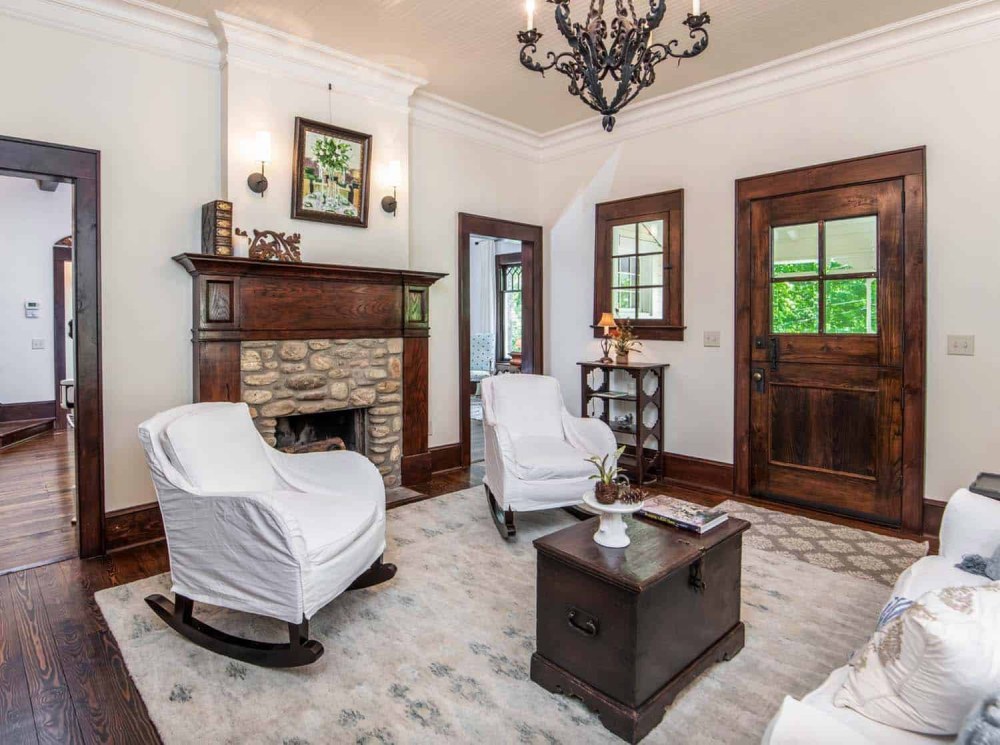 Another inspiring transformation was done by studio Living Stone Design + Build. The stone stairs and wooden Dutch door highlight the front entrance porch.
They renovated a Victorian farmhouse located in Atlanta, Georgia, a beautiful structure on two levels with a lot of charm and character.
The design is a mix of old and new details using a combination of materials that suits both the original style and the new look.
The interior décor and ambiance create a setting steeped in Old World designs.
Noe Valley Victorian Home
In this example, a San Francisco Victorian home was given a makeover by Feldman Architecture.
The goal was to preserve the original character of the building.
At the same time, the architects aimed to refresh and add a modern touch to the house, to make it brighter and more airy as well as practical.
A few modifications were made to the interior. A series of internal walls were removed in order to create an open social area comprised of the kitchen, dining area, and family room.
High Ceilings
High ceilings are influenced by Victorian architecture. In this example, the bedroom takes advantage of the natural source.
Victorian Dual Chimney
This is one of the issues tackled by studio Robson Rak Architects.
Many old Victorian houses have beautiful designs but their interiors are not as bright and open as many modern and contemporary homes do.
When working on the renovation of this Victorian house from Melbourne they created a new floor plan.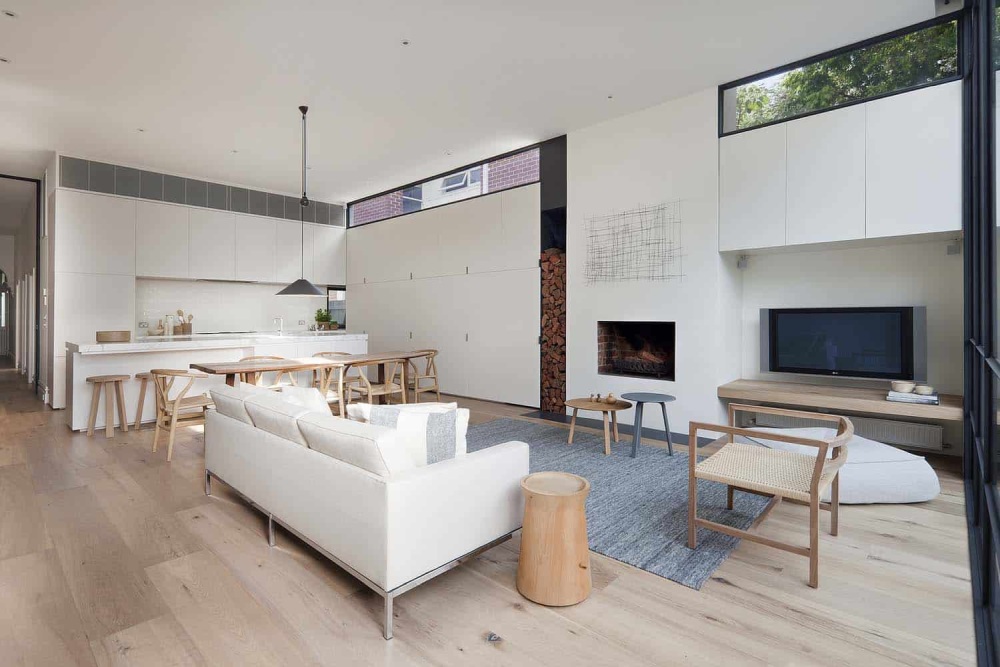 The floor plan is open and airy, while a glass wall in the back serves as a natural light source.
The house is small and only measures 150 square meters which makes these changes that much more beneficial.
Jewelry Box Extension
This example is from Michael Collins Architect.
Adding extensions to old structures is always challenging.
Blending the old with the new is difficult and sometimes a strong contrast between the styles can look both refreshing and interesting.
Italianate Home Style
Heading the front of the Victorian era were the Italianate style homes. Inspired by the villas of Italy, these houses had low roofs with wide eaves.
Gothic Revival Style
Around the same time period, the Gothic Revival style was also popular.
Architects drew from Medieval styles like pointed windows, towers, and decorative details. Some of these homes looked like miniature castles, worthy of Count Dracula himself.
And while you can find homes in this style, you can easily find Gothic Revival churches. Famous buildings like Cathedral Church of St. John the Divine in New York City and Trinity Church in Boston are all wonderful examples of the style.
Queen Anne Homes
A Queen Anne home featurs large porches and bay windows.
Queen Anne style homes were popular in the 1870's thanks to Scottish architect Norman Shaw.
Folk Home Style
The vast majority of houses in America's historic neighborhoods can be categorized as Folk style.
The architects took a classic farmhouse and added Victorian elements from other house styles to make it fit with the time period.
Cape Cod Victorian
You'll find the large windows, borrowed from the Gothic Revival. Maybe you'll get some fancy woodwork, inspired by an Eastlake.
Shingle Style
Modern Cape Cod
View in gallery
Other Victorian styles include shingle homes. They were built in coastal areas and served as weekend escapes. Covered in shingles, these dwellings made an austere appearance but they were more informal than your average neighborhood Victorian.
Stick Style Houses
Stick Style houses feature heavy exterior wood trim and tall windows. The style emerged in the late 19th Century.
Emlen Physick Estate
The Emlen Physick Estate in Cape May, New Jersey is a classic Victorian home. Notice the large stick brackets on the front porch. Upside down chimneys and jerkinhead dormers complement the roof's style.
A jerkinhead roof features gable and hip roof styles. Often, a clipped slope on one or both sides.
Contemporary Paneling
The Howard and Kate Mather house in Galveston, Texas is a Victorian home with half-timbered bay windows. When looking at the home, one thinks of a Swiss chalet.
Queen Anne Home Style
At the end of the 19th century, architects were using wood to create patterns and designs on the exterior of a Victorian home. Called stickwork, the style was created to mimic the half timbered Tudor homes of the time.
Victorian homes feature mansard roofs. A mansard roof has four sides and double slopes.
Richardsonian Style
Located in Chicago, this Historic Landmark Greystone was renovated in 2015. Featuring reclaimed brick pavers and Magnolia trees, this Victorian style house is a testament to the architectural style.
When they needed a scary house in the old films, they would often find themselves a Richardsonian style home to work with. These big houses built from stone resembled tiny castles.
Eastlake Style
J. Milton Carson House
View in gallery
This is a classic example of the Queen Anne style.
Another style that blurred the lines of Victorian homes is the Eastlake style home. Invented by Charles Eastlake, this style is all about the details. Fancy woodwork around the porch of a Victorian house. Pattern at the eaves and spindle supports.
Octagonal Style
The Octagon House in Watertown, Wisconsin has defining features include rounded towers and tall, narrow windows.
In the mid 1850's, it was believed that an eight sided home would provide more interior light and better ventilation.
Frequently Asked Questions (FAQ)
FAQ
What Is A Small Victorian House Called?
Folk Victorians emerged after small homes started featuring elements of Victorian architecture. The homes were decorated with pre-fabricated decor. Folk Victorian homes rely on an easy floor plan rather that the complex architectural elements indicative of the era.
Are Victorian Homes Expensive?
A typical Victorian home is a little cheaper upfront, but the cost to maintain it is more expensive than a regular home. The maintenance that comes with owning a Victorian home is turn-off for some homebuyers. If you don't have the extra money, then don't do it.
Which US City Has The Most Victorian Houses?
In the US, Old Louisville, Kentucky, has the most Victorian houses nationwide. The suburb was founded in the 1870s, and was almost 50 city blocks long.
What Was Victorian Architecture Inspired By?
The Victorian style borrows heavily from Gothic architecture. It also infuses European and Egyptian style elements. 
Why Are Victorian Stairs So Dangerous?
Staircases in Victorian homes are narrow and steep, and often uneven steps. A Victorian style house feature three stories, which means three flights of narrow stairs. The pointed arches are another hazard that make the homes dangerous.
Victorian Style House Conclusion
A typical Victorian home will feature Romanesque revival style architecture. In the US, some homes feature mansard roofs. Also, a few defining features include gabled roofs, rounded towers, and large windows.
"For the last 10-12 years during the massive economic boom here, houses were in such demand that you had people buying Victorians, painting them a solid dark gray and stripping out the interiors in an effort to modernize the appearance of a house that they obviously didn't like that much," said Lynne Rutter, a decorative painter
US residential home styles vary across the country's landscape. Here are other types of exterior house styles.