Italianate Architecture Style – The Picturesque Aesthetic
Italianate architecture is a type of classical architecture with influences from the 16th-century Italian Renaissance Style, Tuscan farmhouses, and the picturesque aesthetic.
Debuting in Britain in 1802, the popularity of Italianate architecture spread through Northern Europe, the United States, and Australia before declining in the 1870s.
While ornate, Italianate architecture wasn't only for mansions – this style spanned through the city and country, taking on urban homes and farmhouses.
Italianate Architecture Characteristics
Most Italianate-style houses range from 2-4 stories and look like tall rectangles. They feature low-sloped roofs (flat or hipped) with overhanging eaves, decorative brackets, and corbels. The windows are tall and slim, most with rounded tops. Rather than shutters, the windows have thick trim.
Decorative columns support a first-story porch and lead to a double-door entrance. In addition, some Italianate-style homes feature belvederes – square tower-like sections above the roofline, allowing for increased light and ventilation.
The most popular color scheme for Italianate architecture includes hues of natural stone, straw, and other warm, soft neutrals. The window and door trim is a darker contrast to the siding.
Italianate Architecture Materials
The exterior of Italianate architecture is brick, stone, or stucco. Detailing such as columns and corbels are wood. Cast iron windows, doors, and other accents adorn these homes.
---
The History of Italianate Architecture
Architect John Nash developed the first Italianate villa in 1802. The estate, known as Cronkhill, is located in Shropshire, England. It features two stories and looks like a rectangle with two circular towers. It has tall rounded windows and a light stucco exterior.
In the 1830s British architect Sir Charles Barry began incorporating Italianate architecture into his buildings, further popularizing the aesthetic.
From the early 1800s to the 1850s Italianate architecture was dominant in England and Wales. Then, in the 1850s, Elizabethan, Tudor, and Gothic took over as the most favored styles.
In the 1840s, the Italianate Revival style architecture spread to the United States thanks to architect Alexander Jackson Davis. He designed a home for then-North Carolina governor John Motley Morehead called the Blandwood mansion. Not long after, other U.S. architects adopted similar designs.
The Italianate style took hold in Cincinnati, Oh, Newport, KY, Brooklyn Heights, NY, San Francisco, and Washington D.C. You can still find many Italianate-inspired homes in these areas.
Then, in the 1870s, Queen Anne and Colonial Revival styles ramped in popularity, phasing out Italianate architecture.
---
Italianate Architecture: The Interior
In a time of classical architecture and rigid floor plans, the Italianate style shook things up with its asymmetrical layout. The first floor contained all general living areas and was known as a piano noble or main floor. Bedrooms were on the upper levels.
As part of the Victorian era, Italianate architecture features many embellishments. Expect to find carved trim, mantels with elaborate designs, ceiling medallions, chandeliers, and arched doorways.
Rather than hardwood floors, these homes often have multi-colored softwoods or wall-to-wall Venetian rugs.
Famous Italianate Architecture Examples
---
Cronkhill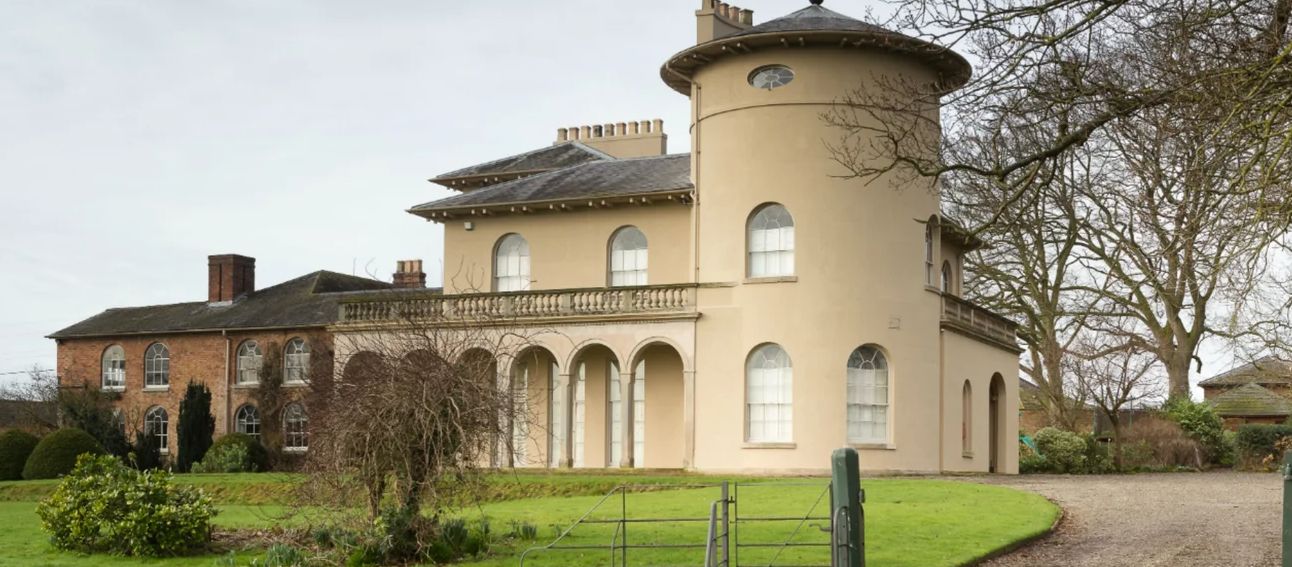 Located at Attingham Park Estate, Cronk Hill is one of John Nash's first Italian Villa designs. It's open to the public for tours a few days each year.
---
Blandwood Mansion
The Blandwood Mansions is the oldest piece of Italianate Architecture still standing in the United States. Architect Alexander Jackson Davis designed it. It's now a museum, available to tour in North Carolina.
---
William W. Marsh House
The William W. Marsh house illustrates all the key features of United States Italianate architecture. The brick home highlights a low-sloped overhanging roof, corbels, and an ornate belvedere.