35 Ideas for a Unique and Chic Bathroom
For many people, the bathroom is not generally the most exciting, inspiring spaces in a home to decorate. I mean, you've got your standard white porcelain items, your sink, and your shower/tub, right? Not a lot of personality even available, so why even try? I've got good news – this is wrong! There are many bathroom decorating and design options available that, truly, every bathroom everywhere can be unique and beautiful.
From chalkboard-painted to metallic-detailed vanities, this article includes 35 unique and incredibly stylish bathroom decorating ideas to inspire you and kickstart your think-outside-the-box mentality about bathrooms.
SEXY SINKS
To have a sexy sink, your bathroom will likely benefit from having a great setup or foundation for said sink. A minimalist faucet and handles, for example, with sleek modern lines provides an excellent base for an equally gorgeous countertop sink.
Some of the best bathroom sinks are of the simplest design, and that is certainly the case here. A unique oval shape, these porcelain countertop sinks are creamy and smooth in every aspect. Their simplicity is both charming and stunning.
This rectangular glass countertop sink is an amazingly unique spin off the typical bowl-style countertop sink (which are also lovely). The size is huge, and the clear glass makes this sink visually lightweight despite its large size. A wall-mount faucet really emphasizes the design of the sink itself.
Look at the legs on these sinks! Talk about sexy. The fabulous design here lets the copper legs serve both sculptural and functional roles, with the long slim vertical lines and the subtle shelving.
Paying homage to the standard white porcelain features of a traditional bathroom, this contemporary space ups the ante significantly with a shiny metallic sink exterior. We love the different metals represented here, both the gold around the sink itself and silver in the wall-mounted faucet. The low, round profile of this sink helps it to appear sophisticated, not gaudy.
For those who can't get enough sparkle and shine in their lives, perhaps you could consider a single-surface sink/countertop combination…in a metallic façade. This sink exudes luxury. Notice how the shape of the sink itself mimics the shape of the entire countertop – these kinds of details are inherent in a legitimately sexy sink.
UNEXPECTED ANGLES
Break away from box store or typical bathroom fixtures. Sure, you need a sink in your bathroom, but that doesn't mean it has to be the same sink you've seen everywhere else. Opt for some unexpected angles to make your bathroom design really stand out. Like slanted edges on the sink (and the floating, deconstructed vanity below because…why not?).
Cutting "off" the sink countertop at an angle underneath creates a beautiful architectural feel. Notice how the sink is at the deepest part of the angle here. This is quite clever and charming.
Unexpected angles in your bathroom decorating can come in more subtle places, as well. Consider the drawer or cupboard doors – angle a corner or two of those for some visual appeal. Or throw on an angular wallpaper in the bathroom for an exciting touch.
Consider installing a vanity in a slightly angled "waterfall" style. The design of this one is incredibly chic and simple. I think a fun way to play with simple angles like this could include mimicking the look with the mirror, perhaps in reverse. Which would be a mirror image with a mirror. Which just feels right.
The bathroom vanity mirror is a relatively simple and highly efficient way to incorporate interesting and unexpected angles in your bathroom space. Not to mention, this look is more budget-friendly than, say, a vanity overhaul. Just be sure to mount the asymmetrical mirror in such a way that it's still useful for those who use the space regularly.
Or you could pull out all the stops and go with some crazy-appealing and ultra-unexpected geometrically askew angles with your sink. This is definitely an unforgettable touch to the bathroom space, and people will love using your bathroom just to get a chance to use this fantastic triangular sink.
Bathtubs, especially corner tubs, can sometimes be tricky to maneuver as far as design options go, so you may as well introduce a completely irregular angle to your bathtub in such a case. It looks quirky and contemporary and chic all at the same time.
A SINGLE FOCAL FEATURE
We see it happen everywhere else in the home, so why should the bathroom be exempt from a bold accent wall? Or even a bold color all around? The bathroom is actually an excellent space to introduce large, bold colors or patterns in a home because the space tends to be smaller (and, therefore, inherently reigns in the color mass) than other rooms.
"A bathroom is a room for personal hygiene activities, generally containing at minimum a toilet and sink." But just because this particular room of the house is focused more on function than probably any other room doesn't mean you can't introduce some personality and fun! Love bikes? Throw one in as the support structure for your bathroom sink, and you'll have the most memorable bathroom in your block. Or maybe city.
Incorporating standout details into the bathroom can be as simple as exchanging your bathroom sink faucet for a unique faucet, like this chrome goose number. The detail is fun, personal, and just enough out of the ordinary that it will make you smile every time you use the sink.
DARK, DRAMATIC WALLS
Perhaps because the contrast with standard white porcelain is so large, installing dark walls in a bathroom is one of the best ways to achieve a high-end dramatic look…for relatively little cost. Particularly if your choice is to simply paint the walls a rich, dark tone. Of course, tiling and wainscoting and other options are good, too.
The high contrast between dark walls and white or light objects within said walls allows those objects to be seen with greater clarity. If you have a vanity that you absolutely love, feel free to frame it out visually with darker walls to maximize its aesthetic impact.
ORGANIZED NECESSITIES
Bathroom essentials seem to multiply over time, and before you know it, you and your family can be drowning in the "necessities" stored in your bathroom. This is less of a problem, though, if your bathroom décor and design accommodates such items. Consider functional storage components on every piece – a flip-top counter becomes a vanity, a protruded mirror houses hidden shelves, and a floating bench stores any number of unsightlies.
The interior of the bathtub or shower is an often overlooked yet excellent place to incorporate organizational décor. Moveable chrome shelving, for example, will hold all the bathing essentials and thus keep other drawer and cupboard space available for additional needed items.
Even something as simple as incorporating a floating shelf near the vanity (for functional purposes, if the shelf will hold items you'd use at the sink) will do wonders for increasing the storage and organization of your bathroom. Opt for shelving options that include a hidden interior component for maximum usage.
GREEN IN THE BATHROOM
Plant life in a bathroom is one of my favorite things, simply because the room itself can easily lean toward the sterile in look and feel. A potted plant on the floor near the shower or on the countertop near the sink goes a long way in bringing the bathroom down to a more organic feel…in the best way possible.
If you don't have space for growing things in your bathroom (some of these spaces are absolutely tiny, I know), you could mimic the feel of earthy greenery with a nature-inspired wallpaper. Or even a great wallpaper print or pattern that is mostly green.
When I redid our bathroom countertops a while ago into a faux marble countertop, my husband's first comment was, jokingly, "Yes! The toothpaste is going to look great on that!" (We have five young children, and smeared toothpaste is not a stranger in our morning and nightly rituals.) But you could cut to the chase and install a gorgeous minty green countertop from the get-go, if you love a fresh, crisp green color.
COOL LIGHTED ACCENTS
Install behind-the-mirror lighted accents for a super cool, urban feel in your bathroom space. The mirror protrudes, and these LED light strips transform your regular bathroom into a sort of a clubbing experience. Kind of.
Particularly when the mirror itself is a great shape, backlighting it with some cool lighting makes the shape stand out even more. This décor decision also doubles as a nightlight AND a "color" accent, so you're really doing double- or triple-duty here.
And who said a bathroom mirror had to be one single mirror? No one. But just because that's the standard way of doing it doesn't mean it's the only way! Backlight a mirror area, but include multiple mirrors in that area for a totally unique spin.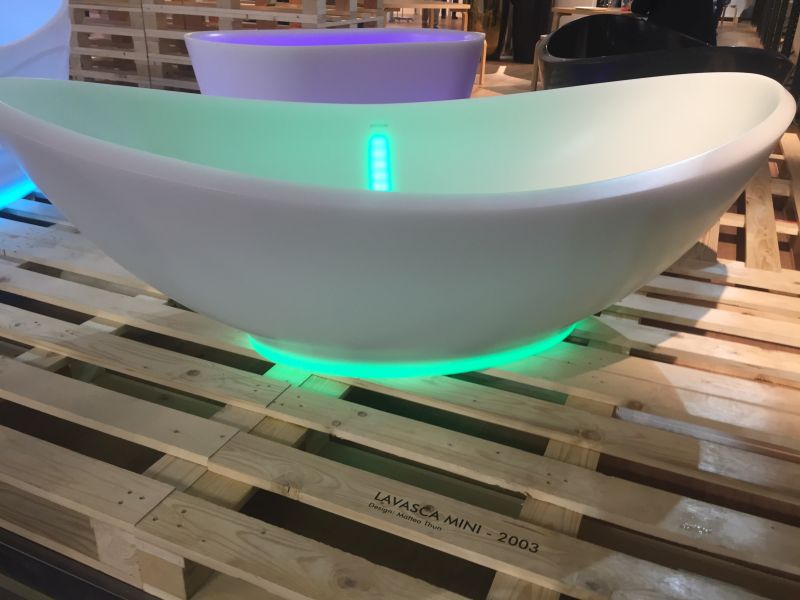 Or, if the sky's the limit and you really dig an unexpected lighting feature, why not go for lit tubs? Especially on a freestanding tub, this detail is pretty awesome.
FLOATING VANITY
Floating vanities are becoming quite common in the contemporary bathroom space, and for good reason. They "float" on the walls without legs, making them appear more streamlined, minimal, and modern. Even when the vanity itself is doubled up with a floating under-cabinet, the look is still lightened up from traditional vanities.
One of the fun characteristics about floating vanities is that they are truly customizable – they look great as a tiny unit under a single sink or as a nearly wall-to-wall stretch. The long, horizontal line makes the bathroom appear larger and more architecturally high-end.
Depending on its own style, a floating vanity is a versatile foundation for nearly any type of bathroom sink. Particularly the countertop sinks do well on floating vanities, though, simply because the vanity can then be as "flat" (or short) as desired, while the sink's depth can vary based purely upon preference and need.
NON-TRADITIONAL BATHROOM DECOR
One of my favorite design tricks is to incorporate non-traditional décor into the bathroom decorating. This makes the functional space feel more like a "real" room, more part of the rest of the house, than an anomaly. Some artwork or a suitcase on the floor are fun ways to decorate a bathroom if you've got the space and share that style.
While the color in this red bathroom is an eye-catching feature in and of itself, what draws my eye is the horse statue on the countertop. Why is it there? I've decided that it's there to look beautiful, interesting, and formal – all somewhat unexpected traits of a bathroom décor item. (Plus, the dark green is a complementary color to the red, so that's a win-win as well.)
You've probably been in a bathroom where, if there's a shelf by the toilet, a book or magazine collection is amassed there as well. That's a useful idea, but I love this different take on the whole books-by-the-toilet functionality. These books on this vanity are first form, second function. And sometimes I appreciate that priority order.
Never forget the power of a chandelier or candelabra to enhance the enchantment of a space's design. This is as true in a bathroom as it is anywhere else.