Types Of Tables And How To Use Them
Types of tables found around the home can seem fairly redundant. But when you learn the different terms, shopping becomes a whole lot more fun. Every room in your home will have a table by the time we're done.
It usually starts with large tables, such as a dining table. But even small accent tables can add so much value to how your home is presented. Today, we will leave no table unturned when it comes to different types of tables.
Types Of Tables
There are so many different types of tables out there that it is unfair to simply call them all, "a table." After all, you can't simply search "table" when shopping and have the type of table you are looking for pop up.
This is the primary reason learning about the different types of tables and how they are categorized can benefit your life. So let's break down the different types of tables you may want to add to your home.
Types Of Tables In The Bedroom
The bedroom is probably the second place that you will begin adding tables. The reason for this is most likely because your bedroom is your sanctuary and everything in it is simply to make you feel at peace.
Nightstand Table
The nightstand table is a small table that you can place near the head of the bed. If the bed is shared by two people, then there should be one nightstand on each side of the bed so that each person has their own.
The nightstand table usually has a small drawer or two for personal belongings and nighttime things such as face masks or glasses cases. At least once nightstand is highly recommended in each bedroom.
Desk Table
Also simply called a desk, the desk table is a bedroom or office table which normally holds your computer. It is usually used in offices, both at home and at a place of work. However, they are common in bedrooms too.
These days, most people have a desk in their room for either writing or working on their PC. Even if there is an at-home office, it's nice to have somewhere you can go that is near your bed and makes you feel like part of the family.
Vanity Table
A vanity is technically simply a dressing table. However, it is often used to describe a very specific type of bedroom table complete with at least one row of drawers and a mirror. This is the most common vanity.
Vanity tables can also be found in the bathroom but these are closely related to cabinets or are used in place of cabinets. But a vanity in the bedroom is solely for getting prepared for the day, often including hair and makeup.
Changing Table
A changing table is normally specifically for babies. It is a table with a soft cushion and often a small railing that is made for parents to change their child's diaper at a good and comfortable height.
After the baby has grown, changing tables can be used for various reasons. Repurpose changing tables into side tables, paly tables, or storage tables. There are a lot of ways you can repurpose nursery furniture.
Types Of Tables In The Living Room
The living room isn't known for having many large "tables" but there are plenty of different types of smaller tables in the living room. Let's take a look at a few of the most common types of living room tables.
End table
The thing about the end table is that oftentimes, the term is interchanged with the term nightstand in the bedroom. However, when in the living room, you wouldn't refer to the end table as a nightstand.
So this is more of a placement term rather than an object term. For example, a dining room table placed in the bedroom wouldn't be considered a dining room table. It would simply be a bedroom table.
Coffee Table
The coffee table can be a confusing item because of the name. It was originally named Frank Stuart Foote of the Imperial Furniture Co. decided his wife's friends needed a small table to enjoy their tea and coffee.
So he cut the legs off of a dining room table and presented it in the living room, or what would then be a parlor. Today, the term itself is lost and any small table in the center of a living room is considered a coffee table.
Entertainment Table
The entertainment table or TV table is a table that you can store your television on as well as the television accompaniments. This is a very old type of table that wasn't originally made to store electronics.
While most TVs these days are also mounted or can be mounted, tables still need to hold remotes, cable systems, and Rokus. So an entertainment table graces the living room in most modern-day living rooms.
Accent Table
What is so astounding about accent tables is that the exact definition and use aren't set in stone. What they usually are though is small and artistic. So any small table that you use to decorate with in your living room.
Accent tables are super fun to shop for too because they are usually artistic and used for expression, they will be fun and unique. If you want to make a small statement, get an accent table, also called statement tables.
Types Of Tables In The Dining And Kitchen Area
The dining room and kitchen isn't just a place for the dining room table. There are a few other types of tables that need to be distinguished so that you can shop for them specifically. Here's what you need to know.
Dining Table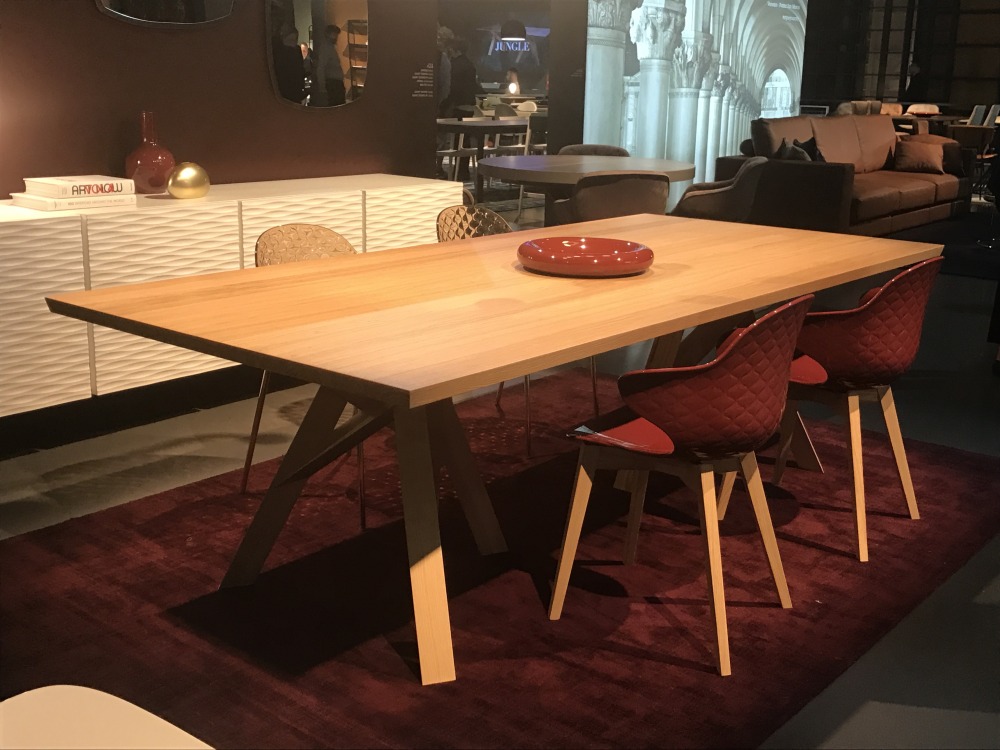 We just had to start with the dining table. After all, you can't imagine a dining room without a dining room table. If you don't have a dining room, you can technically put a dining table in your kitchen.
The dining room table has a special purpose. That purpose is to have a place to sit during dinner time where one can see the entire family while eating. These tables have been around since Ancient Greece.
Refectory Table
The refectory table is much more common outside of the home than inside the home. But it can be found inside dining rooms in schools. If you'd like to add some to your home, you can always do that too.
Traditionally, refectory tables were large and wooden, used for dining rooms in the middle ages. Today, they are normally plastic or some other cheaper material that doesn't scratch as easily as wood does.
Bar Table
A bar table is very similar to a kitchen island only it doesn't have cabinets or storage. Bar tables are set at around chest height or a little lower. They are used with barstools or while standing, making them perfect for teens.
But it really can add to any kitchen or dining room, even if you don't have teens. Bar tables usually can fit multiple bar stools or chairs at it and is great for prepping food or drinks, as well as eating or drinking.
Pub Table
A pub table is a tall round table that can fit two chairs. Or at least, this is the generic pub table. There are many more types of pub tables with this being the standard. So search for pub tables if this is the look you like.
Types Of Tables In The Family Room
The family room is a term that you may use when referring to the room where your family gathers to play. This isn't the living room but it is more like a game room complete with games and an entertainment system.
Pool Table
A pool table is one of the most common types of game tables in the family room. This is most likely due to the popularity of pool and how easy it is to play as a family. Or it could also be due to the draw of teens.
Billiards can be a competitive game. However, adults and children are easy to entertain with games. It is teens that can be difficult to draw into something with the family. But pool is a safe choice.
Table Tennis
Table tennis, or ping pong, is a popular game for kids and adults alike. There are even table tennis tournaments where top players can win big. But for the most part, it's a casual game for families using a table tennis table.
The perk of a table tennis table is that it is much cheaper than most other family room game tables. You can also get a very affordable net to attach to almost any rectangular table and use it for ping pong.
Foosball
Foosball is a classic game for all families. This type of table isn't exactly common but when you choose multiple game tables for your family room, this is always a solid choice. Almost everyone enjoys foosball.
The tables themselves can be quite costly but it is quite a bit cheaper than something like an arcade game or another type of game that doesn't allow coop. Keeping games made for at least two players is always great for family rooms.
Chess Or Checkers Table
Chess tables and checkers tables are often interchangeable. While you can get a chessboard or checkerboard and place it on any table, getting one that has a surface that isn't removable can be a great investment.
These tables look high-end and offer a fun place to play games without risking any board flipping. Consider getting a table that doubles as a board like this for a very high-end and classy addition to any family room.
Miscellaneous: Types Of Tables Around The Home
Now that you know all there is to know about tables in the primary rooms around the house, it's time to make our way to the strange rooms that not everyone owns. Let's take a look at some random yet useful tables.
Console Table
A console table is primarily made for entryways. This is the type of table where you will place flowers and welcome signs so that guests feel right at home whenever they enter your home. They are also full of storage.
Drink Table
A drink table is a rather rare type of table that is hardly big enough to fit a pitcher on. Some people use bar stools as drink tables as they are about the right width. However, they are often not the right height.
Nesting Tables
Nesting tables are tables that slide into one another like Matryoshka dolls. One table will be about the side of a larger side table and each table beneath it will be just a bit smaller than the one above it.
Picnic Table
Finally, we have a table that you won't see inside the house, but rather outside the house. Picnic tables are wonderful tables that you can use when dining outside. So if you prefer outdoor eating, then get a picnic table.