Small Closet Organizers Become The New Clutter Solution
Small closet organizers provide clutter relief for tight spaces. If you have a small closet then you need easy access to your everyday items. There are many storage solutions available to help you achieve an organized closet.
Many people are discovering how closet organizers offer the perfect solution for cramped spaces. If you want an organized home, storage solutions are the best ideas for when you want to save space.
If you're looking for ideas on how to reduce clutter in your home, you've come to the right place. To help you, we've made a list of the best small closet organizers. With so many ideas to choose from, it's overwhelming to find that perfect organizer for your closet spaces.
Best Small Closet Organizer Ideas For Your Home
Here are the best ideas to help you reduce clutter in your closets.
Built-in Small Closet Organizer
Closets are simple spaces. They're designed to store and protect your wardrobe. Some have argued that closets are a waste of space. On justagirlandherblog you can watch a tutorial on how to make the most of your closet space.
Plywood Closet Organizer
Check out this cool closet organizer on makingitinthemountains. What's interesting with this example is how the organizer is made of plywood boxes.
Creating storage solutions are fun DIY home projects. When tackling your cluttered closet, start by measuring the space. Next, plan where you want the wood boxes to go and how big you want them.
Flexible Drawer Organizer
If you have a closet drawer for socks and underwear, then it's probably a mess. You can solve this by making a drawer organizer that will give you easy access to your small clothing items. Check out this tutorial from budget accordion organizer to see how you can customize your closet drawers.
Cardboard Drawer Dividers
Cardboard sheets are the perfect solution for organizing everyday items and other accessories. You can use them as drawer dividers and organize the contents into groups based on criteria determined by you. For example, you can install dividers in your sock drawer. You can organize them by color, type, and length.
Door Storage
It's might seem impossible to maintain an organized coat closet, but if you put forth a little effort, you can give your closet more space. The idea here is to organize your tiny closet into compartments to save space. Each container or section has a specific function.
Perhaps you'd like to add shelves for shoes at the bottom, or a shelf or two at the top for your tote bags and everyday items. Check out howtonestforless for instructions.
Bag Hooks
This example from athoughtfulplaceblog involves an innovative for you to use old shower hooks. You'll need to figure out the best way to hang the hooks from your closet rod. This is the perfect solution should you need to move your clothes. You can install a separate rod for them or keep them together with your clothes.
Shelves And Boxes
Before you start organizing your closet and change its interior, figure out what you want to tackle first. For example, perhaps your socks are kept on an upper shelf and they're hard to reach.
Maybe there's too much space between your shelves? The details will help you decide what should be changed and why. Check out iheartorganizing for more ideas on how to organize your vertical space.
DIY Closet Renovation Ideas
Every closet has hangers. However, there are ways you can use hangers that will provide your small closet with more space.
Wood Hangers
Hanging clothes are a feature of every closet. If you have wood hangers, you probably didn't know that you can paint them. This is a great way to give your closet space added flair. You could pick a bright color, which would make your closet more attractive. This idea comes from hometalk.
Closet Cleaning Ideas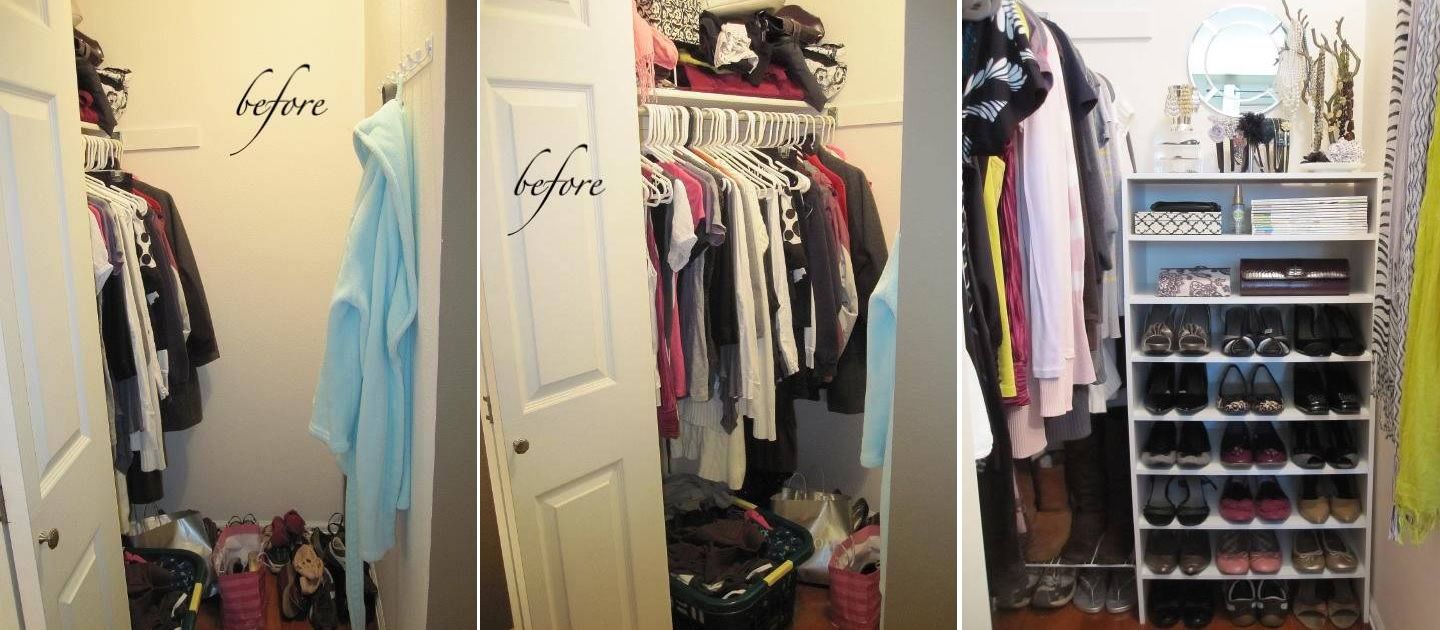 Often, it's easier to remove everything from your closet and start over. Empty your closet, step back and come up with a new plan. That's exactly the scenario that frekleschick describes and look how awesome this closet turned out in the end.
Belt Organizer
You probably have your belts sitting in a drawer, all tangled up. Organizing your scarves and belts is not something you think about, so take this opportunity to make a change.
On viewalongtheway you can watch a cool tutorial that shows you how to make a small closet organizer that slides out and has rods for scarves and hooks for belts.
Hanging Clothes
For example, there isn't a best way to store sweaters, jeans, or T-shirts. If you put them in a pile, you'll have a mess in a few days. The problem is that in a few days, you might need something from the bottom of that pile.
Create a cubby container for more space. You can use shoe organizers and hang them inside your closet or on the door. This ingenious idea comes from askannamoseley.
Scarf Organizer
The list of small closet organization ideas continues with a few tips from hip2save. You'll find efficient ways to organize and store your scarves, for example, in an orderly fashion.
The closet space ideas include hangers, shower curtain rings, show organizers or slack hangers. All of them can be repurposed into practical accessories for your closet.
Small Accessories
Regular closet organization ideas don't when you're dealing with a nursery closet where you need to store lots of small things. Small shirts and pants don't require shelves.
You could keep them in small baskets or boxes or install a small rod on the underside of a shelf for hangers. Find more ideas like these ones on realitydaydream.
Vertical Space
It's important to know how you want to organize your small closet so you can optimize storage capacity. For example, the closet makeover featured on fabeveryday uses storage for clothes and shoes. You can also create storage space for small accessories like belts, sunglasses, and jewelry.
Seasonal Items
A scarf hanger can be quite useful, especially if you're the type that has tons of scarves of different colors, sizes and styles. For a scarf hanger just like the one featured on everydaydishes: a wooden hanger, shower curtain rings and a hot glue gun will get the job done.
Jewelry Storage Solutions
We've seen earlier that you can organize and store a lot of things in a small closet, including jewelry. Jewelry boxes are practical, but when you're traveling, necklaces can get tangled.
It would be better to hang each item on a small hook. You can attach these hooks to a paint stick which can be mounted onto the wall or door of your closet. The idea comes from infarrantlycreative.
Small Closet Organization Ideas That Will Change Your Everyday Life
Here are the best closet space organizers for your home.
Wire Divider
As you've seen so far, there are plenty of small closet organizers that you can craft or build yourself but what if you'd rather buy one and be done with it? That's an option too.
For shelves, you could opt for these Evelots dividers which let you neatly stack your clothes and to delineate several sections onto a shelf. You can also use these dividers for towels, blankets, bedsheets and other such things.
Wall Unit Rack
The ClosetMaid system is great even if you don't have a closet. You can attach it to a wall and that can be your new closet. It's an adjustable system with shelves and rods which you can configure in several different ways based on the size of your closet as well as your storage needs.
Storage Pockets
Pockets are effective organizers for small closets because you can hang them onto the closet wall, inside drawers, or on your shelves. The Cymiler organizer pockets can hold T-shirts, pants, shoes, belts, socks, and anything else you keep in your closet.
This is an ideal way to add more storage space to your tiny closet without having to add more shelves or drawers.
Hanging Fabric Pockets
Does your small closet lack shelves? No worries because you can use the Simple Houseware Organizer to compensate for that. Sure, you can add a few permanent shelves if you want to give your small closet a makeover anyway but this system doesn't require any structural changes. You can just hang it on the clothing rod. It has five shelves and several pockets on the sides.
ClosetMaid System
This is the smaller version of the ClosetMaid that we showed you earlier. The ClosetMaid 22875 ShelfTrack is perfect for small closet organization. All you need is an empty closet so perhaps it would be practical to take out everything you keep in yours and to start over.
Figure out the best way to install this system and then you can take care of the little details, like customization perhaps.
Hanging Space Organizer
The EZ Shelf is another small closet organization system with expandable pieces and adjustable configurations. It's mostly made out of numerous steel tubes which serve different purposes. It's easy to install and there are many different ways in which you can customize it and improve its storage capabilities by adding accessories.
The design is simple and that makes it versatile and a good choice for most modern and contemporary closets. It's also durable and sturdy which means it will last for quite some time.
Minimalist Rack
This is the ClosetMaid 5636 SuperSlide, a system that contains everything you need to install a set of shelves and rods into your closet. You can combine it with other kits and numerous accessories for increased functionality and storage-efficiency.
Floor Standing Storage
This system is not specifically designed to serve as a closet organizing system but is versatile enough to be used as one. The SONGMICS Storage Cube Organizer system is a set of six cubes stacked on three tiers. You can store just about anything in them, from books to shoes, clothes, toys and sports equipment.
Moreover, these cubbies are stylish enough to be displayed in living rooms, bedrooms, on entryways and anywhere in your home.
Shoe Organizers
When it comes to small closet organization, there's one more thing we need to discuss: boots. They're special because they consume too much space. They don't have to, at least not if you choose to use the Boot Butler Rack. It lets you store five pairs of boots in only 7" of closet space. It can hold almost any type of boot, even the knee-high ones.
Nursery Storage
There's a lot to keep track of when you have a baby and closet clutter is the last problem one wishes to deal with so having a system that makes it easy to organize everything is very helpful. The Delta nursery closet organizer is a 24-piece set that allows you keep everything within reach and at the same time nice and neat. It includes 15 hangers, 6 closet dividers, a hanging organizer and two storage bins.
Closet Accessory Organizer
Ties, belts, scarves and other similar accessories are quite annoying because they don't really fit in any section of the closet. They require a custom storage solution and keeping them all in a drawer is not practical at all.
However, you can solve the problem with the help of a very simple accessory, the Evelots organizer. It's small and doesn't take up much space in your closet and has 14 hooks which can hold a variety of items including ties, belts, scarves, necklaces, handbags and so on.
Closet Rack
Many closets lack custom compartmentalization because they're meant to be versatile. An accessory like the Burroughs shelving set is efficient at dividing large sections of your closet into smaller modules by adding extra shelves. They have an open metal grate design which allows air to circulate and prevents mold or dust from setting on them.
Medford Paris Shelf Closet Organizer
If you'd much rather prefer an extra set of shelves or cubbies rather than a big open space in your closet with a rod at the top, that can solved with the help of accessories such as the Medford closet organizer.
You can use it vertically from an existing rod as it gives you six extra shelves for towels, shirts, shoes, bags and other clothing items or accessories. It's made of breathable material which allows air to circulate and it can be folded flat and stored whenever you don't need it.
Kids Storage Closet Hanging Organizer
This is a kids' closet organizer, similar to the one mentioned above but with a different design. It has a set of mesh and fabric bins which can hold a variety of different items from clothes to shoes, toys, socks and so on.
It's an all-in-one organizer which can be hidden inside the closet or used as an extra storage piece which can hang from a wall or door.
Seiler Handbag Hanging Organizer
Purses, handbags and backpacks take up closet space in the closet. It's not worth investing in a custom unit with cubbies for each item. If you have a nice collection for the space, rely on something like the Seiler organizer.
Handbag Pocket Hanging Organizer
Here's another organizer designed for handbags and other similar accessories. This one features pockets, four on each side for a total of eight per organizer. The pockets are transparent so you can easily see what each one is holding and you can hang this organizer on a standard closet rod.
Selders Wall Mount
If you actually have a lot of hangers in your closet, that is technically a nice way to keep everything neat and organizer. However, all the extra hangers that are just sitting around waiting to be needed get tangled up and take up more space than you'd like them to.
This little organizer can help with this problem. It can hold 50 hangers and it keeps them organized and out of the way until you actually need them.
Gino 5 Shelf Hanging Organizer
The Gino organizer gives you a simple and practical way to add more storage to your closet. With this you get five extra hanging modules which you can fit between all the hangers in your closet. It's great if you want to keep all the accessories that go with your outfits in one place and easy to find or if you need some extra space for things like shoes, bags, hats and so on.
This organizer is designed to be hanged from the rod and has mesh pockets which you can fold flat for compact storage in case you no longer need them.
Clothes Hanging Organizer
This little hanging organizer is a nice accessory for the laundry room and can potentially also be added to a bedroom or even a closet. It's a compact storage system which can also be installed outdoors and it consists of a fold-away rod that use can hang clothes from right after you take them out of the dryer to make ironing easier or completely unnecessary.
Vela Closet Shelf Divider
Although open shelves are very practical and versatile, they can also get really messy really fast. It's practically impossible to keep the closet shelves organized without a bit of extra help and by that we mean these Vela™ shelf dividers or something similar.
They're little inserts which can be used to divider a large shelf into smaller sections in order to keep various clothing items separated. They're made of steel and they're super durable and they can easily slide over any standard solid wood shelf up to 7/8 inch thick.
Adjustable Overdoor Hanging Organizer
As much as we'd want all of our items to fit inside a closet, sometimes there's just not enough room in there for everything. Luckily, there are always alternative solutions. For example, this is a hanging organizer which can be installed onto a door.
It adds extra hooks and storage for things like purses, bags, accessories and other items that either don't fit anywhere else or that you want to keep within reach.
Dante Closet System Set
The Dante set is a combination of two different storage systems. It includes an over-the-door organizer and two drawer organizers and they're all made of cardboard panels and white fabric. The drawer inserts are useful for organizing socks and other accessories.
Small Closet Storage Mistakes
If your closet is disorganized and messy that's something a lot of other people are familiar with. It's easy to blame this on the lack of space or other external factors.
A lack of organization is due to mistakes that we make without realizing it. Here are five of the most common organizing mistakes:
Unorganized System
When you have a system, your closet space will be easier to organize. The closet doesn't necessarily have to look organized as long as you know where to find everything that you need.
You might think that there's no need for that if you have a really tiny closet. Small closets make it even more difficult to find anything because everything is so tightly packed together.
Too Many Clothes
We often tend to get too attached to old pieces of clothing and to keep them around even if we no longer wear them or if they don't fit us anymore. When you think about it, you probably only have a few pieces of clothing that you're actively wearing.
Everything else is just cluttering up the closet. It's important every one in a while to do a bit of spring cleaning. Donate the clothing that you no longer need and don't try to keep every piece of clothing that you've ever bought.
Inconsistent Hangers
Closets looks very clean, neat and organized when everything is on hangers, or at least in theory they do. This might not be the case when you try to do it and the reason for that could be that you're using the wrong hangers or that you're using them in the wrong way.
Stuffed Closet Space
This is in some way related to another mistake we mentioned, that of keeping every clothing item you ever bought and not decluttering the closet. But even if you don't have a ton of clothes, those that you actually use might not all fit into the closet.
It might be possible to cram them all in there but that would only mess up the organization and make it harder to find anything. Consider dividing your clothes based on seasons and keeping those that you don't currently need in another space like the attic, the garage, the basement or underneath the bed.
FAQs
What Is The Cheapest Way To Organize A Small Closet?
You can use any empty container to organize a small closet. For example, an empty carton of milk makes an ideal shoe holder. All you have to do is clean it, cut the top off, and then nail it to a wall inside your closet.
How Can I Keep Spiders Out Of My Closet?
One easy DIY solution that keeps spiders away from your closet is mix antacid relief medicine with hydrogen peroxide with water in a spray bottle. Remove everything from your closet and spay the area with the water solution. After your closet space dries, put your items back, and you won't have to worry about spiders for six months or longer.
How Can I Organize My Closet Without Storage?
Use a combination of dressers, rods, and shelves. They can turn an empty wall into an organized space.
Where To Put Clothes That Can Be Worn Again?
Stash garments on hangers, or drape less fragile clothes right over the hooks like towels. A wall-mounted coat rack can stash a lot of pre-worn garments in a relatively small spot.
Do Clothes Get Moldy In Storage?
Clothing and upholstery that get put in storage while damp can attract mold, and metals and woodwork can rust or rot. Moisture can easily migrate to other items, so set your cleanliness standards high while packing.
Should I Store Clothes In Plastic Bags?
Never store clothing in plastic bags or cardboard boxes. Plastic bags trap moisture, which quickly transfers to your clothing causing it to become mouldy. Cardboard boxes are easily infiltrated by vermin and pests like silverfish.
Small Closet Organizers Conclusion
Most closets provide little space, so they may seem hard to organize. However, when you put your mind to it, you'll discover unlimited storage possibilities. One option to consider to prevent a cluttered closet would be to buy less clothes and shoes.
An organized closet will make your life easier. Most people don't think of taking advantage of their closet's vertical space. The reason why is because a cluttered tiny closet is overwhelming. Before you can create more room in your closet, you need to analyze the space and its contents. There's a good chance that you could live without over half of the items in your closet.