25 Reasons To Put Shiplap Walls In Every Room
Since the popular home renovating show Fixer Upper has been around, shiplap has been on the decorating menu. Hosts Chip and Joanna Gaines find a way to incorporate shiplap walls somewhere into every single home that they renovate. And now everyone else is too.
What Is Shiplap?
Shiplap is a type of wooden board paneling that is commonly used to construct sheds, barns, and other kinds of rural outbuildings.
Shiplap is also associated with the siding of a traditional wooden ship, so it can often be found in rooms with a nautical or coastal theme as well as rustic farmhouse and Western styles.
Different Types of Shiplap Paneling
There are a few different types of shiplap paneling that you'll see available for use in interior design. The type of shiplap paneling you purchase will determine the final look of your shiplap accent wall and the way the paneling is assembled during installation. Here are the main types of shiplap paneling you'll run into when you plan a DIY shiplap project:
Square edge shiplap: Square edge shiplap boards are built to interlock with each other and are designed with dovetail edges in place so that there are no gaps shown in the shiplap.
Nickel gap shiplap: Nickel gap shiplap is similar to square edge shiplap in that it is formed by edged boards designed to dovetail together. However, nickel gap shiplap incorporates a gap between each piece of shiplap to give it a more defined look.
Tongue and edge groove: Tongue and edge grooved shiplap boards have a built-in groove on one edge and a tongue on the other. This allows the shiplap boards to be stacked smoothly on top of one another with no gaps between them.
Eased gap groove: Eased gap groove shiplap creates a blunted v-shaped groove between each board, giving the wall a somewhat textured look.
Materials to Use for Shiplap Walls
Wooden shiplap boards can be created from various materials, some more expensive than others.
The cheapest way to create this look when installing shiplap is to use plywood as your lumber. However, without careful finishing, this may end up being a somewhat rustic look. There are other types of lumber such as cedar that are also popular in shiplap.
Here is a breakdown of the most popular materials used in this type of accent wall:
Plywood: Plywood is the cheapest type of wood used in shiplap, but it's also the most affordable type if you have the experience to finish plywood into shiplap panels.
Cedar: Cedar is a popular choice for shiplap boards because it has a pleasant fragrance and the natural coloring of the wood is a beautiful reddish shade. Cedar can be somewhat expensive as shiplap materials go, but is perfect for an accent wall.
Pine: Pine is a mid-range material for shiplap in terms of cost. Pine shiplap boards are a good match for rural or farmhouse designs since the natural flaws in the wood can lend the room a rustic look.
How to Install Shiplap on a Wall
Installing shiplap boards on a wall isn't hard as far as DIY home projects go, but it does require you to be precise. Be sure to measure the area carefully before you begin cutting or laying your boards to ensure that everything ends up being even in the end. You should also locate any studs in the wall to anchor your shiplap.
Here's the basic procedure you should follow for installing shiplap in your home after you've measured everything out:
Prepare the shiplap boards. If you're preparing your own shiplap boards rather than using pre-milled shiplap panels, you'll need to paint and cut the wooden panels into boards before they can be installed on the wall.
Make cutouts for electrical outlets. Depending on which wall you're installing shiplap on, you're probably going to run into a light switch or two. Outline the shape and location of the outlets and use a jigsaw to remove a section of the board. This will provide access to the outlet after the shiplap is installed.
Install the shiplap. Once your boards are painted, measured, and cut to the length of the wall you're installing on, you're ready to begin placing them on the wall. Starting at the baseboard, nail the shiplap boards onto the wall with a finish nailer, securing them to the wall at the studs.
Finish the shiplap. After installing the shiplap boards, the final step is to finish them. Caulk over any unwanted gaps between the boards. Use a small trim brush to touch up the paint and cover up any raw unfinished edges that are still showing.
Each shiplap project may have slightly different parameters depending on the layout of the wall and the materials you're using. But as far as DIY home projects go, installing shiplap boards is more about careful measurements and cutting than it is about brute strength or calculations.
Best Places to Add Shiplap Walls in Your Home
Shiplap is a great material for livening up underutilized alcoves and placing accent walls in communal areas. If you're trying to decorate your home along a specific theme such as coastal decor or farmhouse aesthetics, shiplap can help to accent those design choices.
These are some of the best places to add accent shiplap walls:
Bathrooms: Bathrooms usually call for light colors to help them appear clean and spacious. A white shiplap accent wall can help add texture and visual interest to a monochromatic bathroom without making it look cluttered or small.
Kitchen backsplash: Tile backsplashes are popular in the kitchen since they're easy to clean and come in a wide range of colorful patterns. However, wooden shiplap can help carry a farmhouse or rustic design theme better than tile can.
Bedroom: Black shiplap might be too dramatic for the kitchen or bathroom, but this moody look can be perfect for the master bedroom. Use black shiplap boards as an accent wall to help secondary colors pop in contrast.
Living room: While shiplap on every wall might be overwhelming in a large space like a great room or living room, using shiplap on an accent wall where your entertainment console and other focal points are located can help ground the room and give you a place to center your seating arrangements.
Shiplap is a very versatile material for interior design, which is why you'll see it pop up in just about every room of the house. The color of shiplap you use, the placement of the boards, and the finish you include can do a lot to impact the final look of the installation.
Cheap Shiplap Walls Options
As far as home improvement projects go, installing a shiplap accent wall comes with a moderate cost. If you're willing to provide the labor yourself, you can save around a thousand dollars. You can also reduce the cost of a shiplap accent wall by choosing a cheaper shiplap material, such as plywood.
A DIY shiplap wall might seem daunting if you've never attempted to do a serious home remodeling project before. However, there are plenty of guides available online to help walk you through the process step-by-step.
Where Do You Buy Shiplap for Walls?
Shiplap can be purchased at any major home improvement chain such as Lowe's or Home Depot. Another option for purchasing shiplap is to purchase it through a bulk distributor.
If you're buying a bunch of the same shiplap for an accent wall, you can get a distributor to ship the boards directly to your house. This can save you the trouble of having to load it into a truck and carry it home.
How to Decorate Your Shiplap Walls
Since shiplap is a relatively neutral design element that can be paired with many different decorating themes, it offers a lot of versatility when it comes to decorations. Here are a few ideas for decorating a shiplap wall:
Install string lighting. The small grooves and edges in shiplap can create interesting patterns and textures on the wall that are emphasized with good lighting. String lights help enhance light-colored shiplap and soften the look of black shiplap.
Mount some live plants. Shiplap can act as an excellent bare canvas to mount fresh green foliage against. The contrast of inorganic straight lines and greenery can give your space a refreshing vibe.
Place a large statement piece. Whether you install a framed mirror, a unique clock, or some other kind of wall art, a large statement piece can help act as a focal point for longer shiplap walls, breaking up the repetition of the shiplap's pattern.
Put together a photo gallery. The bare, neutral look of a shiplap wall acts as a great backdrop for a photo collage or collection. Choose photos along a similar theme for a unified look, or choose mismatched picture frames and photos for a more eclectic one.
These are just a few of the options you have for decorating shiplap. Since shiplap walls match well with everything from farmhouse chic to minimalist modern design, there are many decorations that easily complement it.
When you fall down the farmhouse decor hole, you'll find multitudes of ways you can use the trend in your home. With all those examples to inspire you, it's impossible to say no when the option presents itself.
A simple light neutral pattern on the wall can only add to the interest of your room, which is a great reason to add shiplap to every space possible. Here are 25 reasons to put shiplap walls in every room of your home.
How to Add Shiplap Walls to Any Space in Your Home
1. Living Room
There's just something about a light and airy living room that makes you feel at ease. Covering your living room walls with shiplap will give your space that farmhouse or coastal vibe you've been searching for. Choose your shade of white depending on how much natural light your room has and paint away. The linear pattern means you don't even need to hang pictures for the space to feel finished. Just place your couch and sit back and relax.
2. Kitchen
Kitchens are a common place to find shiplap walls. And well deserved too. Many kitchens have just enough wall space that they need a little something but there might not be enough space for a full fledged gallery wall. Shiplap solves all those problems. In white, it will match whatever colors and themes you have already going on in your kitchen so there's no need for a full remodel. Once your shiplap walls are installed, your space will be done and dusted, ready for pizza night with your family. Compared to months of kitchen reno, you can't argue with those results.
3. Bathroom
When you think about bathroom design, you think about what will be easy to clean, especially when you have kids to pick up after. So tile might not be the medium to cover your walls with. But shiplap can easily take its place. Not only is it a bright white color, but it also has a texture and pattern play. It's super easy to wipe down if necessary. When something checks all the boxes, you go for it without a second thought. Your bathroom will thank you and you will end up patting yourself on the back.
4. Bedroom
While white might not be your first choice for your bedroom, there is nothing that will wake you up faster and more pleasantly than shiplap. Go for a shade of white with softer undertones to make your space feel cozier and less hospital-like. Especially if you get some bright natural light in your bedroom, shiplap is a great option for taking that light into the darker corners and making the whole space seem cheerful. Also, like in the living room, when you have a pattern on your wall, there is no pressure to hang any art. Give yourself a picture of you and your significant other and leave it at that.
5. Mudroom
Why even bother decorating your mudroom? A good question. The mudroom becomes a place of gathering. Putting shoes on, taking shoes off, folding laundry, washing dirty hands, brushing the dog, it all happens in there. So it makes sense to decorate the space practically as well as beautifully. Shiplap walls provide a pinch of style without getting in the way of all the comings and goings business. It's exactly what your mudroom needs to give it a lift and make it work for you and your whole family.
6. A Simple Single Shiplap Wall
When it comes to installing a shiplap wall in your home, remember you don't have to try out a huge wall or full room to begin with. DIY Beautify uses a little corner in their kitchen to add an accent shiplap wall, which you could recreate in any space in your home. This simple weekend project uses leftovers from other DIY work and creates a cozy space in any part of your home. This idea could be used in a laundry room, mudroom, or any other smaller space in your home. The peg hooks and mirror look fantastic in this space on top of the wall, so you don't need to leave it empty once your work is complete.
7. Add Shiplap Behind Shelving
Metrie provides us with some fantastic inspiration for adding a subtle hint of shiplap to your home. If you are shy about adding a full feature wall, try hiding the shiplap behind shelving in your lounge or bedroom. This adds more texture to the room and is a fun solution for open bookshelves. As the shiplap in this image is a neutral white shade, it's easy to add any ornaments and books onto the shelving as nothing will clash with the background. It really draws attention to anything you have on display, making it the centerpiece of the room.
8. Shiplap Electric Fireplace & Mantel
Around your TV and electric fireplace can be a challenging area to decorate. If you have a larger wall behind it that looks particularly bare, you'll want to add something to liven up the area. This shiplap fireplace mantel is ideal for this type of space and gives a warm feel to the room to match the electric fireplace. It acts as a feature wall in your living room and becomes a statement piece. This is a simple DIY project from Micheala Diane Designs that anyone could try, and you don't need to be extremely experienced to recreate this look.
9. Blue Shiplap Wall for a Contemporary Den
Not everyone will want to add white shiplap walls into their home, and that's completely understandable. For a contemporary look, we recommend going for a darker shade, such as this blue shiplap wall from Decor Pad. This contemporary den is completely transformed by the addition of this feature wall, which blends in with the built-in shelving. The walls set the tone for the whole room, and the armless sofa completes the look. This color would also work well in a teenager's bedroom.
10. Laundry Room Vertical Shiplap Wall
While the majority of projects you will see here today involve horizontal shiplap walls, this isn't the only way to lay this material. turquoise color she uses to complete the look, which would give any room in your home a beachy feel.
11. Budget Friendly Bedroom Shiplap Walls
Driven by Decor shows us how to make this budget-friendly bedroom shiplap wall project. You'll completely transform your master bedroom or your guest bedroom in this way, and you can, of course, paint them any color if you prefer to add a pretty pastel shade. The great thing about this project is that it doesn't cost a fortune, as you use plywood strips. These recreate the look of real shiplap boards without the expense. They use plywood strips that aren't as deep, which means they are easy to install in any room.
12. Shiplap Wall Staircase
Your staircase and entryway to your home are often one of the biggest areas in your house. They can be tricky to know how to decorate, as you don't want to add something too dark to such a big area in your home. SLC Interiors shares this stunning house in Boston, which completely remodels the staircase area. It's the ideal solution for a beach house and will make a welcoming first impression for any home.
13. Half Shiplap Wall for Your Bathroom
In a small room, you may just want to opt for a half shiplap wall, as shown in this project by The DIY Playbook. In a small space, a full wall may be a little overwhelming, but this white bottom half looks great with the darker grey paint on top. It really brightens up any small space in your home, especially when you add an extra coat of white paint to the shiplap. If you leave the top half of the wall as it was before, you'll also find it easier to hang mirrors and paintings on there.
14. A Shiplap Headboard
In your bedroom, you can add a simple headboard with some shiplap. If you aren't sure how to create a more rustic feel in your room, this is one of the easiest ways to achieve it. This DIY shiplap headboard from Roots & Wings Furniture will give your bedroom a new lease of life and add a beachy feel to any room. This headboard will go with a whole range of paint colors, so you don't have to worry too much about it blending in with the rest of the room. Of course, you could also paint over it to achieve your desired look and feel if needed.
15. Shiplap On The Ceiling
At Home With Ashley shows us that shiplap isn't just reserved for the walls in your home. Shiplap could work well in any room in your house, and we think this idea would look great in your playroom or bedroom. This project uses real shiplap but is much easier to install than you might think. The pattern shiplap creates looks really impressive on your ceiling, with its strong lines and eye-catching design.
16. Shiplap Dining Room Makeover
Your Dining Room is an area that would look fantastic with shiplap walls, and we love this DIY project from farmhouse dining room is transformed by adding white shiplap walls, and you'll be impressed this whole project cost less than $500 to achieve. It will make the room look so much bigger and brighter, and you'll love entertaining family here in the future. Once you've finished with the installation, you can then paint the walls a bright white color or add the shade of your choice on top.
17. Shiplap Walls In Your Shed
If you are looking to transform a shed into somewhere you enjoy working or relaxing in, you'll love this shiplap wall idea from Finding Silver Pennies. It gives the shed a coastal and laid-back vibe and adds more character and charm to the space. Shiplap is the perfect material for this area in your home and will create a warm and cozy atmosphere instead of having plain wooden walls. They've added these walls across the whole of the shed, and in a small but airy space like this, you won't find the look too overwhelming.
18. Family Room Fireplace
Add a fun touch to your family room, as demonstrated by Caitlin Creer. The fireplace is the perfect place to add shiplap to, and it adds a cozy and warming feel to this part of the room. We think adding an accent wall is the ideal way to test out shiplap walls before committing to covering the whole wall on either side of your fireplace. The best thing about trying a small area is that it won't cost too much to install and will be a short weekend project. It's a fun way to test out the laying technique and see how challenging you would find a larger space to complete.
19. Coastal Kitchen Makeover
Sand & Sisal shares this full kitchen makeover which uses shiplap in quite an unexpected area of the kitchen. If you aren't ready for the full wall commitment, how about adding this material to the wall underneath your kitchen counter. We love how it adds more texture to a space that's so often overlooked in your kitchen. The pale turquoise color works well with shiplap and creates a lovely texture you'll admire every time you sit down to enjoy your breakfast.
20. Shiplap in a Frame
We understand even a feature wall can be too much of a commitment for some homeowners. If that's the case for you, you'll love this shiplap in a frame DIY project from Naptime Decorator. You'll use a driftwood board frame to hold the shiplap and then add the planks inside. We can't believe how stunning this frame looks, and it would be perfect in the entryway to your home. To add more decoration, hang a mirror or wreath from your new frame, which you can change by the season.
21. Shiplap Entryway
Liz Marie Blog shares this shiplap entryway that is the perfect space for hanging your belongings as you enter your home. It creates a warm and cozy feel to your entryway or mudroom and is the perfect backdrop for the hooks and welcome sign in this photo. The great thing about white shiplap walls is that you can then decorate the area with any color or style you like. It's a versatile background that will completely transform your home, giving your visitors a welcoming first impression when they enter.
22. Pantry Shiplap Walls
Little Glass Jar shows us how to make a fun shiplap project that completely transforms your pantry space. While your pantry may remain closed throughout the day, there's no reason that it shouldn't receive some attention and love with a makeover. It's a part of our home we look at every day, so it's somewhere that should look aesthetically pleasing. The white backdrop of the shiplap walls will make your pantry look more organized and clean, and it will be easier to find items in a rush when they stand out against the white walls.
23. A Shiplap and Wood Bathroom
For a complete rustic look and feel, we recommend combining shiplap and wood in your bathroom. It will create a warm and homely atmosphere, and shiplap is the ideal background for any furniture or accessories you need to add to your bathroom. Jenna Sue Design shares her bathroom makeover, and you'll be shocked by how much shiplap changes even the smallest room in your home. We love that shiplap is such a versatile material that can be cut down to fit any wall size. It works well in awkward-shaped rooms to give the room a more uniform look and feel.
24. Shiplap Breakfast Nook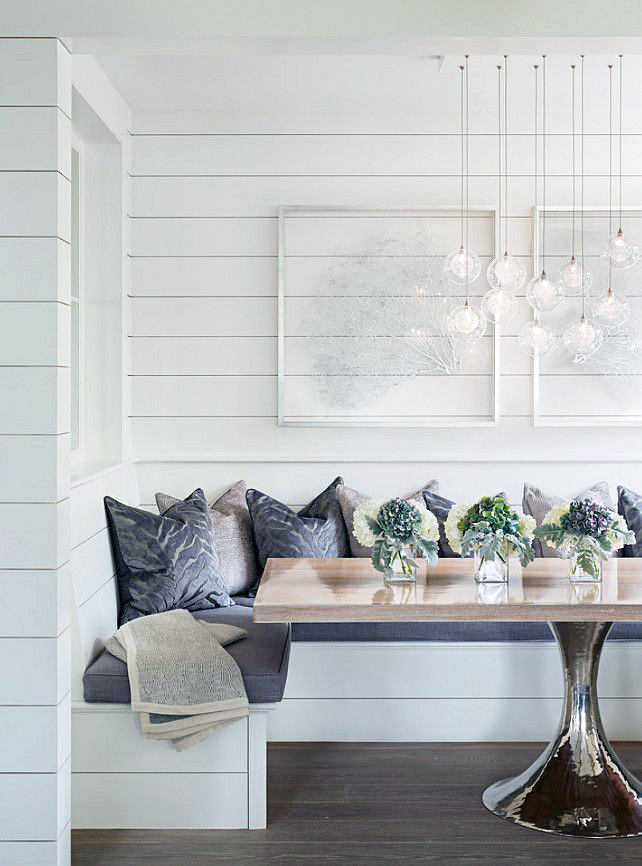 Breakfast nooks are one of our favorite additions to any kitchen, and they are a great spot to enjoy dining, relaxing with a cup of coffee, or reading. This shiplap breakfast nook makes this space even cozier, and you'll love spending time here each day. Jacquelyn Clark shares this beautiful breakfast nook idea, which uses white shiplap all around the seating area. It gives a uniform look and feel to the seats, making it somewhere you'll always want to dine with your family.
25. Shiplap Clock
If you just want a subtle splash of shiplap in your home, check out this DIY shiplap clock from Thrifty and Chic. This clock would look great in your kitchen and adds a splash of rustic charm to any home. Shiplap is the ideal base for the black hands and numbers of the clock and makes them stand out so you can tell the time with ease.
Shiplap FAQ
How Much Does It Cost to Shiplap a Wall?
The cost of installing shiplap boards on a wall depends on the type of material you use and the size of the wall you're covering. However, you can expect to spend between $1,500 and $2,000 for both materials and labor to install a shiplap wall. Installing the wall yourself and milling your own shiplap boards out of plywood can help save you money.
Do You Start Shiplap From the Top or Bottom?
When you install shiplap boards, you should always start from the bottom of the wall and work your way up. This allows you to slot each new shiplap board into the gap or groove created by the board below it.
You don't want any large gaps left at the end, so be sure to measure your boards carefully and keep your spacing between them even for a professional result.
Can Shiplap Walls Be Used in a Modern Home?
Shiplap is a versatile design element, and it works just as well in modern home designs as it does in rustic ones. Here are some of the reasons why shiplap is so versatile:
Neutral: Shiplap often comes in neutral shades such as white, cream, black, gray, and unfinished wood. These neutral shades are a perfect backdrop for other architectural features or decor. Neutral and monochromatic color palettes are a popular choice for modern home designs.
Texture: Modern home designs usually depend on texture in surfaces and materials rather than clutter to help define the space. Shiplap is a smart way to add visual interest to the room without overwhelming it.
Fusion design: Even though many modern home designs are minimalist and feature inorganic materials such as stainless steel or glass, these materials act as neutrals in the space and don't clash with shiplap. Shiplap is a great choice for marrying both traditional and contemporary decor.
Are Shiplap Walls Only for Farmhouse Style?
Shiplap can be used for many different types of home interiors. These are a few of the interior design themes that shiplap is a good match with:
Coastal/Beach: Shiplap is often found in beach houses and other homes near the water since it is reminiscent of the siding on a boat. White shiplap is a good option in coastal designs since it can help ground other brighter coastal colors such as coral pink or aquamarine.
Nautical: For a look that is more Cape Cod than Key West, white shiplap boards are also a good accent wall with nautical designs. Paired with bright red, navy blue, and metallic fixtures, shiplap gives nautical rooms a snappy and cheerful appearance.
Farmhouse: Shiplap is a popular option for rustic interior designs since it helps evoke a farmhouse feel. Pair farmhouse shiplap walls with other wooden or craftsman elements such as basket storage, quilts, and furniture in neutral shades or subtle earth tones.
Contemporary: Even though shiplap is associated with rustic interiors, it pairs just as well with modern designs. Try keeping your shiplap in neutral colors and pairing it with modern design elements like lucite tables or globe lighting to give it an updated look.
Installing shiplap boards helps you make your room more interesting, and the versatility of this design element means it fits in well with almost any interior.
Do Shiplap Walls Make a Room Look Larger or Smaller?
Shiplap usually makes a room look larger when the boards are arranged horizontally, especially if you're using a light-colored shiplap like white shiplap boards. This is because the long lines of the shiplap pattern help draw the eye across the room, giving the illusion of more space.
If you want to use shiplap but don't want the room to appear larger, try installing a dark-colored shiplap like black shiplap instead. Dark colors make a room look smaller than it really is and can help make large vaulted spaces more cozy.
Can You Install Shiplap Walls Vertically?
Horizontal shiplap looks great in a range of different interiors, but another option for installing shiplap is to install it vertically. Rather than making rooms look wider, installing shiplap vertically helps draw the eye upward, making the room appear taller. This is a good option for installing shiplap in alcoves, stairwells, and other areas that may naturally look small or cramped.
Conclusion
Adding shiplap to your walls is such a fun and easy way to transform any home. Remember, you can start off by testing an accent wall or smaller space in your home before committing to a larger makeover. Shiplap is so versatile, so you can add it to your bathroom, bedroom, kitchen, or living room this year for a rustic and cozy look.