10 Different Art Ideas for Sculptures That Will Add Dimension to a Room
When considering art, many people immediately think about paintings, drawings and other things to hang on the wall. How about a sculpture? It's an art form that adds so many dimensions to a room that it can be hard to quantify. Also, a sculpture can be a provocative or conversation-generating piece. At the very least, it will get visitors to your home talking about it. We've rounded up ten awesome examples to fuel your imagination and inspire your thoughts about what kinds of sculptures could work in your home.
Colorful and funky
Many artists have turned to creating intriguing new artworks from discarded materials, whether they are found in industrial yards, the ocean or suburban trash heaps. A number have fashioned sculptures from the small, mass-produced toys that children receive for free or for next to nothing. These are very quickly discarded, adding to the world's trash problem. The brightly colored works are deceptively lighthearted and first glance until you consider the societal theme. Regardless, this is a sculpture that will add a huge dose of color to an entryway or living room.
Graphic elements can also be amazing sculptures and there is no better example than the pieces by artist Robert Indiana. His iconic pop art LOVE print and statue is here rendered in Spanish. Colorful sculptures like this one are ideal for minimalist spaces where you want a shot of color but want to maintain clean lines and a vibe that's not fussy.
Of course, there's always a place for a sculpture that adds whimsy to a room. The current dessert craze for French macarons makes this a trendy piece that renders the colorful sweet in giant, oversized form. The array of bright, primary colors makes it ideal for any space, especially one that has a lot of white. It's a massive pop of color that no one will be able to ignore.
Ceramics are more often associated with vases and other vessels, but the late American artist Viola Frey transformed this malleable material into striking and complex sculptural works. The barrage of colors plays up the intertwined shapes and figures, creating a vibrant conversation piece. The size is more modest than the previous few works and would work well in a smaller space where you want to include a brighter sculpture. The eclectic style also means that it will work with a variety of interior decor types.
Self-taught Colombian artist William Barbosa creates large, minimalist sculptures from metal and later plexiglass. This untitled modular work is a representative example that shows the vibrancy of the color and interplay of the angles. This is a standout piece to use as a focal point in a large, open space such as an entryway or living room. Although it is abstract, it could easily be incorporated into rooms of various styles.
Fashioning works from scrap metal, car parts and industrial waste, artist John Chamberlain creates pieces that focus on the material as well as the finish. Although he works in photography and paintings as well, he is best known for these types of sculptures. The finished works are rough, jagged and have a brutal feeling. The industrial look of this type of sculpture is good for spaces that are eclectic, modern or, of course, industrial. angles, shadows and the depths of the spaces between the elements come together in a dramatic piece that evokes multilayered emotions.
Also made with metallic industrial materials, this sculpture by Josh Garben has a totally different look. Inspired by cells, Garber uses metal objects that have been commercially produced —  nails, screws, nuts, and bolts — to create these types of pieces that have an undulating form. The way he turns these rigid materials into a piece that has a flowing form is amazing. This type of sculpture would be a conversation piece in any space and its unique multidimensional metallic look makes it perfect for any decor scheme.
Bamboo
At first glance, it's hard to imagine that this twisted and curling tube sculpture is actually crafted from bamboo. Japanese artist Watanabe Chiaki studied the form and art of manipulating the bamboo into expressive curving shapes, some of which includes colors. The neutral look, unique material and moderate size make this a sculpture that is easy to add to any space where you want to feature a stunning work. It can be displayed on a table or on an art pedestal, whichever makes the most sense and impact in your space.
Folded and Refined
Metallic doesn't have to mean industrial or rigged. This fanned and folded sculpture is refined in its elegance and the application of the metallic dots. A shiny black finish only serves to highlight the golden spots, which are concentrated at the middle of the piece where the direction of the splayed ends shifts. A sculpture like this one is perfect for a more luxe environment where gilded elements are more common and where the shiny black is an ideal aspect that draws attention.
Similarly, Bulgarian-born artist Rado Kirov uses mirrored stainless steel to achieve the highly reflective and seductive finish on his sculptures. Kirov manipulates the steel sheet by hand into the reflective 3D surface that he calls the Mercury Effect. Whatever you call it, the shine enhances the sculpture and will reflect the elements and colors you have in your space, making it unique wherever you place it.  A work like this is complementary to any style of decor and will be the focal point of any room.
Unexpected Shapes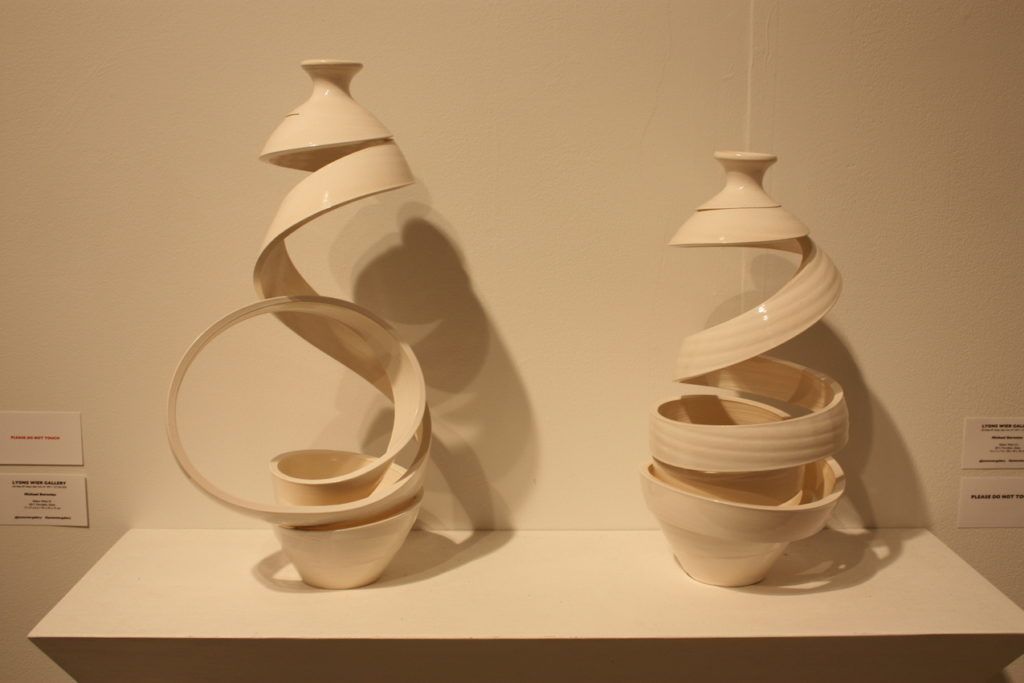 As we already mentioned, ceramic is more commonly used for vases and vessels, but here they take on a new twist, quite literally. Artist Michael Boroniec takes the standard thrown form and deconstructs it in a way that expands the vessel and opens the interior to view. Their neutral color puts the focus squarely on the form and not any ornamentation. These ceramic sculptures will add interest to any space in the home and are quite engaging to examine and contemplate. We would add them to a living room or library, where we could stare at them for longer periods of time.
These ten awesome sculptures are just a few ideas of all the different types of sculpture art ideas for your home. As with any type of art, it's important that it appeals to you. Art is something that you want to look at on a daily basis and be transported to another place or intrigued on some level. Explore what's out there on line and at art fairs in your area. You might be surprised at what you can find!