Roll roofing is a thin asphalt-based product that can replace standard shingles. It comes in rolls that are one square, equal to 100 square feet.
Roll roofing products are standard for low-sloped roofs, but you can also add them to lean-to additions, sheds, and outbuildings. Since roll roofing is inexpensive, some homeowners use it while saving up for a permanent roof replacement.
Roll roofing is easy to install but not ideal for every situation. Here's what you need to know before adding it to your structure.
What is Roll Roofing Made Of?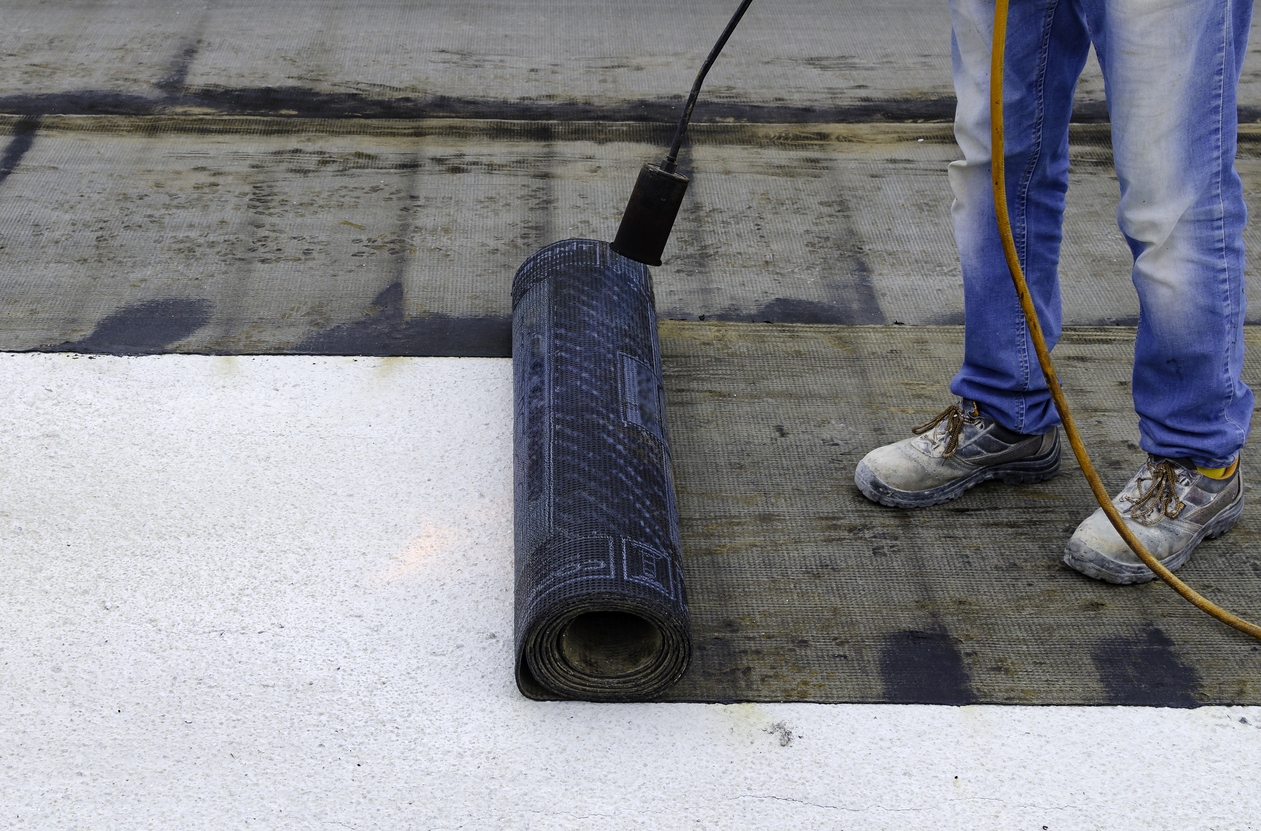 While there's more than one type of roofing that comes in sheets or rolls (like rubber and Bitumen), most often, the term roll roofing refers to an asphalt-based product that's mineral surfaced and reinforced with fiberglass. Roll roofing is also known as MSR, rolled composition roofing, and rolled comp roof.
Can You Use Rolled Roofing on a House?
The best uses for roll roofing are on uninhabited residential structures – gazebos, sheds, outbuildings, and garages. You can also use rolled roofing as a temporary roofing solution or on low-slope roofs.
Check the product label if you use roll roofing on a low slope. Many roll roofing materials are for stuctures with at least a 2:12 slope and proper drainage.
The Pros and Cons of Rolled Roofing
Roll roofing is not for every application. Here's a look at the pros and cons.
Pros:
Inexpensive – You can buy rolled roofing for about $50 per square (100 square feet.) Even the most basic asphalt shingle will cost double.
Easy to install – There are several ways to install rolled roofing, including adhesive, nails, self-adhesive strips, and heat.
Works as a temporary roof – With the low cost and ease of installation, rolled roofing can work as a temporary solution while you save for a better roof replacement.
You can place it over old shingles – If your current roof is leaking, you can place rolled roofing over old shingles as long as you clean the area first.
Cons:
Short lifespan – Rolled roofs only last an average of 5-8 years which is far shorter than the 20-50 years of other roofing materials.
Less durable than shingles – Since rolled roofing is one large sheet rather than overlapping shingles, it's not as durable and is at risk of rips.
Aesthetics – You can find rolled roofing in black, white, or brown. There are limited color and design options.
Resale value – Rolled roofing is one of the least desirable materials and can hurt the resale value of your home.
Types of Rolled Roofing
There are several methods of installation for rolled roofing. No matter the one you're working with, you'll need to start by cleaning off the roof. Then, you can install it based on the instructions for the type you're working with.
These are the most common types of rolled roofing:
Peel and stick rolled roofing
Glue down roll roofing
Nail down rolled roof (Don't use this type on flat roofs)
Torch down roll roofing
Rolled Roofing vs. Shingles: Which is Better?
Shingles are the most popular roofing material worldwide. They're inexpensive, easy to install, come in many design choices, and last at least 20 years. Shingles provide superior durability and add to the look of a home. They are a clear winner over rolled roofing.
Rolled roofing is less expensive than shingles. According to Forbes, even the most basic 3-tab asphalt shingles will cost $100-$200 per square. Rolled roofing averages $50 per square. So, while asphalt shingles are the more durable, longer-lasting choice, rolled roofing is the better option if you're working with a tight budget.
Modified Bitumen vs. Rolled Roofing
Modified Bitumen is an asphalt roofing product mixed with rubber or plastic and reinforced with fiberglass. It also comes in rolls and can be hot or cold adhered.
Modified Bitumen is more durable and can last as long as 20 years. On the other hand, rolled roofing consists of a thin asphalt-based sheet and lasts only 5-8 years.
Modified Bitumen is a better choice if you're covering a flat or low-sloped roof and are looking for longevity. If you need a temporary roofing solution or want to go with the cheapest product, rolled roofing is the way to go.
Frequently Asked Questions (FAQ)
FAQ
What is self-adhesive roll roofing?
Self-adhesive roll roofing comes in peel and stick rolls you can apply to your roof. Most self-adhesive roll roofing products are asphalt-based but will have different reinforcements, depending on the brand.
What is the easiest DIY roofing?
Rolled roofing is the easiest DIY roofing. It comes in self-adhesive, glue-down, or nail-down rolls that most homeowners can install themselves. 
Where can you buy roll roofing?
You can buy roll roofing at any home improvement store, including Lowes and the Home Depot.
Final Thoughts
If you're looking for an inexpensive roofing material that you can install yourself, roll roofing is hard to beat. But it's not suitable for every situation. Roll roofing works best on outbuildings and as a temporary solution on residential homes.
If you're preparing to redo a flat roof and are looking for longevity, try modified Bitumen. It will better protect the structure and last more than twice as long.