Cool Projects and Crafts That You Can Do At Home Using Resin
The idea of working with resin can seem quite intimidating for someone who has never done it before. One little project is enough to offer a boost of confidence and to create a taste for more.
Today we're having a look at a few really cool and interesting crafts and projects that can be done with resin and we hope they'll inspire you to give this a try as well.
20 Fun DIY Projects with Resin to Try Today
1. DIY Resin Coasters
Let's start with something simple: resin coasters. This is a really cool way to use some of those beautiful seashells and pebbles that you've been collecting on the beach. A jar lid is pretty much the perfect size for this so you can use it as a mold for the coasters plus you can leave it there permanently. It's all quite simple, just put some shells and other bits into the lid and make sure they're not taller than the edge, then pour the resin mixture in and let it sit. Pop the air bubbles when they appear. Check out runningwithsisters for more details.
2. Give an Old Table a Makeover
If you're up for a bigger project, perhaps you'd like to use some resin to give an old table a makeover. The focus will be on the top of the table which you'll have to clean, sand the old paint off, prime, and paint. Then get a piece of fabric that you like and cut it to size so it fits over the top. Apply mod podge and glue it onto the top, then pour some resin on top and spread it evenly to create an even layer. This will make your table waterproof. Check out the details on tatertotsandjello.
3. A Coffee Table That's Refinished with Resin
When using resin to update an old table, you can also add in some color. You can make colored resin to give a coffee table a really cool and shiny top and you can even add a second pigment in a contrasting color to create a really cool pattern similar to the marble veins. You can also stick with a single uniform color if you prefer a simple look. Either way, make sure the resin is spread evenly across the surface of the table and that you get rid of the air bubbles. Head over to resincraftsblog if you want a complete tutorial.
4. A Mosaic Resin Tray
If you're not sure you're ready to take on a table makeover project, try something smaller first. For example, you could make a cool-looking mosaic resin tray. Take a bunch of DVDs and cut them into small pieces making sure to not leave fingerprints on them. Then take the pieces and spread them across the bottom of the tray. Then pour resin over them and be sure to cover up all the pieces so they don't stick out. You can find more details about this project on instructables.
5. Marbled Resin Wood Coasters
Once you're familiar with how resin works and what you can do with it you can confidently try various little ideas and projects. For example, you can mix resin with various colors and create different combinations to get marbled designs. You can apply this to some wood coasters and make them colorful and pretty. It's quite an easy thing to do. In case you want the details of this particular project, check out resincraftsblog.
6. Turquoise Resin Inlay Cheese Board
For this next project, you'll need to use a plunge router with a 1/16 inch straight bit and the knowledge of how to use it. The goal is to make a one-of-a-kind cheese board with crushed turquoise inlay. The project is reminiscent of those amazing-looking tables with rovers of resin flowing through them. It's not a simple project but it's definitely worth the time and effort if you have all the necessary tools and supplies for it. All the details can be found on thenavagepatch.
7. DIY Marbled Resin Coffee Table
Resin is a lot of fun to work with especially when you add color to it and you start to play around with various patterns and designs. There's a lot of room for creativity in a lot of these projects. One other example in this sense comes from deliciousanddiy. The tutorial shows how you can decorate a coffee table with resin and colored crystal slices. You can mix and match various other design ideas and customize this project however you prefer.
8. DIY Seashore Resin Art
For anyone interested to explore their creative and artistic side, we recommend making resin art. There's a lovely and inspiring example of how such a project might look like on sustainmycrafthabit but, of course, you're free to come up with your own unique design and strategy. This is a lovely and relaxing seashore design that you can turn into unique artwork to display around your house. It works very well in this case because it's quite abstract.
9. Resin and Wood Serving Tray
A simple wooden tray, some two-part resin, resin pigments in a few different colors, some craft paint, and a heat gun is the supplies that were used to create this gorgeous serving tray from bybrittanygoldwyn. The design is abstract and really beautiful and the colors chosen in this case complement each other in a really nice way. Also, the black tray frames everything in a stylish and elegant manner. Have fun coming up with your own custom palette for this project.
10. Make a Color Block Resin Coaster
Resin coasters are some of the easiest things you can make. If you want a clean and simple design, use silicone coaster molds. You're also going to need a bunch of other supplies including epoxy resin and hardener, a mixing pot, a candle lighter (or a heat gun) plus the items needed to create this custom design which includes colored paper, white epoxy pigment paste, and some disposable skewers. The design features on thecraftygentleman are nice and simple which gives the coasters a stylish and modern look.
11. DIY Agate Cheese Boards
A lot of these projects are related to serving accessories so if you wanted to you could make a whole resin-based set. The project that we're focusing on now is featured on lilyardor and involves making agate cheese boards. The first thing you need to do is the molds. For that, you'll be using plastic wrap and silicone. Give the mold an asymmetrical and organic shape and make it as big as you want. Then add the resin in layers waiting a few hours in between. After that, it's time to add the color and create the agate effect. Remove the mold and clean and trim the edges, then apply the gold effect and you're done.
12. Large Blue Marble Table
The marble effect on this table is once again done using resin. It's a blue-based palette with three different shades mixed together to create these wavy patterns and the overall marble-inspired look. The frame of the table was also painted light blue to match the new resin top. You can find all about the technique used to make this unusual and eye-catching design on markmontano. If you're not a fan of blue, try other colors that may suit your style more.
13. Unusually Shaped Wood and Resin Coasters
If you're familiar with the Abyss table and other similar pieces of furniture, this project will probably remind you of them. These coasters are made from a combination of wood and resin. The wood pieces have these unique and unusual shapes and they only partially make up the coasters. The rest of the surface is made of resin. It's a really cool design and you can have tons of fun with it. Check out the tutorial on youtube to find out how to make them.
14. Resin Art Wooden Chopping Boards
Cutting boards are not typically something that you proudly display in your kitchen. They're mainly practical without any aesthetic value. That can quite drastically change when resin comes into the mix. these amazing resin and wood chopping boards features on mymodernmet are true works of art. Each and every one of them looks amazing and is a wonderful source of inspiration for lots of other similar projects. We love the bold colors and galaxy-inspired designs.
15. DIY Laptop Desk with Resin
You can also use resin to make your simple laptop desk look super cute and stylish. The resin can be used to decorate only one section of the desk and you can use tape to cover up the rest so it remains nice and clean throughout the whole process. Multiple colors mixed in a pattern like the one suggested on anikasdiylife could look really nice. Of course, you can also go for a simpler look and use a single color to create a color-blocked design.
16. DIY Bar Cart Makeover with Resin
There's one more inspiring project that we want to share with you today and it involves the rejuvenation and transformation of an old and dated bar cart. It has three shelves and each one was transformed using resin. Different color combinations were used for each one and gold foil was used to add a little bit of sparkle to the design. A bunch of colored stones was also added in this case. Check out deliciousanddiy for more details about this project.
17. DIY Resin Fluid Art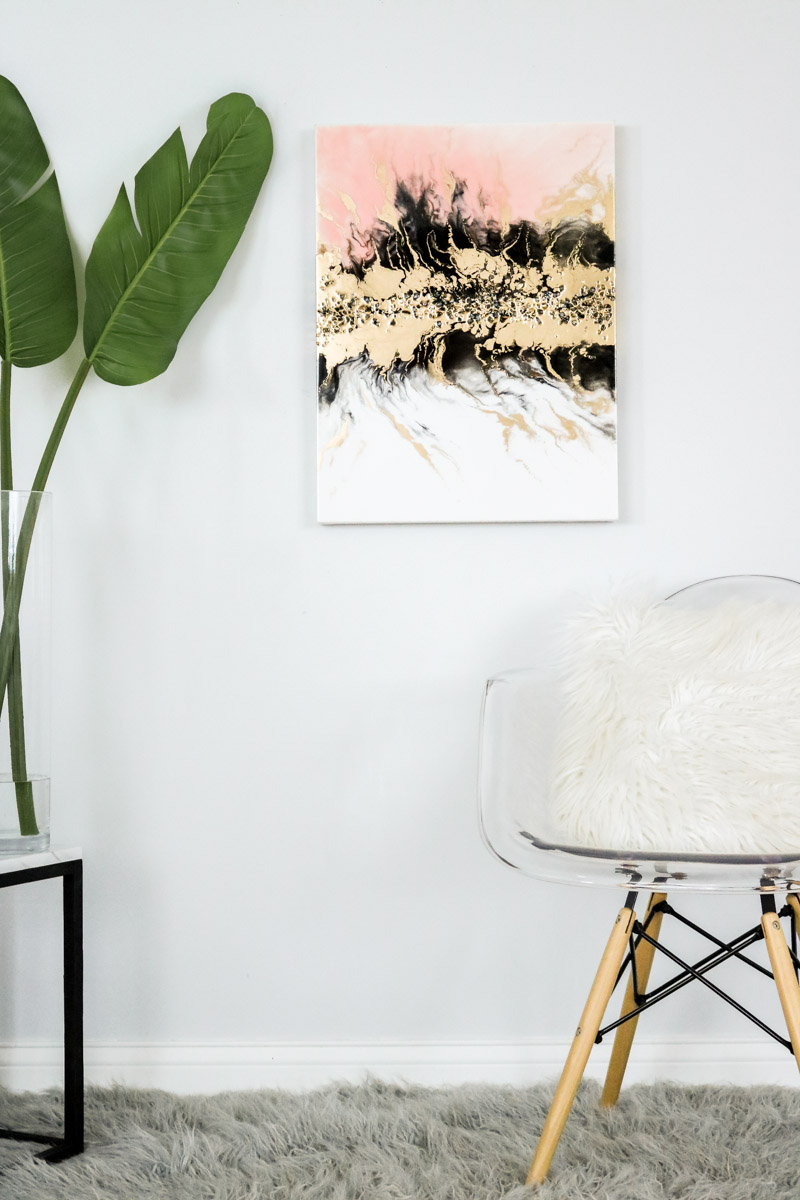 Brighten up any wall in your home with this DIY resin fluid art project from Lily Ardor. It's a really fun project which is suitable for beginners. While resin can seem quite intimidating the first time you use it, you'll find these instructions super easy to follow. When you see the colors blend together, you'll love how unique and bold this wall art looks. For best results, try to find a resin that has a forty-five minute work time, which will make this project a little easier for beginners. There's a handy tutorial video here that will give you a great idea of the technique before getting started.
18. Decorative Mosaic Tray
Reality Daydream shows us how to make this stunning resin project which uses a simple tray for its base. You don't need to purchase a fancy tray to get started with this project and can instead opt for an inexpensive one from a yard sale or budget-friendly store. After laying out the pretty tiles for this tray, you'll mix the two parts of the epoxy and pour it all over the pattern. For the tiled pattern, you can use glass, mirror, china, or tiles. This project can be completely personalized to your taste, but we love the pretty pattern in this project.
19. DIY Alcohol Ink Resin Keychains
While most of these projects today have made larger resin items for your home, we love the idea of making something a little more portable. Resin Crafts Blog offers us these little keychains, which could also be placed on a pendant instead. It uses the petri dish resin method and creates the perfect colorful gift for your family and friends. When it comes to adding the colors, be careful not to add in too much ink or combine colors that become muddy when mixed together.
20. Terrarium Waterfall Project Using Resin
Crafty Fingers shares this video tutorial showing how to create a terrarium using resin. We can't believe how incredible the waterfall looks in this design, and you'll love adding this to any surface in your home. Of course, you can fully adjust the contents of the terrarium to create something unique to you, but you won't want to miss the chance to add the waterfall to any design. This would be an amazing special gift for someone who appreciates arts and crafts.
Resin can often seem intimidating to those who haven't used it before in craft projects. However, once you've tried one of these projects, you'll soon be hooked on using it. As you can see, it can be used on projects of all shapes and sizes. Whether you decide to make a keyring, a piece of artwork, or an item of furniture, with crafts and projects using resin, you'll create unique patterns and bold designs that will wow any visitor to your home this year.